Paulus Bolten for The Rake: The Patinaed Sneaker
Evocating the emotional expressiveness of Mark Rothko's painting Paulus Bolten's lovingly hand patinaed sneakers transform the commonplace into the sublime.
There is a dilemma in men's footwear today. The reality of constant travel, rapid movement across the urban landscape, the need for traction in any weather condition and for multi-functionality has caused the sneaker to become the single most significant type of footwear today. But the majority of sneaker brands are giant global conglomerates, creating shoes that while iconic are also commonplace quite the opposite of a beautifully handmade pair of bespoke shoes. How then does one even begin to find a sneaker that's truly special? One way might be to spend an inordinate sum of money on a pair, and there are pairs out there that go for thousands and which are magnificent indeed. But,
The Rake
proposes another way to reconcile inordinate comfort and practicality with exquisite hand craftsmanship as we unveil our Paulus Bolten for
The Rake
Adidas Stan Smiths and Nike Air Force Ones. Paulus is a Dutchman living in Paris, and he works tucked away down a small side street off the Avenue de la Grande Armée, in a space that's more of a den than a shop. It's a cosy, unpretentious place where he can work away, late into the night at his own pace, performing one of the most magical transformations in modern menswear that
The Rake
has discovered to date - something little short of a shoemaking miracle. He patinas sneakers. He takes plain, waxy white sneakers (there are only certain models which can work) and hand paints, polishes and buffs them into an exquisite, colourful, captivating expressions rivalling the paintings of Mark Rothko in their capacity for emotional evocation.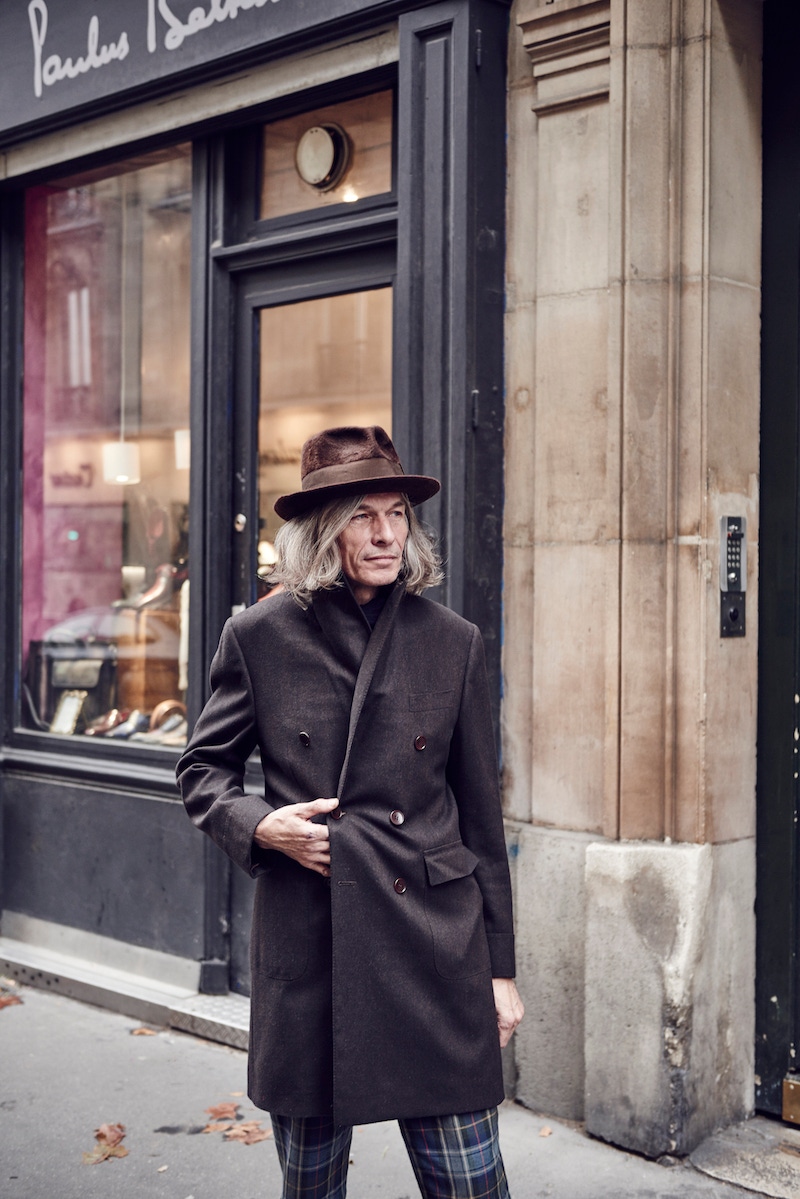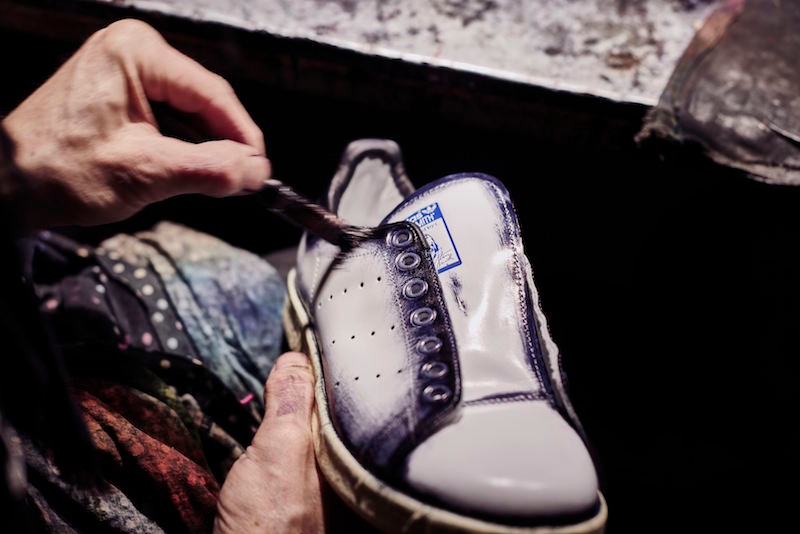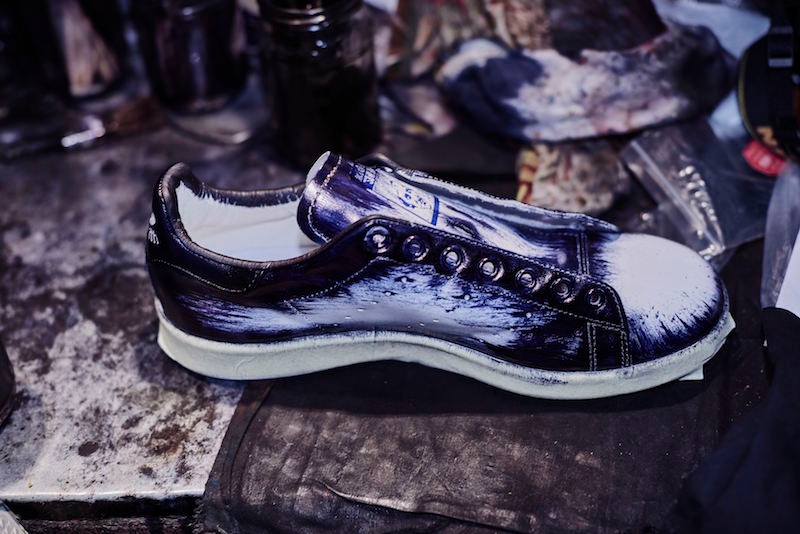 As Paulus notes: 'most sneakers are a mass-produced product, so cannot be a convincing part of truly individual style. We allow men to impose their personality on shoes that would otherwise be generic - we give archetypal 'trendy' sneakers originality. The end result is a single object that represents a unique combination of one's personal style and the broader context of today's footwear trends.' The process of this alchemic art form is arduously painstaking. Initially, Paulus starts with plain white sneakers (Adidas Stan Smith's or Nike Airforce 1s were the chosen designs for
The Rake
) before he takes out the laces and spends time gently removing any surface dirt, oils or stray glue from the manufacturing process, as well as gently breaking-down surface of the leather; the waxy finish given to the sneakers must be removed for the inks that Paulus paints with to take-hold. He then begins the patina process using ink, rather than paints or polishes, partially because it takes to the leather better, but primarily because it allows him to build up a deep, glossy finish to his shoes. Darker colours are painstakingly applied around the surface of the shoes, before lighter, faster brush-strokes cover the central parts of the tongue and the vamps, creating a softening of the patina from the outside edges of the shoe's uppers towards the centre. Often, Paulus will deliberately over-apply ink with a thick brush and then half-remove some of the saturated surface with white spirit before repeating the process, building up multiple layers of rich, inky chiaroscuro step by step. The result is his characteristic brush-effect patina. Curiously, whereas many patina artists try to avoid visible brushstrokes on their shoes, Paulus delights in them - and they create the richly marbled effect, which characterizes his work. It takes several days worth of painstaking, delicate and instinctive work to finish a pair to Paulus's standard - a rare achievement indeed. But why should
The Rake
choose to work with Paulus Bolten on such a project? Well, quite apart from Paulus's extraordinary skill as an artisan, readers will be aware that
The Rake
has been championing the cause of the luxury sneaker of late. Our Founder & Editorial Director Wei Koh explains: 'Paulus Bolten's sneakers, through the hand patina applied to them are an expression of elegance combined with pragmatism that makes them perfectly suited for anything from evening wear to sports chic style.' Paulus explains, 'Fashion has been democratised and people feel a lot freer in the suit nowadays. It's less of a uniform and more of another 'genre' of menswear that we can play with to our liking - as is the case with shoes. Sneakers are no longer purely for sport, and with a little thought, people can wear sneakers easily under a suit - they bring tailoring a contemporary relevance, and above all they are practical.'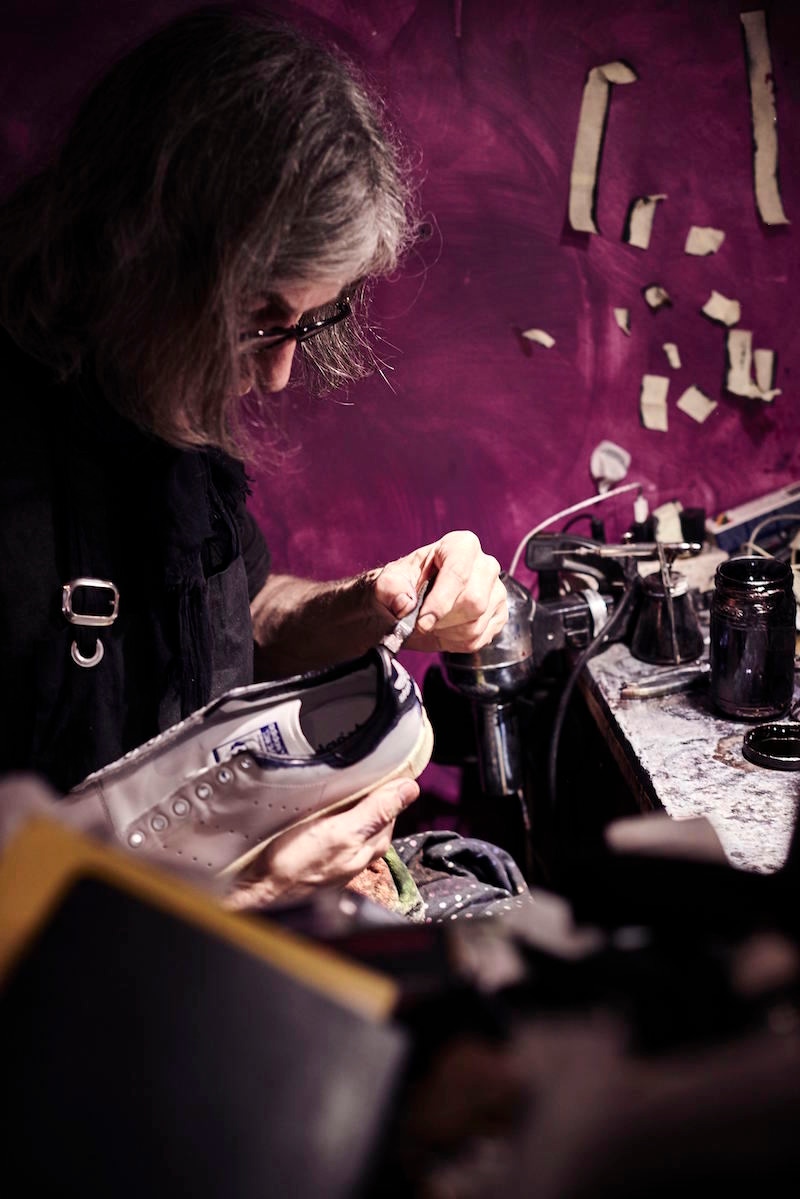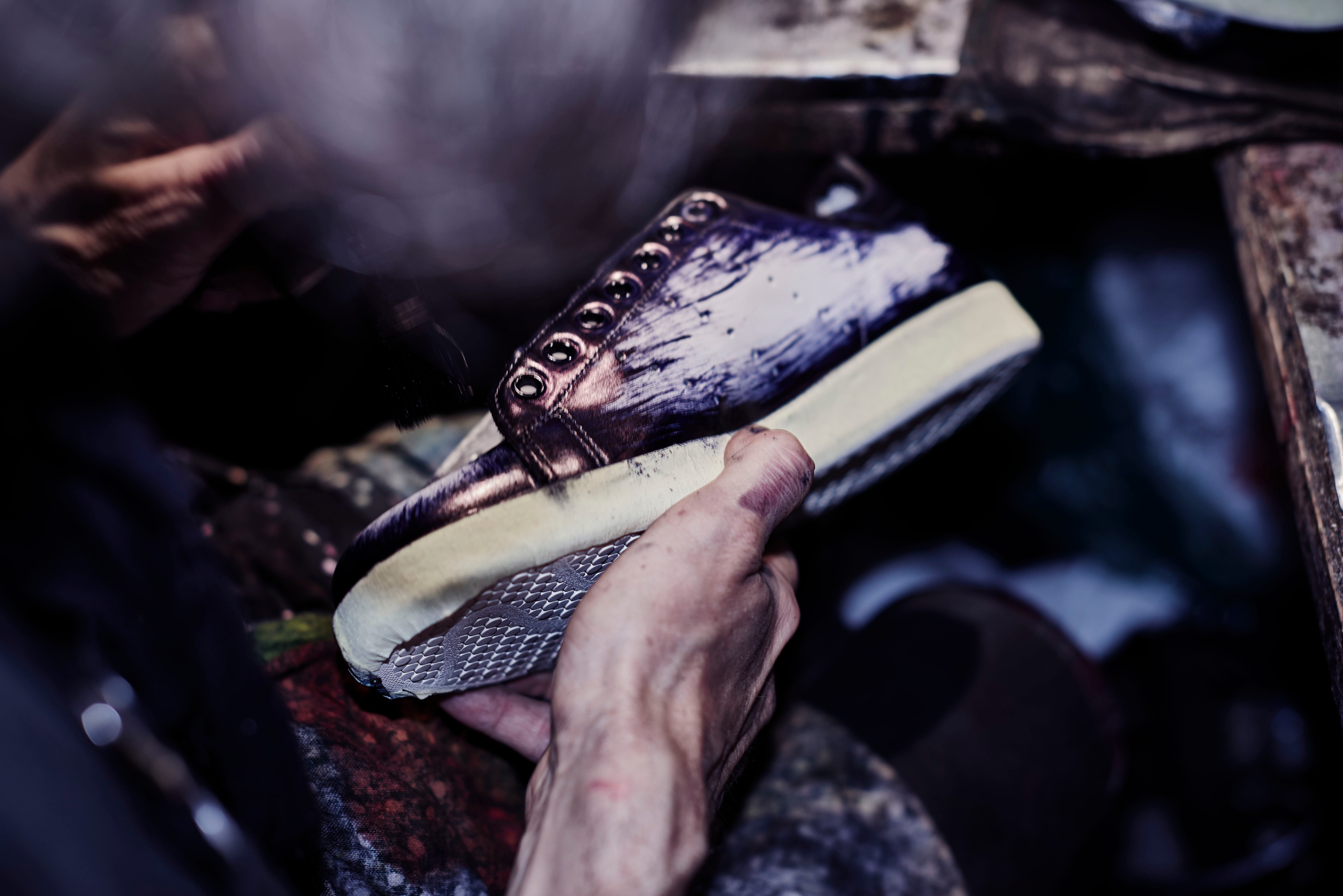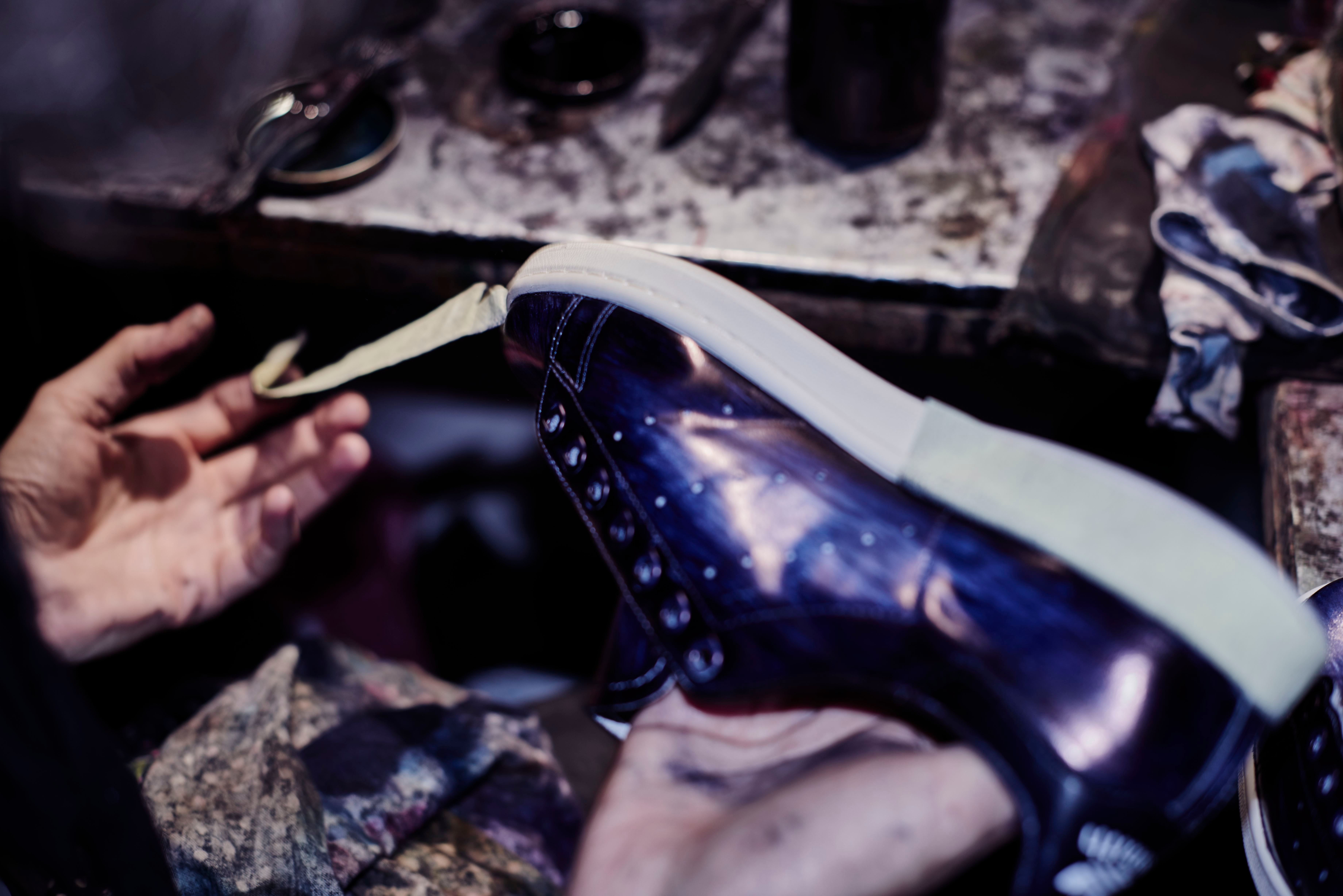 This is the great secret of Paulus's work. He creates what is in many ways the ultimate modern shoe - his sneakers are comfortable, functional and ideally suited to modern, fast-paced living. They are a rare alternative take on the great, global classic sneaker icons of Adidas and Nike, and they are above all, genuinely luxurious. But a handful of craftsmen in the world are capable of achieving such things in their work, and Paulus is arguably the finest patina artist that we have discovered to date. For The Rake, Paulus has produced three individual patinas for limited edition Stan Smiths: vivid Yves Klein blue, spearmint green and versatile cognac. Nike Airforce 1s are available in Cognac and Camouflage (a particularly demanding patina to produce). His work is unavailable anywhere else online and there is only one pair in each size available. If you want some truly unique sneaks to step out in this season, grab them now before they make it out the door on someone else's feet. Photography by Maxime Chanet.