Purdey: The Unbroken Lineage
Purveying a major archival influence in British Gunsmithing, with 3 royal warrants, Purdey are true innovators in their field, crafting a fine selection of luxury accessories that give stylish comfort to those whose lifestyle is surrounded by country sports.
The term 'heritage' is so overused in menswear branding today, it is almost dull (and perhaps a little untrue) – asking the savvier customer to respond with, 'well, what do you
really
mean
when you say heritage?' For British firm Purdey, heritage means two-hundred years of crafting the finest country sport equipment and accessories, a devotion to their original art of gunsmithing, and family. And while the company may have evolved with the times, Purdey remain true to themselves as a vendor of the most covetable and classic masculine accessories (think hunting flasks, decanters, and high-quality leather wallets). In short, they craft the type of goods we imagine Ernest Hemingway or Winston Churchill would have enjoyed; and with such a long list of 'admirable-admirers': probably did.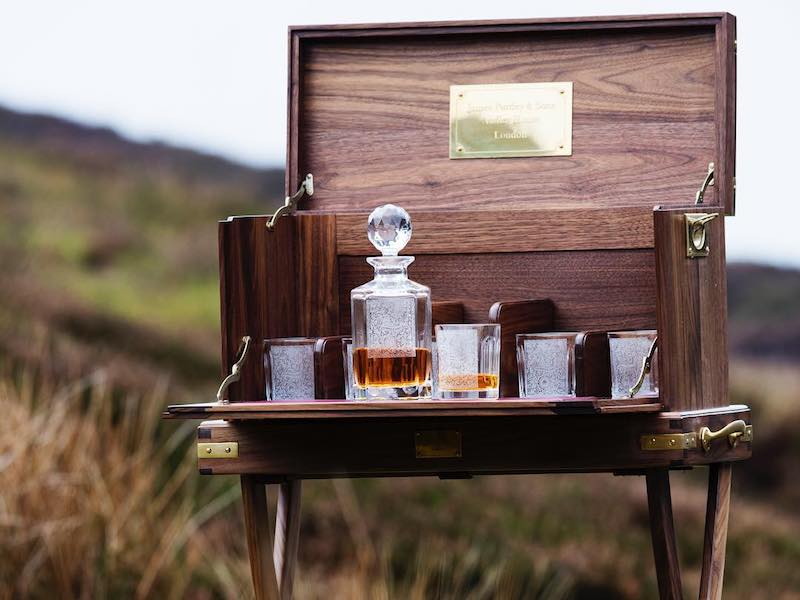 Back to heritage, however. Purdey themselves list eight separate reading chapters on their history, and each is individually interesting and impressive. In short, James Purdey Sr founded the brand in 1814, after building a reputation as London's finest gunsmith. His first store in Oxford Street skyrocketed him to notoriety, and before long his son, James the Younger, took over to establish Purdey's as the final word on British gunsmithing. The firm were at the forefront of innovation, prompting other gunmakers to adopt their inventions; and finally, they earned the first of three Royal Warrants in 1868 from Edward VII. Meanwhile, Purdey supplied their customers with high-quality accessories to bring with them on hunting trips - and ever since then, the brand's leather goods and trinkets are as renowned as the guns which shot them to popularity. In the twentieth century, lines and suppliers expanded under Athol Purdey, who then left the business to his sons Jim and Tom, taking us into the twentieth-century, where the brand celebrates its 'unbroken lineage' and two-hundred-years of operation under one of Purdey's very own apprentices, Nigel Beaumont. Not many brands can – or ever will – have a claim to 'heritage' like they do.