Rake Commends: Restorative Skincare
The Rake talks through its three favourite luxury men's moisturisers, from grooming houses Penhaligon's, Taylor of Bond Street and Floris.
When it comes to success, preparation is everything. Different people go about it in vastly different ways though. When preparing for his craft, basketball legend Michael Jordan would meticulously study video tapes of his opponents for hours on end, so he could acutely assess their weaknesses before capitalising on them in competition. James Hunt, Formula One champion of 1976, on the other hand, was known to swig champagne, smoke pot and seduce pit girls just moments before he'd climb into his racing car. Here lies two very different approaches, yet you can't argue with the results: indeed, both were masters of their respective domains.  
For us normal folk, preparation comes in mundane everyday tasks such as leaving the house in the morning or cooking an evening meal. Something that we should all prepare for though is the inevitable ageing of our skin. This varies per individual, but there is plenty one can do to prevent it, namely acquiring a quality moisturiser.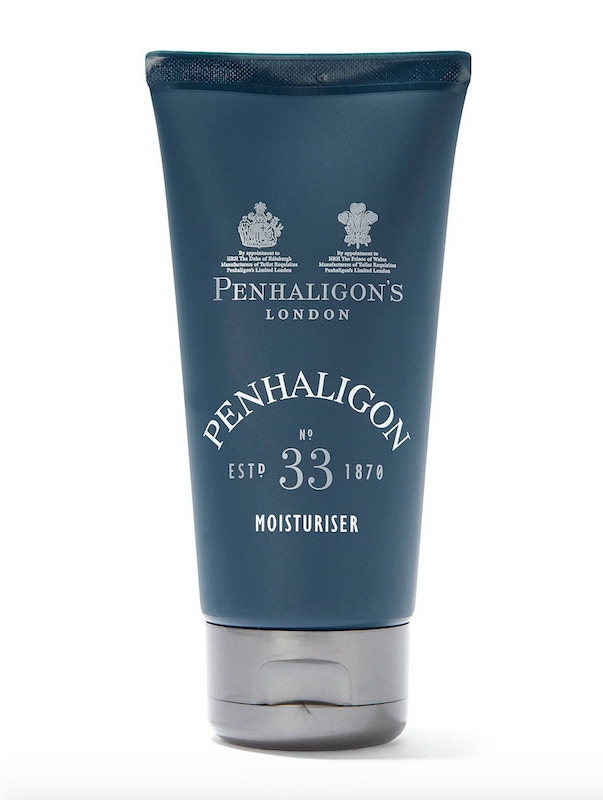 No. 33 Moisturiser 75ml, £38.00, Penhaligon.
The benefits of using a moisturiser are immense. When applied twice daily it will hydrate and protect your skin from the elements and when fully absorbed your face will feel more pliable. This is a good thing. More important though are the long term affects, as a fine moisturiser acts as an elixir of sorts, making one appear more youthful. One such purveyor of quality is Penhaligon's, who's signature No. 33 Moisturiser ticks all the aforementioned boxes. 
With a complex formula of anti-oxidant ingredients as well as a lightweight consistency, No. 33 will re-hydrate and reduce the appearance of ageing simultaneously. Its scent is also highly attractive, as to be expected from the esteemed perfumers of 145 years. Featuring a smooth citrus top note complete with sage and lavender, it then evolves with the warmth of pepper and ginger as well as tobacco and vetiver before closing with sweet vanilla, amber and tonka. 
Jermyn Street Moisturiser 50ml, £15.95, Taylor of Old Bond Street. 
London is renowned as a mecca for men's tailoring, with the likes of Savile Row stalwarts Henry Poole & Co boasting over two centuries of experience. England's capital has been home to a number gentleman's grooming outposts for an equally commendable time however, with Taylor of Old Bond Street a favourite of those with a hankering for understated elegance. Like Penhaligon's, Taylor's offering is exquisite, with their Jermyn Street Moisturiser proving to be a particularly masculine option. Contained within a suitably burly tub, this moisturising cream is imbued with a fougère scent, which is at once fresh and aromatic. 
Trumping Taylor of Old Bond Street and Penhaligon's in the heritage stakes though is Floris, who've been on the scene since the early Georgian era. Floris were established in 1730, making them the oldest independent family perfumers in the world. As of late though, the Jermyn Street institution have been modernising their brand, releasing the contemporary Gentleman Floris range.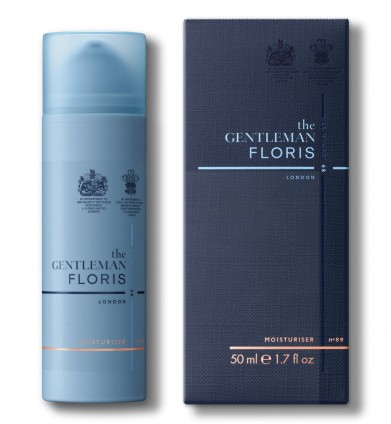 No. 89 Moisturiser 50ml, £35.00, Floris.
Infused with their No. 89 fragrance - a favourite of Mr Ian Fleming, no less - the collection is a triumph, with the moisturiser a particular favourite. When applied to a freshly washed face the soft blend of willow, hops and oat, as well as blackcurrant and Persian silk tree will reanimate skin, leaving one prepped for the day ahead. 
Along with your signature fragrance, a quality moisturiser is a daily grooming essential. A must-have tool for your skin's well-being, it will reward you with a more youthful appearance and a renewed vigour.