Ralph Lauren and Wimbledon: A Great Match
Ralph Lauren earned bragging rights as the official outfitter for Wimbledon in 2006. But in Wimbledon's 140th year, what makes it such a good match over a decade later?
Over the years, much attention has been paid to the rules of dress at Wimbledon. From players to spectators, dress codes have always been strict, reflecting both the sense of occasion and decorum that the event inspires. Like many British traditions, Wimbledon is both an institution and a seasonal milestone, an unofficial symbol of summer and, increasingly, a sartorial runway for both sportsmen and staff alike.
Historically, less scrutiny has been directed at the umpires, officials and linesmen. That is, until Ralph Lauren came along in 2006 and changed the rules, serving an ace for the clothing corporation's European market and becoming the first clothing brand to be exclusively associated with Wimbledon, a decision by the All England Lawn Tennis Club that turned out to be a game-changer.
Before 2006, Wimbledon uniforms were manufactured by Wood Harris Ltd, a British uniform maker and while not purely functional, they were there to serve a purpose. Linesmen were dressed in green from head to toe, quite literally blending in with the background, and ball boys wore fitted green polos and thigh-skimming purple shorts; Wimbledon's signature colours. Instantly recognisable, maybe, but stylish? Not quite.
Eleven years ago, Ralph Lauren won the sponsorship, setting the bar high and over the years going on to overcome British brands like Burberry and Aquascutum with designs inspired by tennis players of the 1930s and 1940s. Navy blue took precedence, with Wimbledon accents in the form of breast pocket logos and striped ties in green and purple. Despite helming an all-American brand, it was Mr Lauren's personal obsession with English culture and tradition that produced a classic, traditional look – it's said he also rifled through archives of photography of students at Oxford and Cambridge playing tennis, too. He's openly admitted a love of Downton Abbey, the Windsors and Cary Grant – so it's no surprise his understanding of English style is probably better than most Brits'. Polo Ralph Lauren itself draws on a quirky but quintessentially British sport, and inspired by a country club aesthetic, Polo's take on tennis garments reflects the timeless nature of the brand as a whole.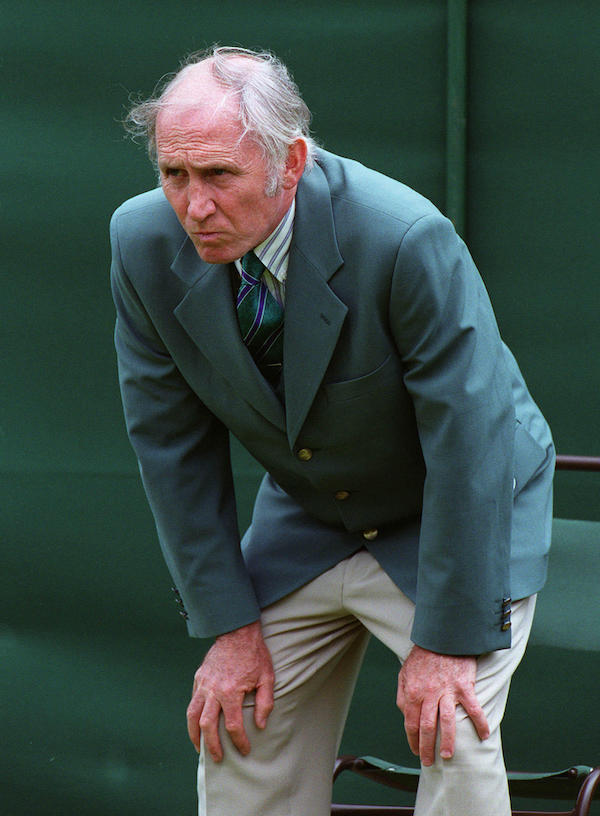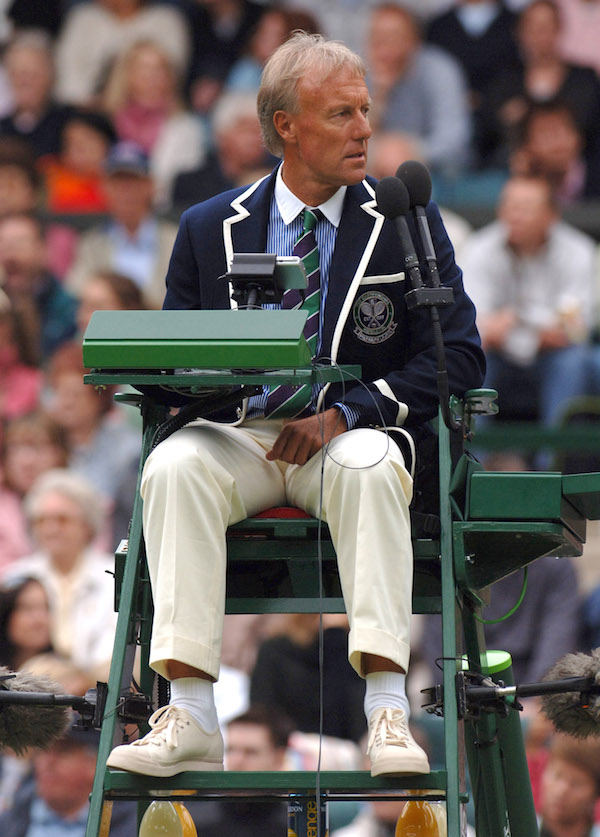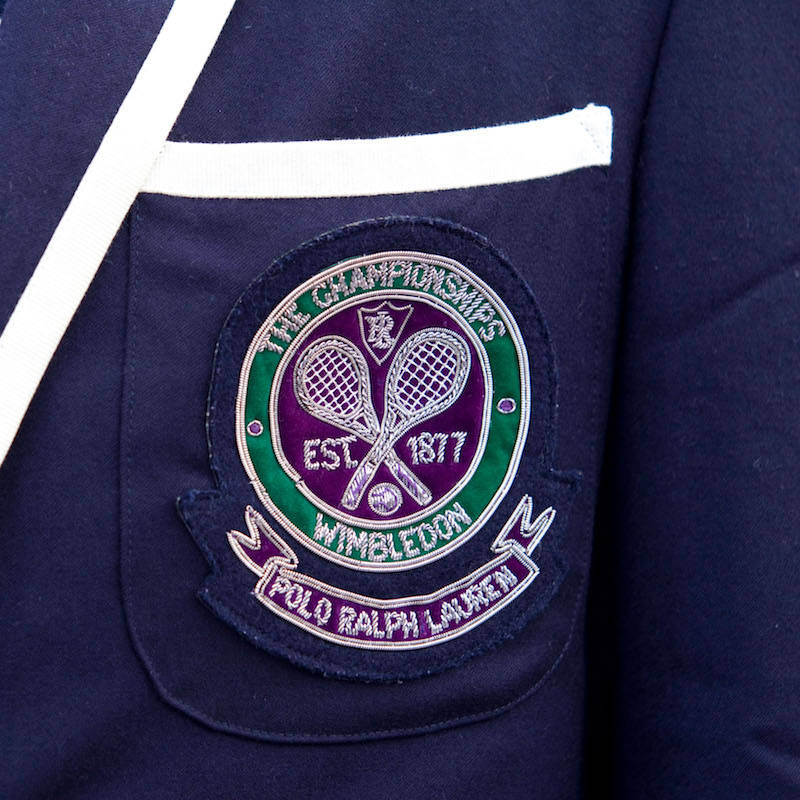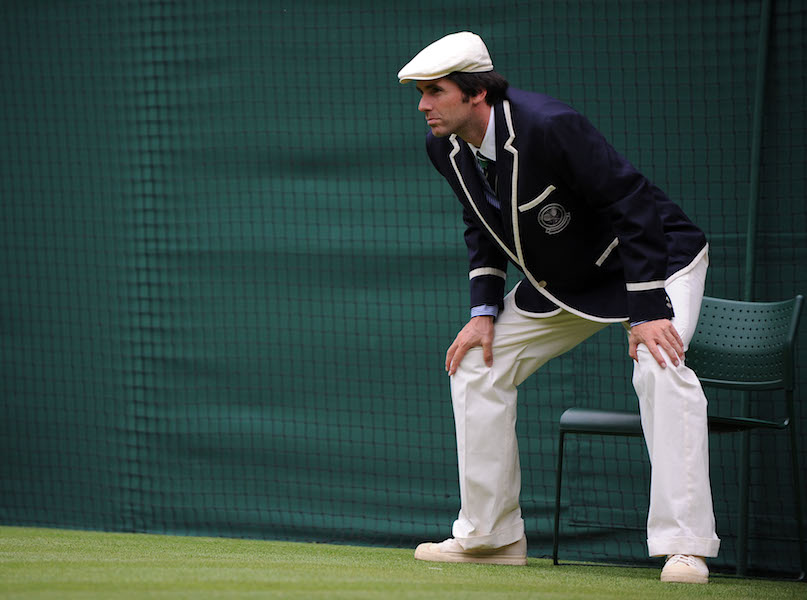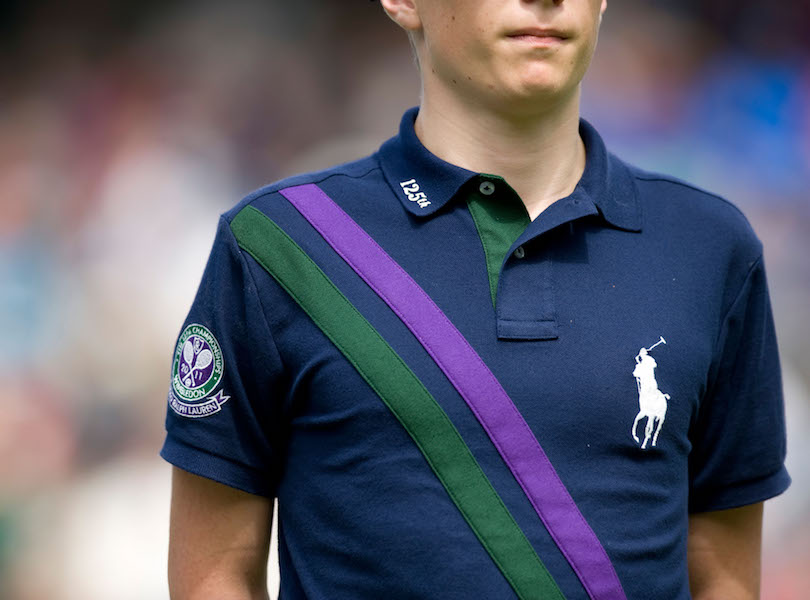 Today, Ralph Lauren's uniforms provide a synergy between the ball boys and girls, umpires and linesmen, marking them out as a team of their own and providing a strong sense of identity on the courts. The responsibility and honour of being a ball person is something that has been bestowed on young people (with an average age of 15) since the 1920s, and the fact that a uniform can create both a feeling of camaraderie and equality is undeniably part of the charm. The training and execution of their roles within Wimbledon encourages discipline, commitment and pride – much like the event itself for the players.
Ralph Lauren's collection for Wimbledon 2017 is not a million miles away from its first, which underlines the timelessness of the brand's aesthetic and their unwavering sense of self. This summer, umpires sport a wide-pinstriped blazer, a pattern often associated with power and authority – perfect, then, for those calling the shots – with a slim silhouette, notch lapel and double vented rear. Half canvassed and fully lined, it's clean, classic, and as styles go (bar the Wimbledon bullion patch on the out-breast pocket) as wearable off the court as on it. Similarly, the all-navy combination of the ball person's uniform is, as expected, sporty and sleek, with the polo shirt being a highlight. Made predominantly from a pique cotton-blend, it features concealed mesh panels under the arms, which up its game in the performance tables, while a singular white stripe around the collar helps it translate into modern casualwear with minimal effort.
Ralph Lauren's early proposals for the uniform in 2006 included dressing linesmen in white shirts, an idea that was dismissed for fears it would distract the players, especially on sunny days. For the same reason, Rob McCowen, Wimbledon's then-Marketing Director, was insistent there should be no gaudy sports logos or names emblazoned across the uniforms if they were to pair up with a brand; a match made in heaven then for RL's alphabet-free horse logo which is as subtle as they come. Although for some, the change in uniforms didn't go entirely under the radar as Mike Morrissey, an assistant referee at Wimbledon in '06, told the Washington Post, "In the 20 years I've been officiating, the uniforms have always been green. Just a different colour is a big change after being at Wimbledon for so long."
Breaking the rules is nothing new to Ralph Lauren. After all, this is the man who was one of the first to combine denim jeans with suit jackets - successfully melding the worlds of casualwear and tailoring - and made us regret not thinking of it sooner. As synonymous with high luxury as it is with sportswear, there's no competition when it comes to delivering elegant suits, relaxed tailoring and essentials that simply never date. This ease of wear is what makes Ralph Lauren clothing – Wimbledon-inspired or otherwise – a uniform in itself, lining the well-dressed man's wardrobe with key pieces and proving that the brand's eye remains firmly on the ball.
Shop the collection at
www.ralphlauren.co.uk
and visit Ralph's Coffee & Bar to enjoy the new Wimbledon-inspired menu.