Ralph Lauren for The Rake 'Bearfoot Negroni Bear' watch
The Negroni Bear goes barefoot to the Maldives dressed in the epitome of tropical black-tie chic.
I described him in my last story with these words: "His countenance is known the world over. His visage has become an obsession for men and women alike. There are legions devoted to his ineffable style, his ability to move effortlessly between sublime sports chic, pitch-perfect preppy-dom, and transcendent black tie. He says little, but his warm, fathomless brown eyes speak volumes of his extraordinary depth. And while he may be small in stature, he exudes a heroism and strength of character that is singular and inspirational. And the mere rumour of his appearance on a skateboard literally broke the internet, with millions of fans vying for the chance to meet him." I speak, of course, of the Ralph Lauren Polo Bear. But what his fans may not know is that this diminutive bear is also an international jet setter sans pareil. And throughout the year he can normally be found wintering in Telluride, on his magnificent ranch, and summering in Montauk, where he resides in a home once owned by John Lennon, or at his residence in Round Hill near Montego Bay, once the abode of Babe and Bill Paley. Those of us following his seemingly innumerable miraculous appearances at the world's most fabled destinations are awed by the relentless pace of his ursine globetrotting. One minute he's at the Taormina film festival slurping up a plate of spaghetti ricci di mare in the company of Hollywood's most luminous demoiselles, immaculate in his shantung dinner jacket. The next he's in Shanghai or Capri or Mustique and always among the finest company, always resplendently turned out with sartorial elan. The Ralph Lauren for The Rake 'Bearfoot Negroni Bear' watch is available to order now via the link below.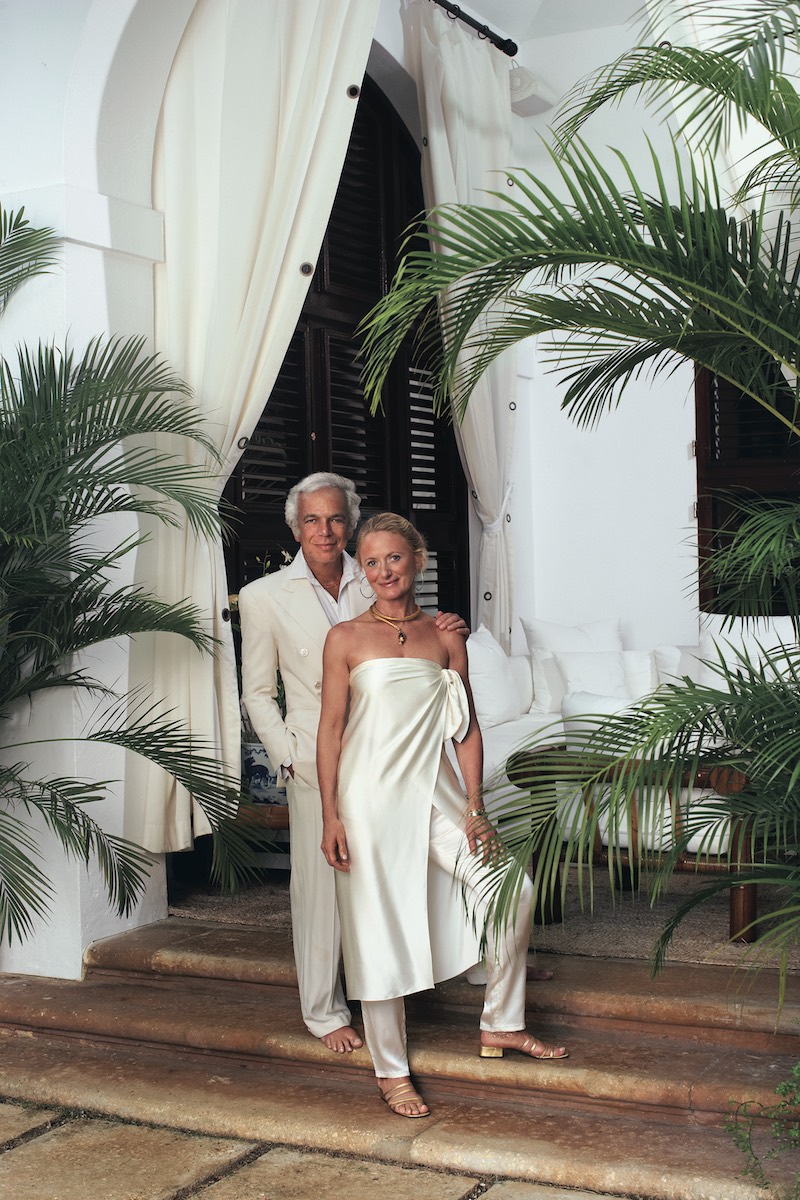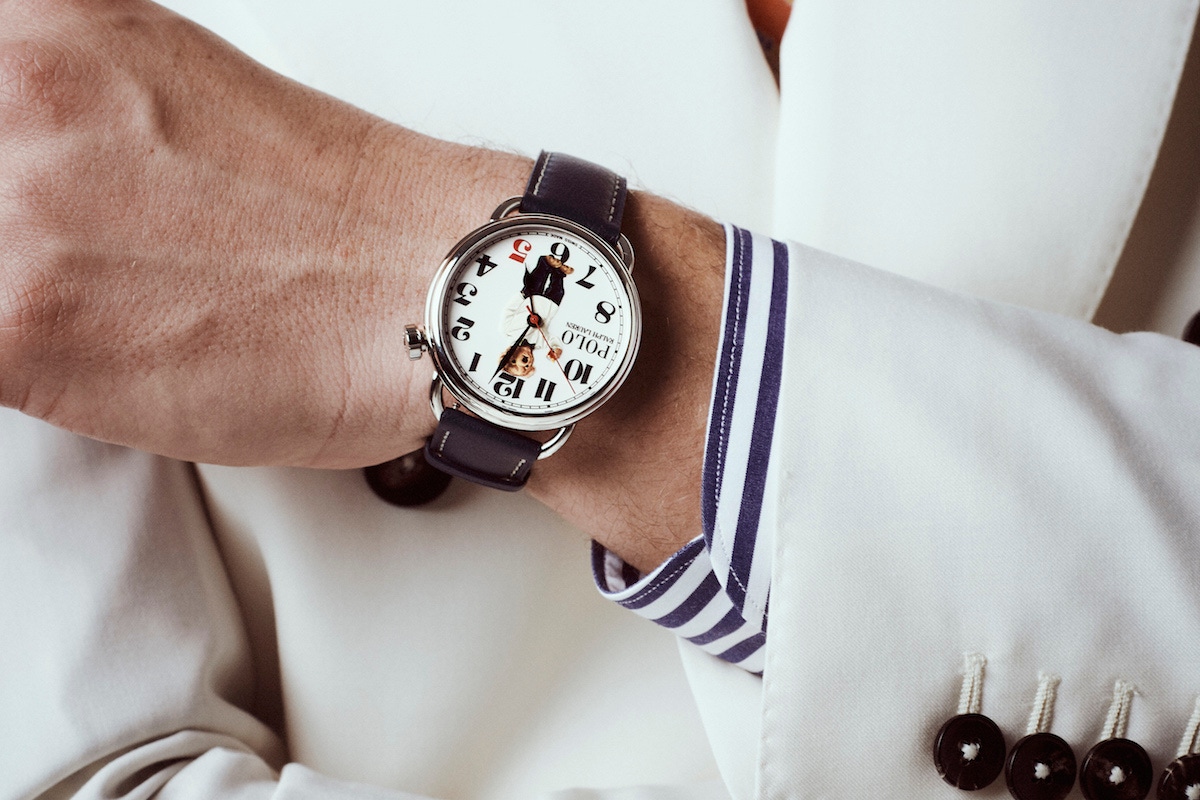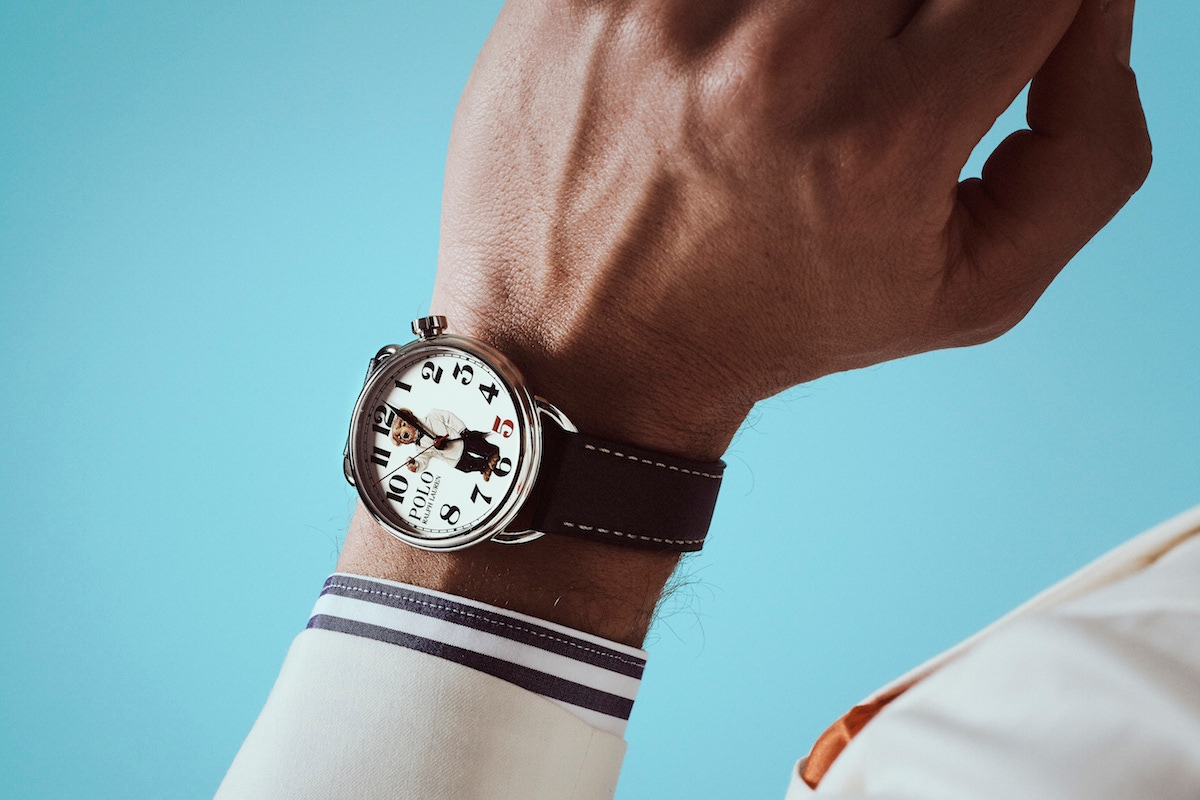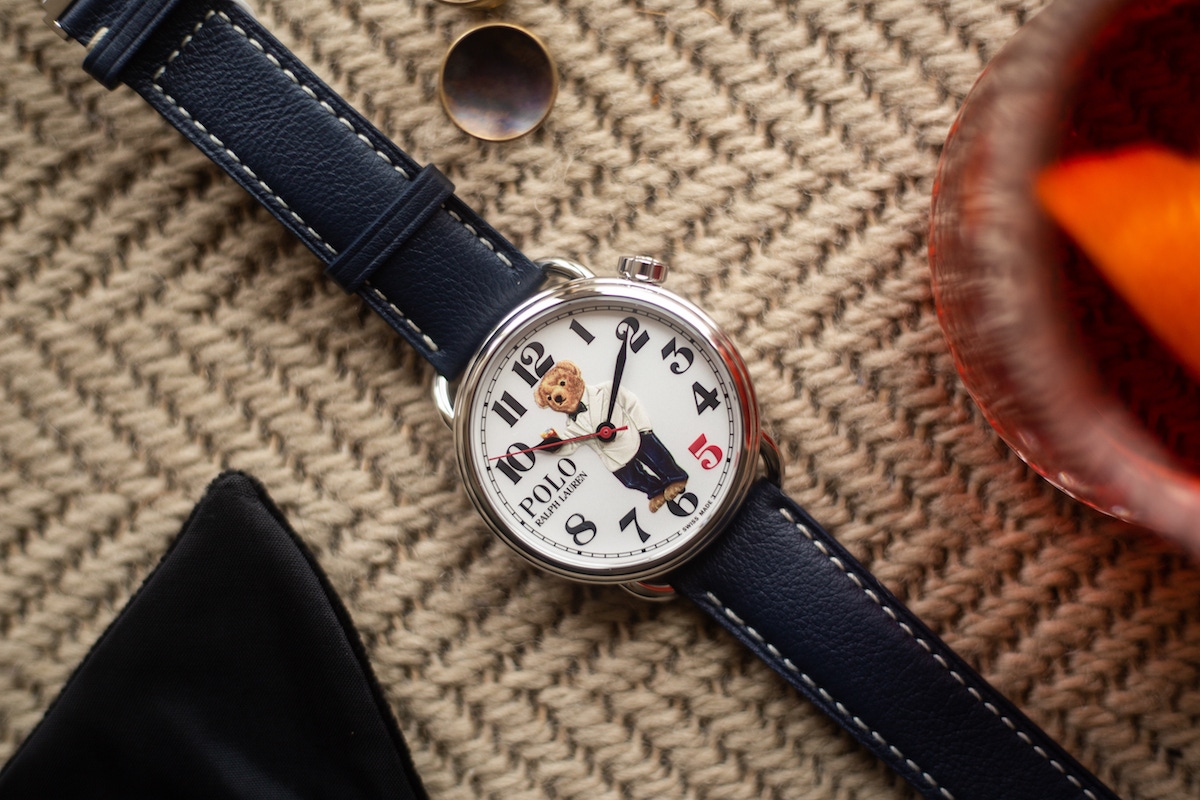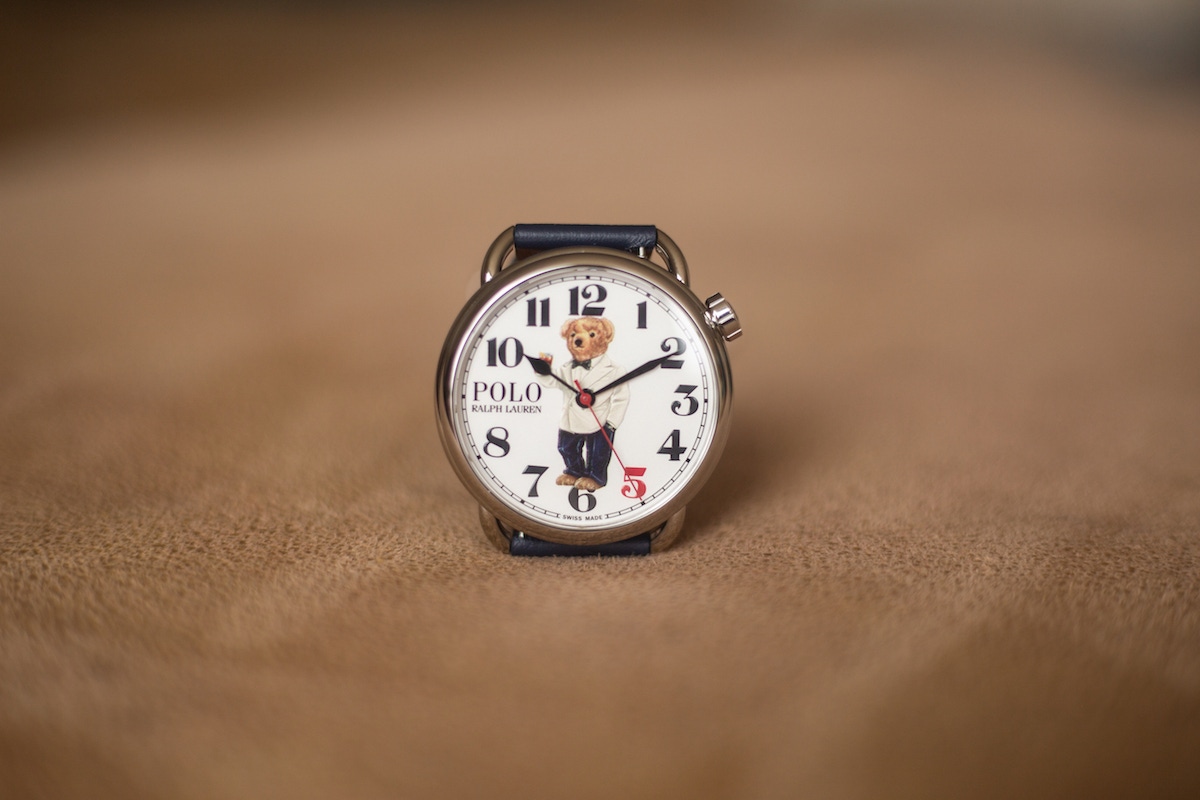 But like everyone else, 2020 has been a year of quiet reflection for the Polo Bear. With scant opportunity to indulge his peripatetic passion for transcontinental exploration, he's had time to ponder. So we asked him where he would like to travel once the world returns to normality, and replied immediately: "The Maldives." The Maldives is, of course, where
The Rake
has set up its first brick-and-mortar shop, ensconced on an eco-system of four sister islands that comprise three hotels (the Ritz Carlton, Capella and Patina); 280 villas; a world-class dive centre; and extraordinary fine-dining restaurants and beach clubs. It is situated 40 minutes from the mainland and is the largest development in the region. When we were given the incredible opportunity to create a second Polo Bear watch with Ralph Lauren, we decided to design a timepiece that reminds us all of the beauty of travel, of all the fabulous destinations and amazing friends that will be waiting for us during the second half of this year. What collectively we have been through has been seismic. It is something that will forever define the era we live in, and it is my sincere hope that everyone emerges from the Covid pandemic immensely grateful to be alive and to have great family and friends. Throughout this dark time there have been certain symbols of unity against the crippling thoughts and negative emotions that have welled up as a result of the spiritual isolation and existential malaise we've endured. The acclaimed film director and rake extraordinaire Paul Feig says: "Through social media we've tried to keep each other uplifted and hopeful. This was the reason I embarked on my Quarantine Cocktail Time, to bring good cheer to everyone stuck in lockdown. So the idea of the Polo Bear being a symbol of happiness and friendship really resonated with me." For us at
The Rake
throughout this extraordinary period in human history the world was more than ever in need of symbols that represent kindness, warmth, and a childlike sense of joy, and to us there was none more perfect than the Polo Bear. Which motivated our creation of the first Rake Bear timepiece last year, featuring our ursine hero resplendent in iconic black tie.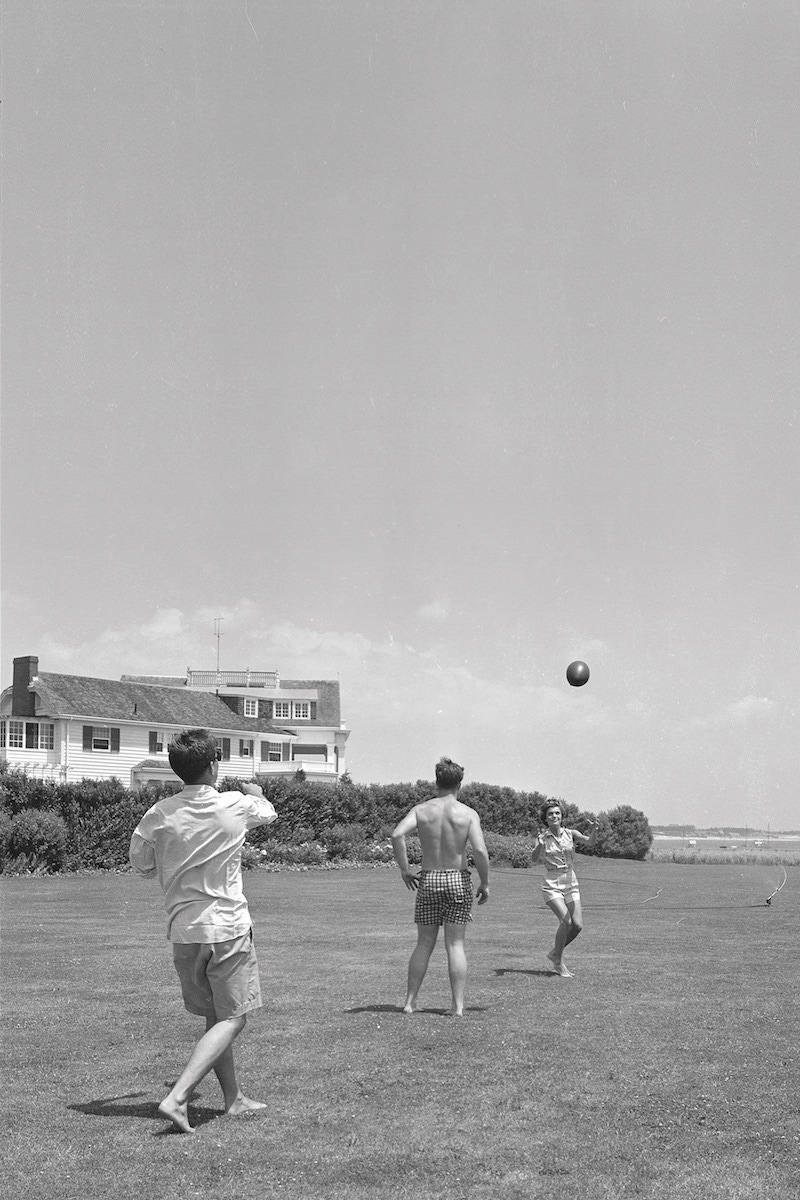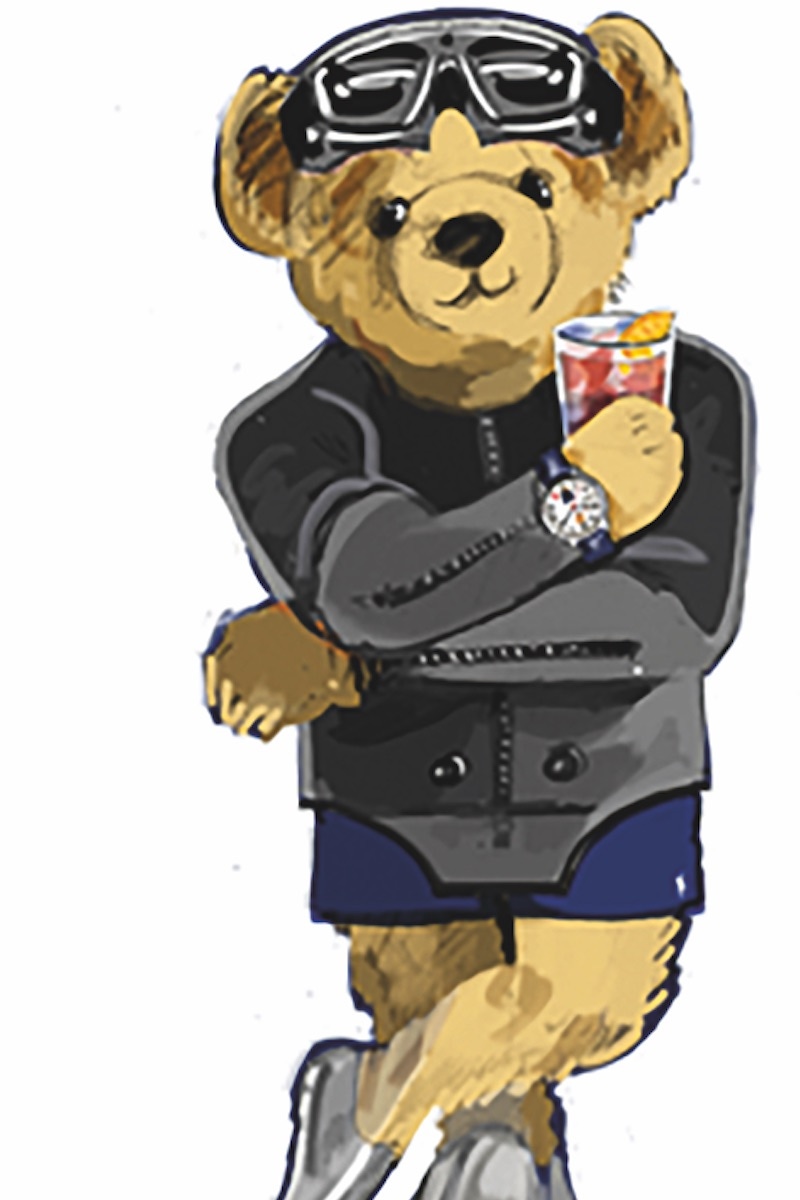 Being a rakish bear, he came equipped with our signature beverage, the Negroni, which, as you read about in issue 72, has become a symbol for comradery, elegance and a certain irrepressible attitude to life. So when it came to selecting a design for our travelling Negroni Bear, we imagined him in the Maldives. We asked, What stylistic masterstroke of bella figura would the Polo Bear accomplish? Well, such is the scope of his sartorial canon, we decided to go back to the Polo Bear and ask him what he thought his signature style in the Maldives should be. His beatific countenance grew sage and his brown eyes bright as he replied, "I should like to wear my white double-breasted peaked-lapel dinner jacket with my blue braided evening trousers." He paused and added, "But I should like to feel the sand beneath my feet — or, more accurately, my paws." We immediately envisioned this ultimate act of tropical black-tie. After all, it is a style that Ralph Lauren himself is often seen perpetuating at his home in Round Hill, Jamaica — in his white dinner jacket or cream suit but with his feet bare. The Rake's Editor, Tom Chamberlin, says: "The idea of being barefoot is something innately American in its casual self-confidence and irrepressible style. It's funny, but it was something invented in America and then copied in Europe." What are the roots of barefoot American style? In 1953 a Life magazine reporter and photographer were dispatched to Hyannis Port to interview a charismatic young senator named John Fitzgerald Kennedy as he romanced his fiancée, Jacqueline Bouvier, at his family home in Cape Cod. The images captured were remarkable in that it was the first time a couple from America's political and social aristocracy were captured so naturally at play. The photos were infectious in their charm, and the palpable love for one another resonated from the pages. Importantly, the couple was shown unposed and natural in a game of touch-football, laughing, lounging in the sun, and encapsulating all of the extraordinary, glorious optimism America represented at the time. Most remarkably, they were almost never wearing shoes, photographed barefoot, as you would imagine people living and playing by the beach would be. The name of this essay — Senator Kennedy Goes a-Courting — became one of the seminal moments in the canon of American style. It was revolutionary in that no member of Europe's aristocracy would deign to be seen without shoes. But in its pared-down, rumpled, untucked, Brooks Brothers-shirt, tousled-hair, barefoot style, it epitomised American cool and seemed so much more relevant and real than the contrived portraiture that had been the norm until then. "This is what makes the idea of the Polo Bear resplendent in tropical black-tie but barefoot even more epic, because it is the perfect expression of everything that makes America cool," Chamberlin says.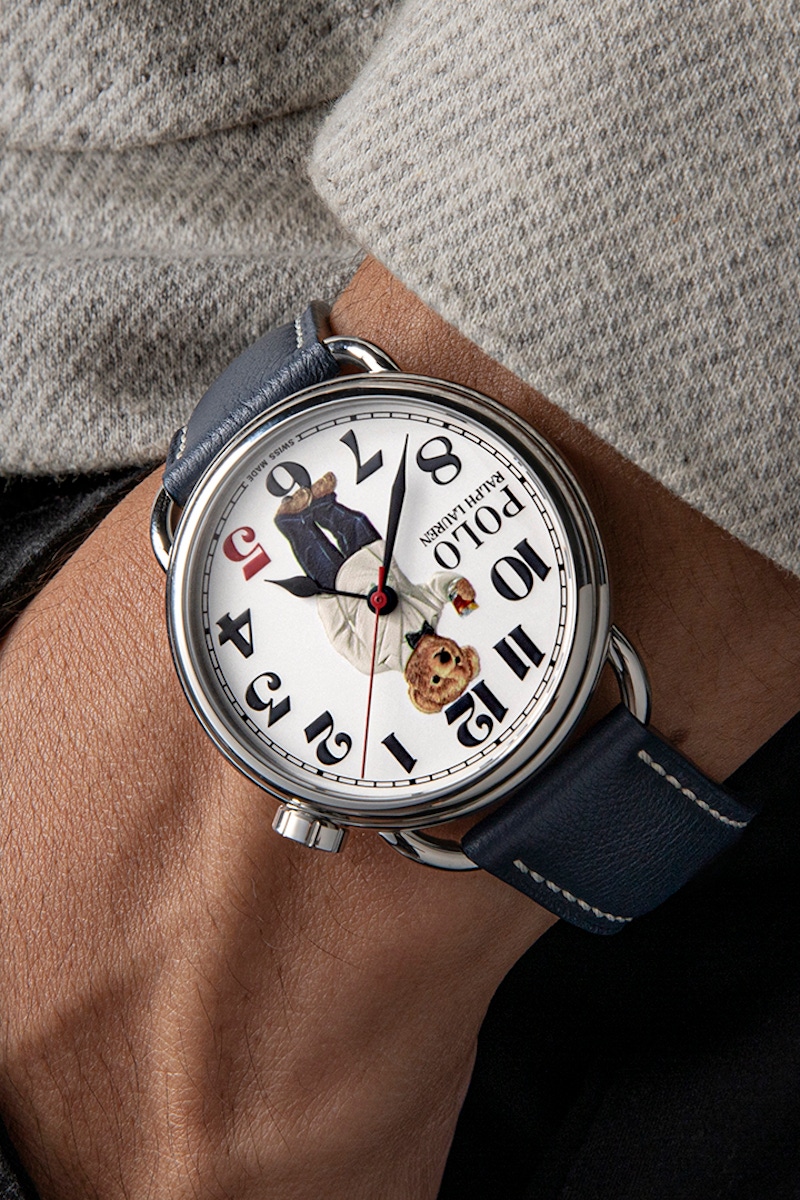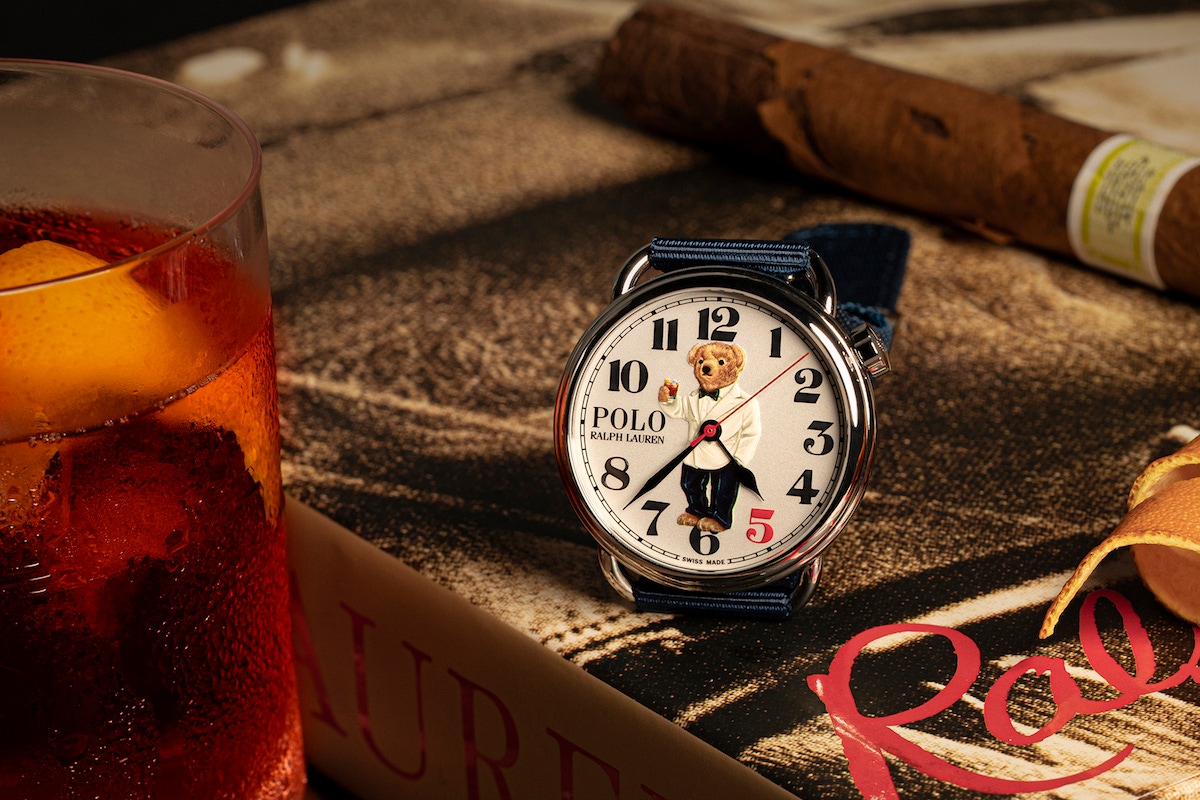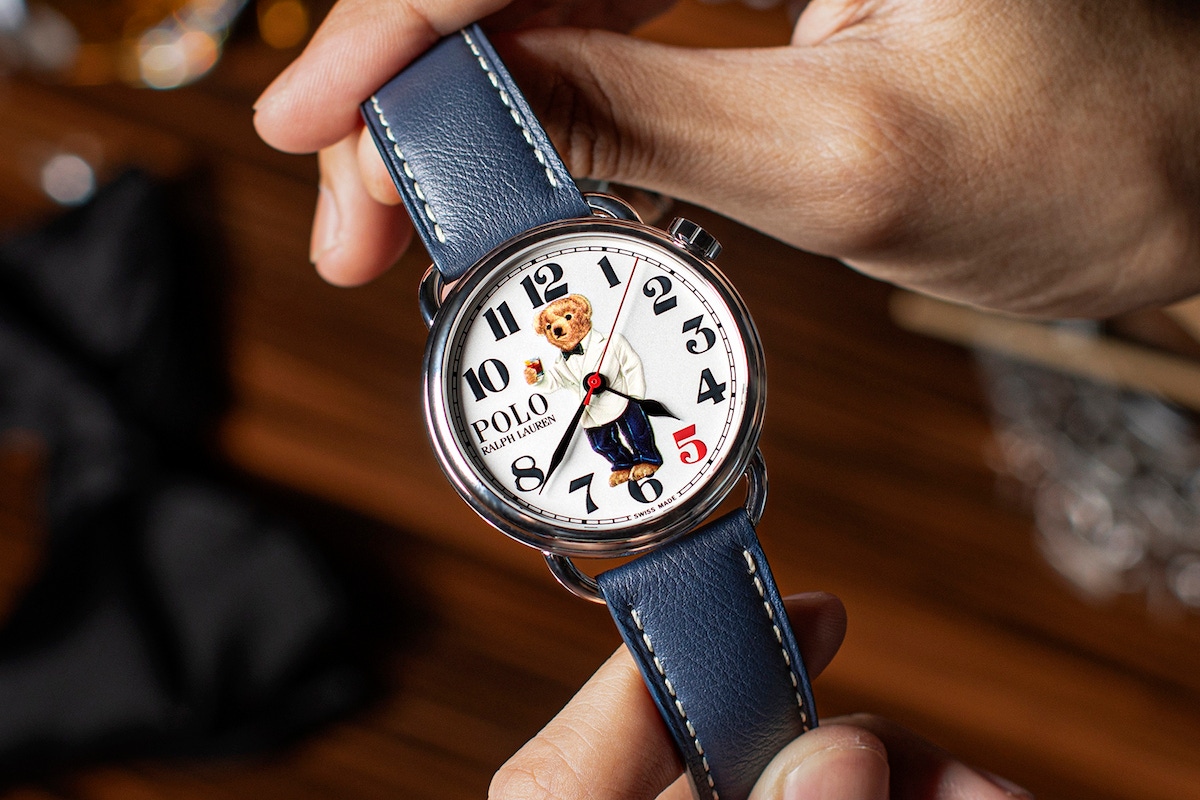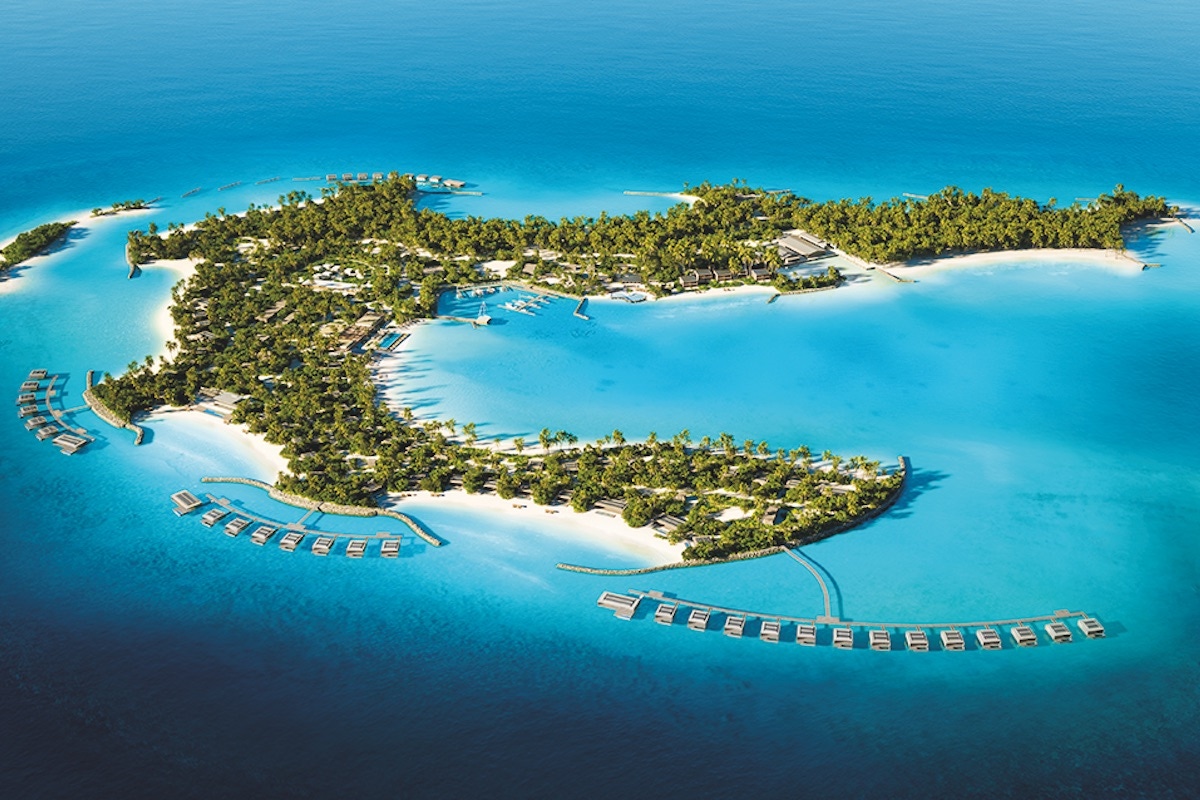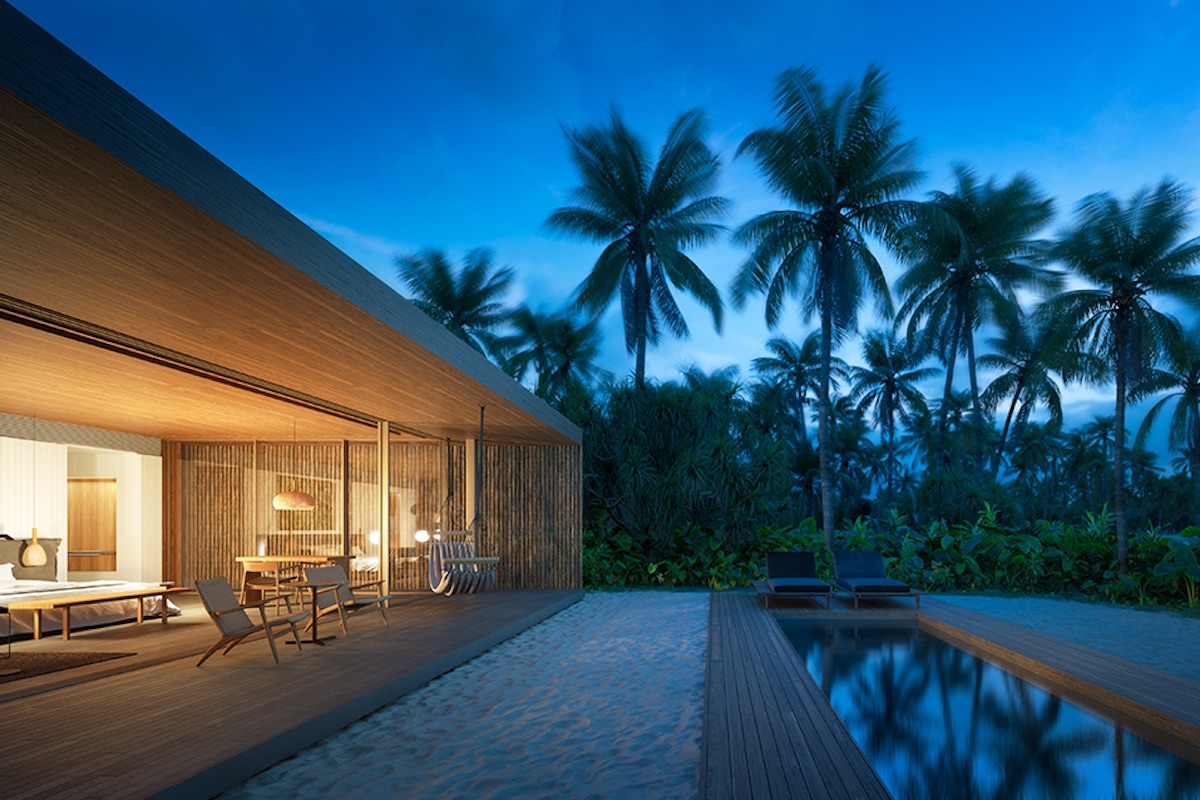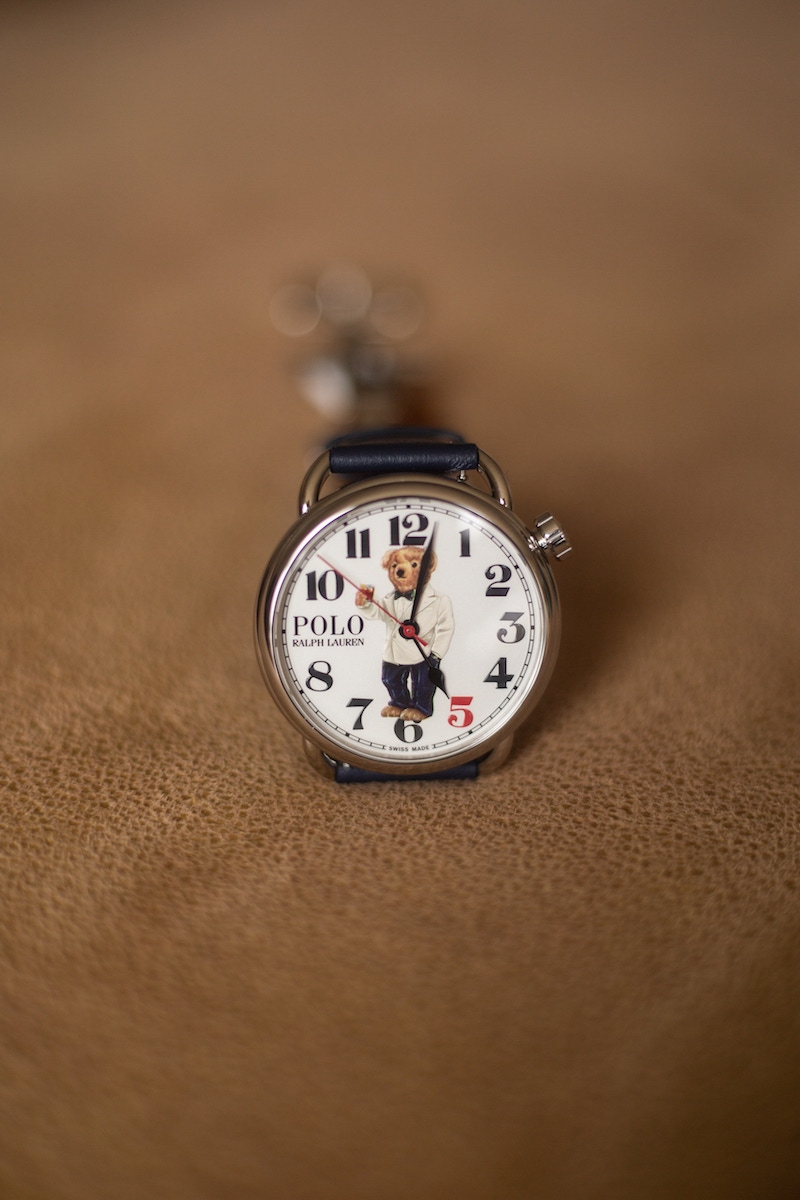 Ralph Lauren and Polo have always been the ultimate expression of nonchalant American elegance. Part of the brand's success is the understanding and elevation of casual cool. Lauren and his family are often seen barefoot and at play at his home in Montauk. Inspired by life by the beach in 2018, Lauren even went so far as to send all the models in a show down the runway beautifully dressed in his signature style and barefoot. "When it was time to imagine life this summer in the Maldives, or at any beach or seaside retreat that we are all longing to go to, you can almost feel the sand beneath your feet and the warmth of the sun on your skin," Chamberlin says. "We thought the Polo Bear was very smart to propose an image of himself that connected us to this." When I proposed the idea to Ralph Lauren, it brought a chuckle in response. He replied, "So you want a barefoot bear for your next watch?" My response was, "Mr. Lauren, somehow I can't think of anything cooler. This is your style: an effortless American mixture of dressed up and laid back. This is exactly how I imagine the Polo Bear to be dressed in the Maldives for a romantic dinner." Lauren liked the idea of the image symbolising a celebration of the renewal of travel, and gave his kind assent. With that, the design for our Bearfoot Negroni Bear got underway. Chamberlin says: "One of the most challenging details was to select the colour of the Polo Bear's pants, as they would also inspire the hue of the strap. Finally, after some amount of back and forth, the Polo Bear sent us his bespoke formal trousers and dinner jacket, which helped to define the colour scheme of the timepiece." His ivory jacket was the motivation behind the choice of colour of the dial, and his blue pants also allowed us to create a matching blue strap. However, it dawned on us that many people would also be wearing the watch in the swimming pool and the ocean this summer. This motivated the design and creation of a second, which can be rapidly interchanged with the blue calf strap supplied. The Bearfoot Negroni Bear, like his forebear, is holding our signature libation, the Negroni, a symbol of resistance against despair with its distinct hue burning brightly against the darkness. The dial of the watch features hands as well as the 5'o clock index in distinct Negroni orange. Why the number five? Because it is always 5'o clock somewhere. Like his brother who came before him last year, we hope The Rake's Bearfoot Negroni Bear achieves his one defining mission in life: to put a huge smile on the face of each and every one of his owners this year as we celebrate all the warmth, beauty and promise 2021 has to offer and begin again to explore this amazing planet that is our home.