Rebel with a Cos: Chateau Cos d'Estournel
From the legend of its very founding to its iconoclastic architecture, nothing about Chateau Cos d'Estournel has ever been conformist.
If you can picture it, the setting is a cross between A Passage to India and Dr. No. That said, rest assured that it is most resolutely the antithesis of naff. In fact, it's the apogee of impactful and communicative design. No, this is not the Hollywood blockbuster set of some personage amped on hallucinogens. It is the inimitable, one-of-a-kind and gobsmackingly opulent Château Cos d'Estournel, a setting oft-cited as the most remarkable of all the famous Bordeaux 'Super Seconds' wineries. Reams of oenophile analysis have been dedicated to un terroir d'exception that is the hill of Cos on the banks of the Gironde, and with good reason. The word 'cos' is likely derived from 'caux' in the old Gascon tongue, itself derivative of colline de cailloux, which means 'hill of pebbles'. In this case, it's an accumulation of Quaternary Period gravel originally from the Pyrenees and Massif Central deposited by the receding primeval river over the limestone bed of Saint-Estèphe. Besides being a geological wonder, the remarkably deep pebble layer forces old vines planted atop to push their roots way down through the arid layer, striving to imbibe from the precious water reserves of the aquifer residing at the staggering depth of some 19m. The vines tell a story mirroring that of Louis Gaspard d'Estournel, the flamboyant maverick behind Château Cos d'Estournel. After inheriting some vines near the village of Cos in 1811, he recognised their quality and decided to vinify them separately. Realising that he'd come into an exceptional terroir, he made it his mission to acquire, gradually, the whole of the hill.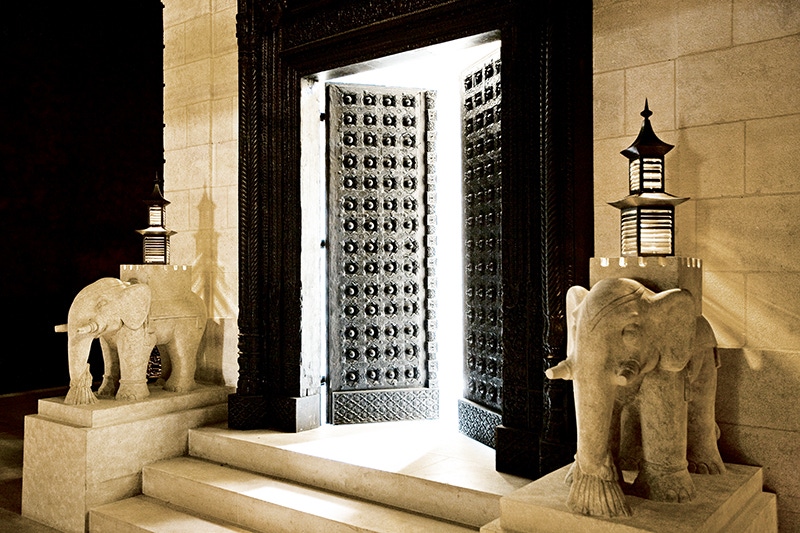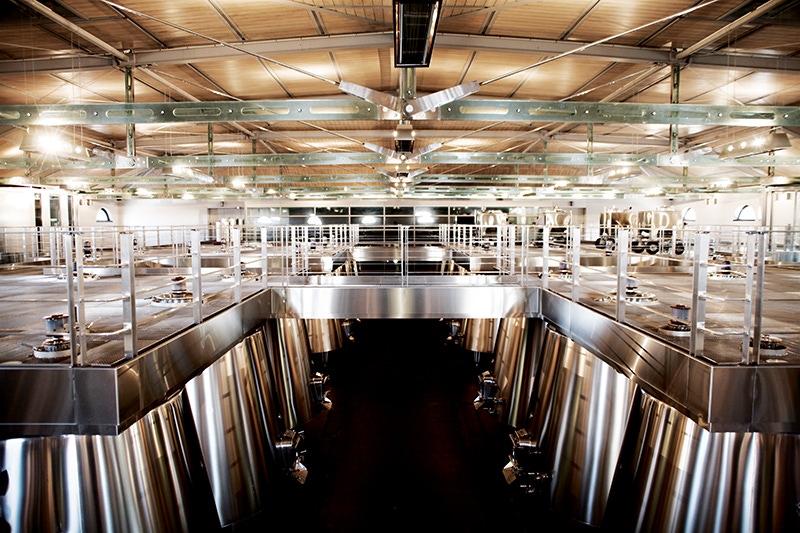 The price of the wine swiftly superseded that of its most prestigious peers, and was exported to lands as distant as the Indian subcontinent to grace the lavish tables of maharajahs and East India Company nabobs alike. This feat earned Louis Gaspard d'Estournel the moniker of the 'Maharajah of Saint-Estèphe'. This was PR gold, and the showman from Quercy was exactly the kind of zealous visionary to seize the day. Scheherazade herself would have been hard put to weave a mythology as beguiling. To celebrate his faraway conquests, our irrepressible hero wasted no time in erecting exotic pagodas surmounting his cellars hewn from golden sandstone (rather than the creamy stone more typical of Bordelais châteaux); importing a 'bulanddarwaza' ('great gateway') elaborately carved with vines, grapes, flowers and leaves from the palace of a sultan in Zanzibar; orchestrating fantastical fetes and swanky soirees; and presenting the who's who of the day with bottles inscribed 'R' for 'Retour des Indes' ('Returned from India' - he was of the view that his wines demonstrated a significant improvement after a round-trip to the subcontinent). Unsurprisingly, celebrity endorsement poured forth fast and furious. Patrons ran the gamut from royalty like Queen Victoria of England, Tsar Nicholas I of Russia and Emperor Napoleon III of France to intellectuals like Stendhal (aka Henri-Marie Beyle), Jules Verne, Eugène Labiche, Friedrich Engels and Karl Marx. Regardless of stature, all were equally enamoured with Cos d'Estournel. In recent years, the cellars have been restored to the magnificence of their halcyon days. And so, approaching this Orientalist edifice in - of all places - Médoc is quite the out-of-body experience. You are first greeted by an imposing ceremonial arch, bearing a coat-of- arms upheld by a lion and a unicorn. Beneath reads the inscription 'Semper Fidelis' ('Always Faithful'), the slogan more readily identified with military regiments than Bordeaux wines. Beyond this, elephant topiaries and pink Indian paving stones meet you at every turn. Like the Dance of the Seven Veils, the true enthrallment of Château Cos d'Estournel only begins to unfurl when you cross the threshold of that otherworldly door from the faraway sultanate into Neverland. Starchitect Jean-Michel Wilmotte (he of the restrained, minimalist line) and celebrated designer Jacques Garcia (he of the exuberant, maximalist gesture) have somehow, magically, in Château Cos d'Estournel, made their apparently at-odds ideologies dovetail in a project of singularly captivating magnitude.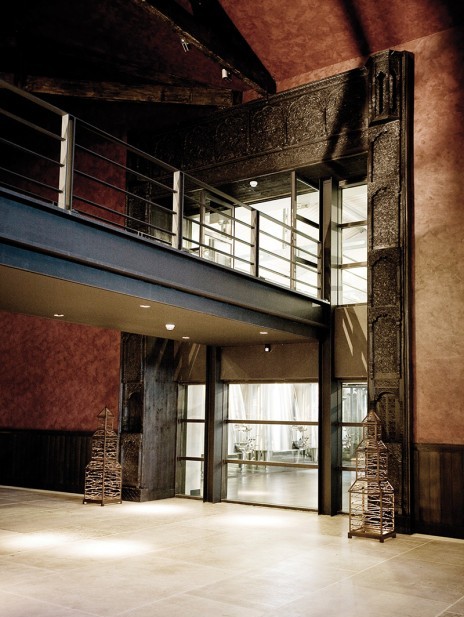 The vat room, that most workaday of winery workspaces, has been transformed into a Bond-worthy gallery by Wilmotte. Only his unique perspective could have elevated the seemingly ordinary into such a spectacle of high art. Spread across two floors - the upper skimming across the tops of vats, the lower allowing side access - the room glows with the incandescence of seemingly innumerable stainless- steel, conical vessels under a vast, arched ceiling of immaculate blond wood. Four monolithic ascenseurs à cuves - immense vats encased within glass lift shafts - make it possible to complete the entire vinification process using exclusively the gentle force of gravity. Achieving wine transfer via the laws of gravity in lieu of pumping is akin to finding the Rosetta Stone. It is critical both to improving tannic profile and texture as well as the preservation of the fruit. So, if form is informed by function, then the Cos d'Estournel vat room is as beautiful a spectacle as it is a rationalisation of workspace. The barrel cellar, lit by luminescent glass columns, dazzles similarly with its space-age aspect. The original part of the chai (an above-ground structure used for wine storage and ageing), which lies just steps from the Zanzibar entrance, meanwhile, has been luxuriously appointed by Garcia. The high- ceilinged space is all Bordeaux-hued walls, flickering candlelight, mirrors, deep pile carpets, silk wall hangings, dark wood beams and stone elephants standing guard at doors - a perfect space for hosting intimate tastings and receptions, as well as inducting Cos d'Estournel acolytes. Just as enchanting is the atmospheric bottle cellar, a library of vintages that makes you as giddy as if you'd stumbled into Aladdin's cave itself. The secondary phase of the ambitious renovation - converting nearby structures into guest rooms, a boutique, a tasting room and other public spaces - is currently underway. Given that Michel Reybier of La Réserve fame, and Dimitri Augenblick (see page 252), Château Cos d'Estournel's dapper Development Director, are the gentlemen behind this impetus, we can only anticipate the extraordinary.