Rubinacci for The Rake: The Travel Blazer & All-Season Silk Scarves
The Rake joins with the innovators of Neapolitan Elegance to create a travel blazer that is a shimmering symbol of masculinity, while constructed to be as light as 'The Winds over Vesuvius'.
Despite my circuitously obtained name I am an Englishman by birth and thus used to be thoroughly biased when it came to anything made in Britain. Since joining The Rake, I am pleased to say that my eyes have been well and truly opened. A staunch admirer of the best British tailors as I am, I have come to understand the unique talents and intricacies of tailoring as practiced by different artisans all across Europe. There is however, one tailoring dynasty, which I was previously unfamiliar with, that has completely and utterly enraptured my heart whilst at The Rake, and that firm is Rubinacci Napoli. I remember the very first time that I met the Rubinaccis, and when I first visited their London store on Mount Street - it felt entirely like walking into the very birthplace of Neapolitan style, an authentic expression of the greatest tradition of Neapolitan tailoring - which of course it is because they essentially created it. There is a genuine quality to Rubinacci and the Rubinacci family, Chiara, Mariano and Luca, pictured above, all take great pride in their reputation as the greatest of Neapolitan tailors and stylists on earth. It was only natural then, when it came to consider those artisans that we would like to work with for the launch of our E-Commerce platform, that the Rubinaccis were the first family we contacted. Not only do their designs bring with them no small amount of colour and dash, but also their lightly structured aesthetic is perfect for the fast-paced, international world of today. Their scarves, tailoring, even their iconic leather slippers are all created to be light and soft, easy on the body and supremely comfortable. It is to be expected then that this was the direction that The Rake took in collaborating with Rubinacci. We commenced with a unique rendering of their iconic silk samurai themed scarf, in a rakish navy with vibrant contrasting red and muted cream highlights - a colour combination exclusive to The Rake. The samurai theme was selected for its connotations of power and discipline embodied in the Bushido Code. The beauty of this scarf is in its blend of silk and modal fibres, which are smooth, luxurious and lightweight. The scarf drapes beautifully and strikes just the right balance between warmth and lightness; it's that rare kind of scarf that one doesn't have to take off when one steps indoors. It moves from practical neck-warming territory outside to a stylistic flourish indoors in the blink of an eye. It is also supremely easy to wear with any manner of different outfits, as can be seen from the selection below.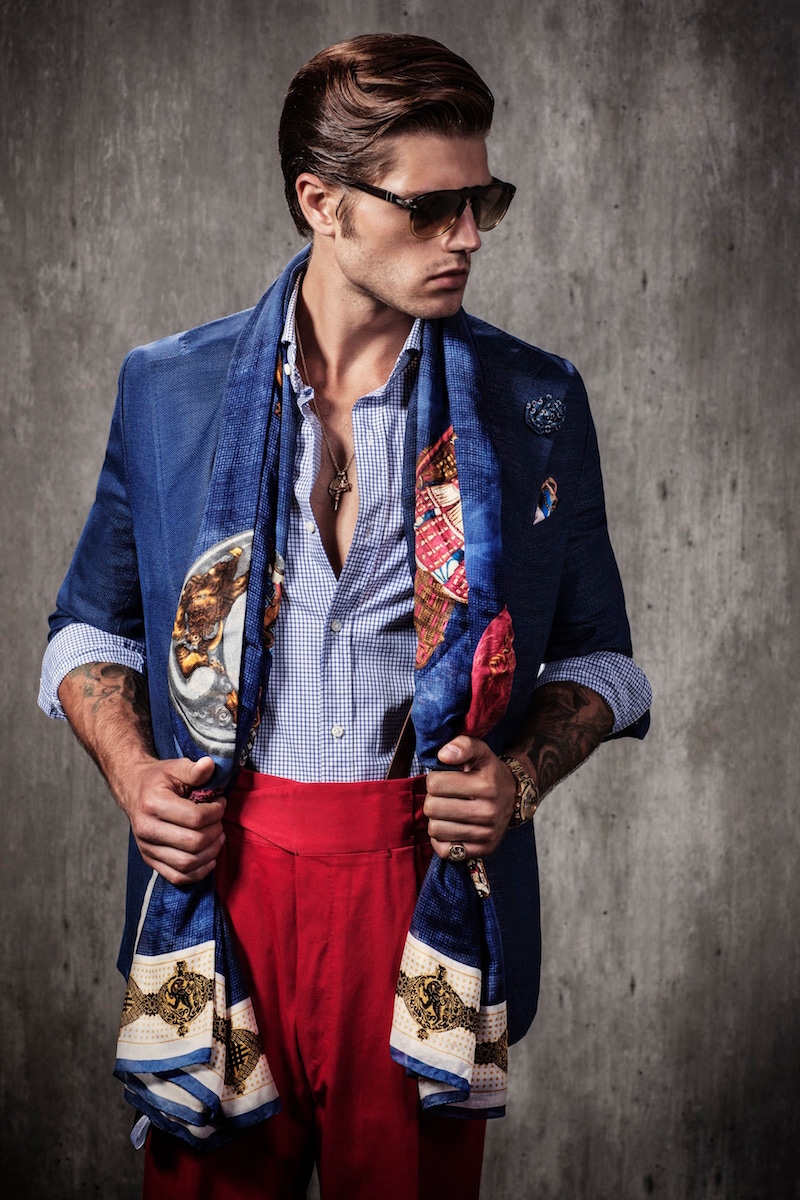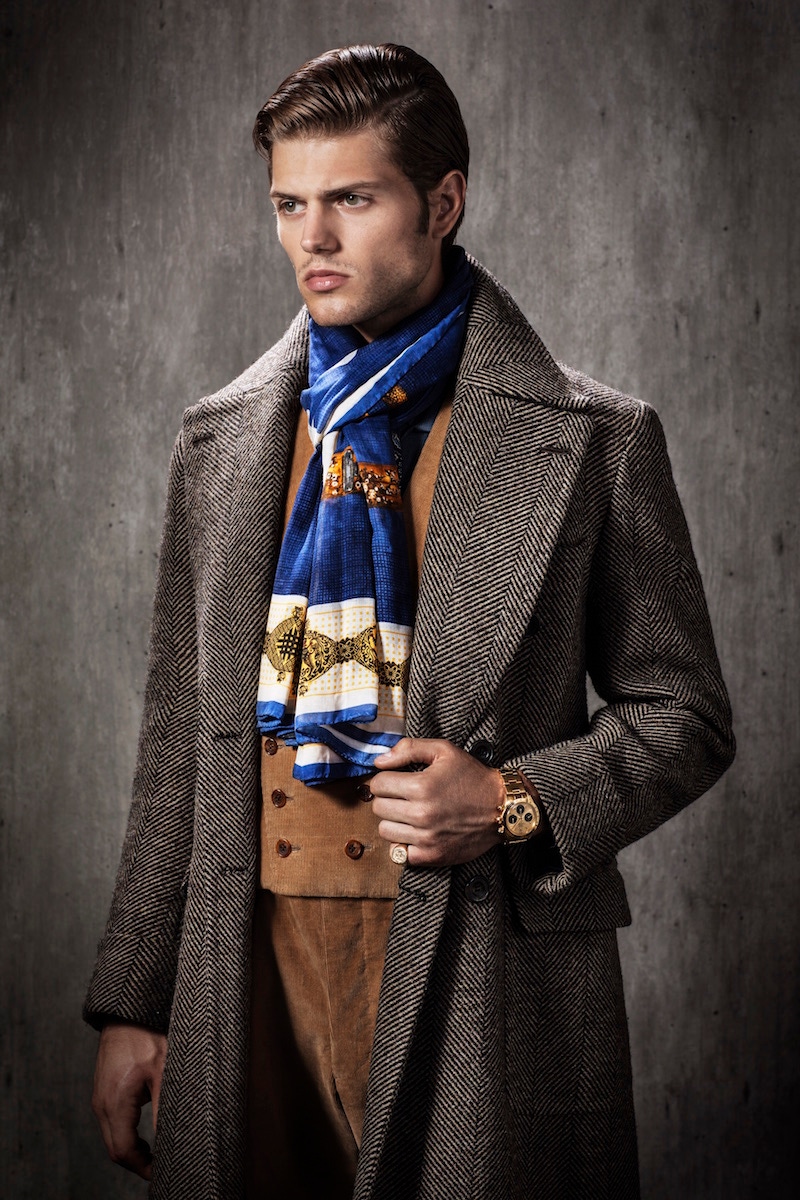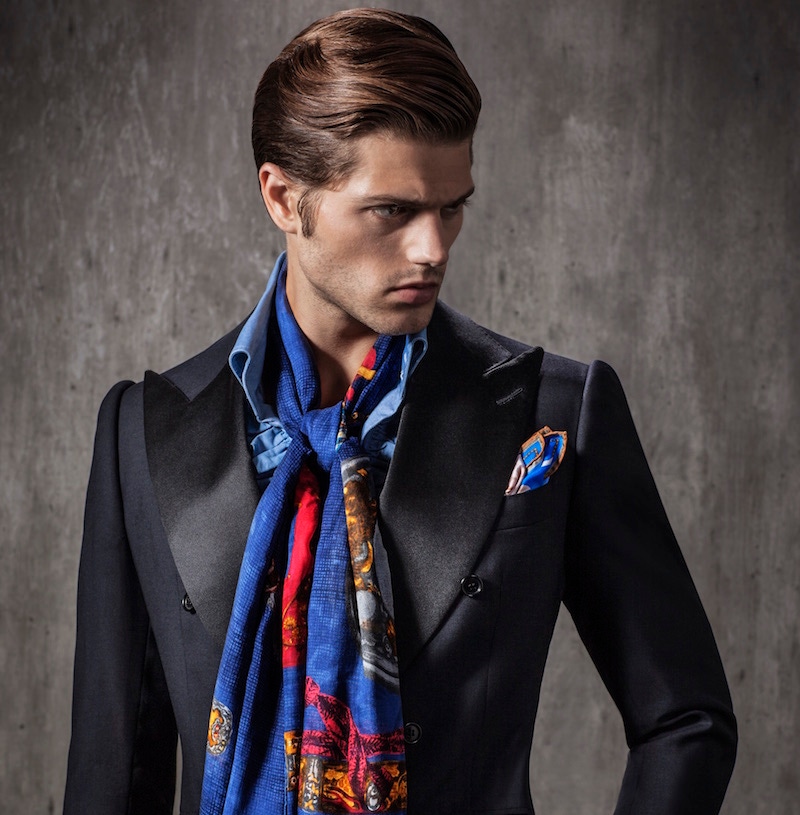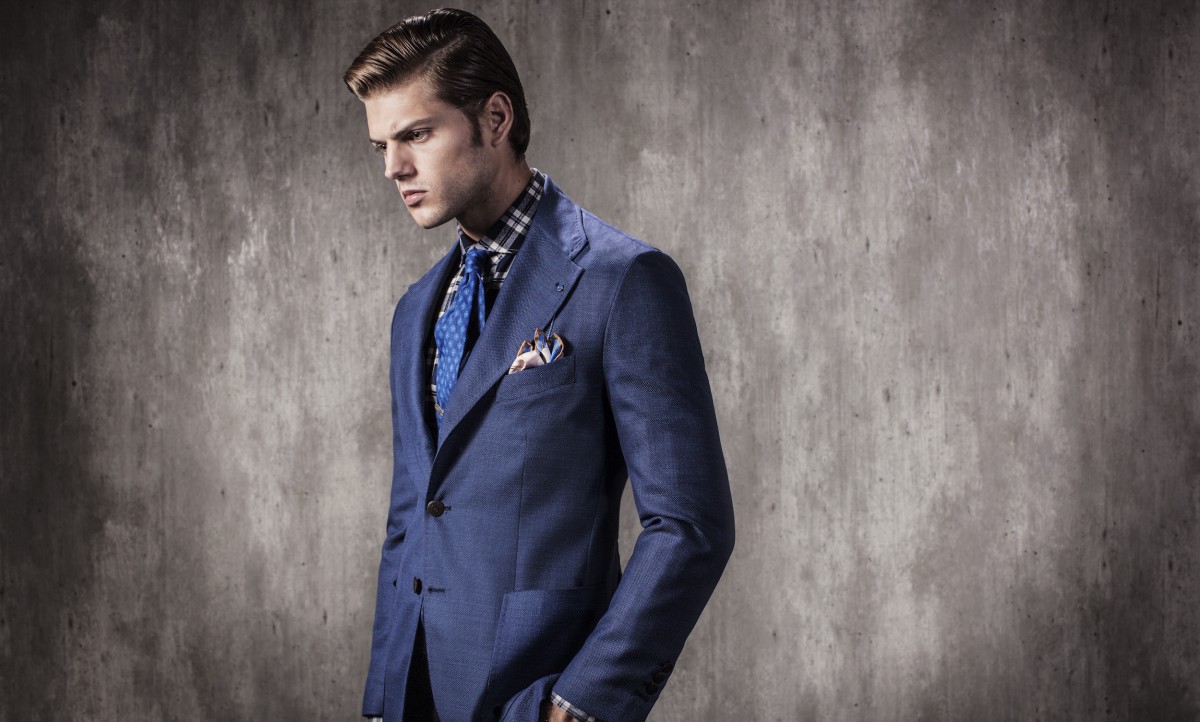 In the same vein, we could not possibly create a Rubinacci samurai scarf, without exploiting a second of the house's iconic designs; the Victory print. Also created in their iconic silk-modal blend with handrolled edges, for a scarf that is effortlessly wearable,
The Rake
's All-Season Silk Victory Scarf is a unique rendering of Nelson's famed flagship in the ideal shade of royal blue with complimentary nuances of turquoise, chestnut and cream. More designs, exclusive to
The Rake
, will follow shortly.
Then of course, we have Rubinacci for
The Rake
's' pièce de résistance, the ne plus ultra of unstructured travel blazers. It has long been
The Rake's
conviction that the modern man's requirements for his tailoring are shifting. Travel and the continuous movement through different climates, temperatures and environments are now all constant facts of life and in order for tailoring to remain relevant, it has to adapt to this contemporary mode of living. Creating tailored clothing that meets this mark was the aim of our collaboration with Rubinacci. Says
The Rake's
founder & editorial director Wei Koh, 'Because Rubinacci's clothing is focused on being the ultimate in lightness and mobility, while remaining sublimely stylish, they were the perfect collaborators for the ultimate travel blazer.' We chose the cloth itself for its life-giving lightweight properties, its rich blue colour, subtle texture and its remarkable durability. It's a high-twist wool hopsack, weighing in a 9.5oz, making it ideal for perennial use and for intense travel. The high-twist yarns give it an extraordinary crease resistance, yet it remains smooth and soft to the touch. Clever use of lighter tones in the cloth's warp lift its navy ground shades and give it no small amount of sophistication.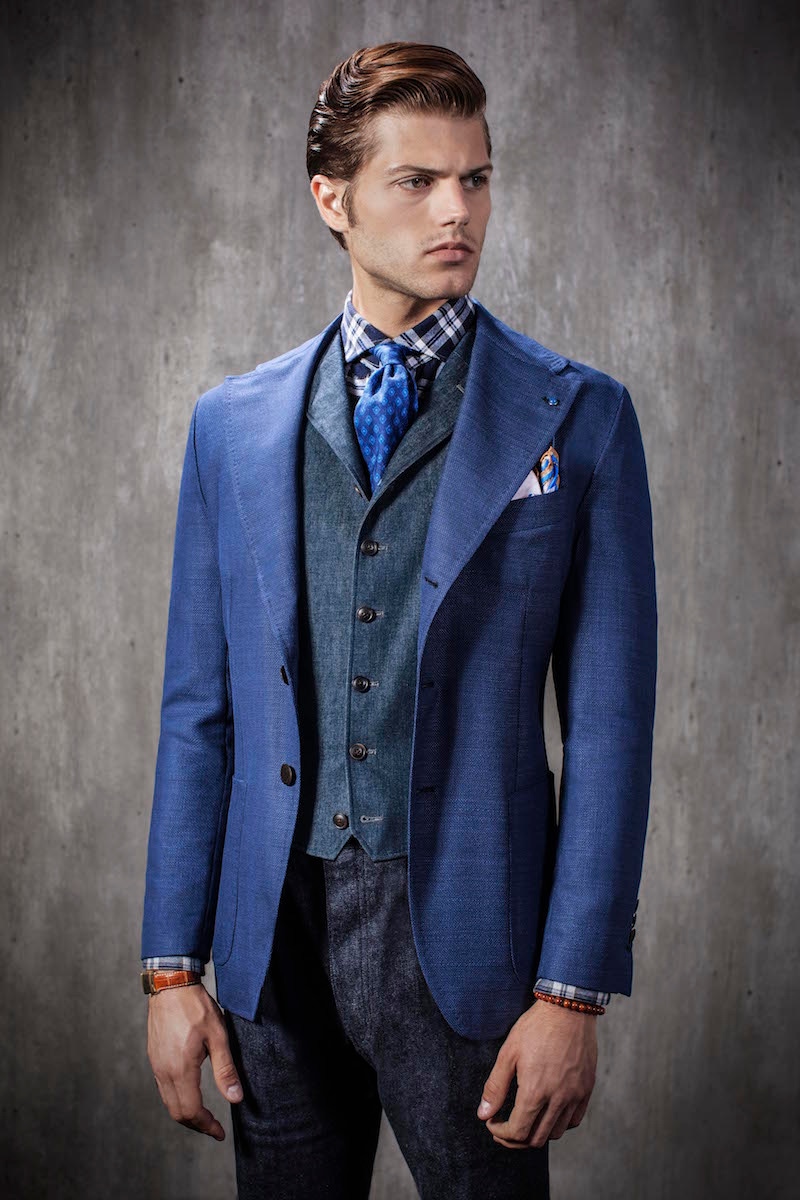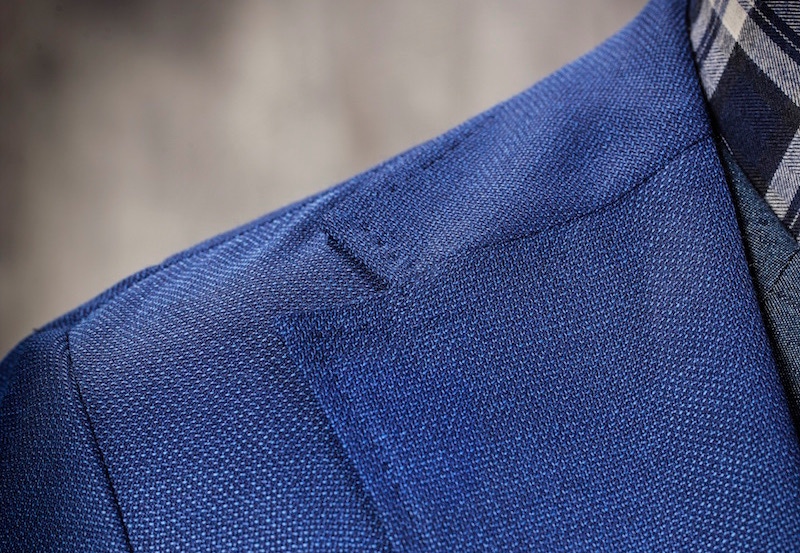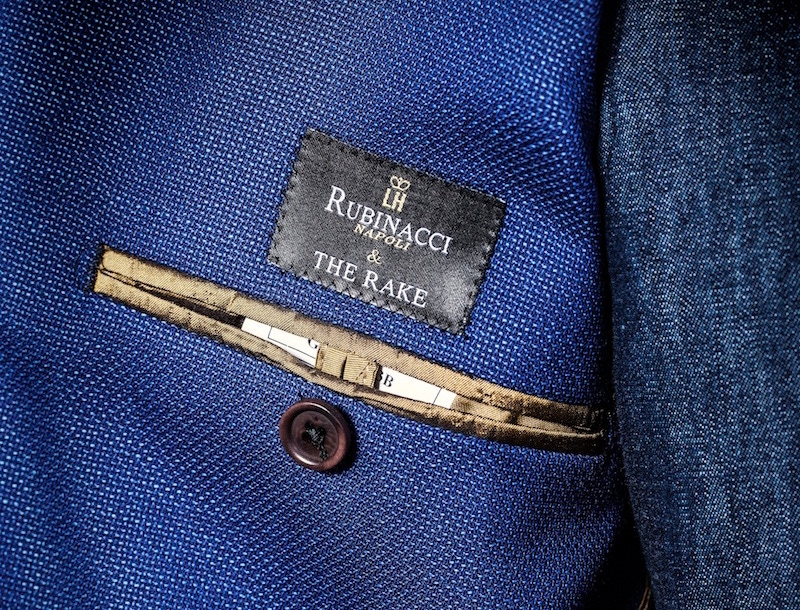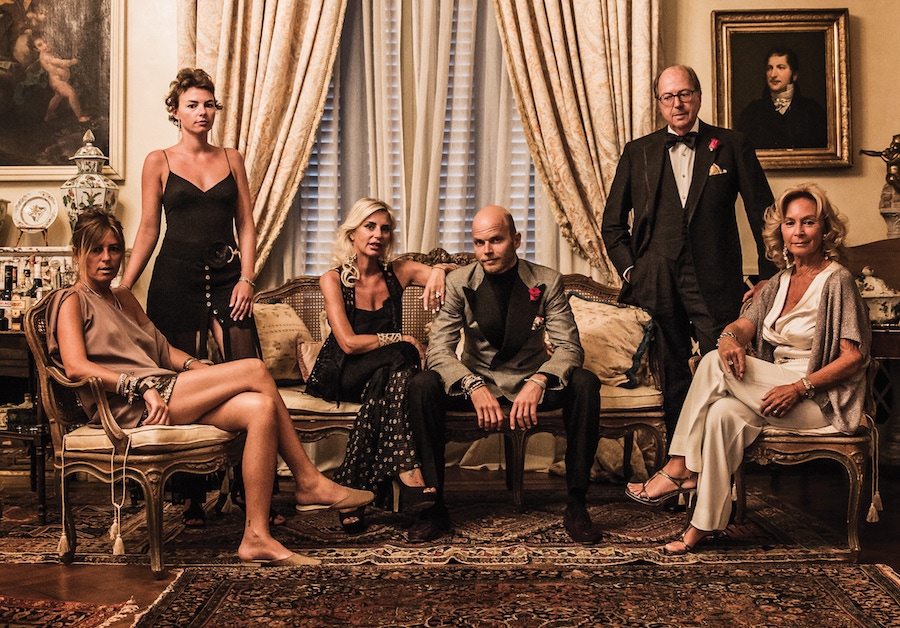 The jacket is unique to
The Rake
, designed with Rubinacci to our exact specifications; the patch pockets feel practical and relaxed, Rake signature four-inch lapels follow our dictum that size really does matter and the three-two-roll design offers a contemporary take on Rubinacci's signature three-button style. Note that the top buttonhole is finished on the side facing outwards as the lapel is rolled, in true Neapolitan fashion. The waist of this jacket is a touch more nipped in for an extra-heroic silhouette. The jacket is totally unstructured and unlined (with seams finished in
The Rake
's signature gold satin) and features a four-button cuff, twin rear vents and Rubinacci's unique polished brown corozo nut blazer buttons. The advent of our collaboration with Rubinacci brings with it another personal confession. I have never owned, and have only very, very rarely worn a completely unstructured jacket. Indeed, for a long time, I was actively opposed to such things, defender of heavily structured British silhouettes as I was. Nevertheless, this Rubinacci jacket is transformative. It feels like a cardigan - or just a single form-fitting piece of cloth - it practically levitates around the contours of one's person. For the jet setter, take note that this extraordinary garment transforms from a remarkably chic and comfortable blazer to a pillow, to a blanket and then back to a blazer again with ease. Only ten have been produced in total, and the design is unique to
The Rake
, so readers out there in search of the quintessential tailored travel jacket really ought to snap it up whilst they can. And by all means, take an all-season silk scarf too whilst you're at it - as there are only twelve of each.