Rake-in-Progress: Sam Heughan
Sam Heughan is an actor, cult figure, philanthropist and marathon runner. The Rake is won over.
The collective noun for Sam Heughan's fans are Heughligans, who number in the tens of thousands and act as a testament to his success: as an actor, philanthropist and, as you'll probably agree, a rather stand-up guy. This affection is directed at one of Heughan's characters in particular: Jamie Fraser, a soldier and the central protagonist of the cult T.V. series
Outlander
. Based on the books of Diana Gabaldon, the time-travelling show is set mainly in Scotland, but enjoyed most of its early success outside the U.K. — from America to Chile, Australia to Japan — despite Heughan himself hailing from Caledonia. While he's been enveloped in this world for four seasons, Heughan will this year venture into more varied roles, including as a secret agent in the action-packed
Bond
spoof
The Spy Who Dumped Me
. He plays Sebastian, a secret agent who aids co-stars Mila Kunis and Kate McKinnon in their far-fetched journey around Europe, and who leads a rather different life to Jamie. Away from set, Heughan keeps a fairly busy schedule: he runs a charitable initiative called My Peak Challenge, which encourages people to improve themselves physically and mentally while raising funds for Bloodwise and Marie Curie; he participates in marathons around the world to raise money for other charities; and, rather fittingly, he is developing his own brand of whisky, which stems from enjoying "a little dram now and then".
How did growing up in Scotland inform your career?
I was born and brought up in rural Scotland, in the southwest, and I think I was very fortunate living in the countryside: being alone but being in the outdoors, there's a lot of freedom of expression and creativity — you can use your imagination a lot. I moved to Edinburgh when I was 12, and to me that was a great time to move, because you're getting older and I started going to the theatre there, and that was certainly how I fell in love with acting. But I think Scotland is definitely a huge part of who I am, and through the show it's given me a recognisable identity.
When did you realise you could make a living out of acting?
I don't think I have yet. If you're a jobbing actor, or doing anything in the arts, you're only as good as your last job. There's always that fear that something is going to come crashing down. Things are really good, and have been very good for me recently, but I guess you're always slightly looking over your shoulder. It's not a bad thing, you're just ready for everything to change.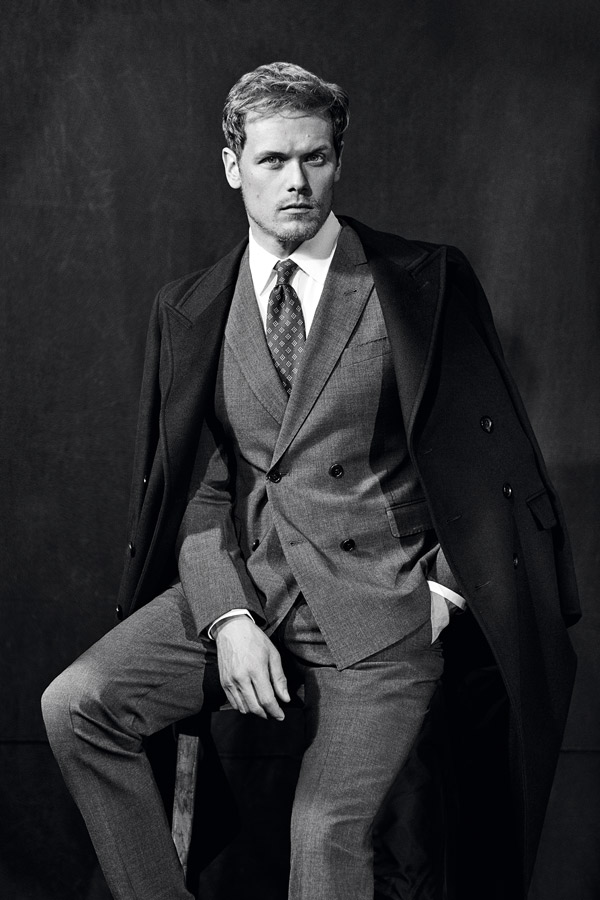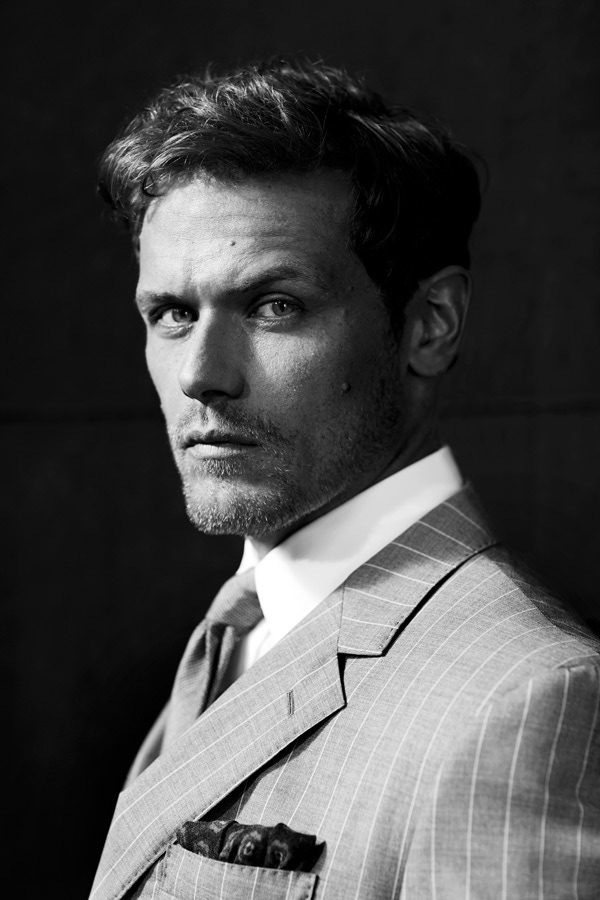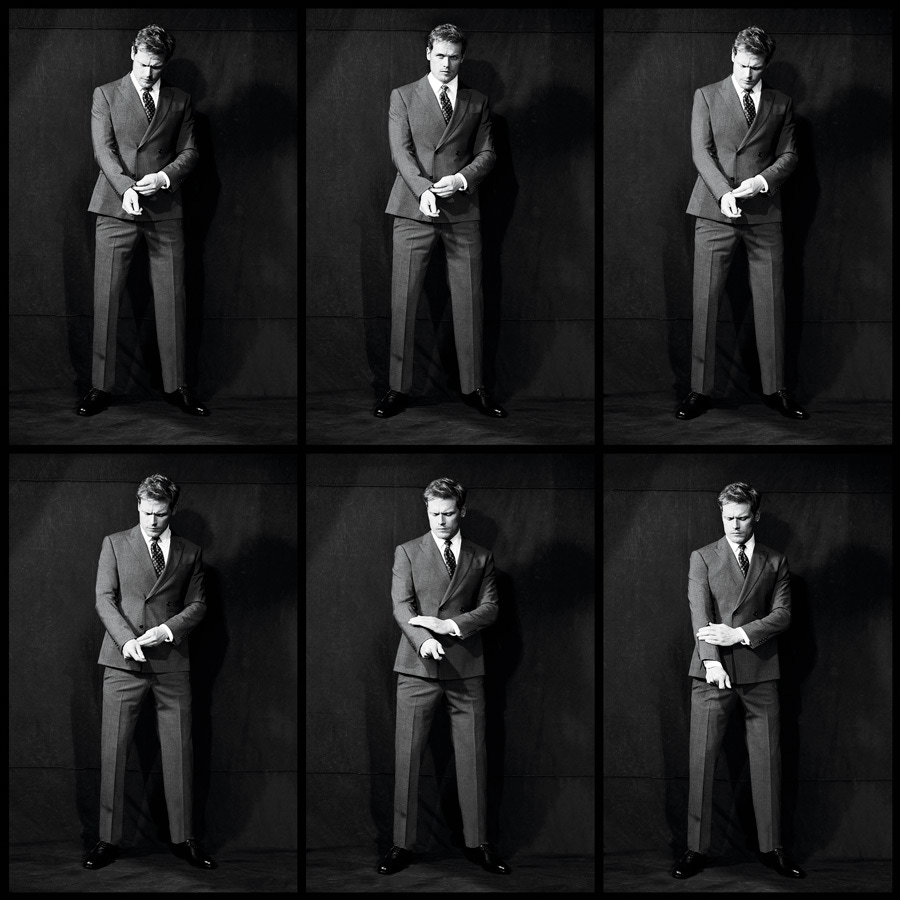 What's it like being part of something that has such a big cult following? We have a unique fan, I think. Diana wrote these books 20 years ago, or longer now, so we've got the people who were fans of the books, but then also we're creating new fans who haven't heard of the books, who are just watching the show through Amazon or whatever. But they're very supportive and enthusiastic and vocal, sometimes more so than other fan groups, I think. They have a real ownership over the characters, and that's probably because they've read the books, much like Lord of the Rings or Game of Thrones. People love these characters. How did you approach playing a character that people were already invested in? When you get either a real-life figure or someone from a book, it's actually kind of a gift because you can research them, but there's also that pressure of getting it right, because you don't want to upset or disappoint people. I think we were slightly naive in that we didn't realise how big the books were and how invested the fans were when we started. When I first auditioned for it, I just felt like I knew the character, that I knew who this guy is. It's very fortunate that there are a lot of similarities in who he is and that world. I love Scotland and it's a big part of who I am, but it's also a big part of who Jamie is. How have you transitioned from Outlander to The Spy Who Dumped Me, which are very different? First of all, the comedy world was something I had no idea about. But when I read the script, I laughed out loud, and I thought it was rare that you read a comedy script and it's actually funny. I think a lot of comedy they supply these days is a lot of slapstick, visual comedy. But I felt this was clever and the dialogue was good. To work with Mila Kunis and Kate McKinnon, who are at the top of their game, was a great opportunity. The first day was very intimidating, because I'm so used to working on drama, where, literally, if you get one word slightly wrong, you're told and you have to make sure that you get the script exactly. And Mila Kunis is just ad-libbing and going off on a tangent, and the same with Kate, every take. And you're just like, How does this even come together? I don't know how it works, but they made me feel very comfortable and it was a great experience.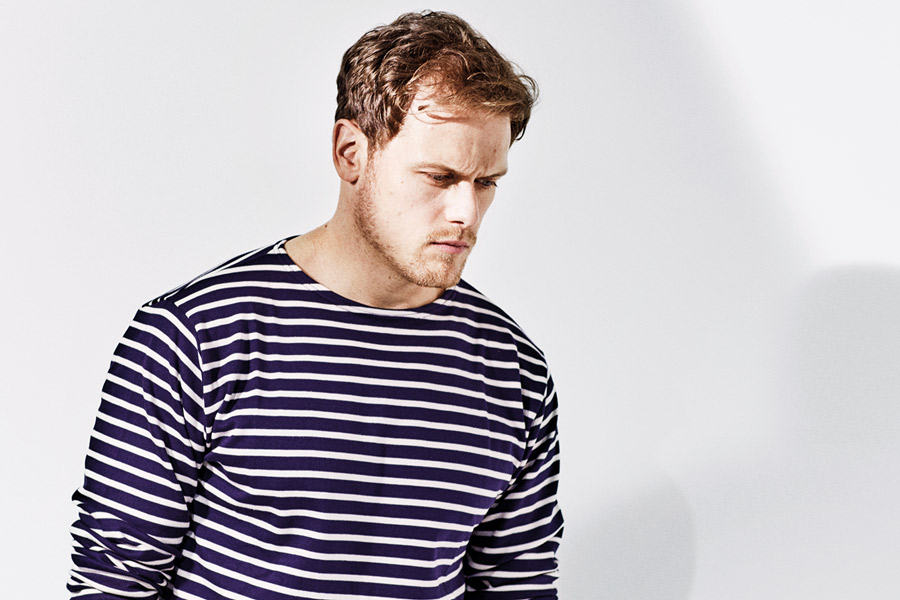 Having now done both drama and comedy, what do you see yourself pursuing?
I'm actually off to do two movies this summer, they're both slightly different. I think I just want to do as much variation as possible. I just want to try different things. As an actor, I certainly never wanted to do the same job, I don't want to do a 9-5, I don't want to do the same thing. I want to try different things, and that's the joy of being an actor — you get to be different people. So, yeah, I want to try and stretch myself.
What jobs have you had outside acting?
I've done them all. I lived and worked in London for 12 years as a jobbing actor. I delivered sandwiches by bicycle around London during winter, which was horrendous. I worked in all the bars, restaurants. We were doing the BAFTAs the other night at the Southbank Centre, and I actually worked there as a barman a couple of years ago, so it was kind of cool to be on the other side. I won't name the actor, but I remember I was working for an event at fashion week, and an actor I know, and would almost regard as a friend — my job was to hold people's drinks as they went and had a cigarette, and he didn't even notice me and came and gave me his drink and I was just standing there going, 'Oh my god, I'm just standing here holding his drink, I feel like such an idiot'. But yeah, I've been a temp, I worked at Harrods in the perfume hall. I was one of those guys…
What else have you got in the pipeline?
I'm off to do a project this summer. I think I can say that it's an action thing, maybe based on some comics. And it's going to be a lot of fun.
This interview is from Issue 59 of The Rake. Subscribe here.