Sartorial Elegance: Vacheron Constantin and Vitale Barberis Canonico
The Rake's Founder reveals the latest collection from Swiss watchmaking powerhouse Vacheron Constantin, created in partnership with illustrious Italian woollen mill, Vitale Barberis Canonico.
The Swiss watch industry today stands at a crossroads. It finds itself in a moment of critical self-reflection in terms of where its future lies. Because in the last decade it's benefitted tremendously from the rise of China as a consumer superpower, and in some ways had become accustomed to the Chinese consumer avidly ingesting whatever examples of ticking finery it would produce. For many brands, their boutiques in Kowloon — the first landing point, staging area and ground zero for the mainland Chinese consumer — was on a revenue-per-square-foot basis their best performing in the world. Indeed, to a large extent Swiss watch brands couldn't keep up with the staggering demand, says one industry insider: "During Golden Week or before Chinese New Year there would be lines outside the door. We would have to get staff to bring more stock in the back of taxis; demand was that crazy." But in 2016, the world is very different. For varying reasons the Chinese consumer has disappeared and the watch world has found that they can no longer create products that will be instantly and mindlessly consumed. What it's realizing is that in order to sell watches, it needs to go back to its roots and create watches that are amazing expressions of its core identity; watches that are also profoundly beautiful. In the world of high-end chronographs no brand did this better than Vacheron Constantin with its Cornes de Vache chronograph: a majestic reinterpretation of an iconic '50s design masterpiece, featuring a historically significant Lemania CH27 movement, offered at a price point that represented a compelling value proposition. In addition, last year, Vacheron Constantin demonstrated its continued technical ambition by unveiling the masterpiece that was the 57260: a watch made significant both for its status as the world's most complicated and also as one of its most beautifully rendered. But in the beginning of this year, Vacheron Constantin unveiled another timepiece named Métiers d'Art Élégance Sartoriale that demonstrates that it is actively searching to connect with a new audience rather than relying purely on the consumer of the past.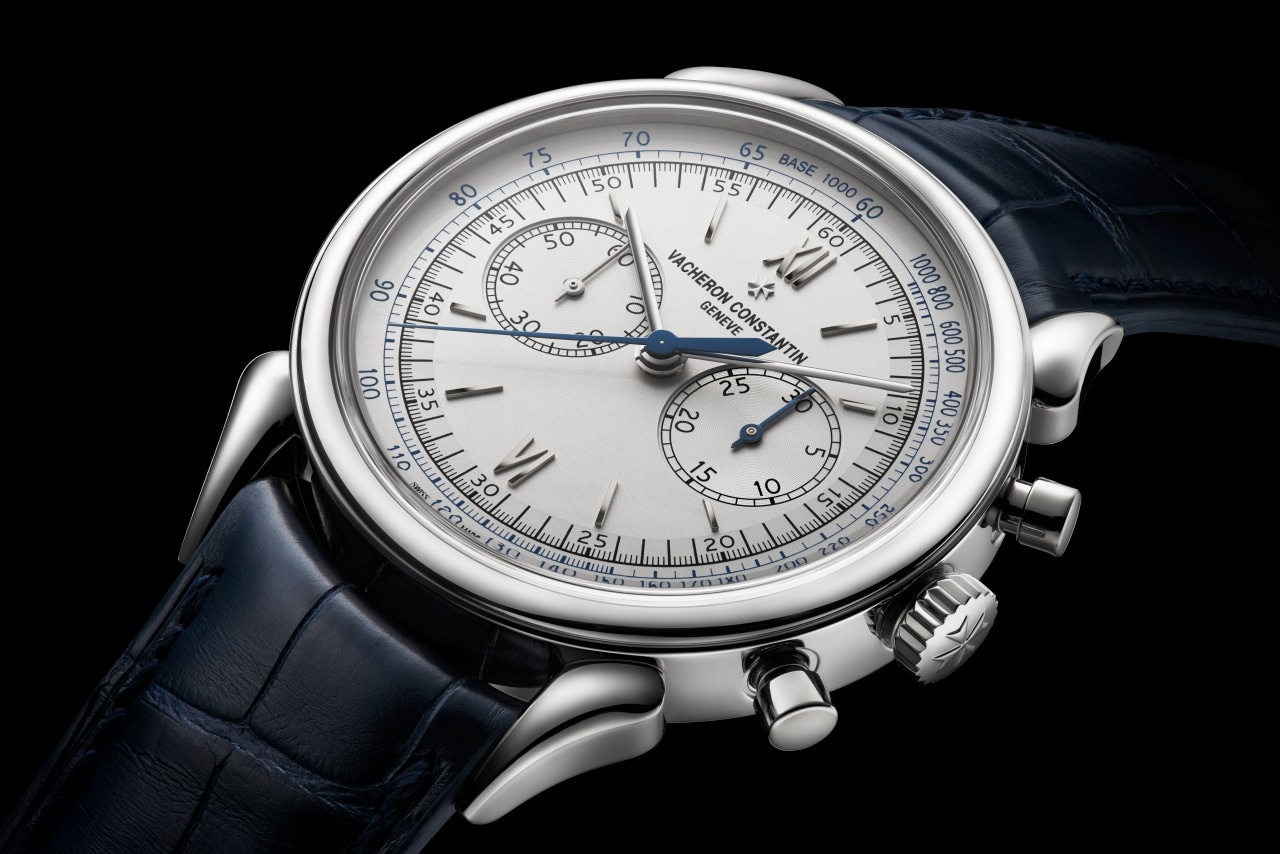 From a cultural perspective, one of the most interesting phenomena following the 2008 world banking crisis was an extremely clear and vocal redefinition of men's style. A whole new generation in their 20s and 30s collectively began rejecting the ephemeral nature of fashion and began to re-embrace classic elegance. And this has led to a massive resurgence in the sartorial arts and a renaissance in tailoring the world over. In places like Naples, tailors from the mainstream kings of sprezzatura Rubinacci to more-obscure elder statesmen like Antonio Panico have never seen such demand. Says Luca Rubinacci, the latest generation to helm his family's firm, "We've never had more young people captivated by tailoring. And today our client is totally international; he could be from the United States but just as easily from Kazakhstan." Says Charles de Luca of the legendary Camps de Luca tailors in Paris, "This new generation loves the self-expressive power that tailoring can achieve, which is to make something that is uniquely for you and no one else." Says Michael Brown, a dynamic young tailor at Chittleborough and Morgan on London's fabled Savile Row, "Young people are also connecting with the concept of buying less but better. They would rather have one jacket, than 10, that is truly handmade and crafted specifically for their body." All of this was not missed by Vacheron Constantin's artistic director Christian Selmoni, a man who also happens to be devoted to the art of tailoring, "One of the byproducts of this renewed interest in classic style is that more and more men began relating not to their father's generation but to their grandfather's — in particular the idea related to tailor-made clothing and the individuality this expressed." But more than a trend, Selmoni sees this shift in interest from fashion to classic style, expressing a more-significant seismic shift in prevailing consumer values. Selmoni continues, "Luxury has evolved very significantly in the past decade. And where it was once about uniformity, we have once again come to embrace the concept of individuality. It's funny, but a decade ago, I would come to Singapore and I would, over the course of my visit, see dozens of ladies wearing the same Gucci outfit. Today I don't think that would happen. Today there is a desire for uniqueness, exclusivity and also discretion, and so people are looking for products that are created in smaller series that express a real refinement in details and also connect with them in a very personal way."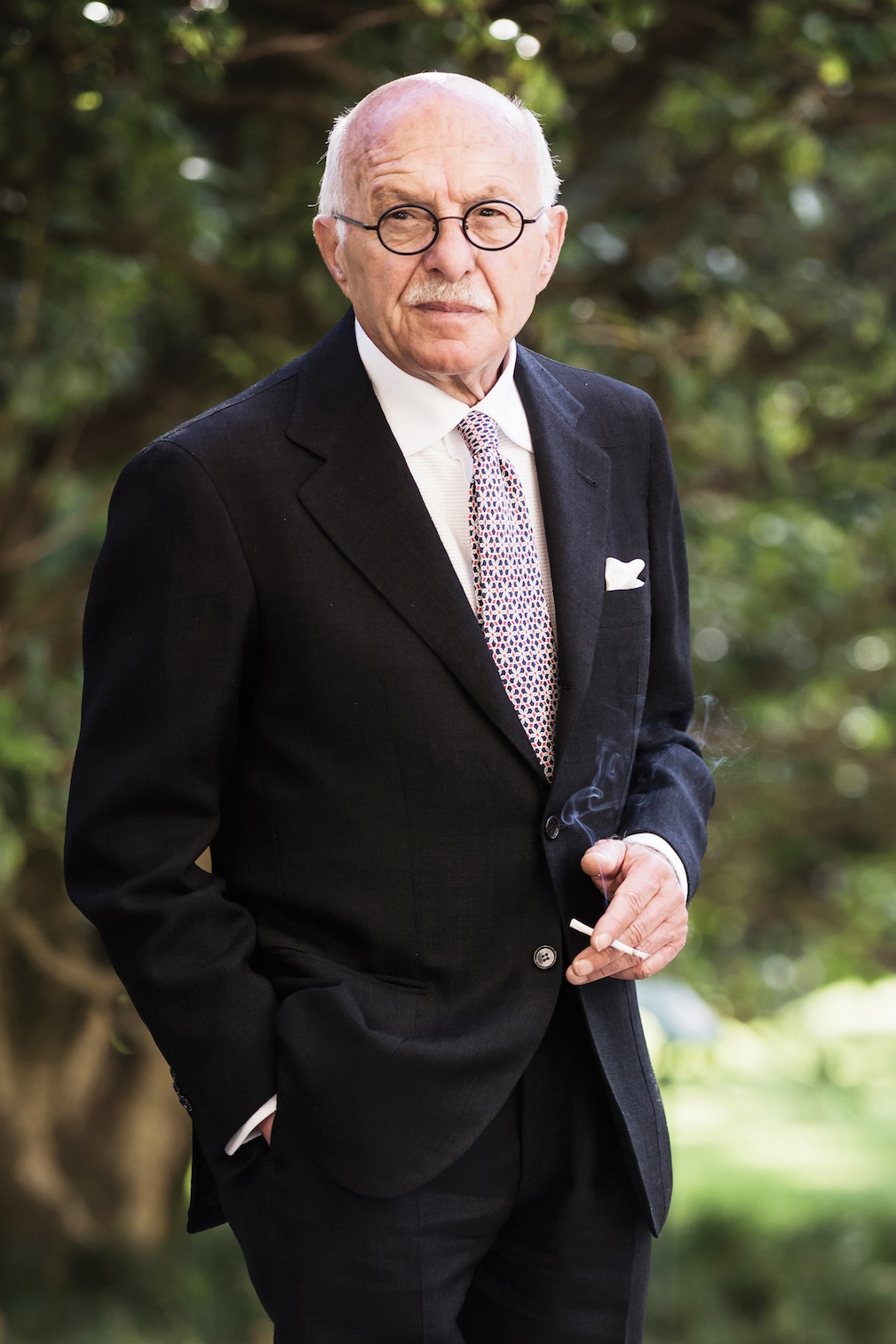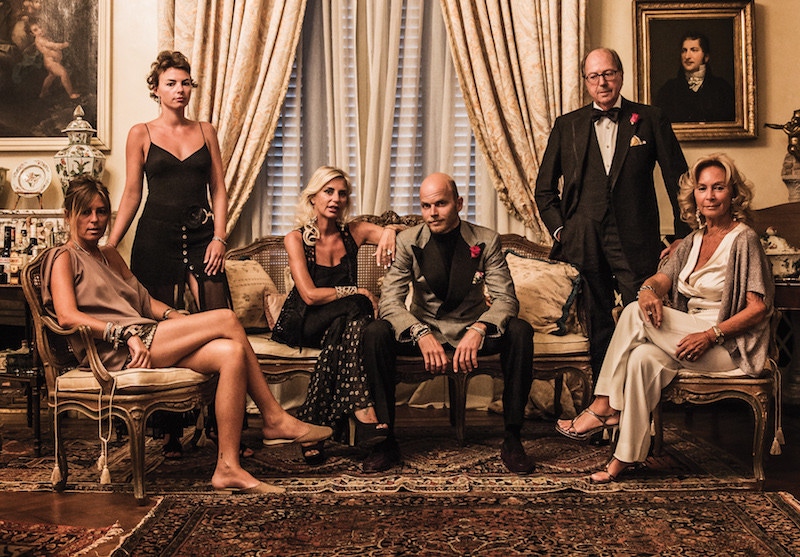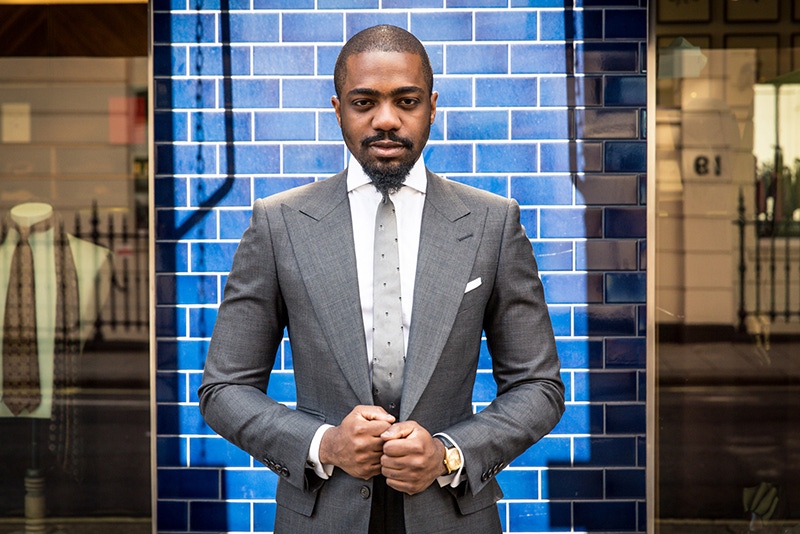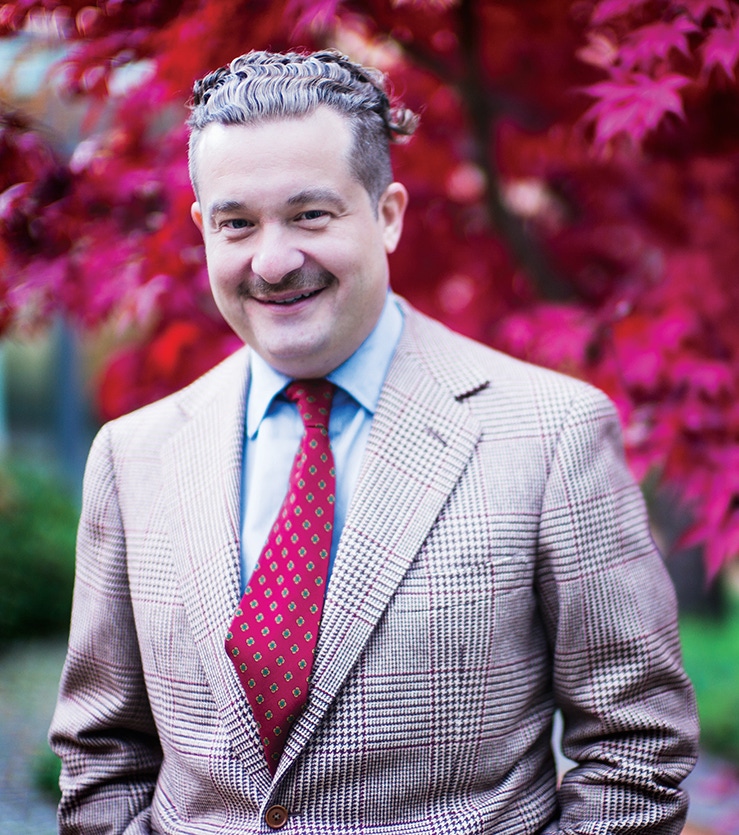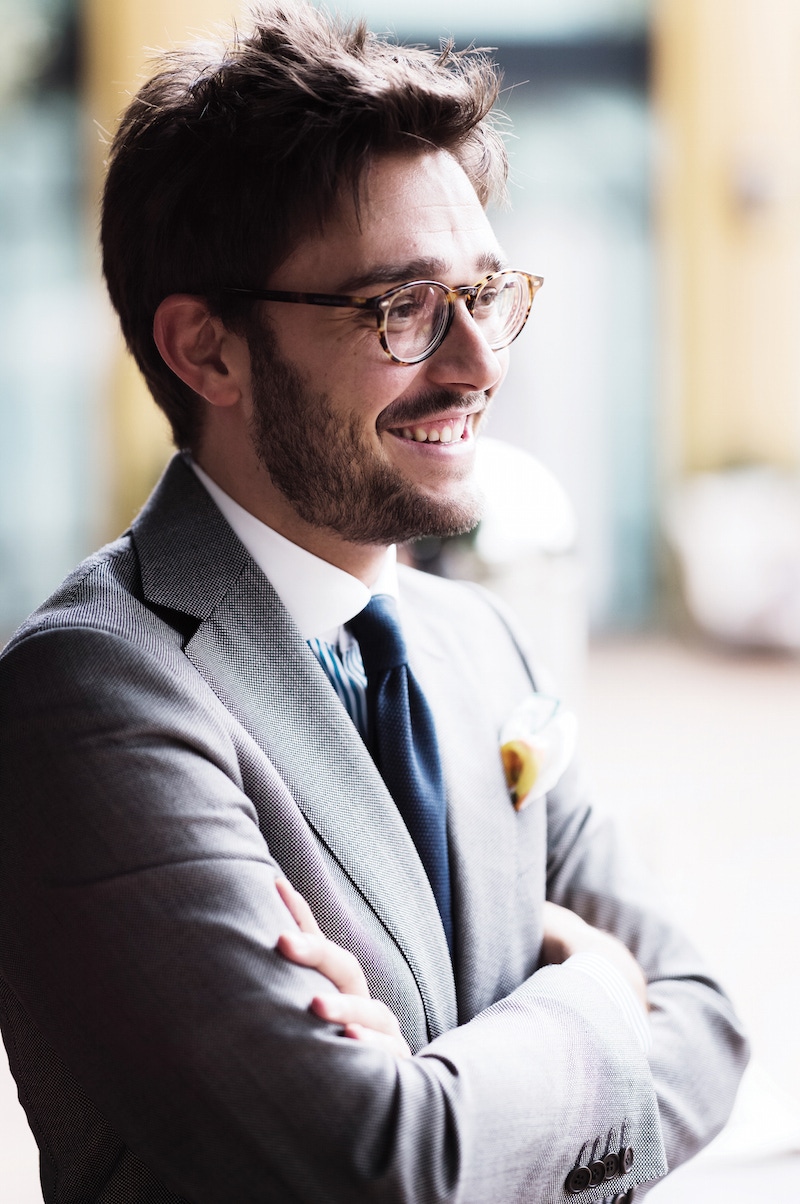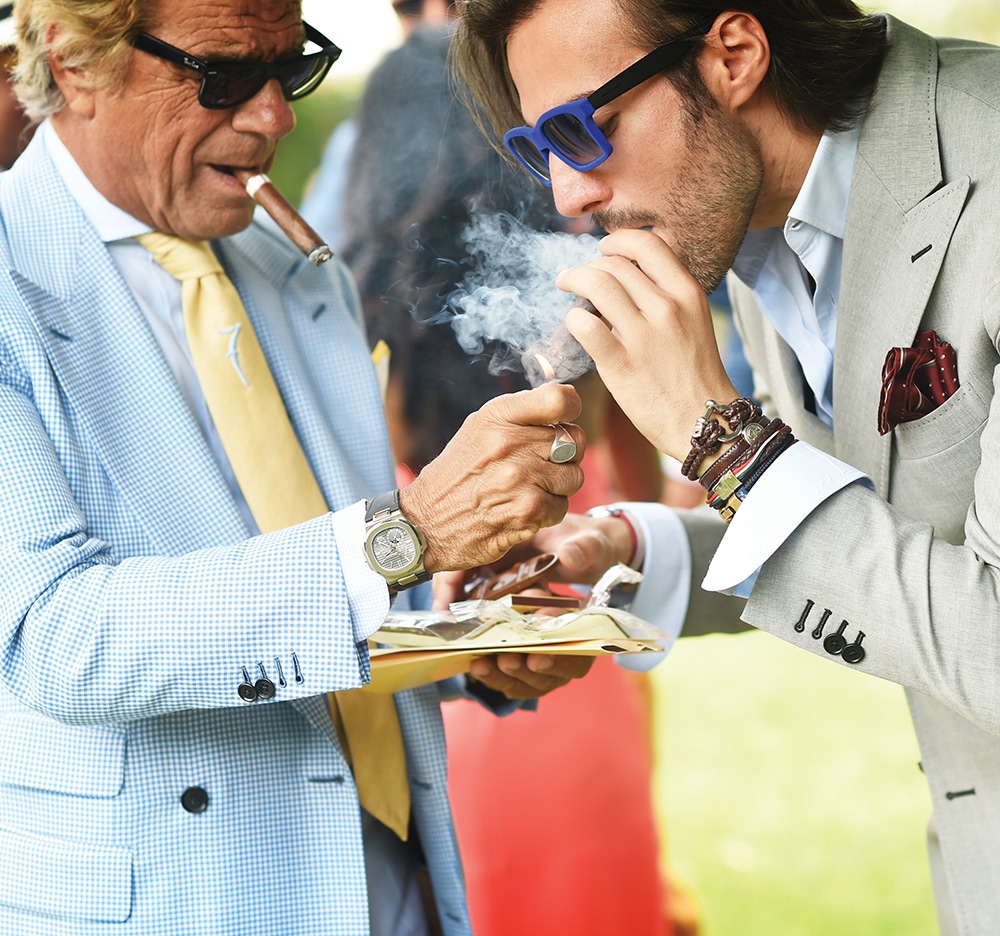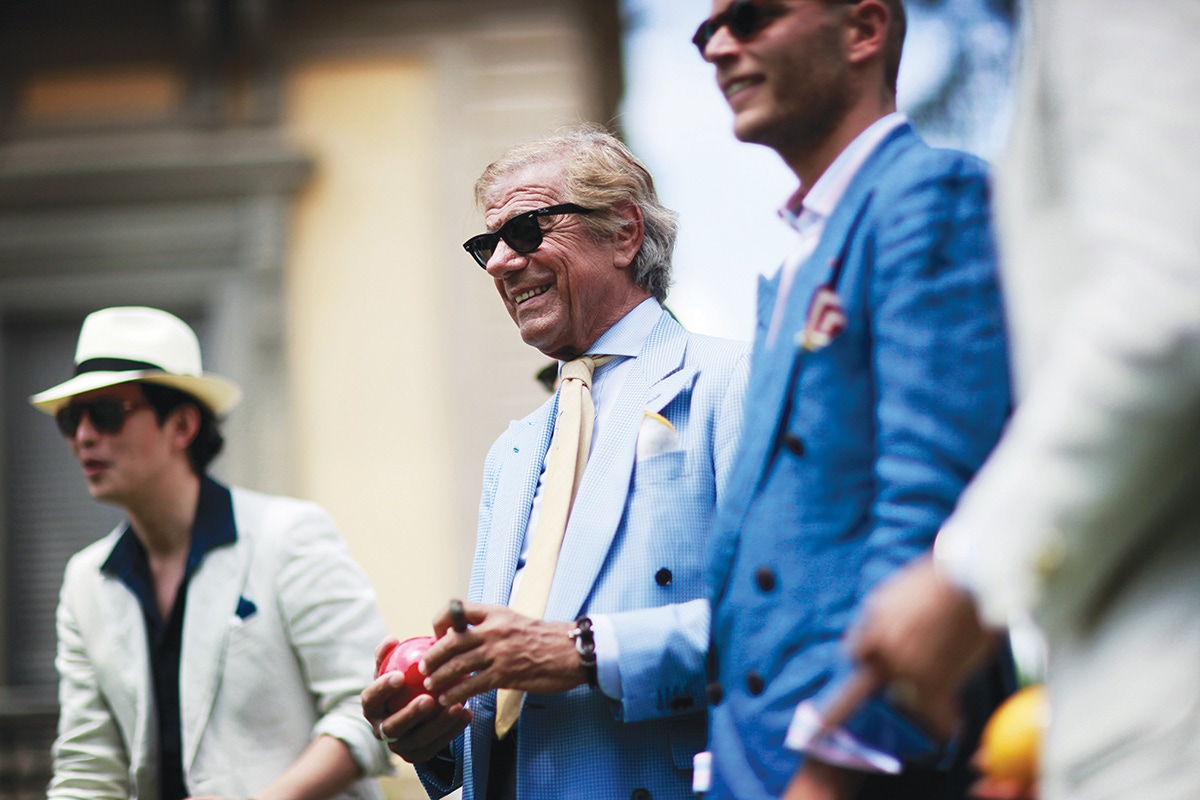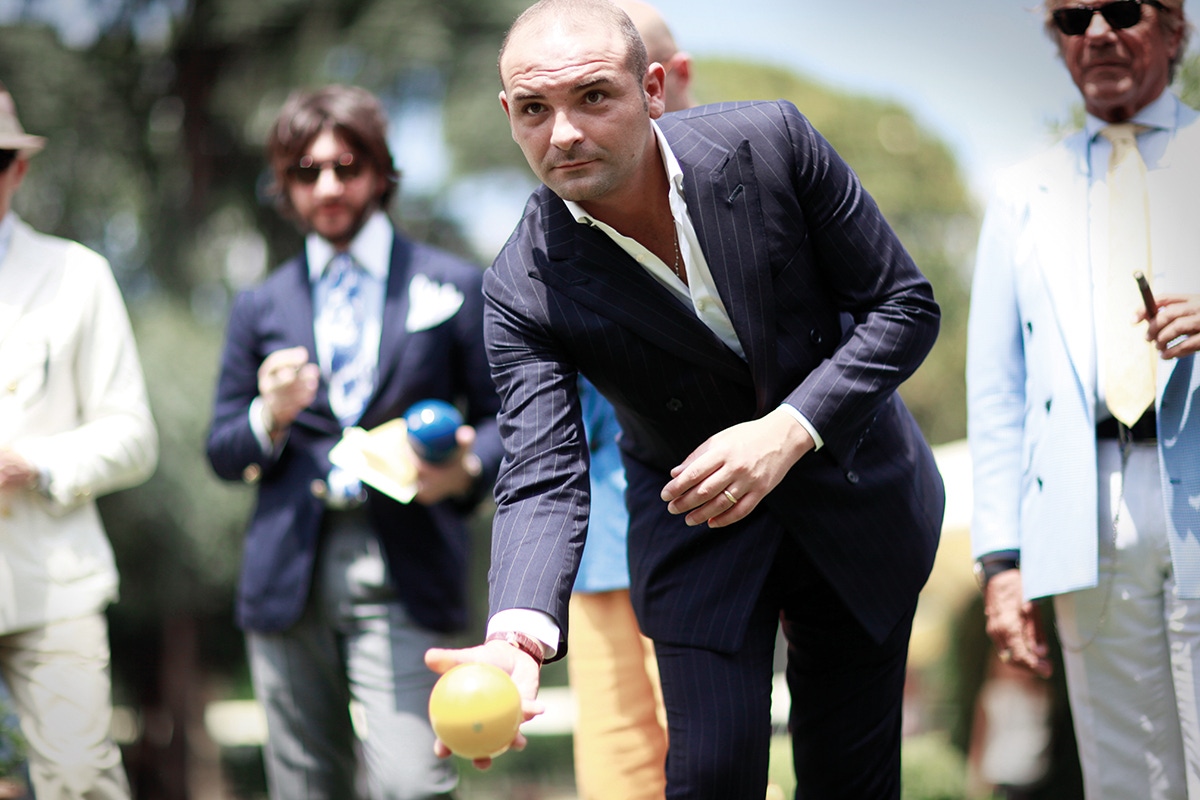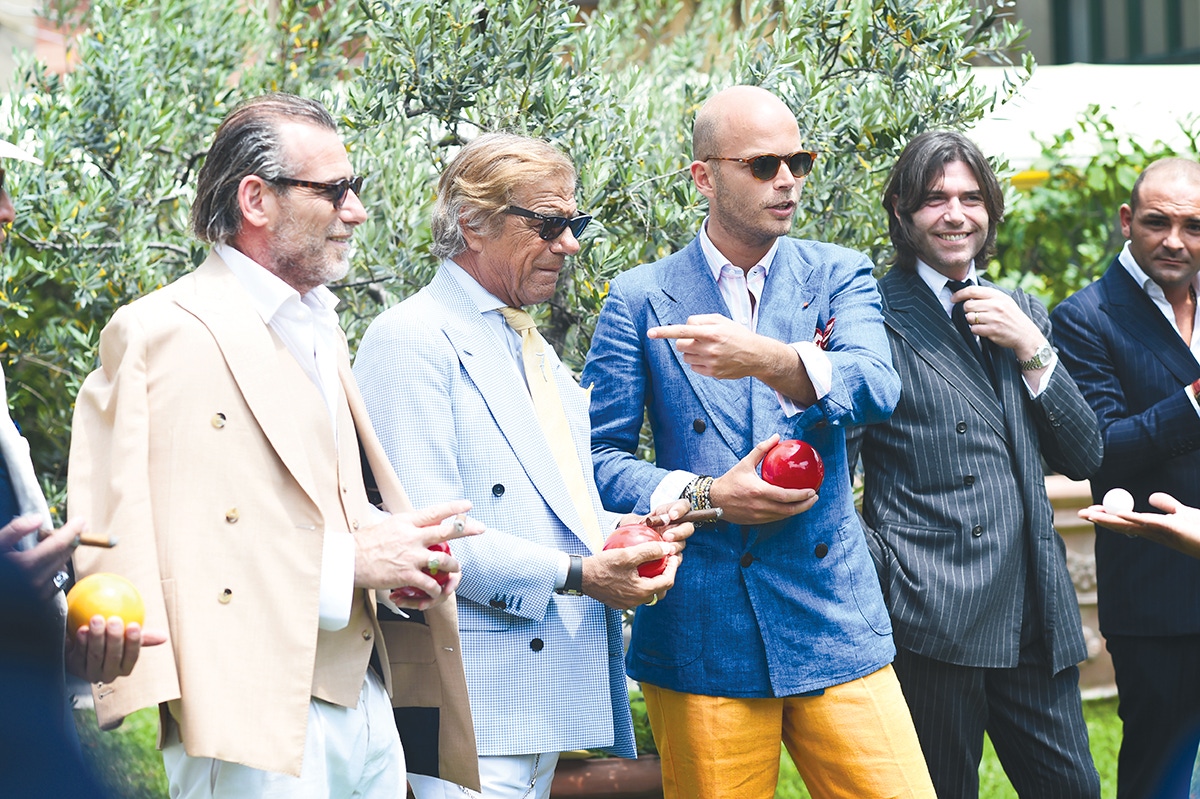 Says Simone Ubertino Rosso, the marketing director for Vitale Barberis Canonico, the world's oldest cloth mill, "A few years ago, I read something from a French writer that I found very poignant. He wrote, 'What the son wants to forget, the grandson wants to remember.' I think this is very meaningful because the generation of my father began with sartorial clothes and then abandoned them for more mass-luxury-casual clothes, because they experienced the rise of this phenomenon in their generation. To them it was a sign of modernity to dress in this "branded" way. They were the first male generation that was deeply impacted by things such as advertising campaigns and many of the concepts associated with women's ready-to-wear. But my generation doesn't want fashion. We don't want clothing that are overt identifiers of brands; rather we want things that speak to our individuality. And of course I miss having someone that can teach me, because my father's generation has forgotten all the old codes and the old traditions of gentlemanly dress. So I am actively searching the horizon for some references, some lighthouses. And I think it is at this point that brands like Vacheron Constantin and Vitale Barberis Canonico, or magazines like The Rake have stepped in and fulfilled this educational role." Says Vacheron Constantin's marketing director Julien Marchenoir, "At Vacheron Constantin, the idea of individualism and the possibility for clients to create something unique with us has been there since we were founded. Indeed, many of the most famous watches in our history were born out of this dynamic collaboration between the end-client and a manufacture capable of realizing their dreams. This is true for watches like the King Farouk and, in 2015, the 57260. In our history, we've always embraced people with the quirkiness or even the outright daring to push the boundaries of horology, in the same way that many great patrons have pushed other art forms. This also is a statement of the completeness of our manufacture in that we are able to be ambitious in avenues related to both the technical and métiers d'art. Combined with clients of great taste and culture, and a desire to create something that doesn't exist, this cultivates a dialogue that nourishes the brand and compels us to greater heights." Says Selmoni, "You know, as Proust put it, 'style is the revelation of that universe, which is visible only to us and hidden from others.' The goal of any luxury brand today is to express the inner world of our clientele in a way that delights him or her. And so we found a very logical connection with tailoring and with the art of fabric weaving — in particular with Vitale Barberis Canonico."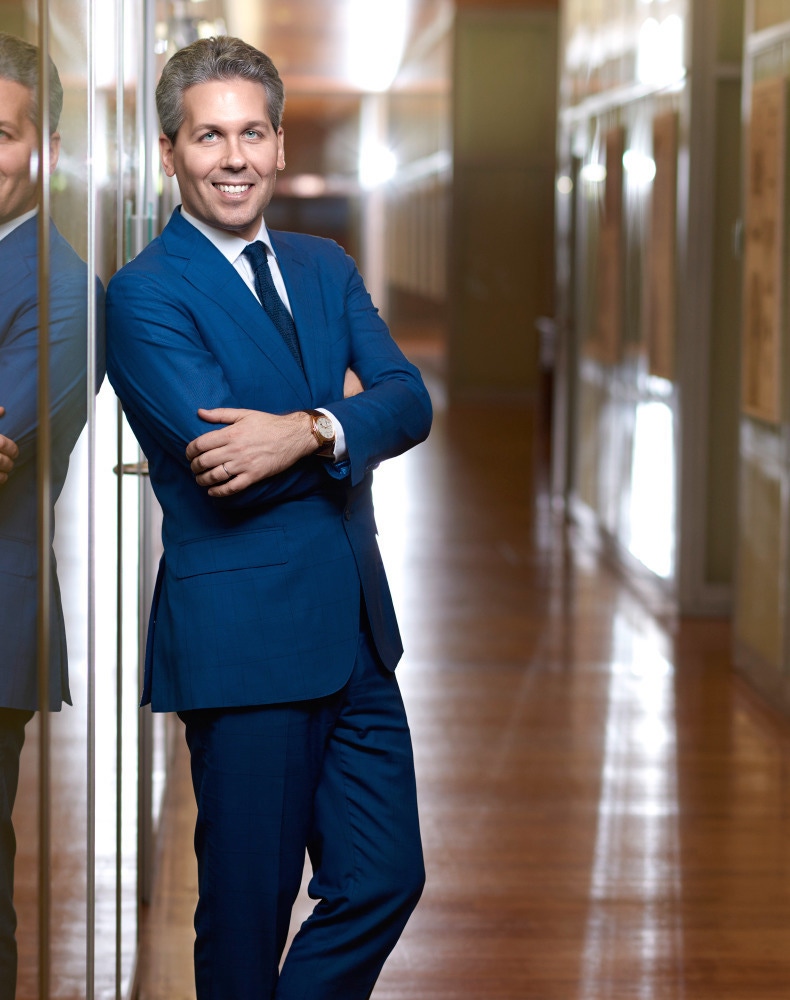 "As Proust put it, 'style is the revelation of that universe which is visible only to us and hidden from others'".
But hang on a second. Let's hit the pause button. Because who exactly is Vitale Barberis Canonico, you ask? The amusing thing is that if you were to open your wardrobe doors, hanging inside, on one of the hangers, is very likely a jacket crafted from Vitale Barberis Canonico fabric. Because in addition to being the world's oldest cloth mill with a history reaching back to 1663, it is also Italy's most proliferate mill, producing in excess of eight million meters of the very best-quality fabric in the world each year. As an owner of a multitude of suits crafted from Barberis fabric, I can vouch that they are the most spill-resistant, softest-handling, best-draping, most-resistant fabric at every price category. And what's more is that they are ethically made. Barberis returns the water instrumental to the dyeing process to the town of Biella cleaner than when it takes it in. Barberis will not produce wool finer than a super-160, because beyond this sheep are often starved to make their wool finer. Barberis is the most vertically integrated mill in the world, owning multiple farms in Australia and overseeing all the vital sorting and sourcing processes, even before wool is dyed or spun. Barberis is the most creative mill in the world with its extraordinary creative director Francesco Barberis Canonico overseeing more than 4,000 new designs per year. And it has been in existence for 352 years of continual operation to this date. Says Marchenoir, "The first time we heard from Vitale Barberis Canonico was three years ago when we created a society for brands that were in excess of 250 years old. Francesco Barberis Canonico came to the
manufacture
and explained to us that he was a great watch lover. Immediately we realized that the history of our two companies created a wonderful common ground for a conversation." Ubertino Rosso continues, "As two companies that are both more than 250 years old, the question was: how do we create a partnership that is an eloquent expression of our two identities while creating a series of timepieces that connect with the modern sartorial consumer? In some ways we are aided by the fact society is changing and turning back to these older values related to craft, perennialism, and individuality, so we are going in the same direction as the momentum of culture today. And what we have witnessed is that people are very interested in construction techniques and everything having to do with handmade details. This was the premise on which the partnership with Vacheron Constantin was born. The idea was, how could we create a collaboration between Vacheron Constantin and Vitale Barberis Canonico, which integrated the maximum amount of craft combined in a meaningful way on the dial?" Marchenoir explains, "As we discussed various ideas, we gravitated to the idea of our interpretation of five of Barberis's iconic fabrics: Prince of Wales, Herringbone, Windowpane, Pinstripes and Tartan — because we were struck by how identifiable these patterns were in the lexicon of male sartorial culture."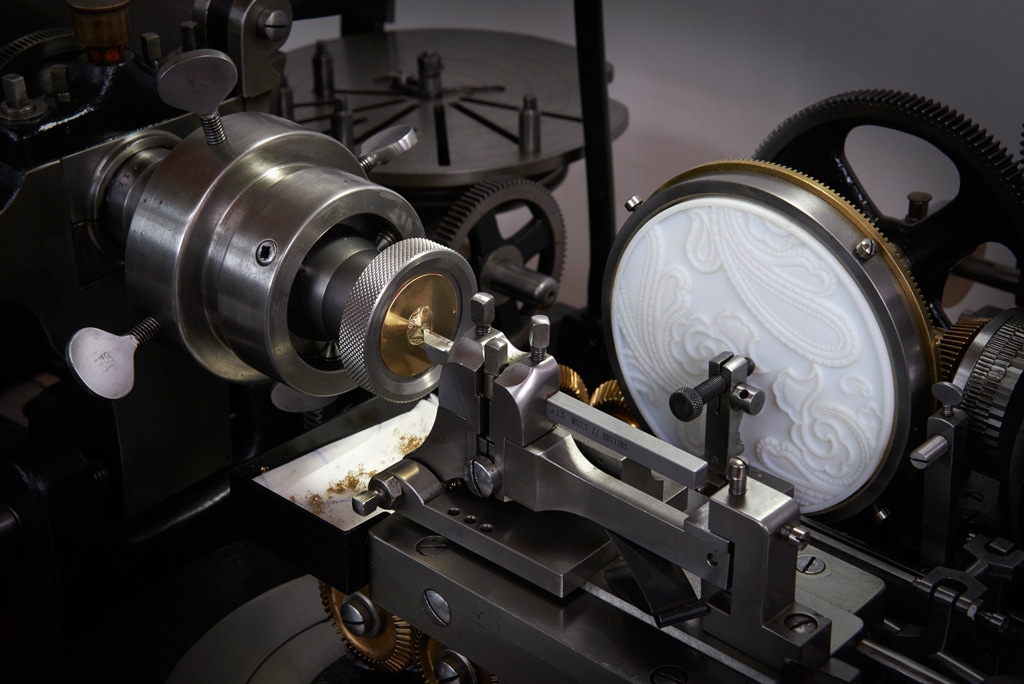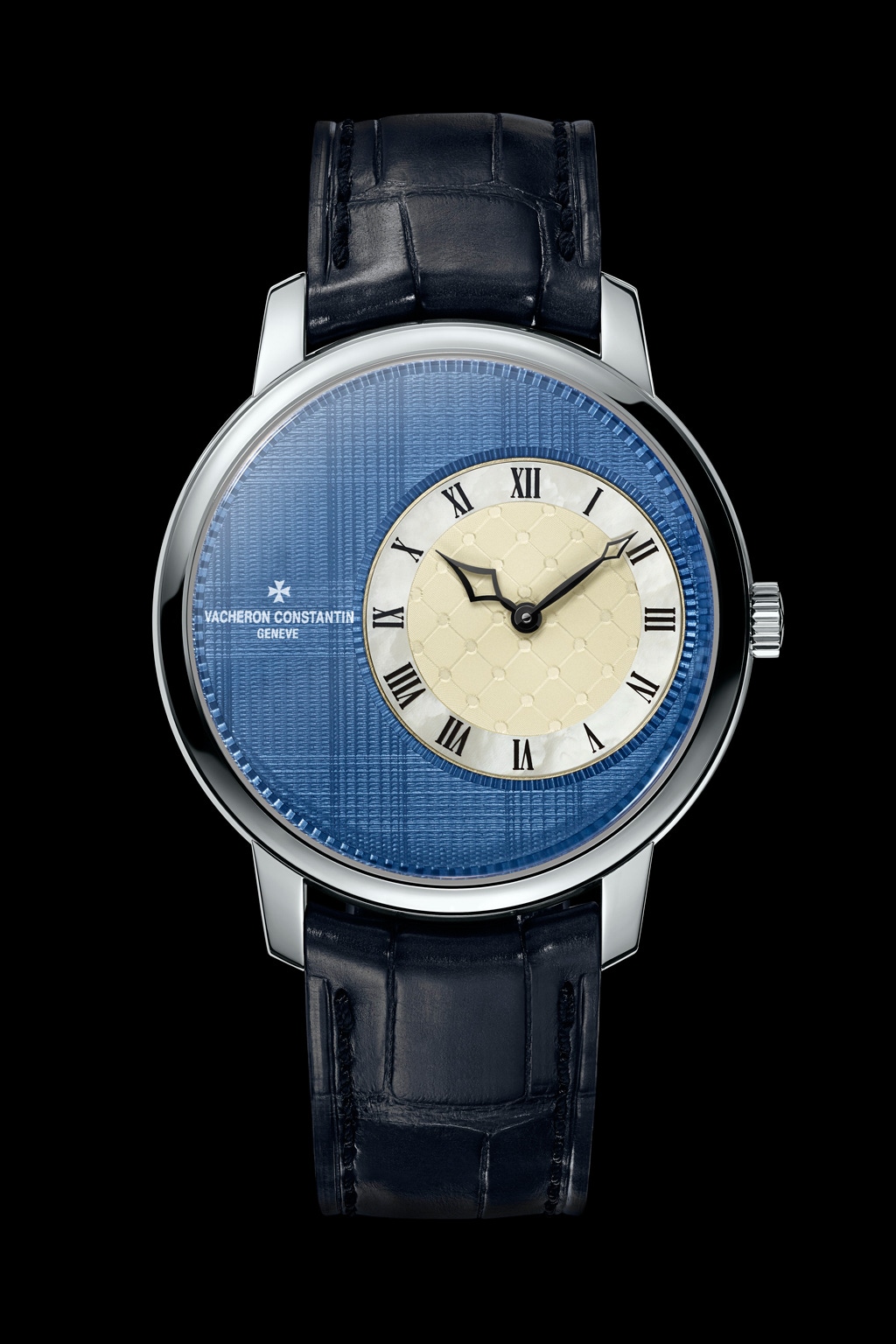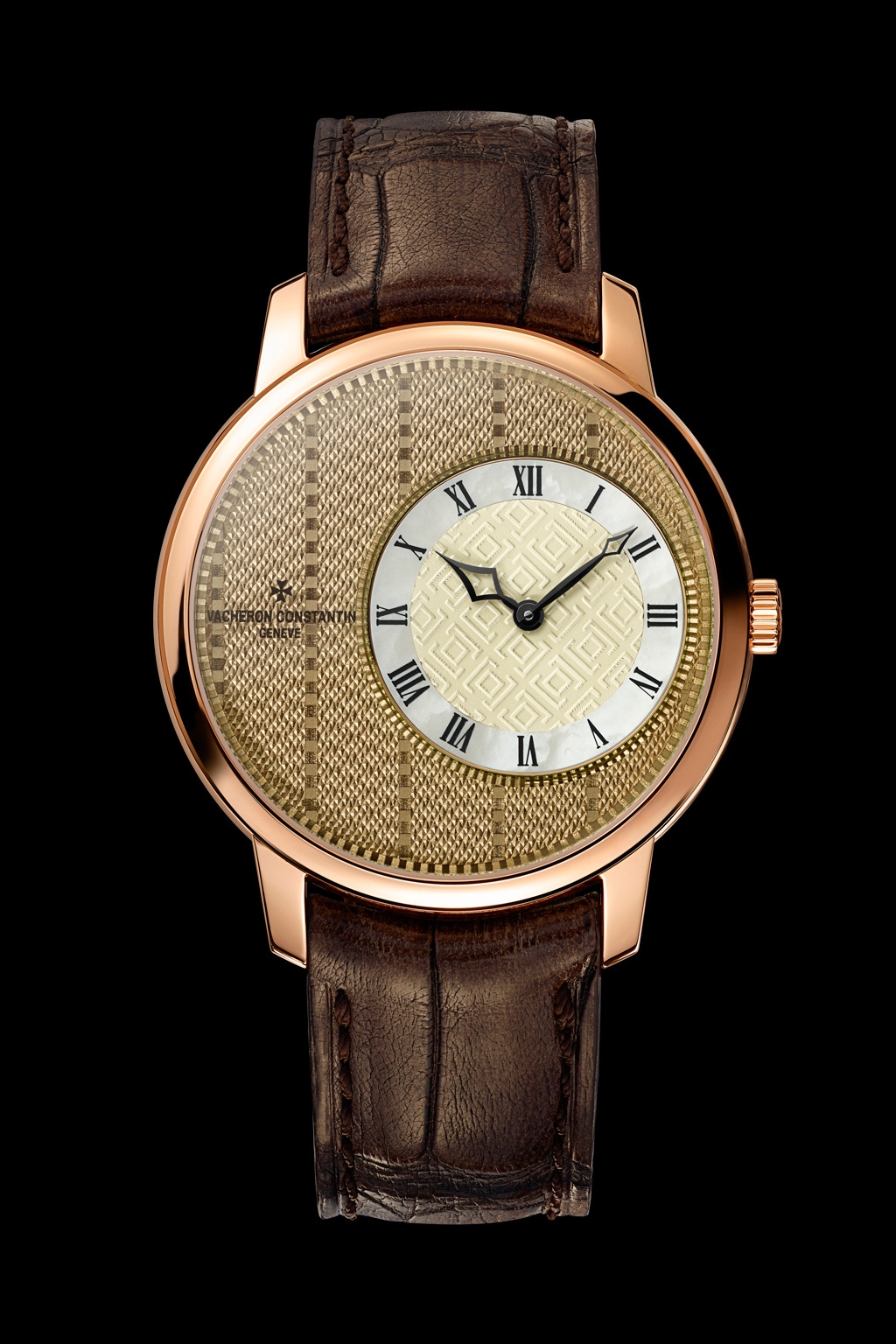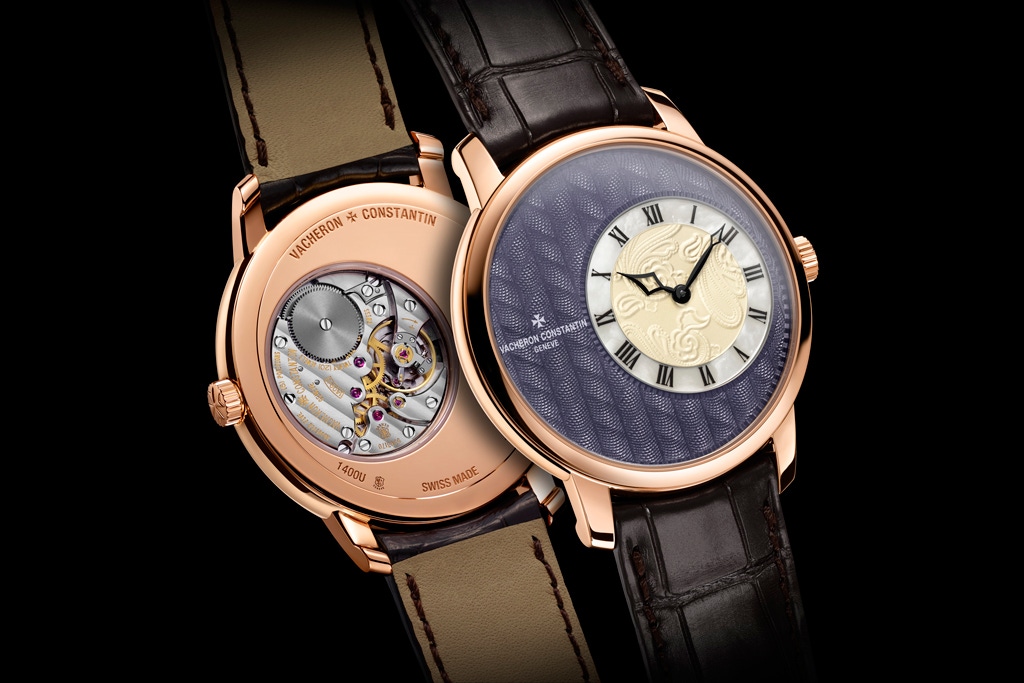 Selmoni adds, "Once we had the idea to celebrate the five iconic fabrics of the brand, we immediately thought of
guilloché à main
. One of the things I really love about Vacheron Constantin is that we are able to create new ideas, new concepts and new designs using these really historic techniques. So to me it was really obvious that we should use guilloché as the craft that was the backbone of this collection. Because it is in particular this craft that truly allows us to replicate the distinct, beautiful and unique patterns on the cloth. Guilloché is a really magical art form. You are in essence removing no more than the thickness of a human hair from the surface of a gold dial and yet you are able to create a strong three-dimensional effect. The next art form we decided to use was translucent enamel. Visiting Vitale Barberis Canonico, I was struck by the amazing art of dyeing fabric and how it is altered so profoundly by the change in chromatic hue. Accordingly we decided to use translucent
grand feu enamel
to complement and enhance the underlying guilloché pattern. But combining these two crafts resulted in unexpected effects. For example, for the Prince of Wales pattern, we initially thought that we would combine it with gray or blue enamel but we discovered that these colors did not bring out the best effect in the engraving. In the end we used a raspberry-red enamel because it combined so perfectly with the pattern. This was, certainly, not what we were expecting. The mother-of-pearl element for the subdial with hand-painted indices is meant to evoke the mother-of-pearl buttons on a beautiful shirt while the contrasting tapisserie motif inside the mother-of-pearl element is meant to replicate the contrasting-yet-complementary pattern of a pocket square or a tie."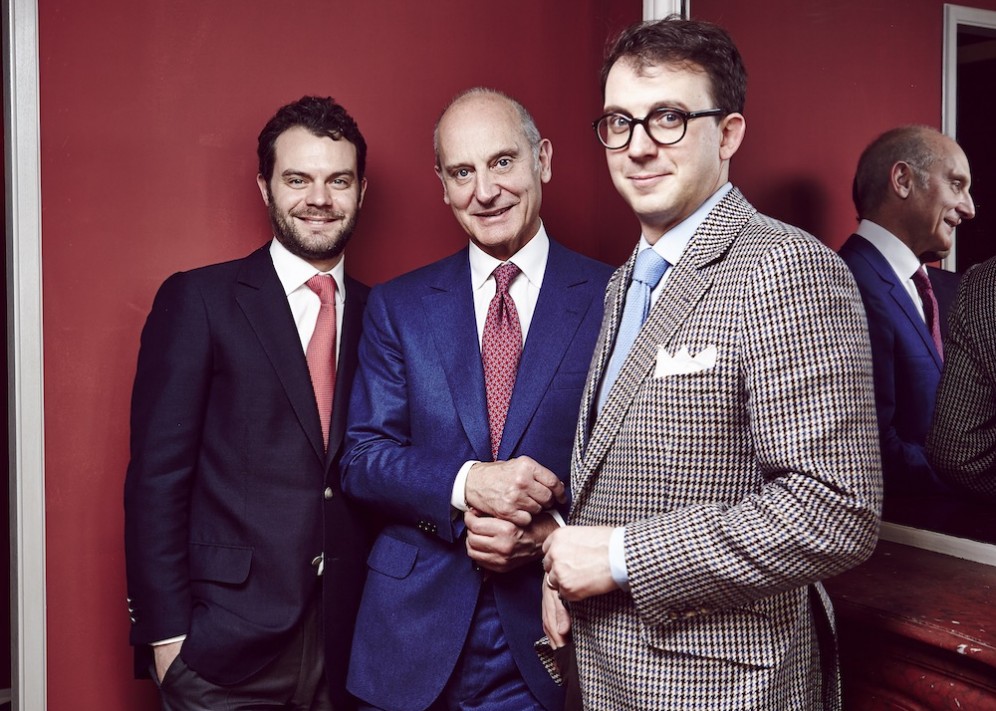 The resulting watches are wonderful examples of traditional Swiss watchmaking craft extrapolated to connect with a specific sartorial culture. Says Marchenoir, "We were very pleased to invite one of the world's most legendary tailoring firms, Camps de Luca, to our launch event and to have Julien and Charles de Luca — the two brothers guiding the family business into the future — present with us. For us, it was nice to meaningfully associate ourselves with the world of tailoring that is experiencing this amazing renaissance today." Selmoni adds, "It is very important for us to live in today's world and to be relevant to today's audience, without losing our traditions. But I think there is so much more that we can do."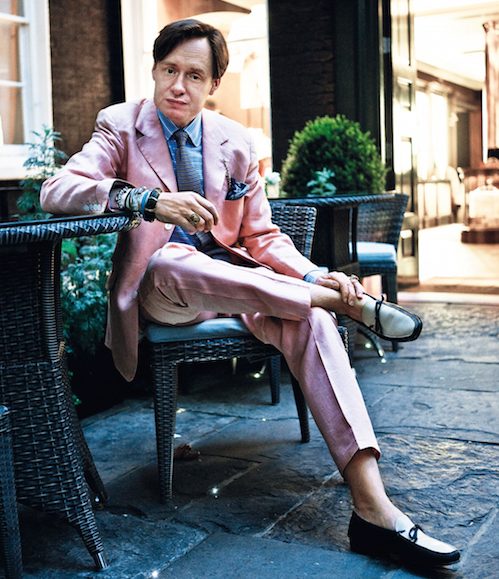 Strap on any one of the watches from the Métiers d'Art Élégance Sartorial collection and you'll be struck by how enchantingly detailed yet subtle the culminate effect of these crafts are. Says Marchenoir, "These watches are a response to the way the world is evolving, in two ways. The first is that the world is reconnecting with traditional values and craft. This is happening at an accelerated rate because of the way we are connected today. Then at the same time there is a new social pressure to make the right choice, to make the educated choice, because having money today, if it's displayed aggressively can be seen as conveying, really, the wrong message. I think this collection of timepieces perfectly expresses the type of watch the educated consumer is looking for. Because it is ambitiously conceptualised to use all of the very strongest expression of human craft, yet is contained within a timepiece that is discreet and tasteful. I think the statement you make when you wear this watch is that you are a modern man of taste, perhaps rooted in the sartorial world, but very interested in craft in general, who is able to see the refinement of the subtle details." Looking at Vacheron Constantin's decidedly evocative collection of Élégance Sartoriale timepieces, I was reminded of a question I once asked my friend, writer Nick Foulkes, "Why is it that we have so much emotional longing for the bygone era of the Jet Set?" When the luminaries of the world would descend on Saint Moritz in an opiatic cavalcade, or when Agnelli would arrive at the Hôtel du Cap by leaping out of his helicopter into the swimming pool, or when Charles de Beistegui created the grandest party of all time, in a tribute to the Tiepolo painting that decorated his palazzo? Why is it that we find images shot by Slim Aarons simultaneously transportive and soothing, and why is it we yearn to return to that time and the way people lived and dressed? He answered with typical accuracy, "Because it was the last time when money and taste aligned." And he is right. Because if you somehow achieved means in the past, you were expected to learn about art or music or architecture. You were expected to learn how to have conversation and invoke a sense of gentility and largesse. You were expected to pick up the right fork and understand the multitude of cloistered terroirs of Burgundy. But if Vacheron Constantin and Vitale Barberis Canonico have correctly predicted, that a new renaissance is upon us, one that favors craft, manners, education and subtle beauty, then the watches they have created in collaboration are more than an embodiment of these values — they are beacons of hope heralding the return of a new cultural and social Belle Époque.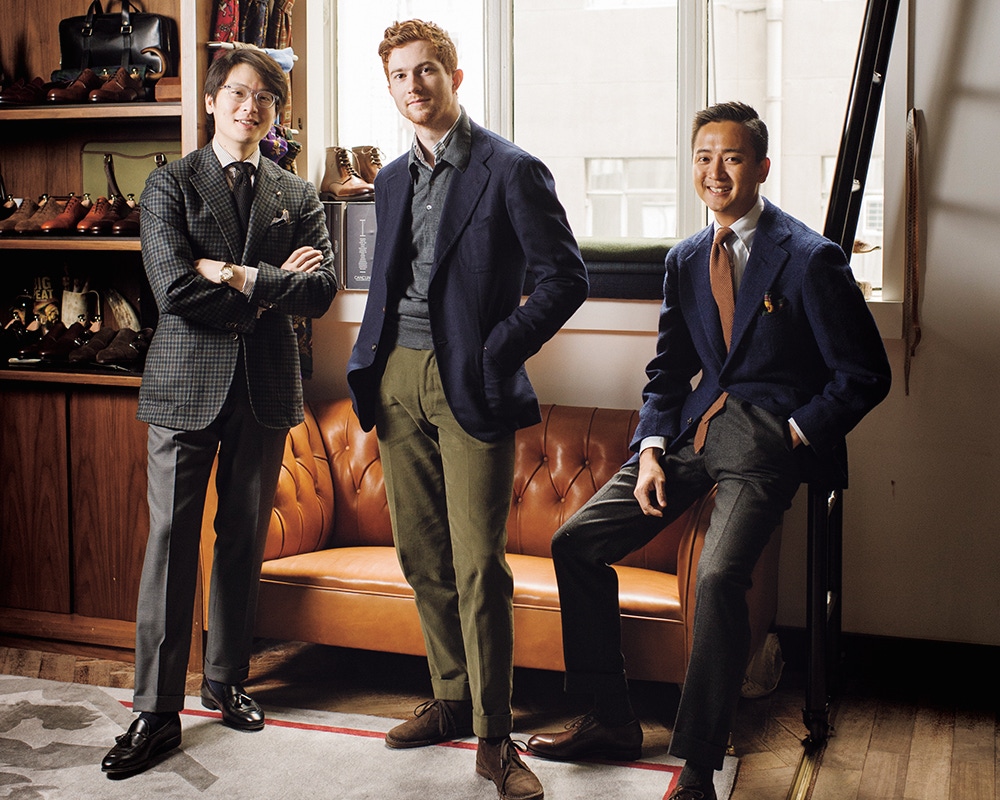 Says Ubertino Rosso, "It's funny, in Italy, some of us from the mill are often asked to be guest lecturers at various fashion schools, because as the creator of fabrics you could say we are the designers behind the designers. Once, I was asked by one of these universities to deliver a speech about elegance in menswear. Usually I treat all-encompassing words like 'elegance' or 'God' or 'love' very carefully, because for me these are very tricky words. But I was pushed to define elegance by the teacher. So I asked the class, 'What are your benchmarks, who are your icons when you want to dress up?" And I was really surprised when these young people started discussing amongst themselves, then quite a few of them said, 'Gianni Agnelli.' The teacher, who was in her 40s, was really shocked. She said, 'Come on, Agnelli is an old guy, he's dead, come on.' She was expecting them to respond with someone far more contemporary. And she was particularly surprised because I had already — without the students knowing — prepared some slides about Gianni Agnelli, which the teacher had criticised me for before the lecture. She said, 'You are talking about a world that doesn't exist anymore.' But the point is that it does exist in the minds and hearts of the next generation."