Thunder Tribe: Sartorial Motorcycling Subculture Goes Mainstream
The new passion for elegant motorcycling ignites a global phenomenon in heroic style.
Fade up from black. A lonely horizon bisects the screen separating sky and firmament like oil and water. Out of the rising sun comes the silhouette of a man on a motorcycle, the throbbing magic of the combustion engine igniting fossilised dinosaurs into exhaust fumes. He surges toward us, "the chrome and steel he rides colliding with the very air he breathes". Then, as he draws near, we see he is resplendently arrayed in a bespoke tweed Huntsman hacking jacket and suede gilet, paired daringly with cashmere jogging trousers and the most extraordinary Prussian riding boots. Once upon a time, wearing a spread-collar Charvet denim shirt and cashmere denim necktie astride a motorcycle would have been akin to donning a burqa in Cap d'Agde, the world's biggest all-nude city. Which is to say, the source of neck-snapping, jaw-slackening, double-take-inducing perplexity. Because not so long ago, the two-wheeled world was unequivocally divided into mods and rockers — camps that stood in irreconcilable opposition as regards their sartorial philosophy. So much so that, in 1964, these youth subcultures felt compelled to do battle in the otherwise soporific English seaside towns of Margate, Brighton and Bournemouth, stabbing each other with sharpened sticks of butter — largely because the latter could not abide the former's affection for the necktie.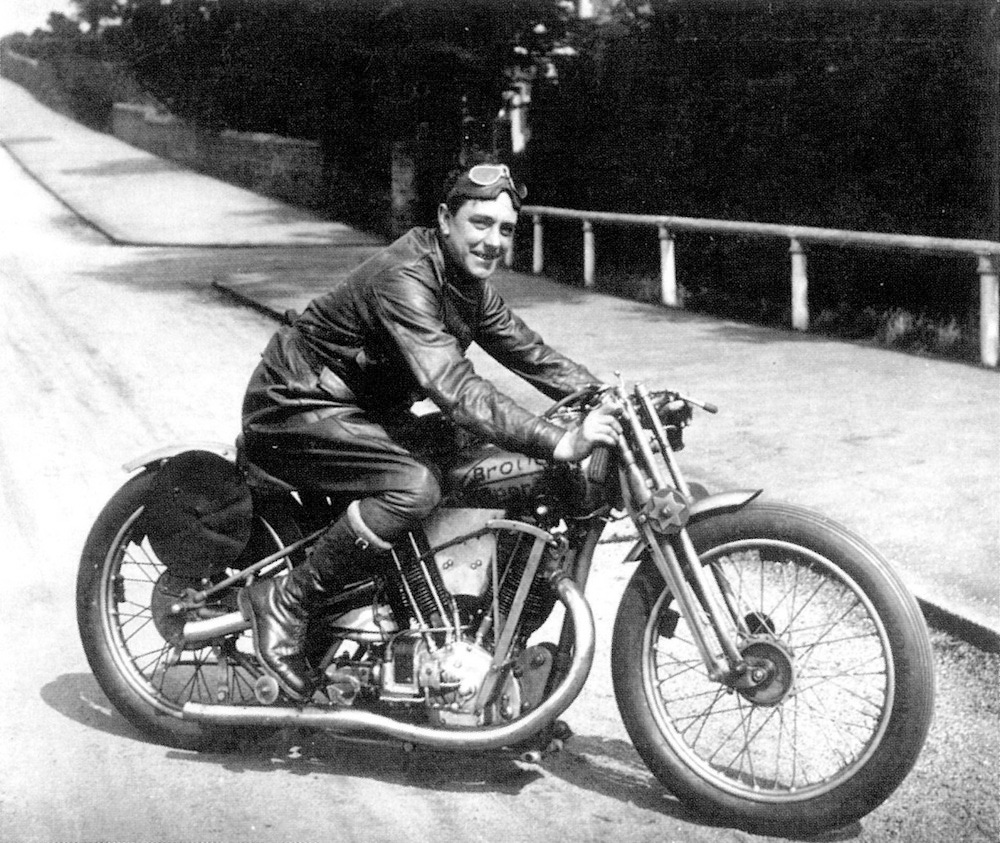 Yet before the second world war, when motorcycles were the canvas for visionaries such as George Brough (whose bikes were dubbed the 'Rolls-Royce of motorcycles'), the men who road them, such as T.E. Lawrence (otherwise known as Lawrence of Arabia), were considered impossibly glamorous and dashing. These were the aviators of the firmament, paladins astride gleaming high-power beasts. They would augment their classic suiting with raffish sheepskin blousons and goggles gleaned from aviation. To see such a man blasting around town on his Brough or Vincent must have provided a shimmering glimpse into the inexorable future expounded upon by the Italian futurist Filippo Tommaso Marinetti. So how did motorcycles get their counter-culture reputation? Following the second world war, motorcycle companies such as Harley-Davidson, Triumph and BSA began producing accessibly priced, high-performance machines. American servicemen returning from the war and looking for a thrill took to these machines in droves. Movies such as
The Wild One
placed the motorcycle in the crosshairs of cultural rebellion. The rise in prosperity of the working class, and the availability of credit and financing, made motorcycling hugely popular with working-class youth. They soon adopted Marlon Brando's uniform from
The Wild One
: black leather motorcycle jackets based on the Schott Perfecto or Buco J-24, cuffed Levi's, and engineer boots (and in Britain they modified this look with thin-shelled Davida Aviakit helmets and aviator goggles. In England, the sobriquets 'café racers' and 'Ton-Up Boys' came from their penchant for frequenting and using transport cafés (in particular, London's iconic Ace Café) as race markers, while the moral imperative of exceeding the 'ton', or 100 miles per hour, resulted in stripped-out and lightened 'café'-style bikes replete with clip-on handlebars, megaphone exhausts, and solo saddles. Perhaps the ultimate café bike was the Triton, which was crafted around the extraordinary handling characteristic of a Norton featherbed frame paired with a more reliable and powerful Triumph engine.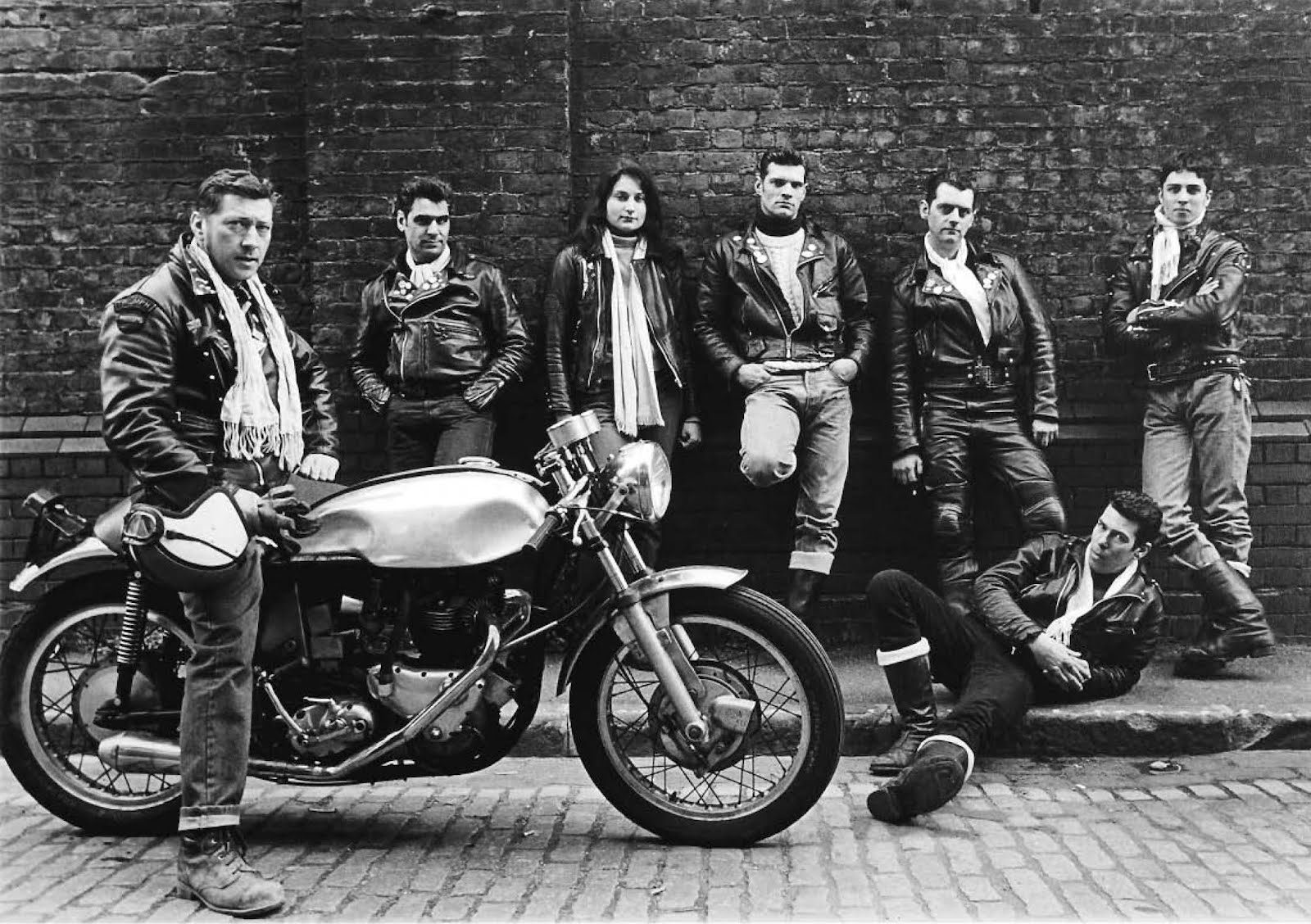 Rocker culture, and the freedom and thrill it represented, quickly spread around the world. In Japan it was bestowed the unforgettable moniker
Kaminari-zoku
, or Thunder Tribe, for the cacophonous roar of exhausts splitting the air at dawn. But across both sides of the ocean, rockers were considered the anathema of style — they were dirty, greasy-haired and with engine oil under their fingernails. In contrast, mods, who came out of the late-1950s' modernist (modern jazz fans') movement, were obsessed with French and Italian art films of the era, and pored over the pages of Italian style magazines for ideas for their tailor-made suits. They consumed Jean-Paul Sartre and existentialism with disturbing avarice and indulged in all-night dance parties fuelled by stutter-inducing amphetamines, which is the reason for Roger Daltrey's intentional stutter in the seminal anthem
My Generation
.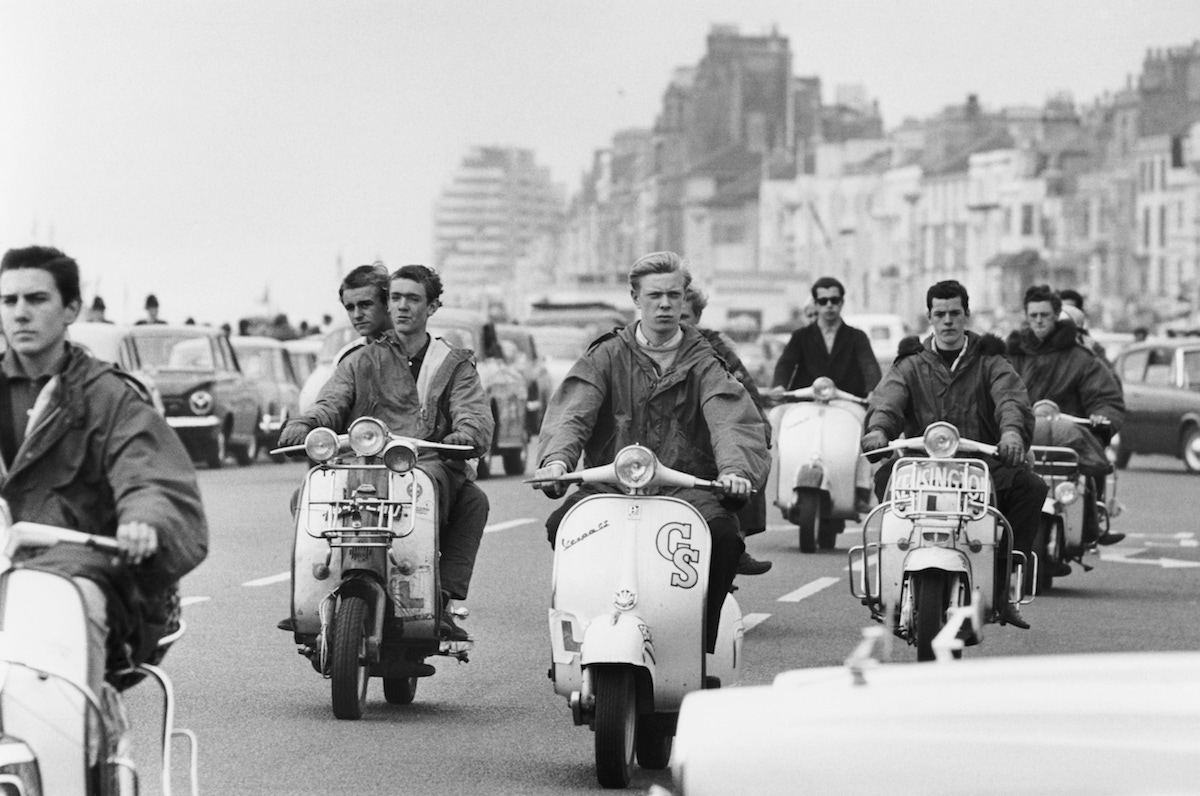 Their chosen mode of transportation were Lambretta or Vespa scooters. Amusingly, while rockers seemed to relish their proletariat roots, mods, taking a page from the French satirist Molière, seemed determined to rise beyond their humble working-class station and embrace all things bourgeois. And so it was that motorcycling and suiting were for many years at opposite ends of the style divide. Today, however, and thanks to an all-new generation of enthusiasts, motorcycling has returned the association of two-wheeled speed machines to the pre-second world war period in England when bikes were associated with elegance, wealth and glamour. The epistemology of the rebirth of elegance in the motorcycling scene can be traced to several factors. One would be the globally renowned charity rally known as The Distinguished Gentleman's Ride, which was conceived in 2012 in Sydney, Australia, when founder Mark Hawwa noticed an image of
Mad Men
's Don Draper astride a classic Matchless resplendent in a brown mohair suit. He was inspired to "combat the often negative stereotype of men on motorcycles", and his first ride united 2,500 riders in 64 cities. In 2014, The Distinguished Gentleman's Ride, which encourages participants to behave in an affable manner, and to ride classic café racers, bobbers or street scramblers, was held in 250 cities on the same day and raised $1.5m for the Prostate Cancer Foundation in the U.K., U.S.A. and Australia.
In 2014, Blitz Motorcycles joined forces with Ralph Lauren to created the RRL Riders' Tour, a celebration of nostalgic heritage wear and tailoring as well as vintage and customised motorcycles.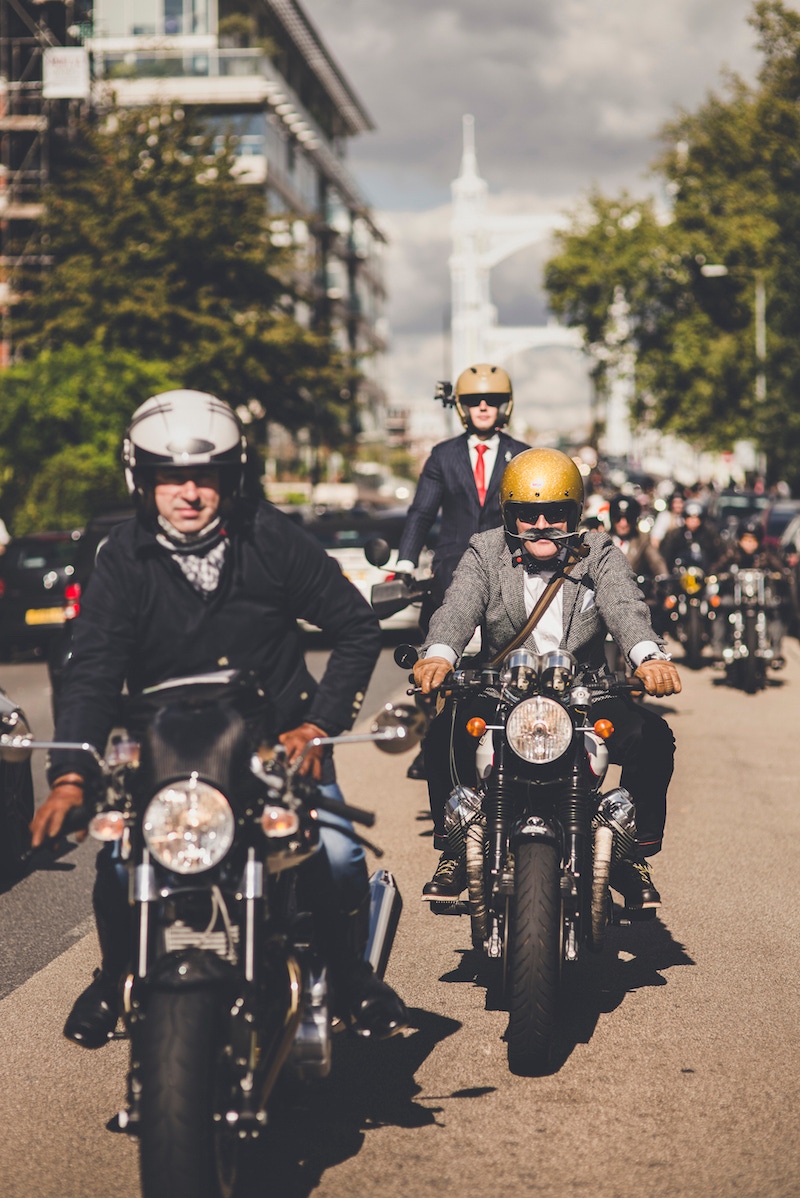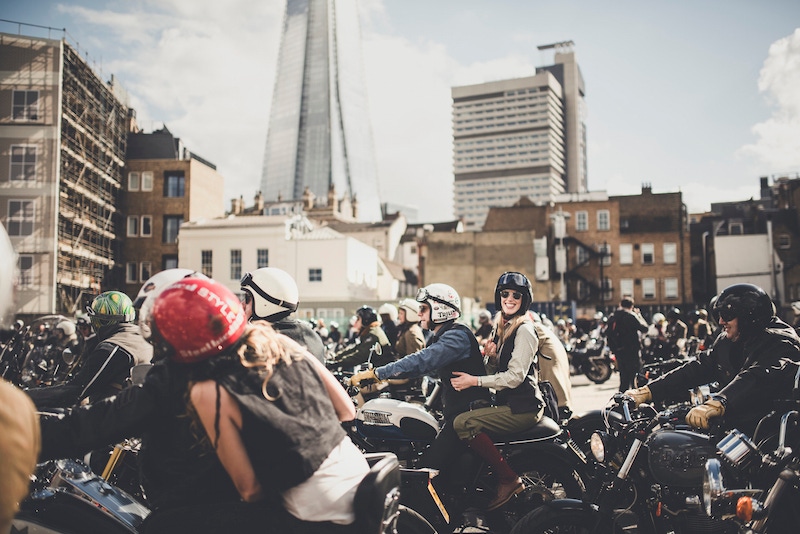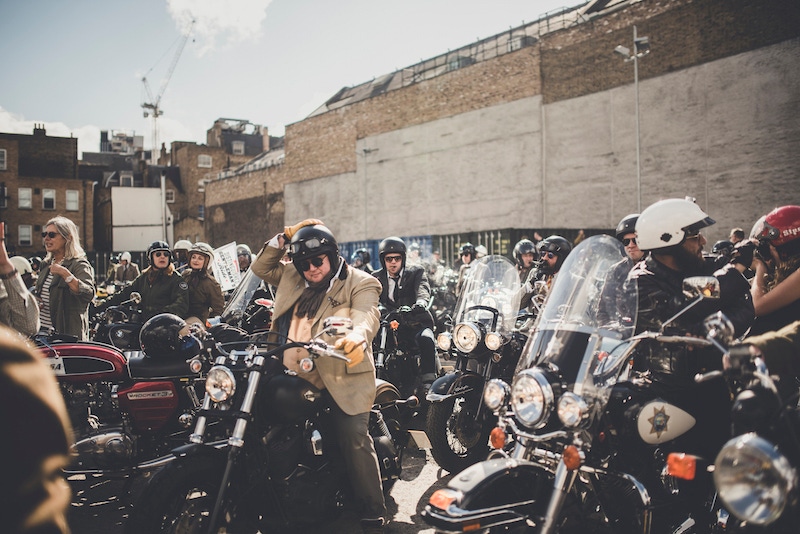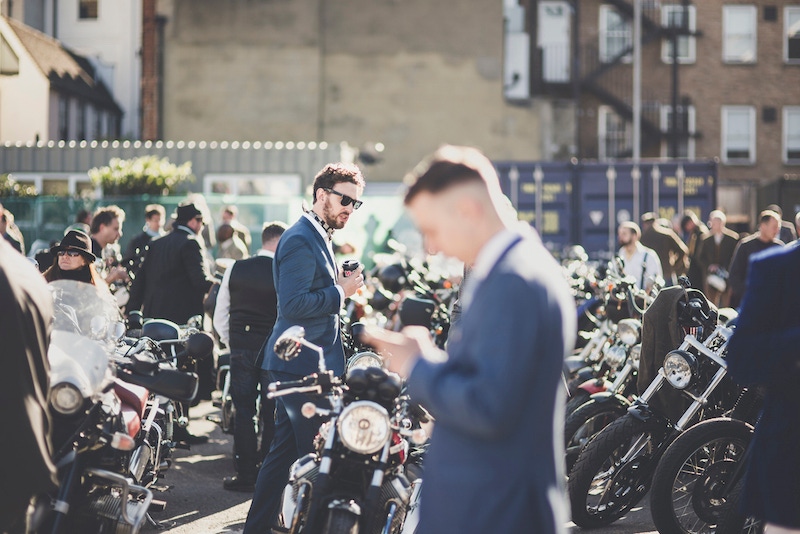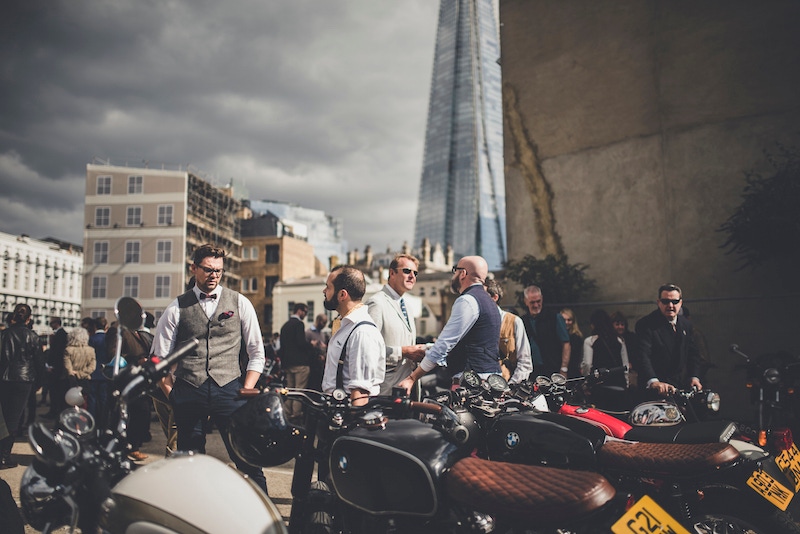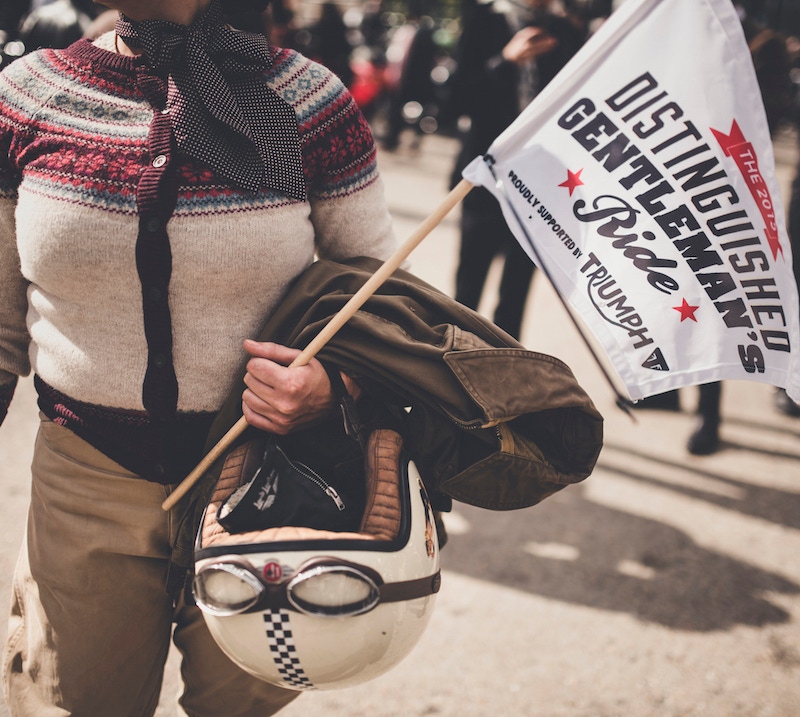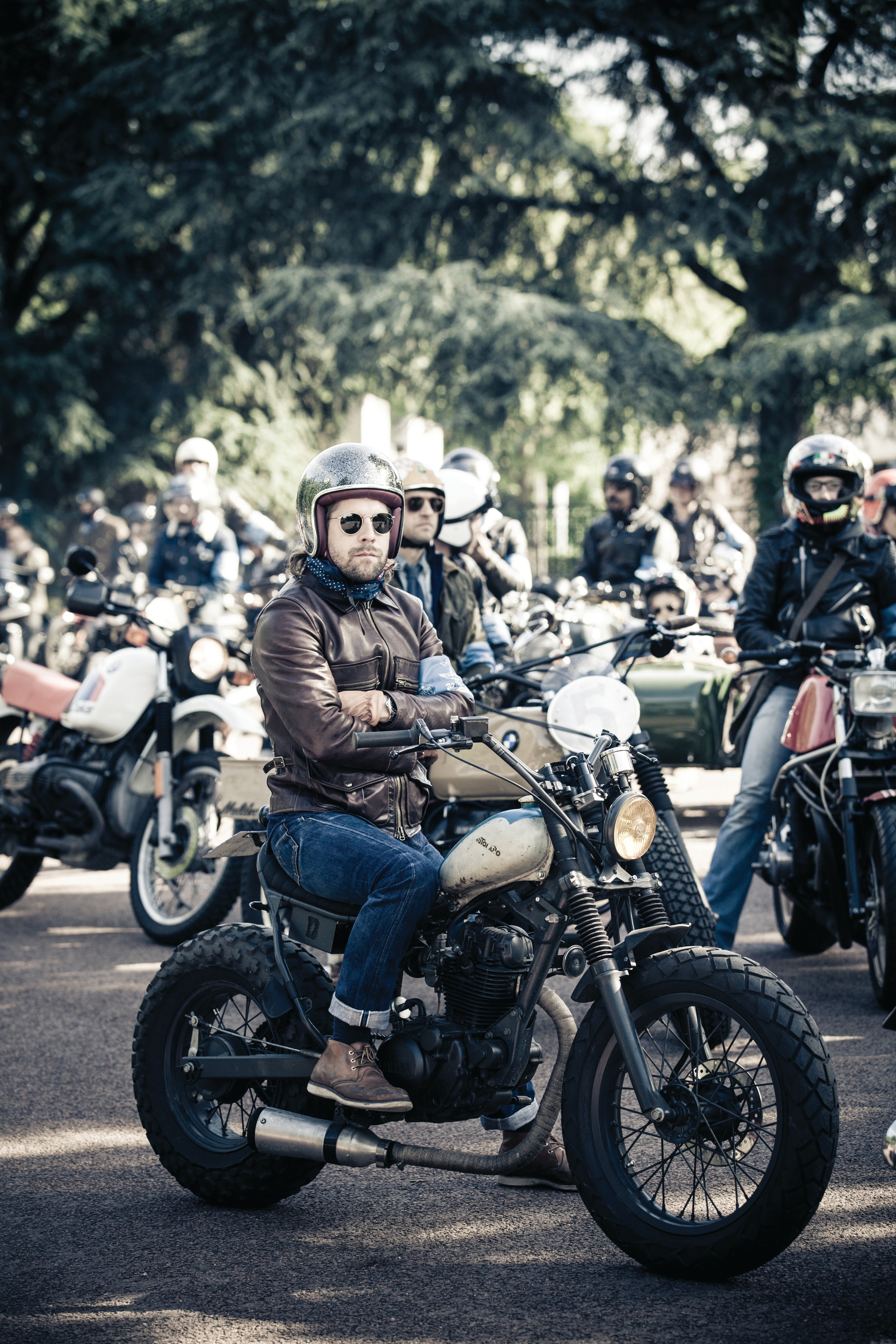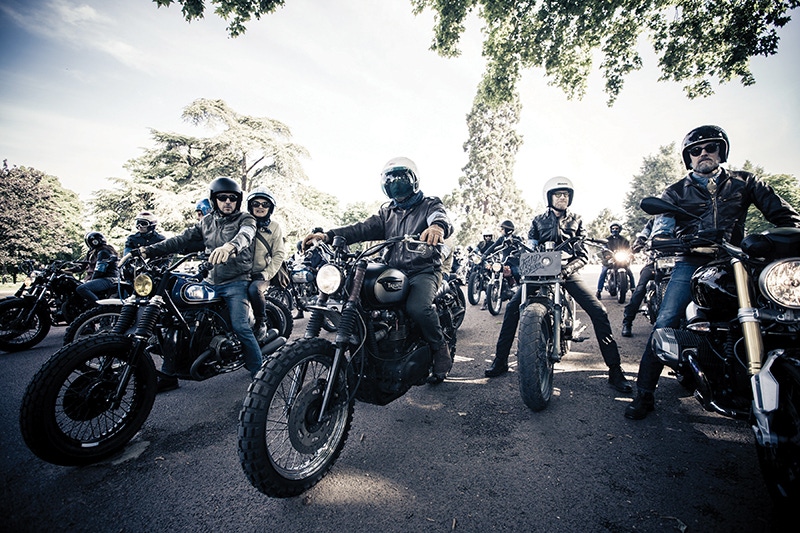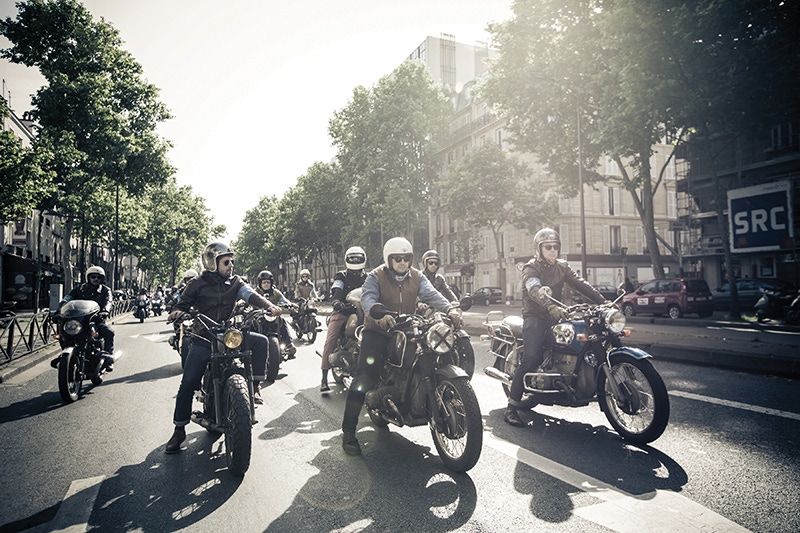 On a more cultural level — concurrent with the practice of the world reconnecting with timeless style, heritage and craft — a new generation has become entranced by the motorcycle and its incredible potential for self-expression. The proliferation of websites such as Bike EXIF and The Bike Shed have been extraordinary amalgamators of bike-custom culture. Most importantly, both sites have acted as unifiers of motorcycling culture, for the first time galvanising interest in everything from Harley-Davidsons to Japanese bikes, with a focus on artisanship and craftsmanship rather than brand divisiveness. The smartest motorcycle companies, such as Triumph, have understood the powerful interest in individualisation and encouraged owners to modify and personalise their bikes. Similarly, the retro-themed BMW R90T comes with a removable tail section to allow a more 'custom' look. In addition, the motorcycle has become the answer to overwhelming traffic congestion in the world's major cities, from London to Paris to New York to Singapore. In response, men are creating a new sartorial style influenced by the need for comfort, mobility and adaptability, allowing them to look the apotheosis of elegance in the saddle or the meeting room. Simultaneously, the blurring line between sportswear and formalwear has allowed these devotees of mobility to cherry-pick the best elements from both genres. Menswear has also elevated utilitarian materials such as denim and jersey into the luxury lexicon, and today the perfect denim blazer or tailored sweatpant have become indispensable items for elegant motorcycling, offering an unparalleled hybrid between riding comfort and impeccable style. Today we are amid the dazzling rebirth of male elegance, manifested through a renewed global passion for the sartorial arts and the revived and reimagined connection with the concept of la bella figura. As such, the union of sublimely tailored clothing and beautifully modified motorcycles is a marriage that has created one of the most original styles of dressing whether astride a motorcycle or not.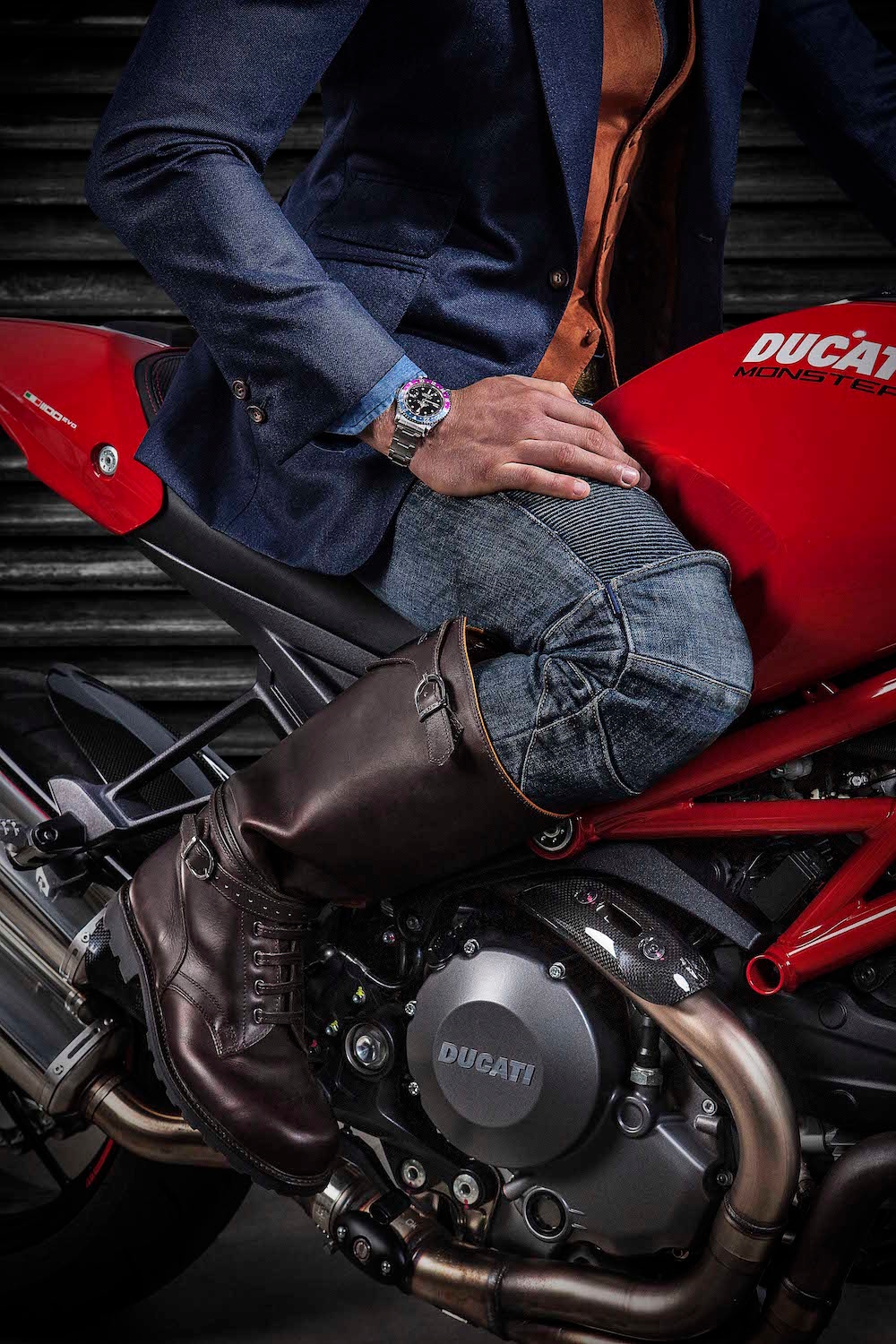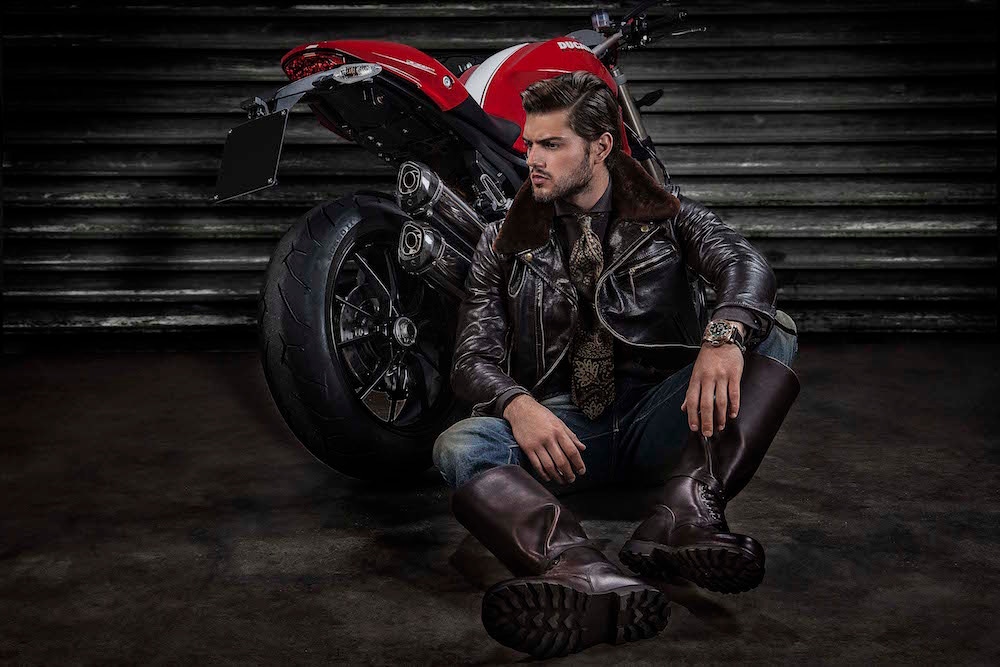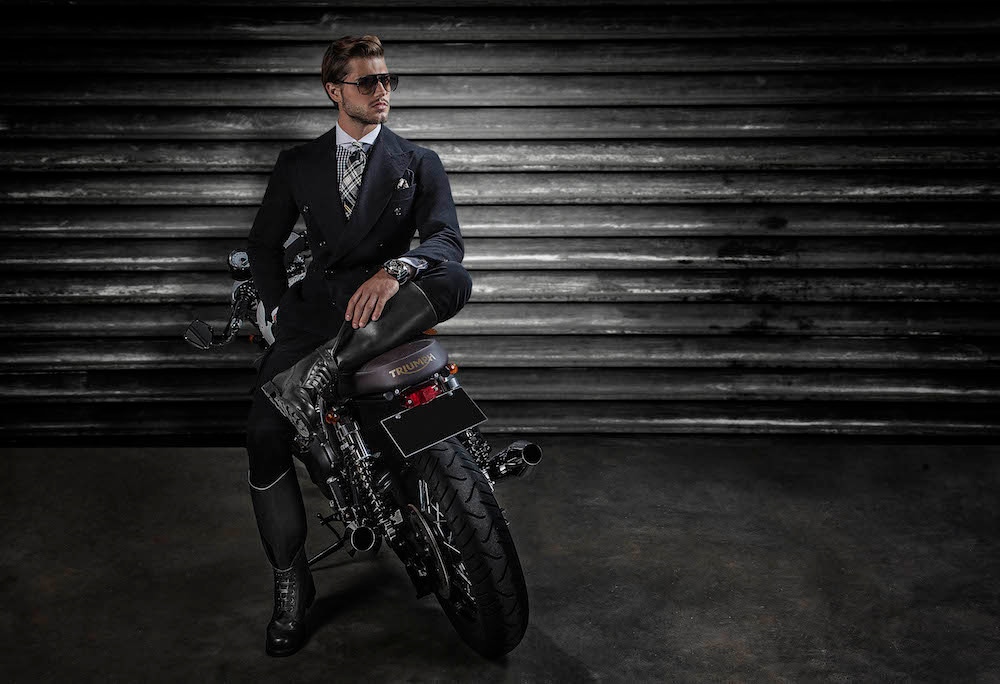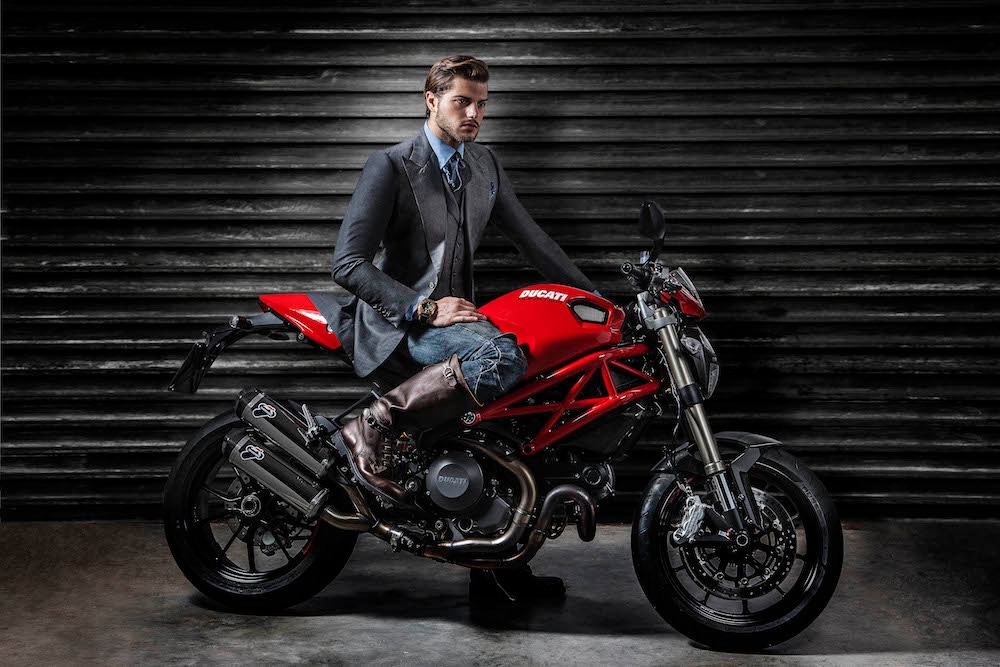 The ultimate adventurer's Boots: Ludwig Reiter Husaren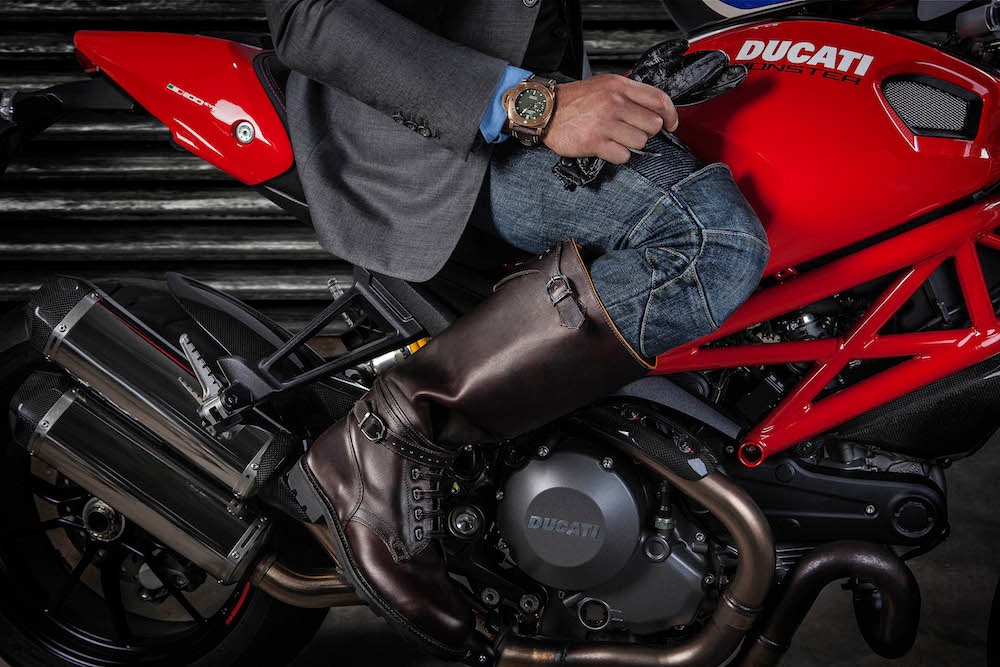 Ending just below the knee, with a height that protects the wearer from exhaust pipes and road detritus alike, it seems fitting that the ultimate sartorial motorcycling boot has its origins in the Prussian cavalry. Yet their remarkable lightness (despite their sturdy Goodyear construction) and unbelievable suppleness make these boots effortless to wear all day long, from the bike to the boardroom to an elegant dinner. The heroic design, which incorporates sewn-in leather laces that buckle around the ankle, lend an immediate sense of rakish, old-world, adventurous glamour. These are the boots you throw on as you leap, otherwise
à poil
, out of a high-society demoiselle's bedroom window as her husband opens the door. They are the boots that keep you dry as you lift your paramour into your arms to carry her across Venice's flooded San Marco square. Their lugged rubber soles provide unparalleled traction as you leave your indelible mark on the world. Available exclusively in matt black and chocolate brown calf's leather, online at
The Rake
's Atelier.
---
Fashion photography by Sidney Teo, Distinguished Gentlemen's Ride photography by Amy Shore, RRL Rider photography by Andy Barnham.