Since 1976, Happy Diamonds have been joyfully lighting up the eponymous creations from Chopard. Over the years, the famous moving diamonds have been staged through a myriad of precious and joyful watch and jewellery creations. To mark their 40th birthday, Chopard is revisiting the iconic model in which they were first introduced. While out on a walk in the Black Forest during the 1970s, Chopard designer Ronald Kurowski was entranced by the sight of a waterfall and the thousands of tiny water droplets launching out from it, reflecting and sparkling through the daylight, since then he became fascinated with the idea of unset diamonds. Karin Scheufele hailed the first creation of a 'Happy Diamonds' watch - a men's watch, featuring a cushion-shaped dial inserted between two transparent sapphire sheaths, which allowed the diamonds to move about freely without a scratch.
"Diamonds are happiest when they are free." - Karin Scheufele
These sheaths were then changed from flat surface to a single-point with an elaborate downward curve, within this, the diamonds could be more easily set in a twirling motion like dervishes. The slightest finger tap on the casing caused the diamonds to rotate; this became the 'tap test' that remains the definitive test of authentic 'Happy Diamonds'. The watch was never meant for regular production as it was a one-of-a-kind entry into the annual 'Golden Rose of Baden Baden'; a jewellers competition organised by the 'Society of Friends of Precious Stones' in Germany. Moving diamonds have since provided scope for all manner of bold designs and have been re-interpreted through a broad range of watches, necklaces, pendants, rings and earrings.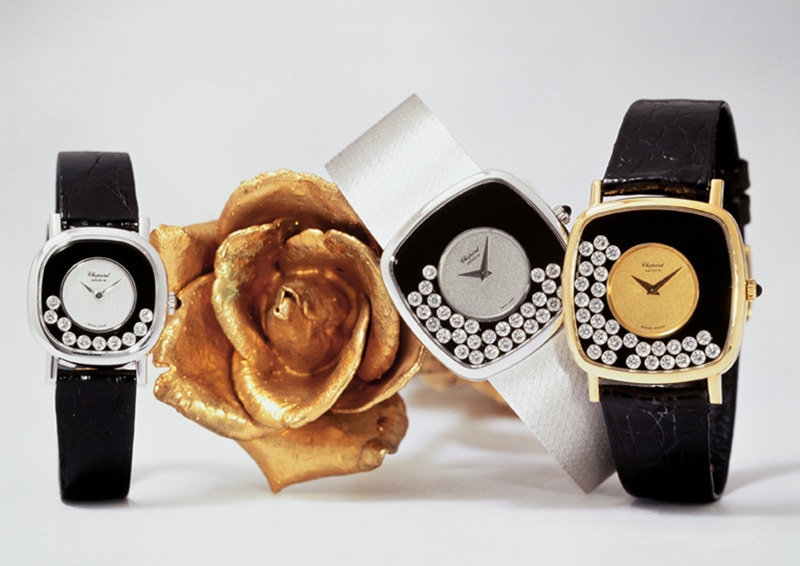 The Happy Watch Mens is now only available through custom order but this iconic creation inspired a new model for women, celebrating its 40th anniversary. Today's Happy Diamonds watch is a precious jewellery model exuding a charm that is both vintage and contemporary. The prong-set diamonds encircling the dial emphasise its gentle curves, while new, larger mobile diamonds dance freely across a textured white mother-of-pearl background.