Style 101: A History of Tartan
From the Scottish Highlands to the streets, tartan has reinvented itself as a contemporary, cool and versatile pattern which takes its heritage in its stride.
Regardless of your political affiliations, when a Prime Minister arrives to the Conservative Party Conference in a Vivienne Westwood Anglomania suit in Black Watch tartan, it's hard to deny that it makes a powerful statement. During Theresa May's time in office, her wardrobe has divided opinion almost as much as the snap election, Brexit, and her seeming affection towards Donald Trump. The suit, which she debuted in 2013, is a long-standing part of the PM's collection, and while most agree it's exempt from criticism, the choice of cloth is provocative for the associations it conjures; pride and patriotism, strength and unity, rebellion and resolution.
Origins
Tartan is defined by a combination of factors. The use of bold colours in a twill weave are woven symmetrically at right angles so as to create 'stepped' diagonal lines. Originally woven in wool coloured using natural dyes, traditional tartans have since been separated into 'ancient', 'muted' and 'modern', to distinguish between the palettes. Ancient tartans come in colours that could be created from natural dyes, whereas modern designs come in more variations due to chemical dying, and muted sits somewhere in between.
Contrary to popular belief, tartan is in fact not solely a Scottish export. Dating back thousands of years to 3
rd
century China and found woven through the tapestry of Europe's history, the common misconception that each pattern is attributed to a clan of Highland warriors is one born from large-scale commercial weavers in the 18
th
century, who named each of their patterns after towns nearby. Far from representing a clan's uniformity, it was a convenient sales pitch the world fell for hook, line and sinker; a sentimental take on Scottish pride and local loyalty.
It wasn't until Queen Victoria and Prince Albert began a love affair with Scotland that tartan came into the wider public's consciousness. In Lytton Strachey's biography of the Queen, he describes how her husband's affection for tartan was apparent at Balmoral castle, which they bought and decorated in 1848; "there were tartan curtains, and tartan chair-covers, and even tartan linoleums. Occasionally the Royal Stewart tartan appeared." The Royal Stewart, with its red base and stripes of blue, black, green, yellow and white, is easily the most recognised tartan globally. In the 1960s, it was adopted by Formula One champion Sir Jackie Stewart, aka the 'Flying Scot', who sported it on his racing helmet, and while the design trickled slowly down through the motor racing community, it wasn't until the punk movement of the 1970s that there was a tartan tidal wave.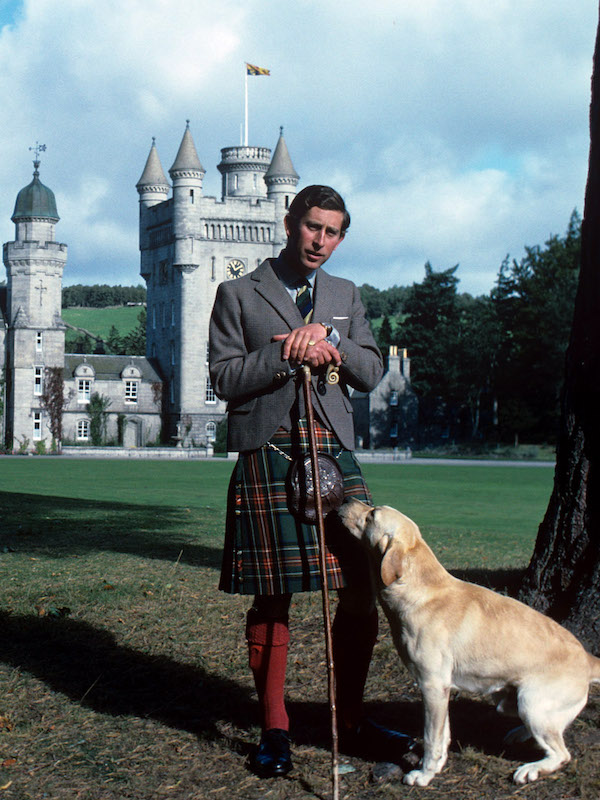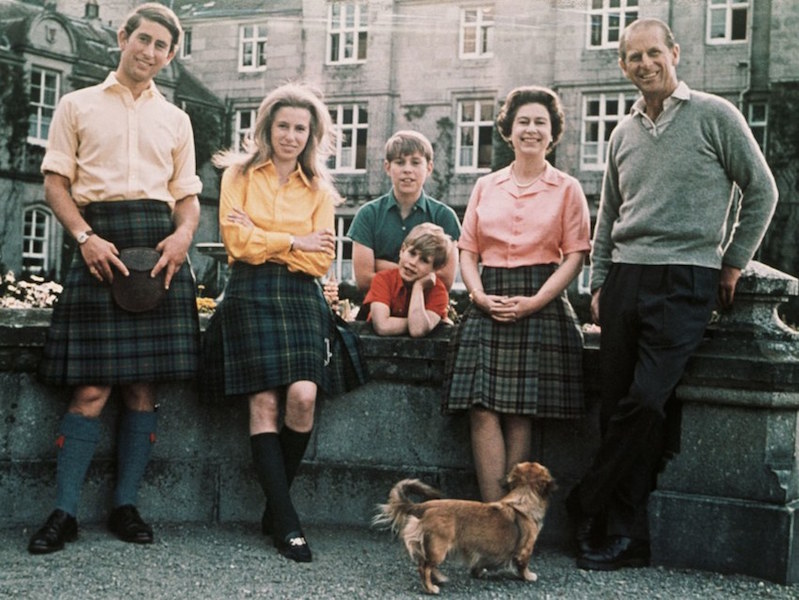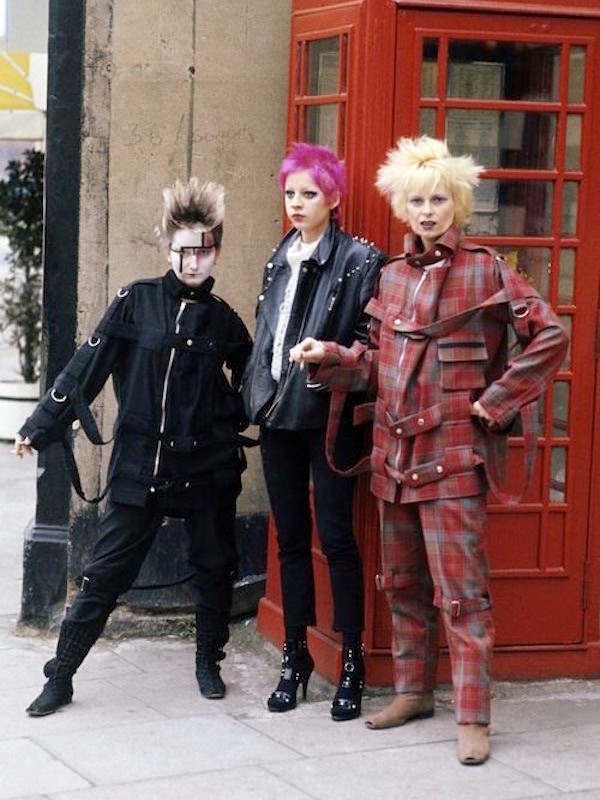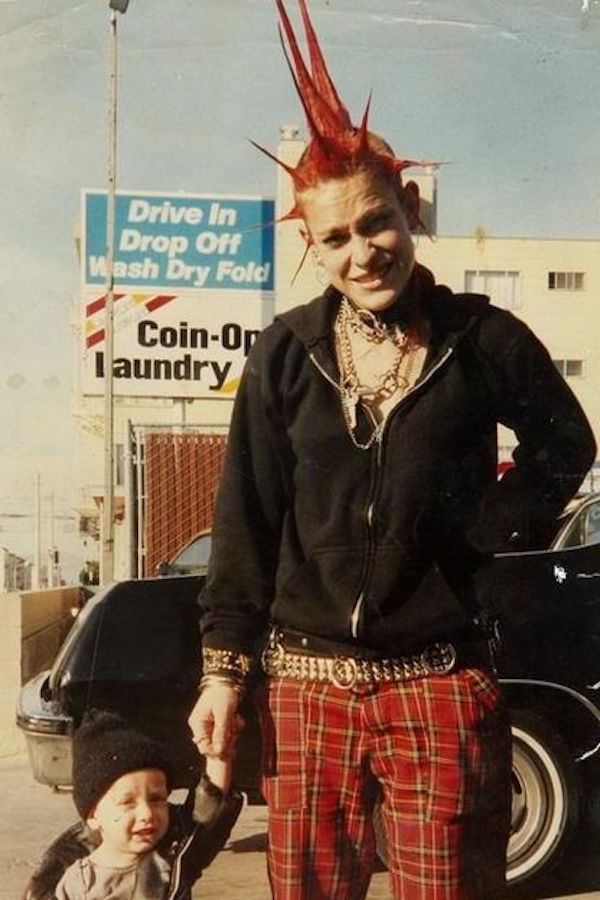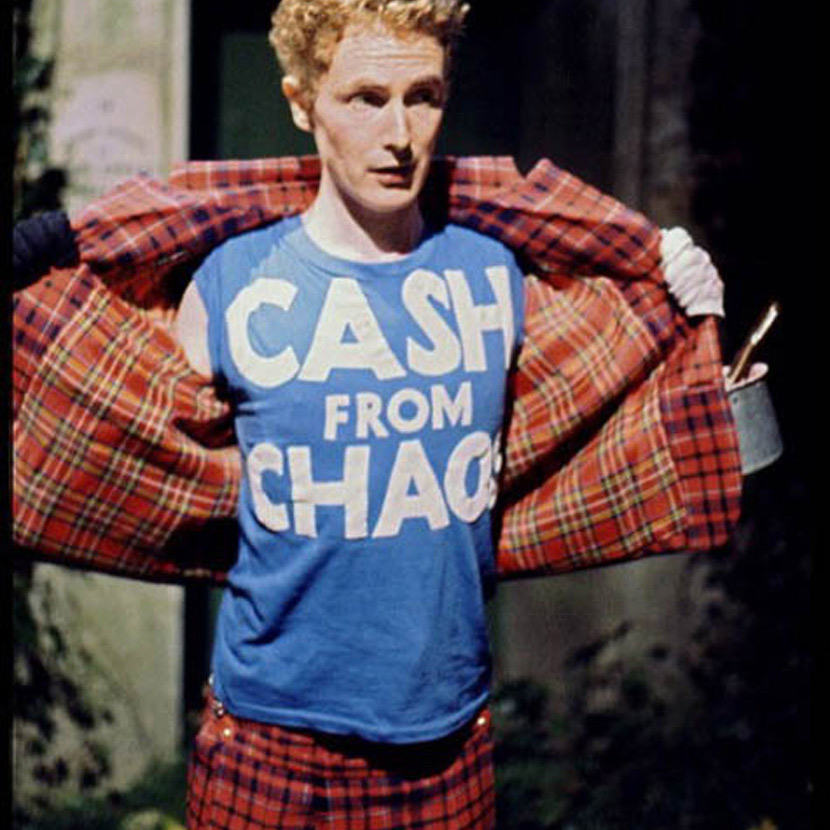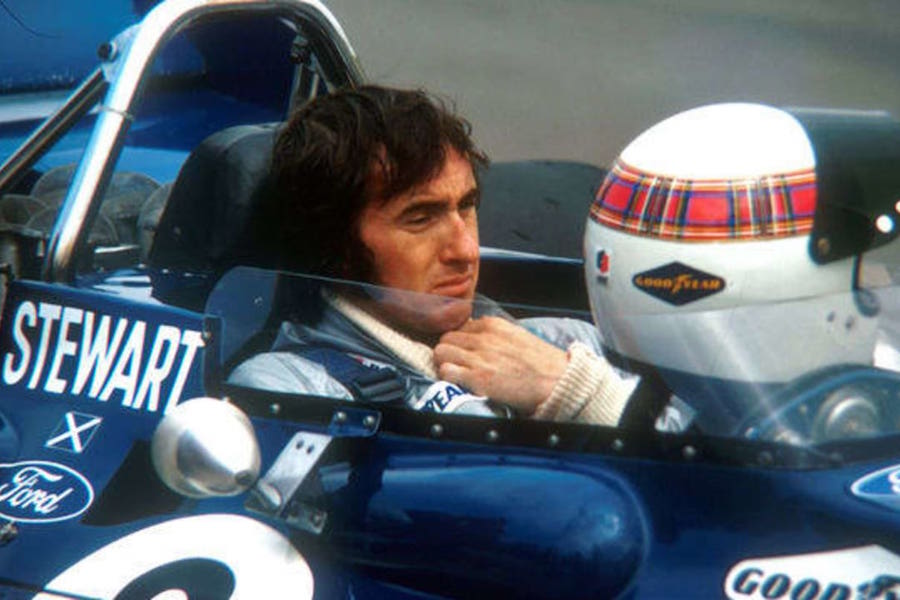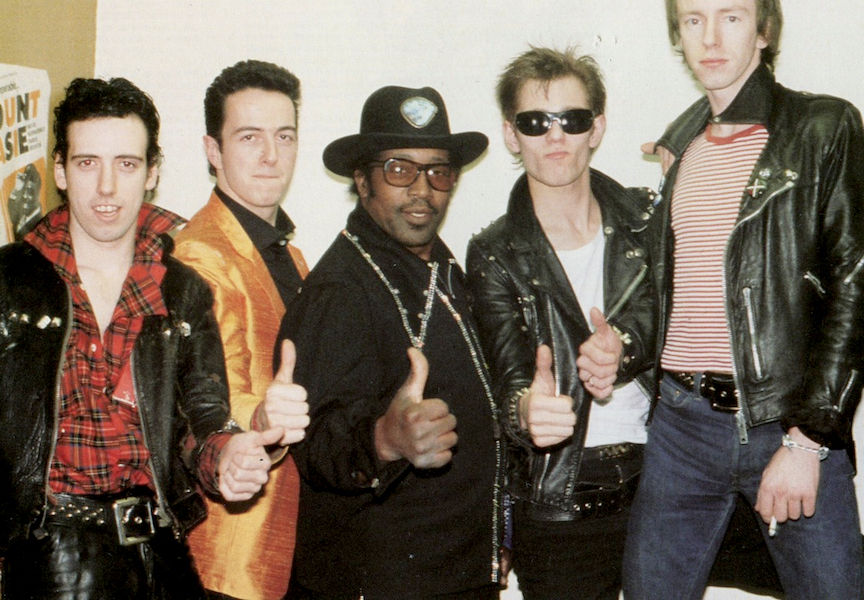 Who Wore It Well?
Having been popularised by the Royal Family, tartan had become synonymous with society's upper classes, and the misconceived idea that one must belong to a clan in order to authentically wear it was common. As well as its aristocratic background, tartan had always come with a set of rules - nobody, for example, may wear the Royal Stewart tartan without the express permission of the Queen. But, as with most rules, these were begging to be broken, and the seventies served up the perfect excuse to do so.
The adoption of tartan by punks at the time was just one of their ways of sticking a middle finger to the upper crust. Furthermore, they had their own monarch, punk princess Vivienne Westwood, and those who honoured her anarchic aesthetic included punk-rock bands like The Clash and The Sex Pistols. Johnny Rotten, with his shock of red hair and permanently startled expression, would take to the stage in clashing tartans and safety-pinned leather. Malcolm McLaren, who managed the Pistols, was also a visionary and worked closely with (then-girlfriend) Westwood on the Chelsea boutique 'SEX'. Douglas Cordeaux, Managing Director of British clothmaker Fox Brothers, calls him "the original influencer", his tartan 'bondage' kilt a key moment in style history. Controversy, nonconformity and an anti-establishment attitude became intrinsically linked to the textile, and has invited designers like Alexander McQueen to exploit its semiotics to comment on politics, history and culture in the UK.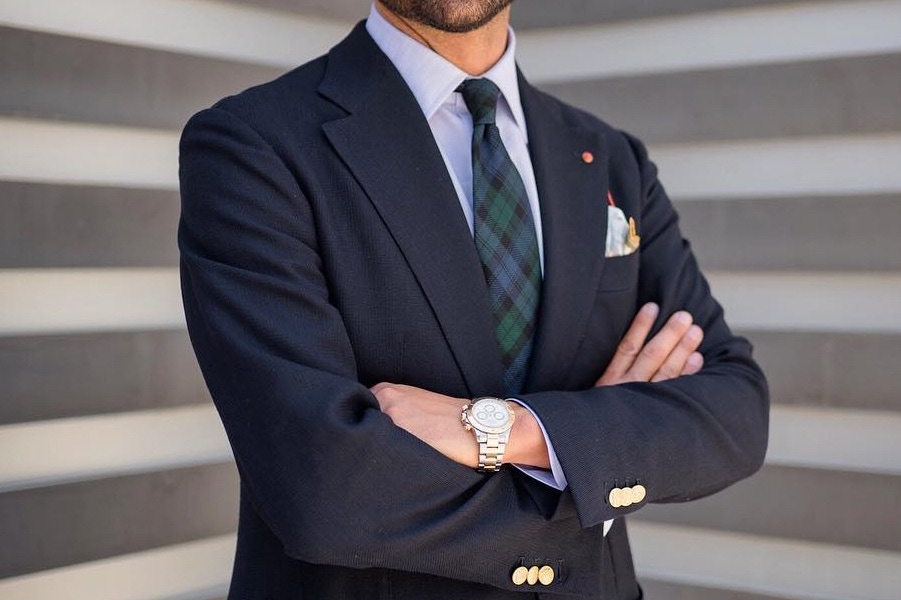 Tartan Today
While tartan's endurance may in some part be down to the myths that surround it (one such myth explained the dominant use of red as a result of warriors in battle wanting to disguise bloodshed), its appropriation by punk and grunge culture propelled it from an eccentric British textile to a fashion-forward design feature, and today to a sartorially savvy choice of cloth. The variations are virtually infinite, making pattern a viable option; if florals feel too feminine, stripes too boring, spots too kitsch, tartan is neither masculine nor feminine, neither youthful or mature. Whether it's a classic flannel shirt, the lining of a Burberry trench, a Baracuta jacket, or the interior of a 1950s Mercedes 300SL, everyone – and everything – can wear it their own way.
Scottish tweed specialist Walker Slater's Director Paul Walker explains the allure; "Tartan is a tribal fabric, so it will always attract designers to use it and customers to buy it. The preppy American collegiate look used it particularly well, while still holding on to the appeal of being part of a group." Ralph Lauren was one of the first designers to tap into this, channelling his brand's strong sense of identity. "Ralph Lauren made tartan a menswear hero cloth in the US," Cordeaux agrees. "
Tartan patterns have now evolved from bright family tartans associated with Scottish kilts to understated subtle checks used by houses around the world."
For a long time,
Black Watch tartan stood in the shadow of its louder, lairier older brother Royal Stewart, but in recent years has come into its own. Once reserved for the regiment after which it's named, its contemporary colour combination makes it an effortless addition to a modern wardrobe. "It's so wearable," Walker says. "It's masculine and links to that unity of a regiment again – it's classic, and an easy entry into tartan before you build up the courage to embrace full colour." Savile Row tailors have always looked to tartans, checks and tweeds to draw on British heritage in line with their own.
"It carries the colours of our countryside, the heathers, gorse, ferns and the soil," Cordeaux reflects. Far from its roots in the Scottish Highlands, via a stint on the cutting edge of fashion and culture, tartan can now deliver a considered approach to pattern. Subtle, neutral colourways make it a versatile suiting fabric, especially in muted tones of black and green, and is more apparent in luxury designers' collections, cloth company offerings and even high street brands. Last year, Jigsaw sourced a soft Black Watch from Biella mill Subalpino, while Oliver Spencer, Paul Smith and Ralph Lauren continued to play with the proportions of the check in suiting and outerwear, harnessing British sentimentality with a rebellious streak and a more minimal design. If tartan continues on its current trajectory, we'll be seeing it on the streets for a while yet. Just don't let Theresa May put you off.
Ways to Wear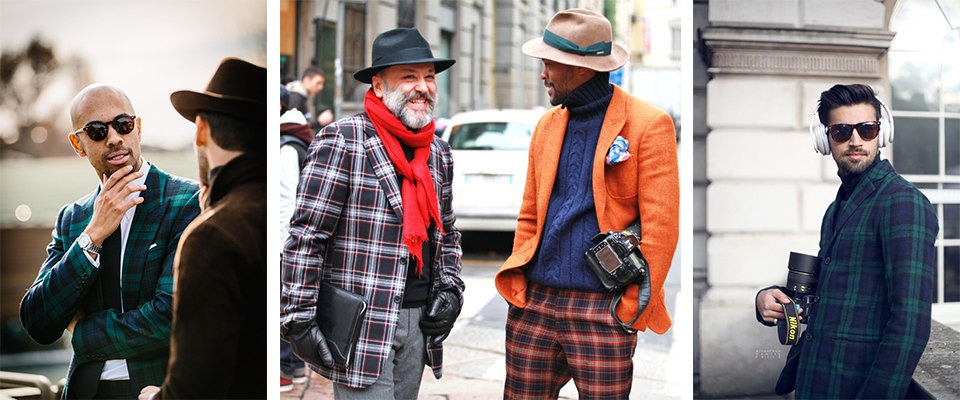 From left to right: Jonathan Edwards wears an Edward Sexton suit in Black Watch tartan with peaked lapels and heavily roped shoulders over a white pin collar shirt and knitted tie, a more formal take on tartan (photograph by Jamie Ferguson). Gianni Fontana and Karl Edwin Guerre wear their respective tartan jacket and trousers with individual style and pops of complementary colour. Layering a single-breasted Black Watch wool jacket over a dark roll neck results in a casual, seasonal look, updated with Beats headphones and shades (photograph by Jonathan Daniel Pryce).