Style Heroes: Elvis Before He Was King
Elvis might be more well-known for his eccentric stage attire, yet his early style of the 1950s is the stuff of legend.
When you think of Elvis Presley, chances are the first image that'll come into your head is Vegas Elvis: the sequinned, white jump-suited, open-chested, flared-trousered demigod who stirred crowds up into a frenzy with his intoxicating wail and highly sensual performances. Although, according to Time magazine which reviewed one of his gigs in his breakthrough year of 1956, it seems he was just as intense from the very start, 'in the spotlight, the lanky singer flails furious rhythms on his guitar, every now and then breaking a string. In a pivoting stance, his hips swing sensuously from side to side and his entire body takes on a frantic quiver, as if he has swallowed a jackhammer. Full-cut hair tousles over his forehead, and sideburns frame his petulant, full-lipped face."
In these early days though before he was King, Elvis' style was one of classic elegance and restraint, and he very much embodied the clean-cut 1950s Americana that was more synonymous with the likes of James Dean. There is an attitude in his early style though that gives him a certain edge, belying the commerciality of his later looks and contrasting with the sobriety of early 1950s post-war life. On paper, he would wear conservative, every day garments: white oxford button-down shirts, pleated, high-waisted, wide leg trousers and penny loafers - essentially simple, ivy league inspired clothing. Yet young Elvis wore these clothes in a way that was entirely his own. Much like the stage in which he dominated, Elvis owned his attire. Shirt sleeves would be nonchalantly rolled up to the biceps, a patterned sock would come into play every now and again, and he'd utilise simple jewellery including pinkie rings and silver bracelets, an early hint, perhaps, at the flamboyance that would come in the latter years.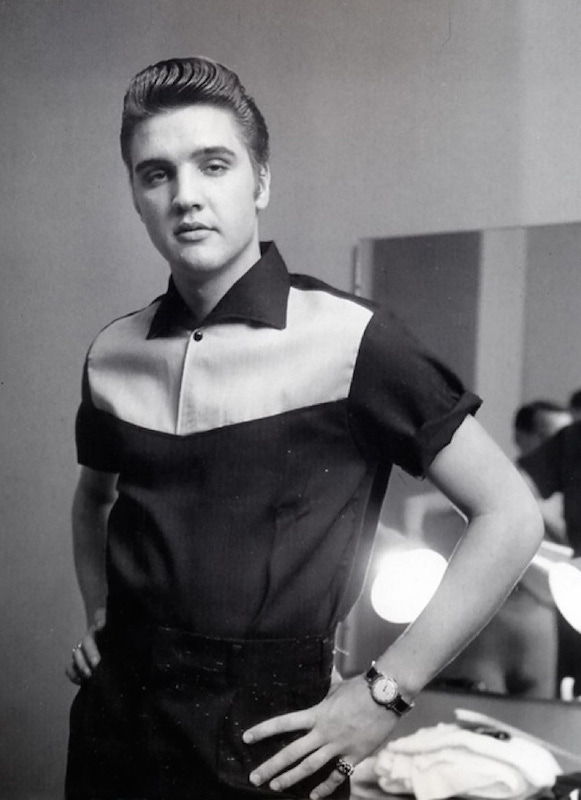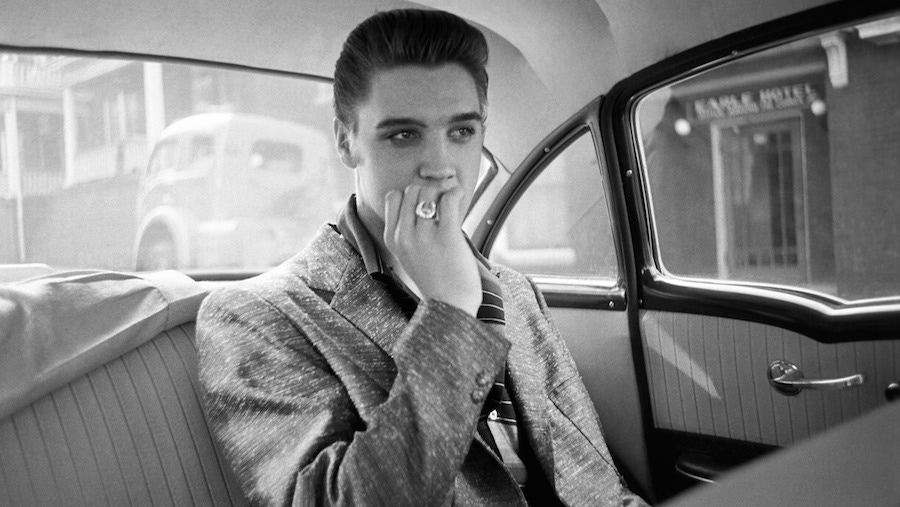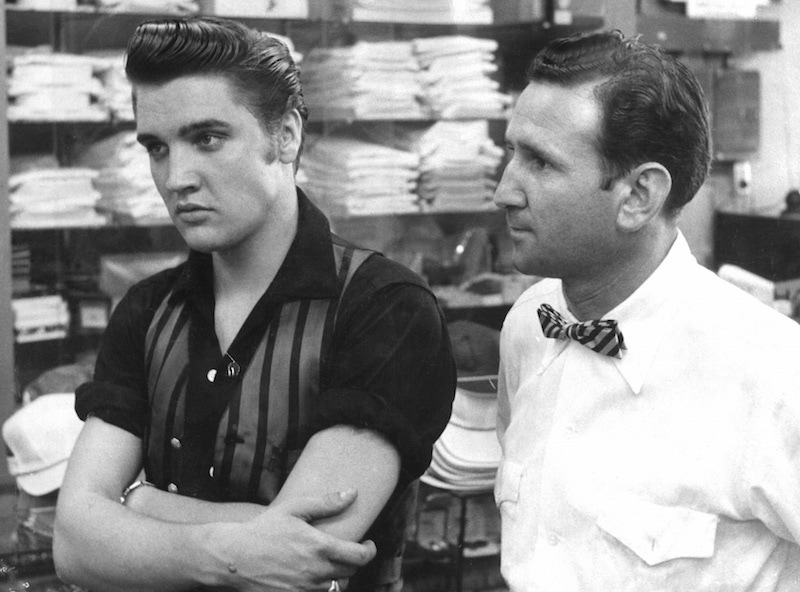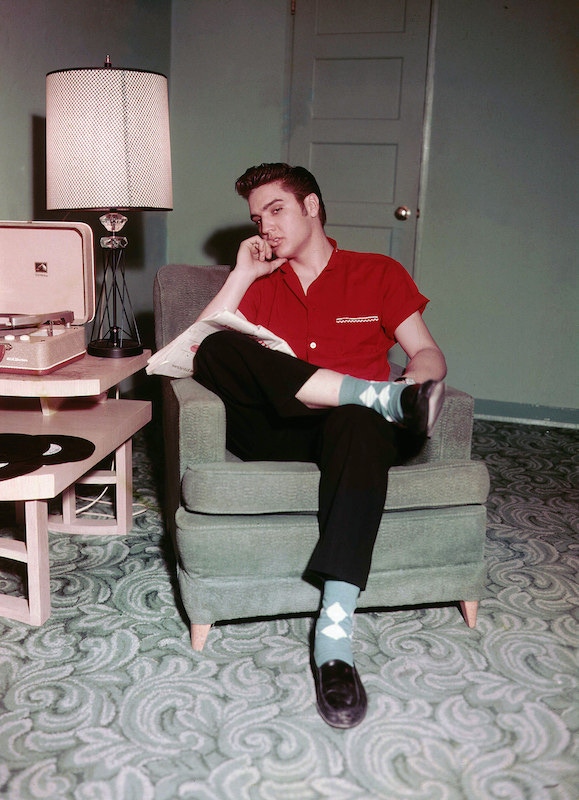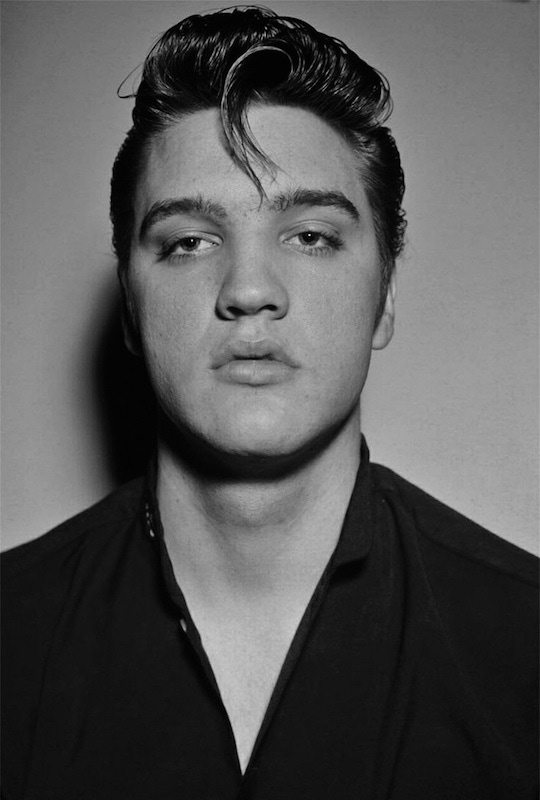 Young Elvis' ultimate style power move though came in the form of the short-sleeve, Cuban-collar bowling-style shirt, a style he can be seen wearing on a number of occasions. Sometimes plain, sometimes striped, always worn open and with an exuberant carelessness, these shirts defined Elvis' early style, and today look cooler than ever. Cuban collar shirts have come back in a big way and for SS18 numerous design houses are paying their tributes to the style, yet Elvis was the originator.
And then there was his hair. Far from the exaggerated quiffs of his later years, young Elvis' hair was neat and considered. It's widely believed he used Black & White pomade to keep it in place, giving it the shine and hold necessary for his subtle pompadour. Swept up round the sides and flicked back on top with a comb that he often kept in his shirt pocket, his hair completed the look but like the rest of his attire it was often a little dishevelled, especially when on stage. In a similar way to his music of the same era, Elvis' style of the mid-1950s represented a raw, uncut version of himself, a stark contrast to the big production numbers of his latter career, and when stylists inevitably transformed his then-global image. Although it didn't last for very long, and despite the fact it often gets forgotten, this preppy Americana vision of Elvis represents '50s style at its finest. Long live The King.