Tailored and Trainered
Is it really now not only acceptable, but de rigueur, to wear sneakers with a suit? The Rake shows how a footloose approach can be carried off with rakish aplomb.
Just a few years ago, wearing trainers anywhere apart from the tennis court or gym was borderline sartorial blasphemy. Smarter bars and restaurants would look you up and down disdainfully and then point at their framed dress codes, tutting impatiently before shooing you away like riff-raff. And who amongst us in years past hasn't stood in a queue for some lame club, only to be turned back at the door by the clipboard Nazi who wouldn't know style if it garrotted him with that red braided rope that bars entry? (Not that it still rankles or anything.) The idea was that in the days before the average man on the street started dressing well, he needed to adhere to some generalised tick-box rules: no jeans, no T-shirts, no trainers, no choice. You could be wearing the most horrific shapeless shirt with horrible cheap shoes and still sail through, while the more discerning man in raw denim and rare sneakers is deemed too scruffy. But change is afoot: sports luxe is the next big thing in fashion. At this summer's menswear fashion shows in London, Milan and Paris, one trend was particularly prevalent. It wasn't one seen on the catwalk so much as the streets. Sneakers are bouncing back - and in various forms, from the super-high- end and showy Valentino and Lanvin, to the retro rereleases from New Balance and Nike, to casual summer plimsolls by Converse, Superga, Vans and Common Projects. There is even a big trend right now amongst fashion editors for more technical running trainers such as Nike Flyknits. 'There's been a marked shift,' says Marc Hare, Designer and founder of Mr. Hare footwear - a man well known in sartorial circles for what one devotee describes as his 'epic shoe game'. 'The major fashion houses have commandeered the sneaker like never before, and suddenly it's fine - commendable even - to wear trainers with your suit.'
But is it? Is it really? Just because the Kanye Wests and Justin Timberlakes of the world deem it OK, doesn't mean it works for all of us. This is The Rake you're talking to. We are men of lasting style, not victims of fickle fashion. I mentioned the subject of this article to Tom Stubbs, a regular Rake writer and indubitably one of the best-dressed men in London. He arched an eyebrow, blew out his cheeks and said, 'Rather you than me, old son.' We both dress in Savile Row finery on a daily basis. He finds the idea of wearing trainers with a suit downright offensive, not least to the tailor. Of course, trainers are not right for every occasion. There are still times and places where such informality is inappropriate - funerals, gentlemen's clubs, formal dinners - but their number has greatly receded. No longer are trainers synonymous with slovenliness. Just as suits aren't just for weddings, so trainers are no longer just for running. The dress code has been reset. The joy of wearing unstructured shoes - be they loafers, espadrilles or trainers - lies in their comfort, especially during warmer seasons or in certain holiday destinations where casual dressing is a signifier of being off-duty. A clunky pair of J.M. Westons or a pair of Church's brogues could look incongruous in St. Tropez or Portofino. JF Kennedy was not afraid to dress down with plimsolls when sailing, for example. It's about context.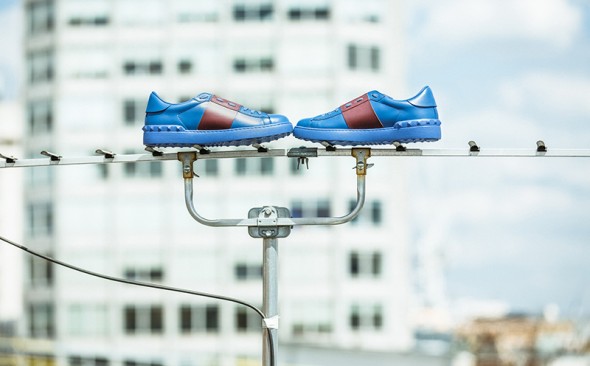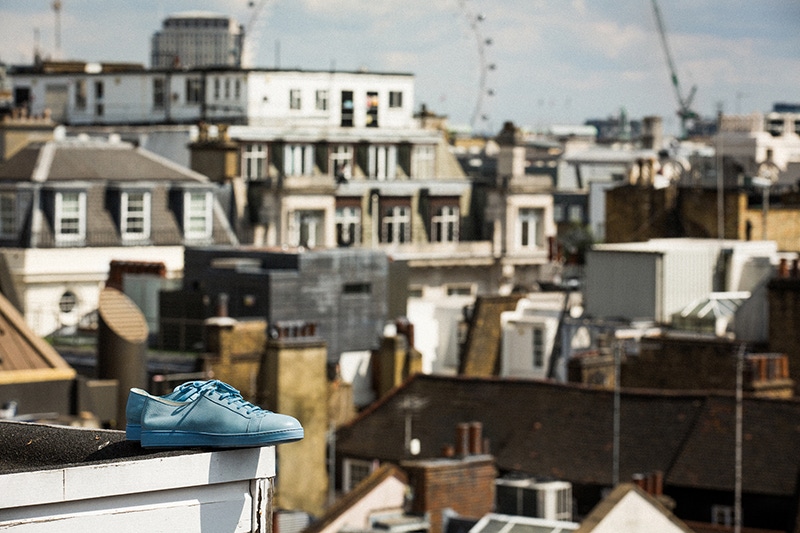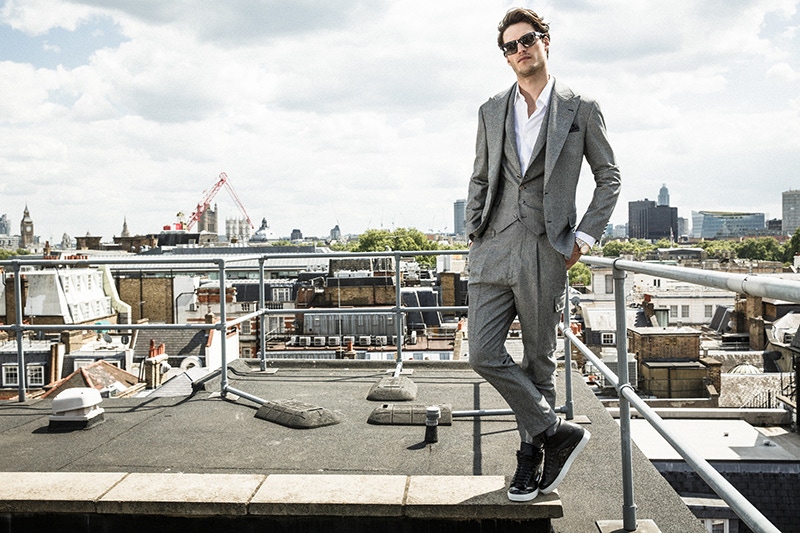 As the justifiable popularity of loafers and driving shoes proves, it is possible to be comfortable without compromising on elegance. The trainers-and-suits trend is the next evolutionary step. It is not, however, an excuse to look sloppy. 'Indeed, the rest of your look has to be super-sharp to prove you are not slacking,' says Hare. But it allows the wearer to embrace the ethos of effortless rule-breaking nonchalance at the heart of sprezzatura - the need, born of the balmy climes of southern Europe, to embrace style and comfort in tandem. While a formal structured suit with Goodyear-welted shoes is de rigueur for colder climates, in countries such as Italy and Spain, it is more common to wear suits very freely, with lighter-weight fabrics and a less formal look, simply due to the heat. The key is making the suit suitable for your environment, as much as it's about making a statement. I tried to address a few Italian, French and Spanish men- of-fashion on this very point. But at the time of writing, it was August and they were all on holiday for the entire month, wearing casual tailoring and summer sneakers, and not remotely interested in anything approaching work. Those guys have got it sussed. So, I asked the English instead.
'For me, trainers work best with more relaxed, unlined, less structured summer suits, more importantly, they are also another way of adding a little colour to your look.' - Savile Row tailor Richard James
'Anything that explores the suit and how it is worn is really interesting to me, and I like seeing a dresser who is not afraid to flout the taboos,' says London tailor Timothy Everest, a man who trained under Savile Row maverick Tommy Nutter. 'Wearing trainers with suits makes tailoring more accessible and versatile. It appeals to people who don't feel compelled to adhere to the rules of tradition.' There is a whole new generation who have been introduced to the joys of blending tailoring with streetwear, following in the be-sneakered footsteps of sartorially inventive tastemakers such as Tinie Tempah and Mark Ronson. Carrying it off is no easy task. In fact, it's a bit like skiing: you're either going to look like a total idiot and make a fool of yourself, or you'll look the Pictionary definition of grace and sophistication, a man with whom other men will want to share a drink and women will want to share a bed. It all depends on the adroitness with which you approach it. When it's done well, it demonstrates impressive confidence; at its most awful, however, it is genuinely upsetting. 'I'm thinking, in particular, of Larry David on [the TV show] Curb Your Enthusiasm,' says London designer Oliver Spencer. 'And when I see men on their commute to work wearing deeply unfashionable running shoes with suits, presumably with their work shoes waiting under their desk at the office, I have to suppress the urge to upbraid them,' says Clive Darby, founder of tailoring brand Rake. 'It doesn't work when the suit and/or the trainers are bad,' adds Hare.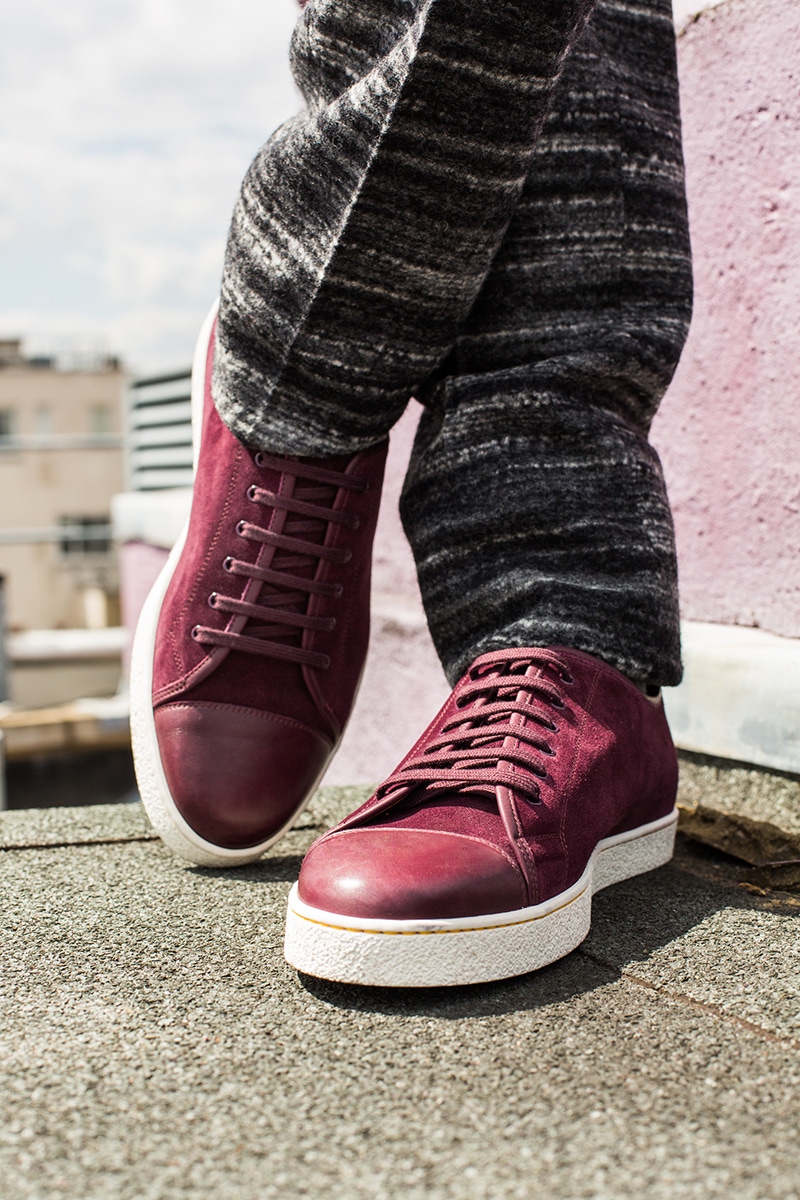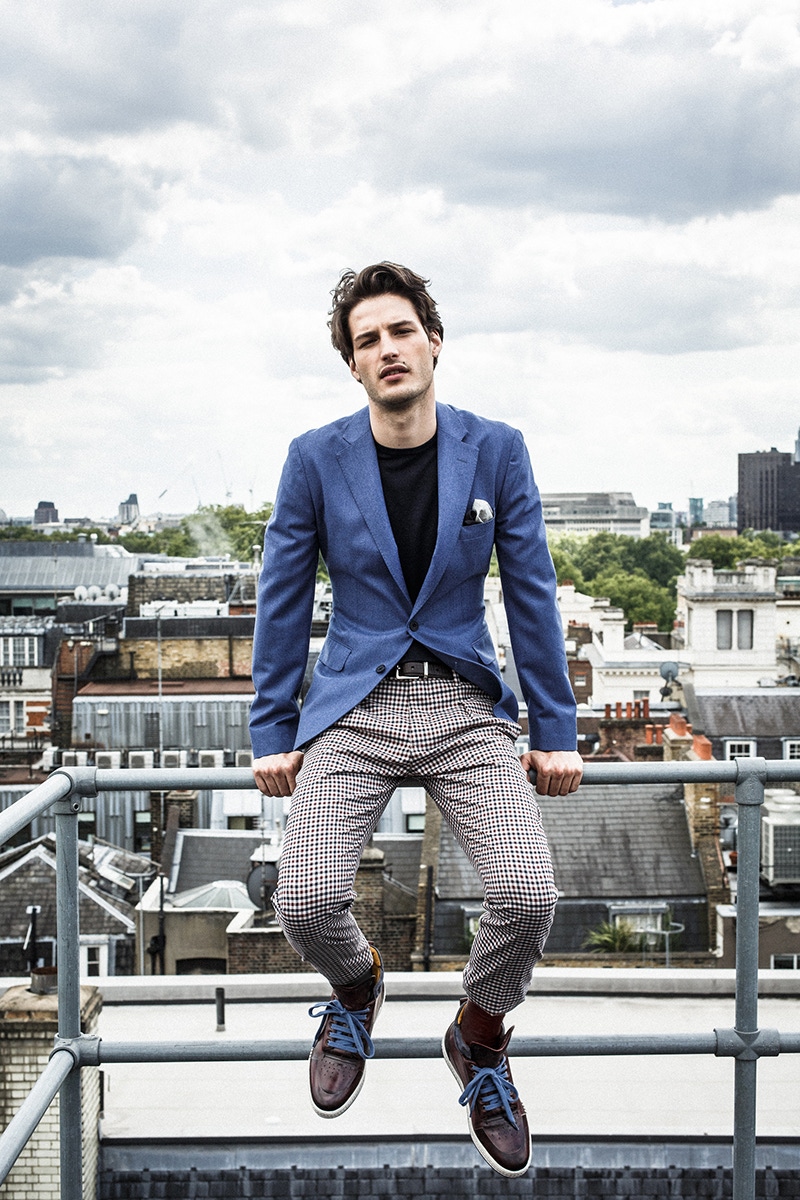 So, how do you successfully pull off the look? 'There's one simple rule to smart sneakering: don't let your shoe break the line of your trouser,' says Hare. 'High top or low, as long as they're slender and don't interfere with trouser gravity, you're on to a winner. Keep them tight to your ankle, and reap style points in return.' Proportion is the key. Classic, more minimalist, easy-wearing trainers such as those from Superga or Tretorn work beautifully with slimmer-cut cotton or linen suits, whereas chunkier, more sport-orientated trainers would just look clumsy. 'A simple cup-soled, all-leather, plimsoll-type trainer is as versatile as any black oxfords, whereas a bulky [Nike Air] Jordan IV is going to challenge most known forms of tailoring and render any taper obsolete,' Hare continues. 'Slim-cut suits and elegant sneakers work best, so only go for a trouser that is cut short and avoid a sneaker with a voluminous tongue. This way, all the lines stay clean.' Importantly, the trainers must stay clean, too, and be kept as box-fresh as possible - another reason why this is a look better suited to more clement weather. An easier entry point is to start by wearing trainers with tailored separates rather than full suits. 'Separates work particularly well with trainers, as you can mix up the fabric textures and compositions,' says Darby. This way, the trainers don't look so incongruous because they've blended into a multi- layered look. Try wearing simple sneakers when you might have otherwise worn loafers or driving shoes - perhaps with a well- cut, unstructured navy wool blazer and simple cotton trousers. While some traditional tailors would be most offended if you dressed down their suiting in this way, others are positively embracing this culture clash of the traditional and modern. 'Our Bespoke Casual Collection embodies this mix of formal and casual perfectly,' says Everest. 'The trousers were designed to work just as well with trainers as with brogues, and all of the items can be mixed with other items to either dress up or down.' 'Consider your trainers an extra suiting accessory - match them to your tie or pocket square and have fun with the colours,' says James. 'Good accessories are integral to making this work,' agrees Everest. 'A white pocket square with white trainers can bring your outfit together. Ties do not always work, so go for either an open collar or a T-shirt.' 'Ultimately, the key to style is to feel good in what you're wearing,' says Spencer. 'Some people are just more comfortable in formal shoes, and that's fine. If wearing trainers will make you feel self-conscious, then you won't wear them well; so don't be afraid to stick to what makes you feel smart and elegant.' Let's be honest: trainers and suits are not for everyone. As I write this, I'm not even 100-percent convinced it is for me. But like it or loathe it, the major fashion brands are most definitely running with it. Styling by Jo Grzeszczuk Grooming by Fai Archer Model - Levi Lomey / NEXT Models Read more from our
#SuitsAndSneakers 
campaign or take a look at the
full editorial here
.