The Last Samouraï
Alain Delon's broodingly fragile allure, stellar performances and effortlessly louche ensembles have enshrined him as an enduring emblem of style.
As far as male screen-style icons go, there's an undisputed holy trinity: Steve McQueen in
The Thomas Crown Affair
, all languid chutzpah in three-piece Glen plaid; Cary Grant in
North by Northwest
, in which attempted death-by-crop- spraying does little to dent his urbane insouciance (or that of his immaculate tailoring); and Alain Delon, whose place in the pantheon rests chiefly on two performances. In 1960's
Plein Soleil
, he played the first screen version of Patricia Highsmith's sociopathic-yet-seductive anti-hero Tom Ripley, cutting a murderous swathe through the Italian Riviera in flannel suits, artfully draped Shetland sweaters and wantonly unbuttoned chambray shirts. "His almost unearthly perfection is creepy in itself, as if he is imitating a human being," wrote
The Guardian
's film critic Peter Bradshaw of Delon. Seven years later, in Jean-Pierre Melville's classic gangster-noir
Le Samouraï
, he played cipher-like hitman Jef Costello, silent and enigmatic in a trilby and buttoned-up trenchcoat. "With his collar raised high and hat lowered just so, Delon... [projected] such professionalism and cool that he makes just walking from one place to another seem daring," marveled a critic in British
Esquire
.
"His almost unearthly perfection is creepy in itself, as if he is imitating a human being,"
It was thanks to performances like these, where he honed his patented self-absorbed loner persona, that Delon was tagged as French cinema's answer to James Dean, and with his perfectly sculpted face — all knife-edge cheekbones and sensitive mouth — he embodied the new broodingly dangerous/vulnerable screen-hero paradigm as effectively as Dean and Marlon Brando did across the Atlantic. Delon was also the perfect figurehead for the jump-cut existentialist experimentation of the nascent French new wave — so much so that he was the highest-paid French film star from the early '60s right through to the mid-'80s — and his ambivalent élan is perennially embedded in pop culture.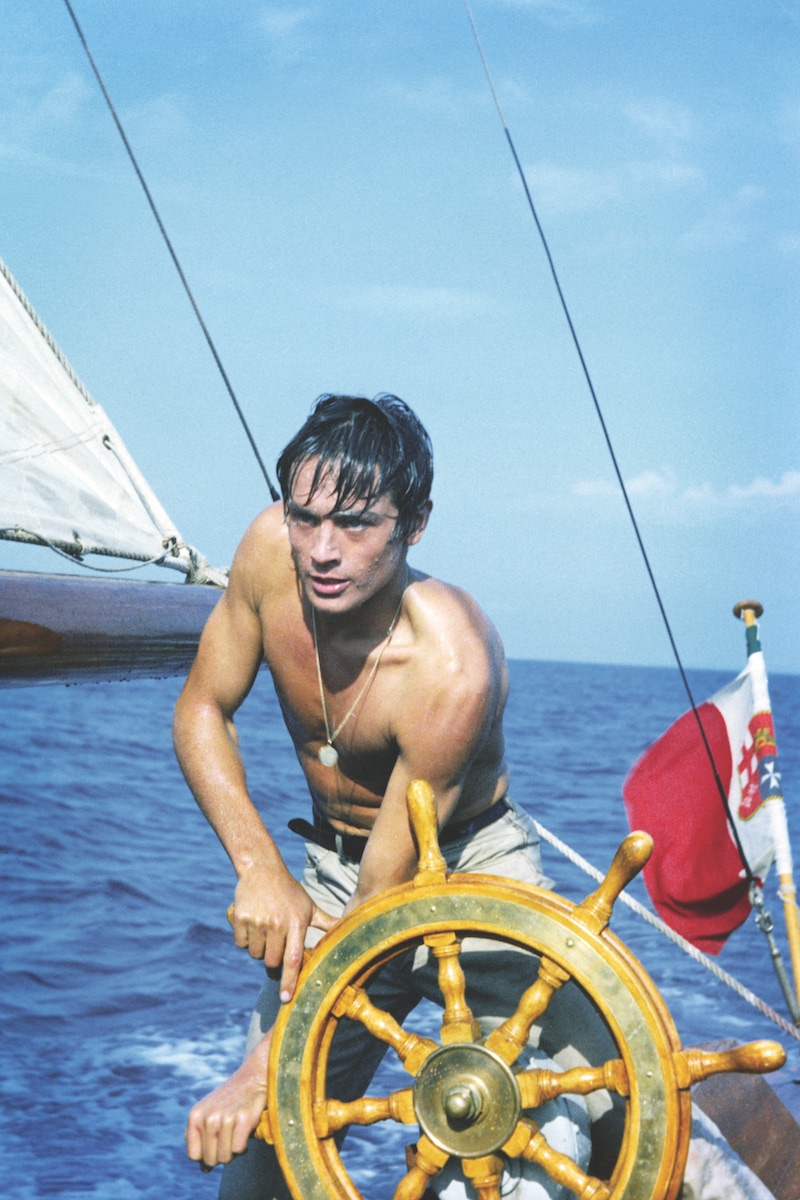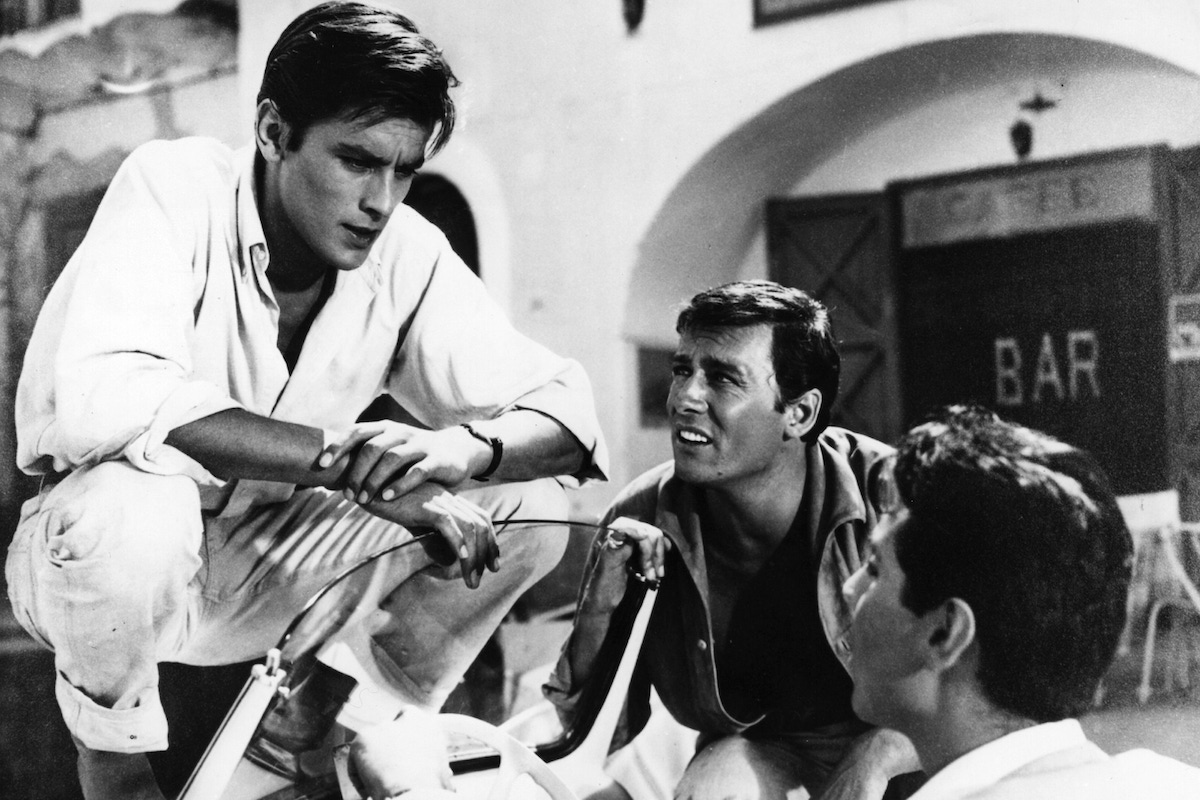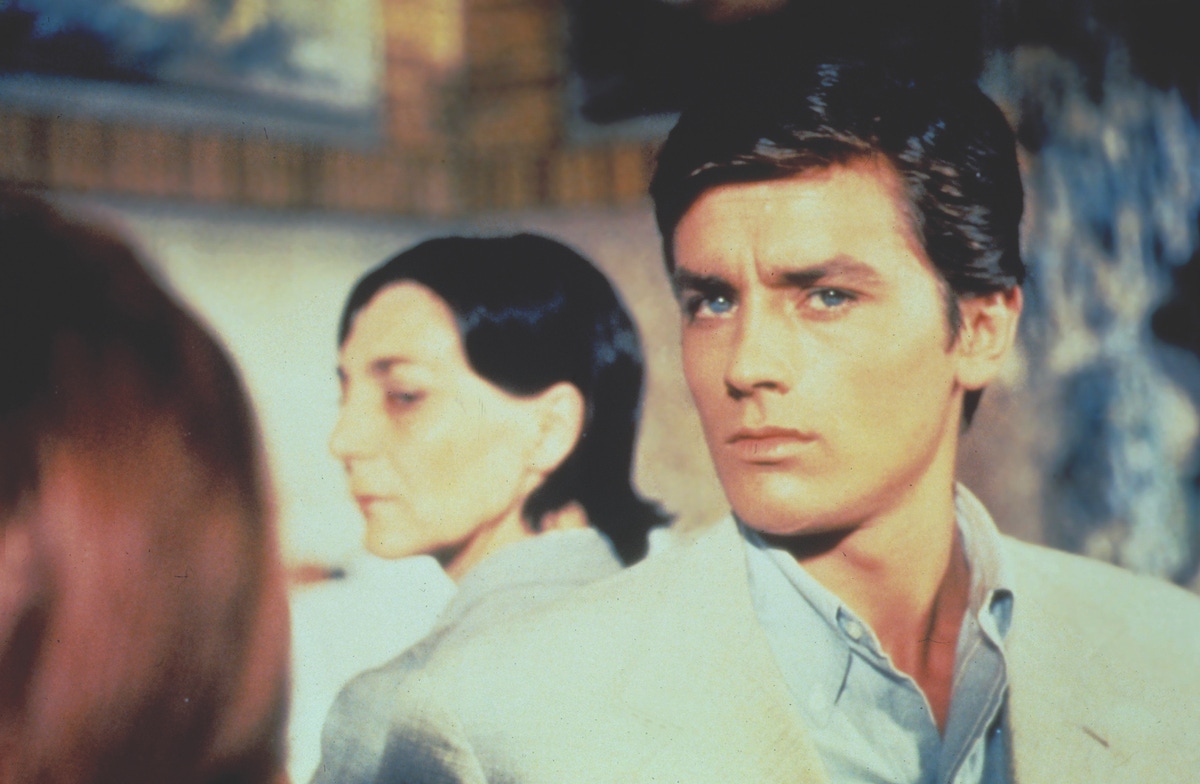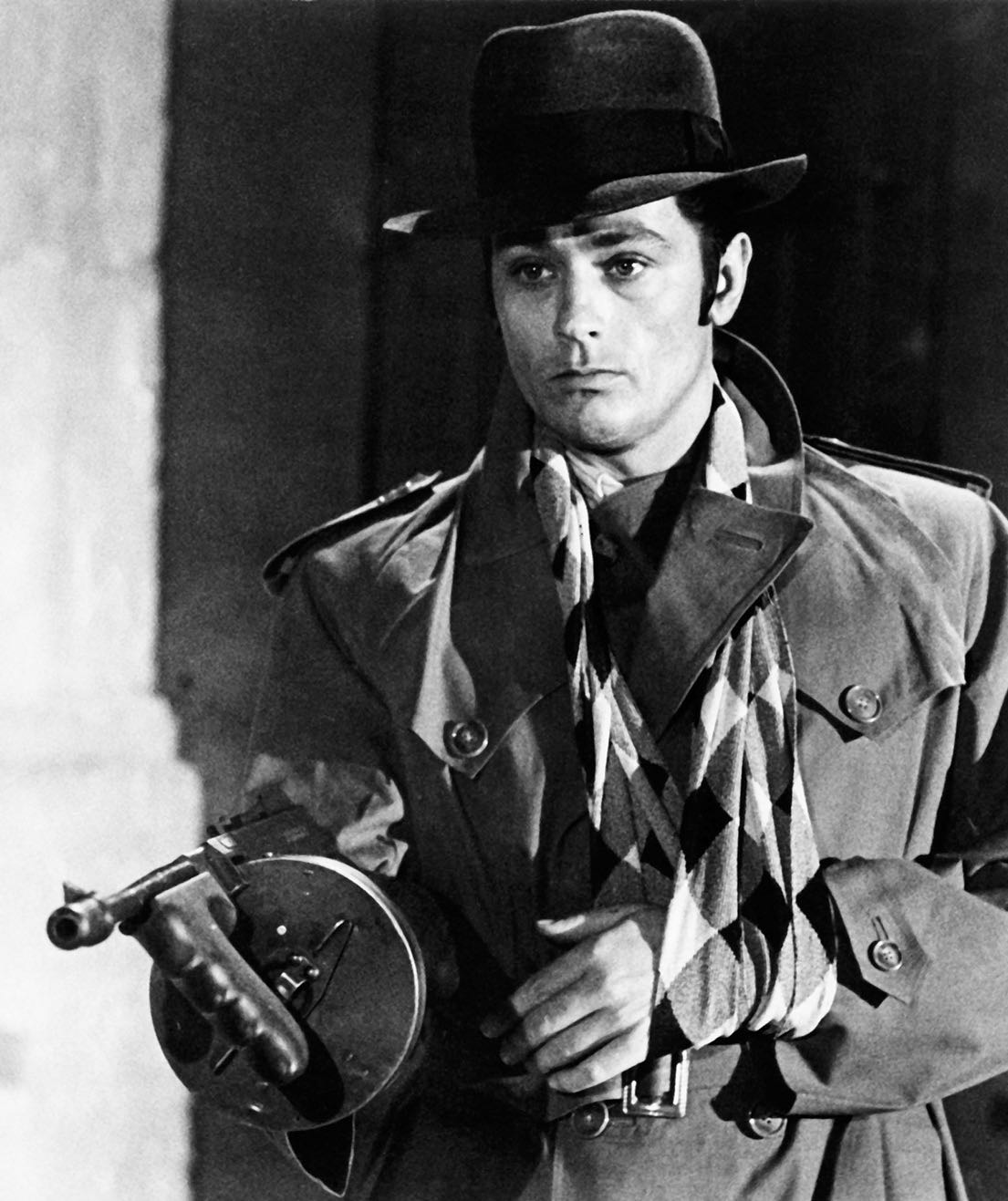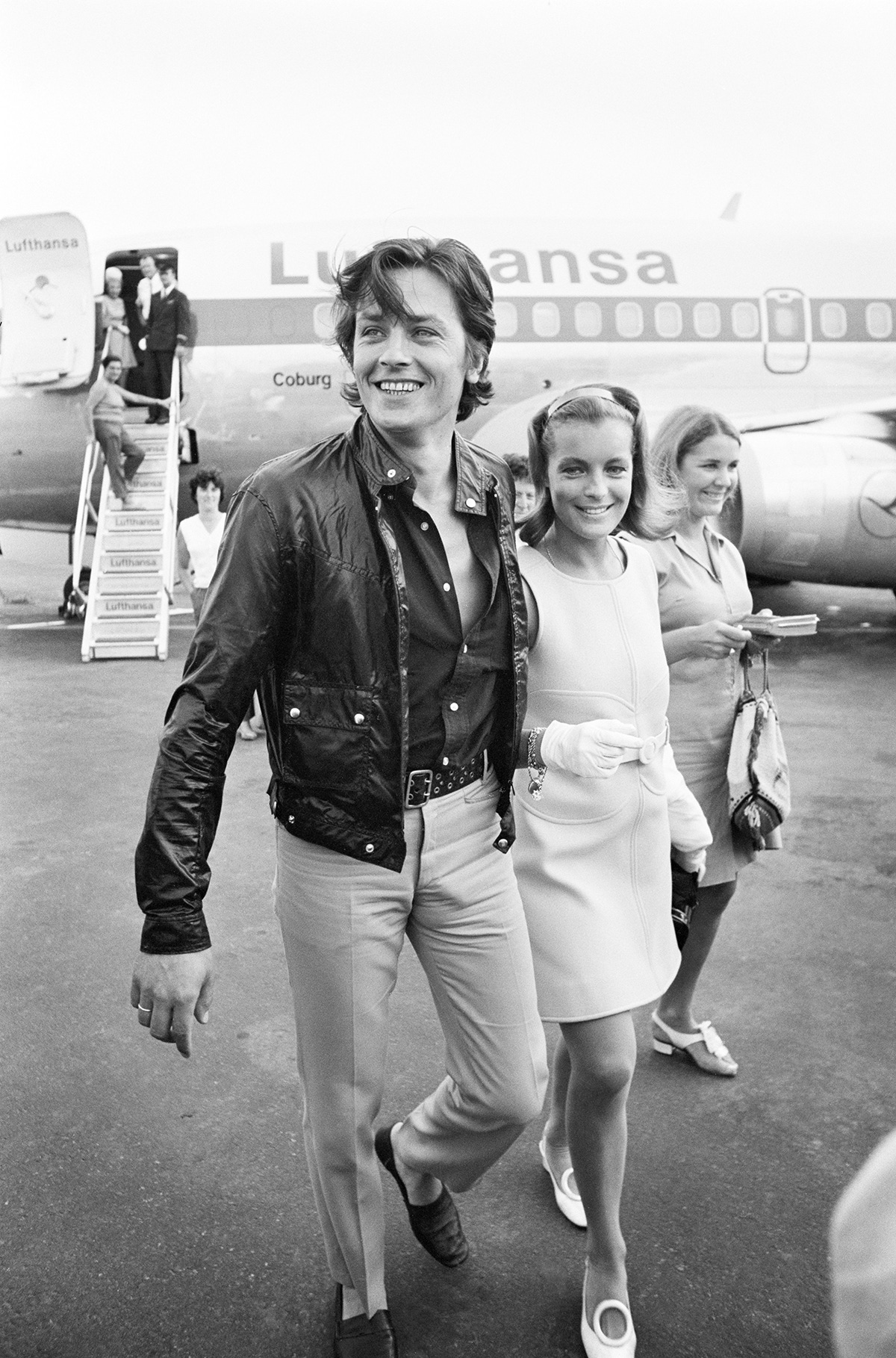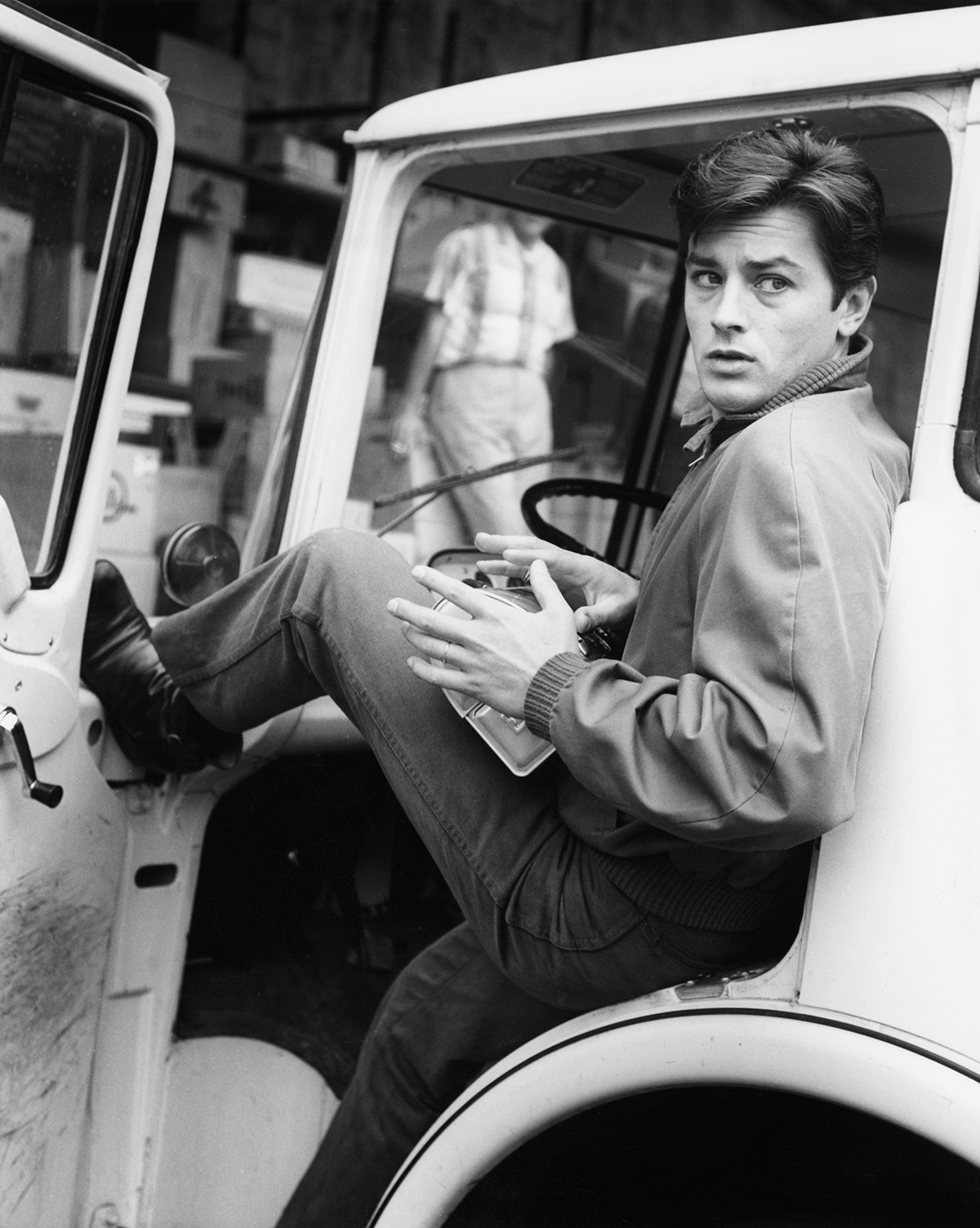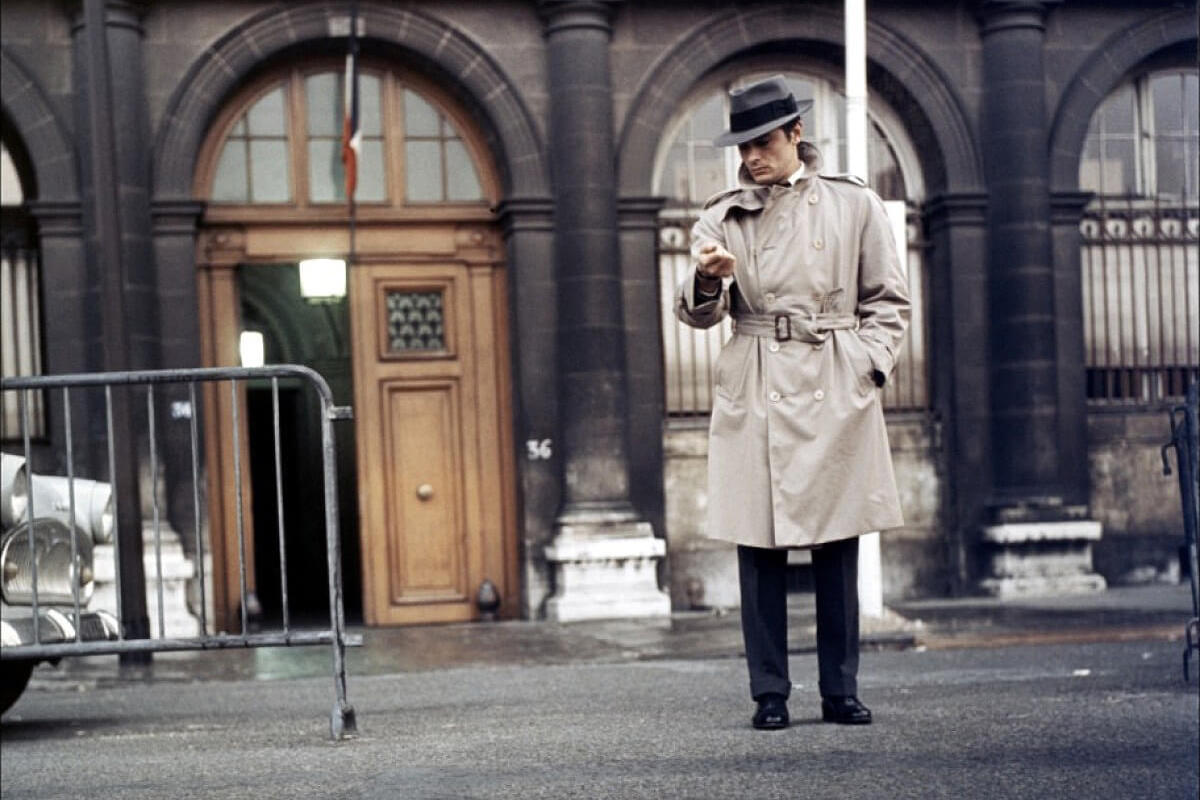 His recumbent image (from the film L'Insoumis) graces the cover of the seminal Smiths album The Queen Is Dead, while he's forever being flagged up as an inspiration for breezy fashion collections (most recently by the British high-street chain Reiss, for their spring/summer '14 array of Riviera-ready separates), and the F*ck Yeah Alain Delon blog immortalises his shrugging Gallic ways with Gauloises and high-waisted pleated trousers. "Delon became a role model for all the young men who wanted to be subversive in their dress — but not too much," says the fashion historian and author Colin McDowell in a profile on the actor for Mr. Porter. If Delon was adept at talking the loner-and-rebel talk, it was because he'd walked the walk. He was born Alain Fabien Maurice Marcel Delon in Sceaux, a suburb of Paris, in 1935. His working-class parents divorced when he was four, and he went off to attend a Roman Catholic boarding school — the first of many educational institutions he was kicked out of, for various crimes and misdemeanours. At 14, he was working in his stepfather's butcher's shop, and he enlisted in the French Navy three years later, serving as a paratrooper in Indochina, but spending almost a quarter of his four-year service in prison for being 'undisciplined'. After a dishonourable discharge, he returned to Paris and picked up odd jobs, variously working as a waiter, a porter at Les Halles market, a sales clerk, and a cinema usher. "In one year, my name will be on the marquee," he's alleged to have boasted to passing punters.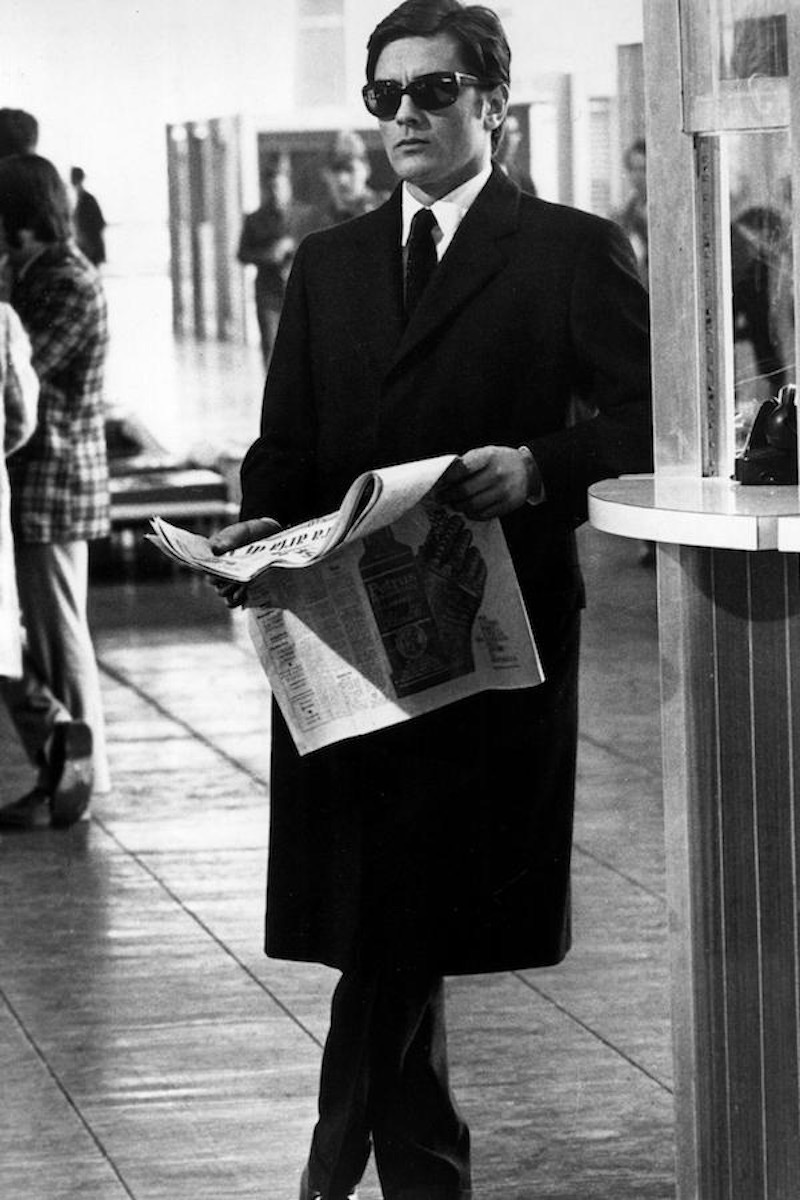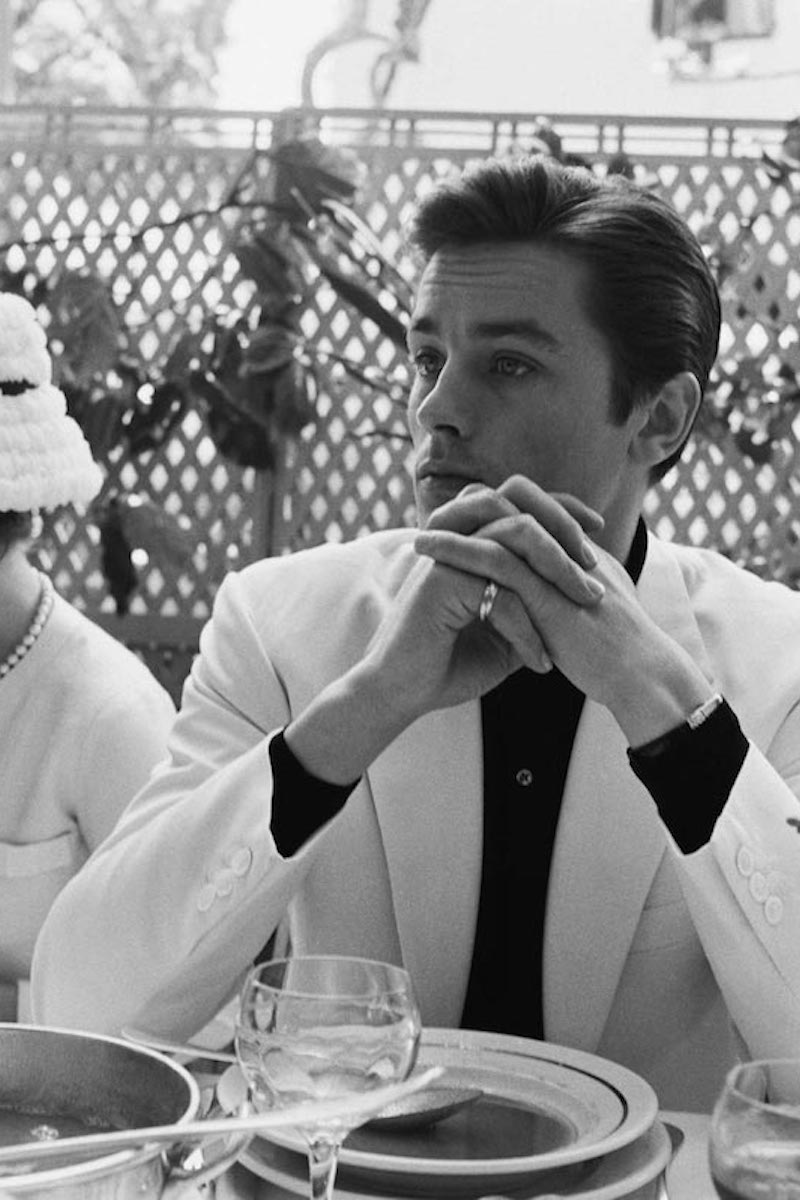 It was a startlingly prescient piece of braggadocio. Delon had befriended the nouvelle vague actor Jean-Claude Brialy, who invited him to the Cannes Film Festival in 1956. In a Star- Is-Born moment, he was besieged by talent scouts, attracted by his bruised matinee-idol looks and street-smart allure, and blithely undaunted by his total lack of theatrical training. He was even wooed by the mercurial US studio executive David O. Selznick, producer of Gone with the Wind, who offered him a contract — provided he learned English. Delon opted to stay in France (legend has it that an unwillingness to knuckle down and master his split infinitives might also have factored in)and his movie debut, Quand la femme s'en mêle (When the Woman Gets Involved) was released in 1957, but the advent of the '60s ushered in his imperial phase. His international profile was established by Plein Soleil and Luchino Visconti's Rocco and His Brothers, a family saga tracing the fortunes of five Sicilian siblings in which Delon played the titular, ruminative one (he may not have stuck at English, but he was fluent in Italian). Enhanced by the likes of Visconti's later adaptation of The Leopard, another Sicilian-set epic of the 19th century (in which Delon's buckskin breeches were much admired), and the 1970 gangster movie Borsalino, which gave Delon the chance to both winningly sport the fedora-style hat that gives the film its name, and compare and contrast his now-refined smooth-criminal style with the pugnacious, street-fighting mien of his co-star and rival French heartthrob Jean-Paul Belmondo. If Delon edged it, his offscreen lifestyle was also riding high: he mixed it with Yé-Yé girls and goddesses of the nouvelle vague alike, from Jeanne Moreau and Catherine Deneuve to Françoise Hardy and Brigitte Bardot. He also commanded a permanent nightly reservation at Le Relais Plaza restaurant in Paris's Hôtel Plaza Athénée, then, as now, a fashionista hotspot (if Delon didn't show, his table remained untenanted and off-limits).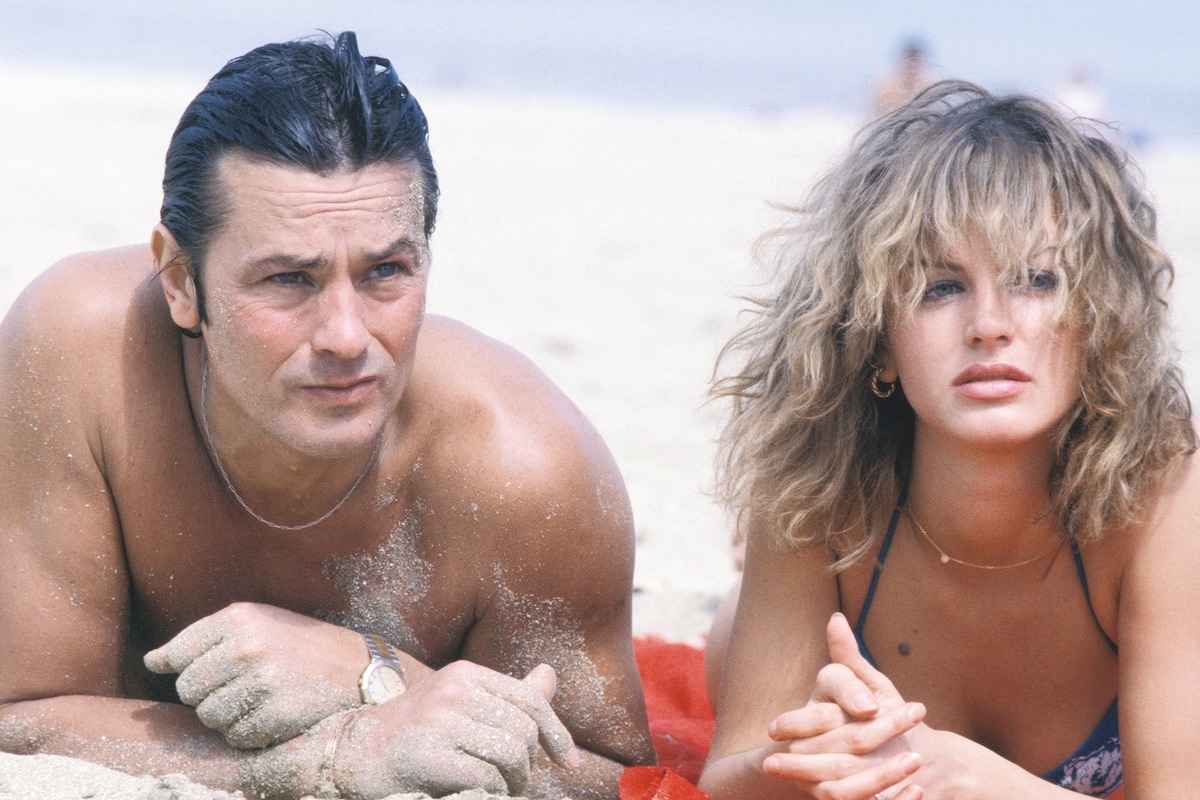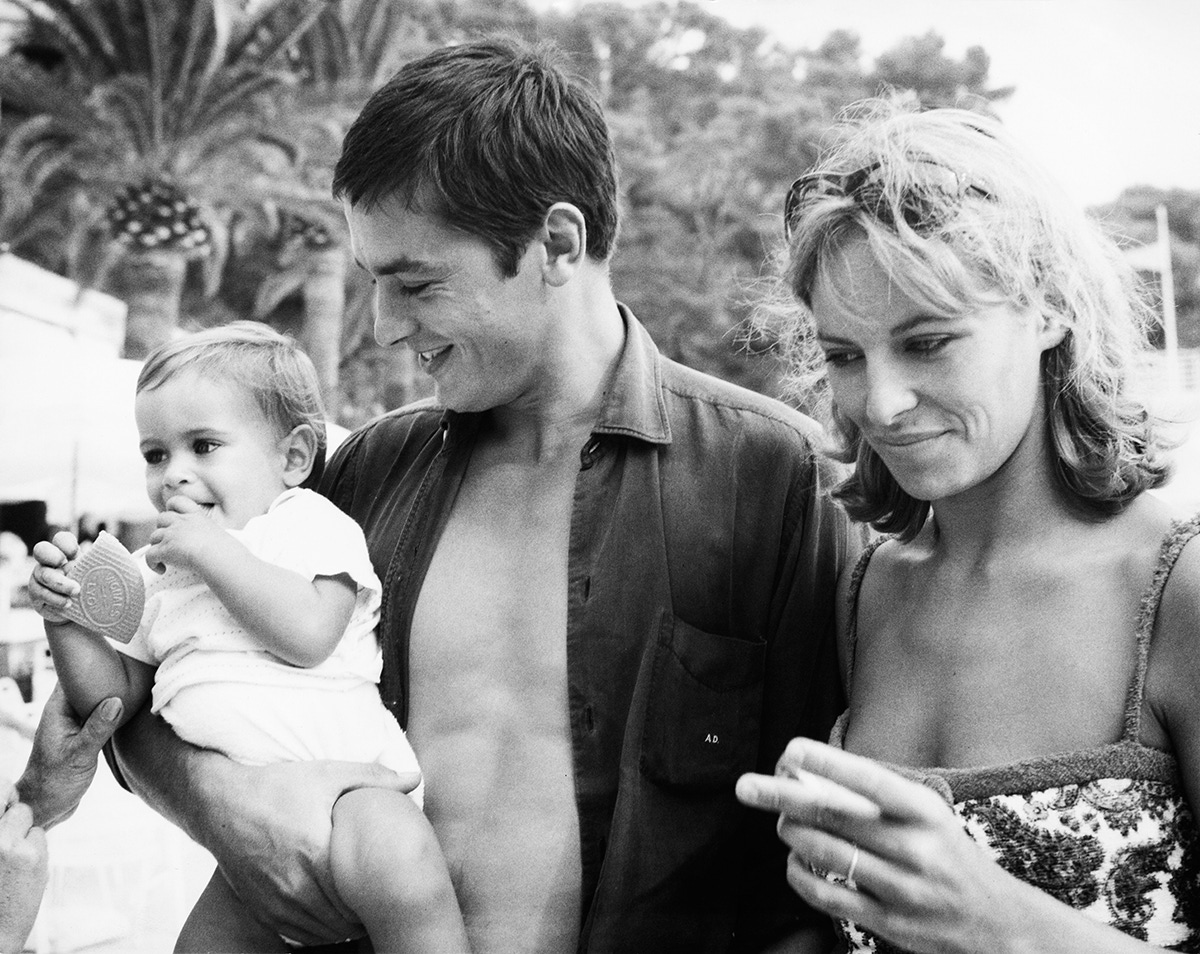 Delon's love life was also suitably baroque. He got engaged to German actress Romy Schneider in 1959, but had an affair with another statuesque German, the actress and chanteuse Nico, in the midst of the relationship, with two results: a son via the latter, Christian Aaron 'Ari' Boulogne, whom Delon has never acknowledged as his, despite their startling likeness and the fact that he was raised by Delon's parents; and the breaking off of his engagement to Schneider, for whom Delon perennially carried a torch. Photos of Schneider could still be found in his wallet years after her death in 1982, and he admitted that she was the one against whom all others would be measured (those others turned out to be the French actresses Nathalie Barthélemy and Mireille Darc, and Dutch model Rosalie van Breemen, along with three more paternally-sanctioned children). Delon also became embroiled in a political scandal in 1969, when the body of his former bodyguard, Stefan Markovic, was found wrapped in a sack on a garbage dump, with bullet wounds to the head; investigators found a letter from Markovic implicating Delon and François Marcantoni, a Corsican gangster and friend of Delon's (whose paternal grandmother was Corsican). The enquiry established that Markovic was involved in a drug ring and had organised parties at which, as the report delicately put it, "the entertainment catered for somewhat specialised tastes". Heady rumours followed of attempted blackmail and group sex photos that may or may not have featured Delon and the wife of President Georges Pompidou in the same frame. Delon's manager and chauffeur were held for questioning, but the only person eventually charged with accessory to murder was Marcantoni, and he was released after 11 months — the clear implication being that all concerned were glad to lay a very murky case to rest.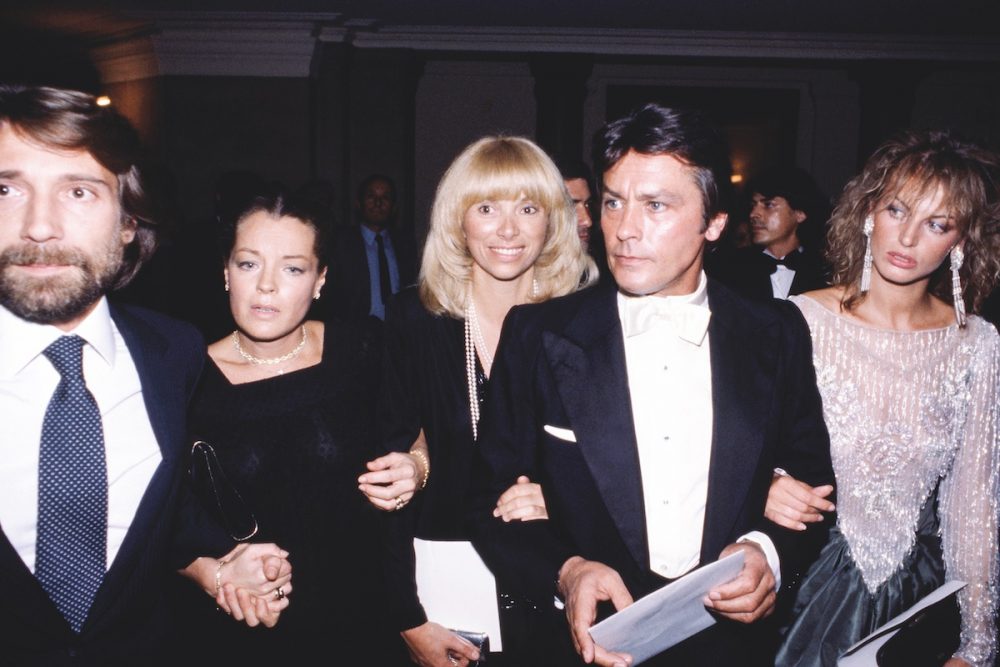 While the Markovic affair didn't quite blow Delon's career off course — he won the Best Actor César Award for his role in Bertrand Blier's
Notre histoire
in 1984 — his '60s films remain his high-water mark, and he more or less retired from acting in the late '90s, moving to Geneva for tax purposes, offering bittersweet reflections such as "Only the past has a strong taste for me" and tarnishing his legend in all the time-honoured ways: licensing his name to a bunch of products including stationery, cigarettes and perfumes (Samourai for Men, anyone?); hosting Miss France pageants; coming out as a far-right Front National supporter; and being accused by his youngest son Alain-Fabien of beating van Breemen in the pages of Italian
Vanity Fair
(a charge he strenuously denies: "My son is totally lost, and only gives sensational interviews for money.").
"I like to be loved like I love myself."
Far better to remember him stalking, cat-like, across a '60s screen, the apogee of cinematic and sartorial '
beau cadre, bon goût
' modernism. One look at that affecting-but-affectless face, and the Young Turk swagger that lent his louche ensembles that extra all-important edge, and it's easy to imagine the offhand arrogance that once led him to opine, "I like to be loved like I love myself." Half a century later, it's not just afficionados of male movie style who are willing to offer the vintage-but-perpetually-current Alain Delon that fulsome tribute.