The Measure of a (Wo)man
Stubborn in her pursuit of a look that went against the grain, Katharine Hepburn somehow managed to make androgyny — along with grit and toughness — achingly feminine.
She was one of the most striking beauties of the 20th century, and the most decorated hollywood actress of her time, but the most enduring legacy that Katharine hepburn left, when she died aged 96 in 2003, was her unique tomboy style. while most contract actresses in the '30s dressed and behaved the way the studios demanded, Hepburn wrote her own rules — stylistically and otherwise. her penchant for men's suiting, trousers and handmade loafers was so far ahead of its time that it is, looking back, nothing short of astonishing. her sassy, intelligent and confident approach to dressing remains the benchmark for any woman who wishes to age with grace and gall. Hepburn was far too smart to not know exactly what she was doing. Born in Hartford, Connecticut, in 1907, she was the daughter of an urologist and a suffragette who were never going to suffer a fool for a daughter, and brought her up to be strong-willed and intellectually voracious. Her patrician looks and 20" waist were a great starting point for a career on the stage and screen, but it was her intelligence and irreverence that led to her inimitable dress sense. while she stunned in a period costume, her predilection in her downtime was for beige slacks and an open-necked, collared man's shirt, mostly worn with handmade loafers or clogs. add to that a cascade of thick, glossy hair bundled up nonchalantly with invisible pins, and a minimal approach to makeup, and you have an oft-cited but seldom deserved accolade: timeless chic. of course, those razor-sharp cheekbones helped a little... Hepburn understood the worth of a good designer, and her costumes for film and stage were artfully created to make the most of her 20" waist (apparently it still measured a svelte 26" when she was 96) as well as her elegant back and shoulders, and long legs. But on the set and in rehearsals, she wanted — in fact, demanded — comfort. If she wanted to sit on the kerb, or throw her legs over the side of her chair while reading her lines, then she damn well would. Hence, the beautiful couture trousers by Brooks-Van horn, worn with custom-made men's-style shoes. she was a client of the venerable Savile Row tailors Huntsman and pioneered the groundbreaking concept of ordering tailor-made blue denim jeans. Hepburn's standards were exacting, but she was the one client they would modify the silhouette for, to her preference. she "liked her trousers about three sizes too wide, so they billowed like ship's sails when she walked," as former huntsman Creative Director Richard Anderson told The Independent in 2009. A more famous story recounts that, early on in her career, the executives at rKo (radio-Keith-orpheum) Pictures would confiscate her trousers from her dressing room whilst she was onset, deeming them too uncouth and boyish for the young beauty to be seen in. The defiant Hepburn would then walk around in her underwear, and refused to get dressed until they were returned. She eschewed the wearing of skirts when she was off duty. "Any time I hear a man say he prefers a woman in a skirt, I say, 'Try one,'" she was quoted as saying in Katharine Hepburn: Rebel Chic, a collection of essays by Jean Druesedow. Given that she was making these sartorial choices in an era when women were wearing girdles, stockings and garter belts, this was liberated in the extreme. however, her androgynous tendencies didn't extend to undergarments — she reportedly spent a great deal of money on handmade french lingerie.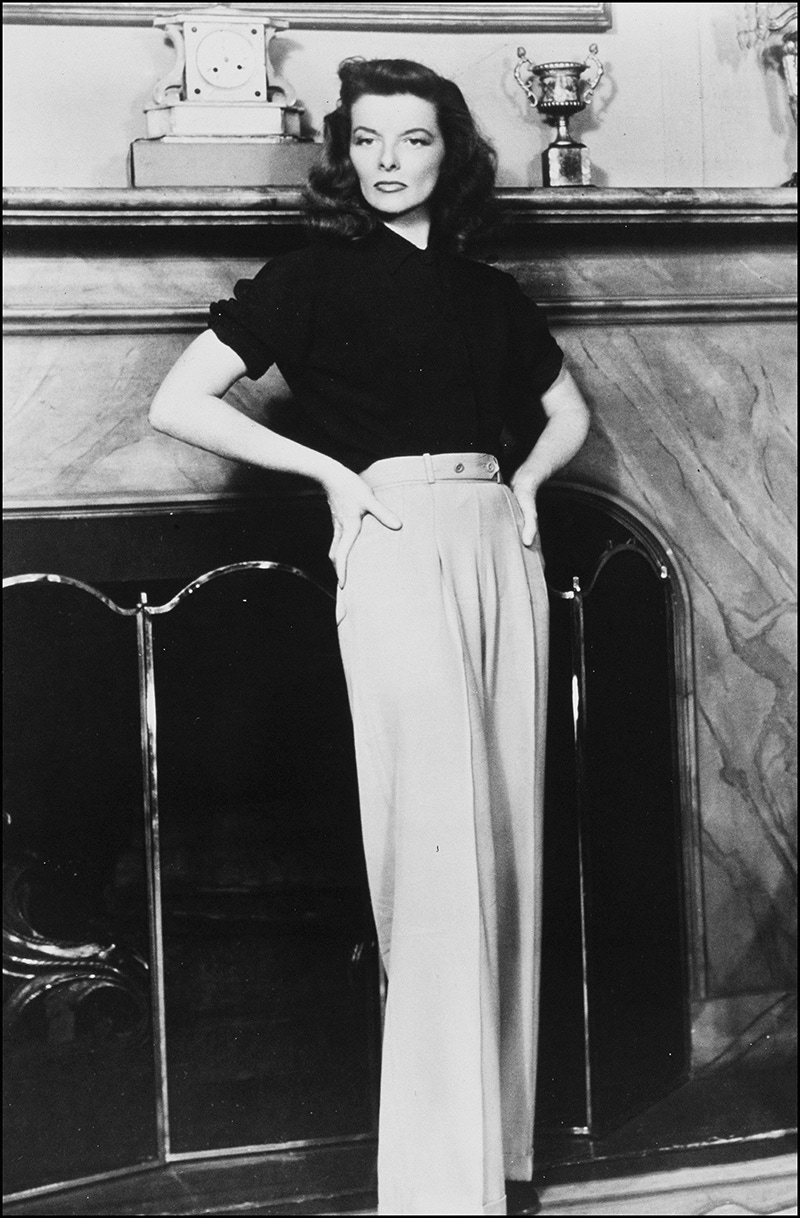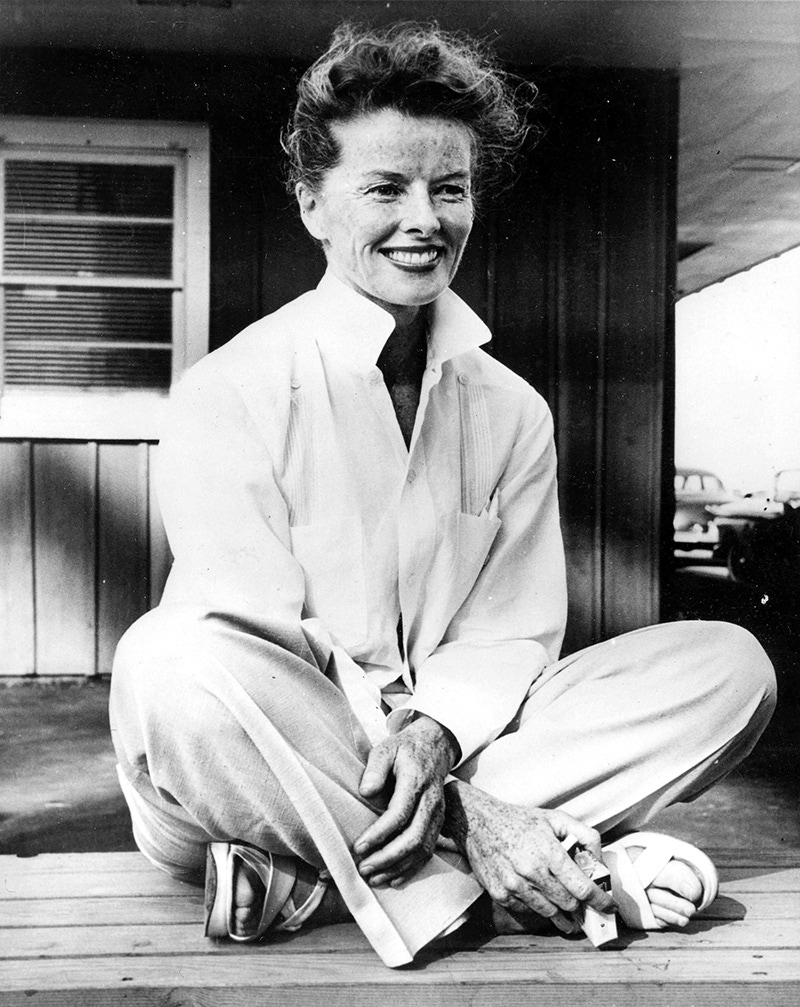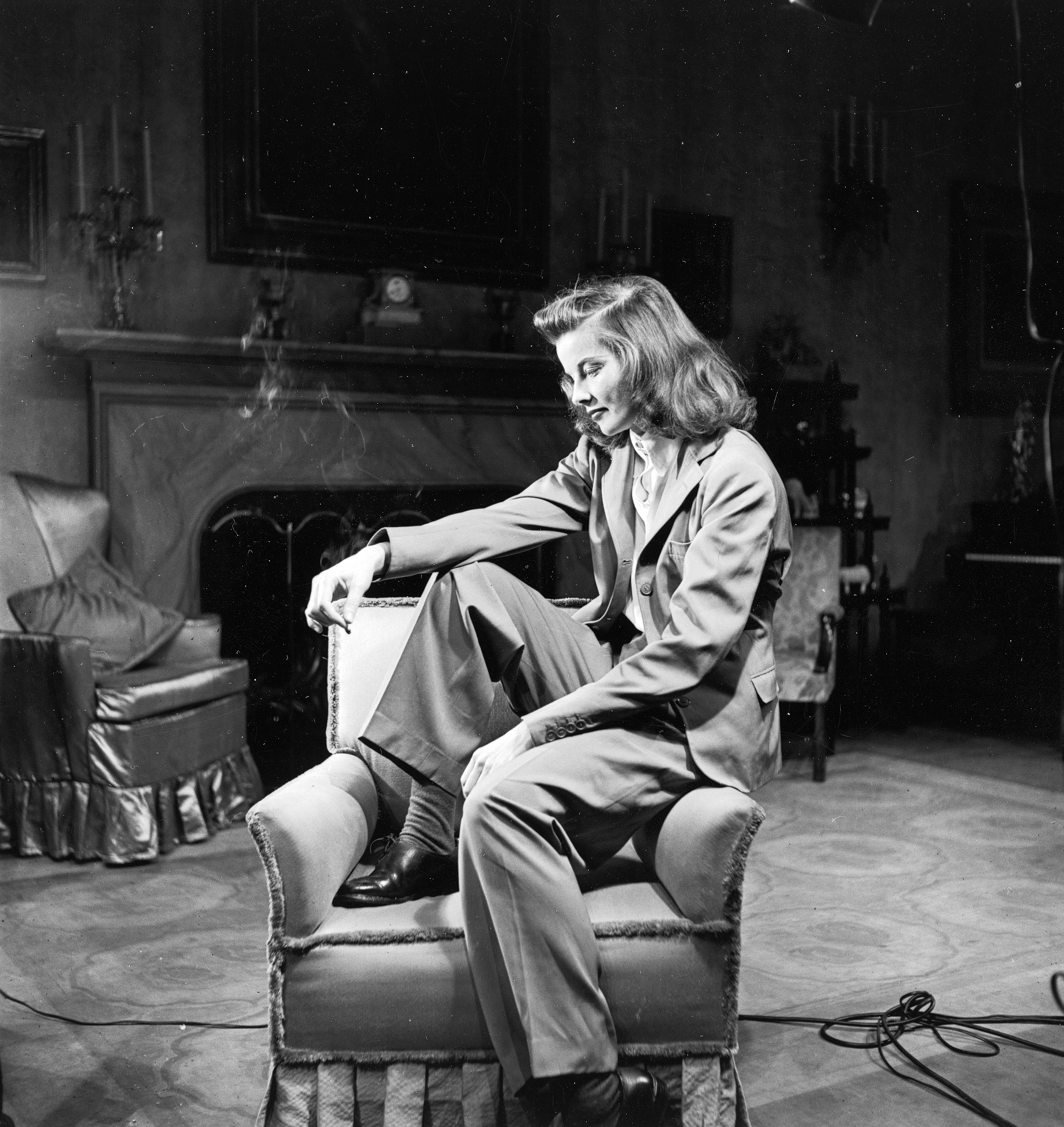 Katharine Hepburn was, of course, not alone in her passion for tailored, masculine dressing. Greta Garbo and Marlene Dietrich both explored the idea of bending traditional notions of gender-appropriate fashion, and doing so with a glamorous, sapphic smoulder. But Hepburn's Tony East Coast elegance was a law unto itself. An early snap of Hepburn shows her outdoors, wearing men's jeans and mink coat, with a scarf casually knotted at her throat. How's this for a contemporary crash course in Hepburn dressing? Start with an impeccable suit, in tweed or linen. while Hepburn's were generally handmade, off-the-rack is acceptable, although take care that the silhouette is not too fitted. Her edge was that her clothes skimmed her body: the look was effortless and languid. add a crisp-collared, loose fitting white shirt from Miharayasuhiro; and in colder weather, add a thin, cashmere turtleneck underneath. either loafers from Tod's, or a wedge sandal from Bally, or lace-up brogues from Church's complete the look. And don't forget the wide-legged khakis — although Hepburn's were also couture. Given how many women these days see their advancing years as something to confront, tackle or even attempt to reverse, Hepburn remains a poster girl for growing old with class. as she matured, there was no panicked dash for the facelift, the boob job or the straightening iron. Her hair was left to go grey, caught up in soft waves around her face. her wardrobe remained classic, appropriate and handsome. for her, the person on the inside was far more important than a futile attempt to cling to youth, or cover herself in caftans and jewels. There can't be many women in the world who could look at Hepburn in these photographs and fail to admire her exemplary grace, beauty and dignity. It's a shame we don't see more of her kind today.