'Young Man - Go To Cifonelli'
With the Lorenzo Cifonelli for The Rake collection available to order now, we reflect upon just what makes the iconic Parisian tailoring house, Cifonelli, such an extraordinary bespoke institution.
The best-dressed man I ever met wore a Cifonelli suit. I was in the elevator at the Hôtel Plaza Athénée when in walked a silver-haired gentleman in the most miraculous, dove-grey flannel double-breasted suit I have ever seen. It shimmered — no, positively radiated — with perfection. I noticed that sewn subtly beside his buttonhole was the red thread that symbolised his membership in France's Légion d'Honneur. But even then, I couldn't help but ask who his tailor was. He looked at me and said one word: "Cifonelli." This is the story I think back on, as several years later, I watch my own jacket take shape under the watchful eye of Massimo Cifonelli. Massimo is soft-spoken, studious and focused — in the way he moves, in the way he acts and in the way he speaks. When you know him, you realise that this is an extension of the rigid pursuit of precision and perfection that has occupied his life. He and his cousin Lorenzo, who is a brilliant tailor and also one of the best designers working in classic men's elegance today, run the three-generations-old Cifonelli atelier on Rue Marbeuf. Massimo's parents live across the street, and his father is still one of the first people in the shop every day. I've come to realise that Massimo is one of tailoring's greatest technical geniuses. As I observe him deconstructing the backneck and collar of my jacket, he explains to me the fundamental technical findings of his grandfather Arturo Cifonelli, the firm's founder, when it came to reconciling comfort and shape — or, to be more pedantic, function and form — in the tailored jacket.
"How do you keep a jacket slim and close-fitting, but still allow for total freedom of movement?"
"Our grandfather did a tremendous amount of research on this," he says. "How do you keep a jacket slim and close-fitting, but still allow for total freedom of movement? What he arrived at were several principles. The first is that he liked the chest of his jackets to be very clean." Indeed, the Cifonelli chest is probably the leanest in bespoke tailoring — so much so that, at first, you wonder how you will fit your mobile phone and wallet into the chest pockets and still be able to move. But fear not — you will. "The second is that the back of the coat is wider by several centimetres than the front," he continues. This added material has to be manually eased into the handsewn shoulder seam and then ironed so that it is flush with the coat front. "The third is that our armhole is very high and sits close to the body." Not only is the Cifonelli armhole the highest in the business, but, to be more specific, the front part of the armhole is cut very close to the chest to completely isolate the deltoid in the sleevehead. As a result, the sleevehead of the Cifonelli jacket actually appears to be pitched or angled slightly inward towards the chest — a demonstration of this house's unique ability to sculpt in three dimensions, when most tailors operate in two. "Fourth, we create a soft, natural shoulder with very little padding, and shape the sleevehead using a form we call 'Le Cigarette'." It was the combination of the slightly pitched sleeve with Le Cigarette that motivated fashion Svengali Karl Lagerfeld to announce, "I could recognise a Cifonelli shoulder from a distance of a hundred metres."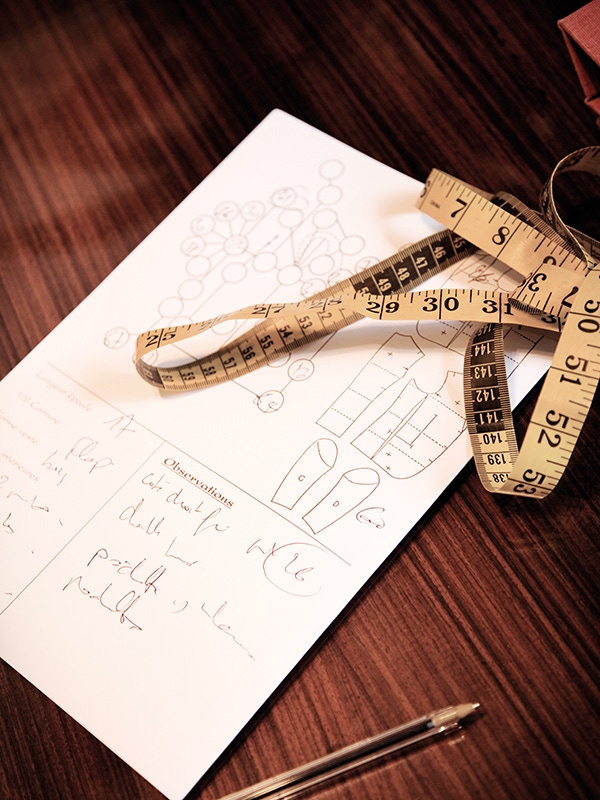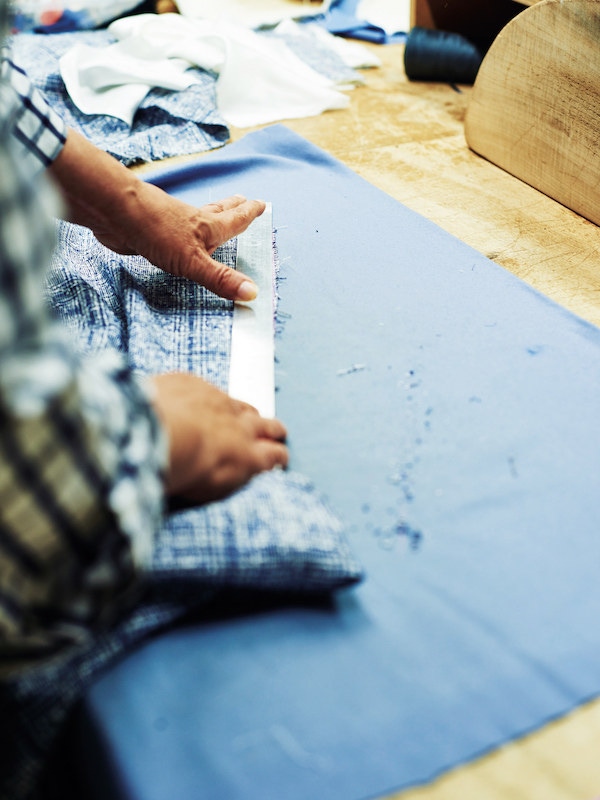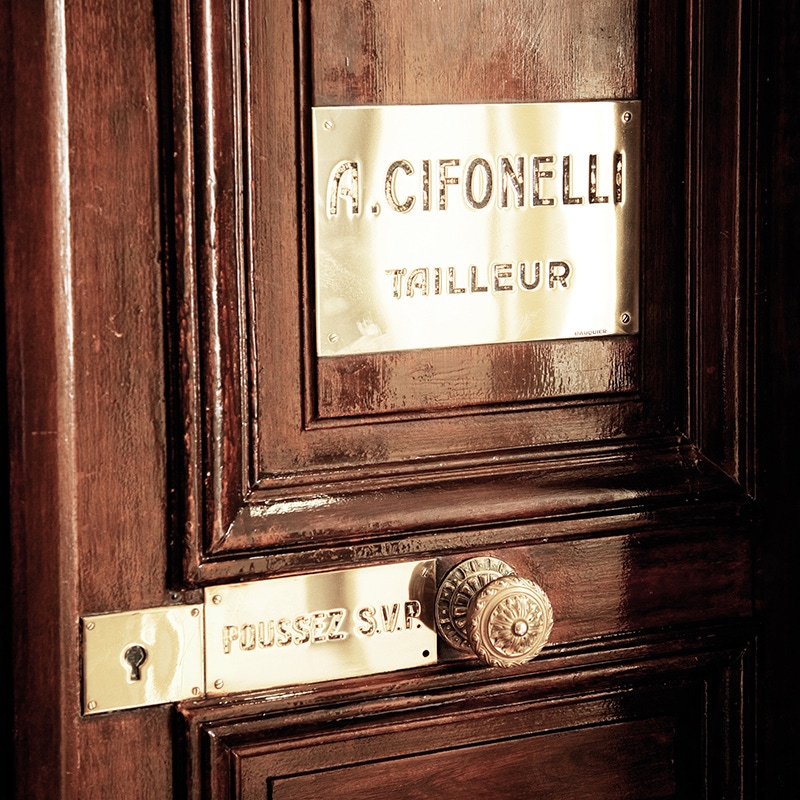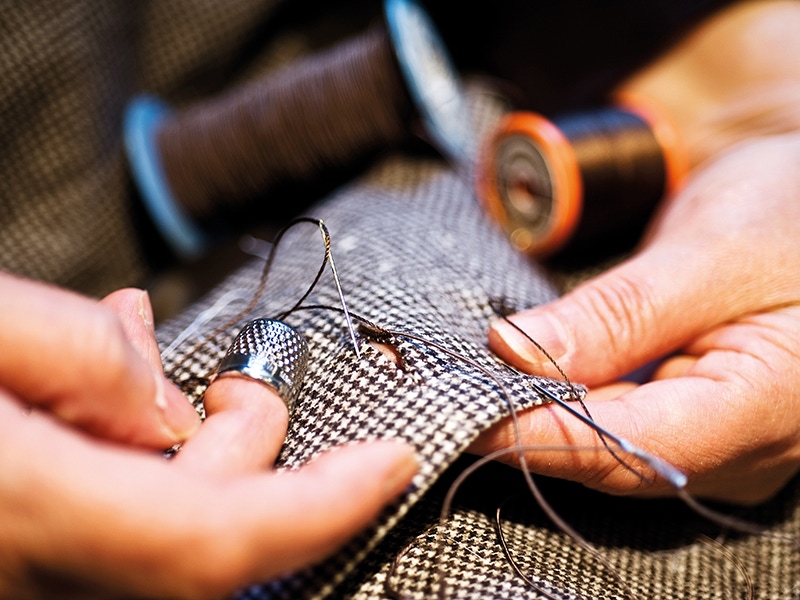 But it is totally incorrect to equate Le Cigarette with the British roped sleevehead. The former uses layers of hand-wadding, combined with stretching and shaping to create a sensual yet heroic dome-shaped cupola without any underlying structure. In contrast, the roped sleevehead actually uses a length of rope that is placed over the shoulder from front to back to create a ridged shape. However, this rope ends up occupying space that should ideally be kept empty for the shoulder to move freely. It also tends to add undesirable rigidity. As such, the roped sleevehead is an aesthetic conceit, while the Cifonelli Cigarette is, as with all their innovations, both functional and beautiful. Why? Because this unique shape allows the added material at the sleevehead to become part of the jacket's structural form, rather than hanging limply or in pleats, as seen in British drape or Neapolitan tailoring, respectively. It creates volume in the sleevehead for better freedom of movement but brilliantly hides that volume in what appears to be an aesthetic decision. The final, and perhaps most important, principle of a Cifonelli jacket is hidden. As he describes it, Massimo allows himself a smile: "What people often don't realise is that all of these elements — the chest, the front of the coat, the back, the shoulder — are anchored by the collar and backneck of the jacket." The idea of commissioning your first Cifonelli jacket is, in some ways, an intimidating one. In most tailors, you are shown a few examples of their house style, or perhaps you've already admired it on an acquaintance and your choice relates primarily to style and fabric of garment. Walk into Cifonelli, and Lorenzo will show you an endless array of some of the most exquisite clothes on earth, each created with the house's signature magical union between shape and comfort, but in seemingly endless varieties. Lorenzo is dynamic, buzzing with almost electric energy and boundless intelligence. His father Adriano had cut clothes for François Mitterand and Marcello Mastroianni. "The basic structure of our clothes is a starting point," Lorenzo says, "but at Cifonelli, we encourage you to dream, to think about who you want to be, and we will find a way to express this in what we make for you."
"Lorenzo is dynamic, buzzing with almost electric energy and boundless intelligence."
Among Lorenzo Cifonelli's most dazzling offerings are the 'Canadienne', a sport coat with chest pleats inspired by traditional Canadian hunting jackets; the 'Alexander K', which is inspired by house ambassador Alexander Kraft's revisionist Thomas Crown suits; the 'Vintage', another dress coat, this time with a suede-trimmed, rowboat-shaped breast pocket and suede-backed patch pockets; the 'Travel Jacket', which is crafted from Tibetan yak wool; and the 'Sterling', a demi-point-lapel sport coat with leather-trimmed flap pockets. You can revel in the extraordinary creations on display for hours, your mind reeling at the endless possibilities. But what is impressive with Cifonelli is that each and every garment you receive from them is nothing less than perfect. "I have never seen tailors who drive themselves more relentlessly to achieve perfection," says Alexander Kraft, Chairman and CEO of Sotheby's International Realty France–Monaco. "You have the feeling with some other tailors that they will resist making too many changes. At Cifonelli, I've literally had Lorenzo take the jacket off my back because he was not happy with some detail that was too small for me to see." Lorenzo sighs, "Maybe it's an affliction, but I am a person who is never satisfied. When I see my clothes, on some level, I understand that they are good, but all I want to do is to make them better." I had come for one specific reason, and that was to get Lorenzo's iconic double-breasted blazer made for me. This is a six-button coat that fastens at the bottom, and follows a style that I've always wanted to adopt — having seen it perpetuated by many of the world's most stylish men, including the Duke of Kent, Fred Astaire, Ralph Lauren and Luca Cordero di Montezemolo — but have never been able to wear comfortably. While I love the lengthening effect to the lapel, I can't get over the way your tie and shirtfront almost spill out with the low buttoning point when you sit. But on Lorenzo's jacket, the last row of buttons is brought higher, similar to that in a four-button dinner jacket, so the end result is far less sloppy. What it loses in dégagé élan, it gains in structural sleekness.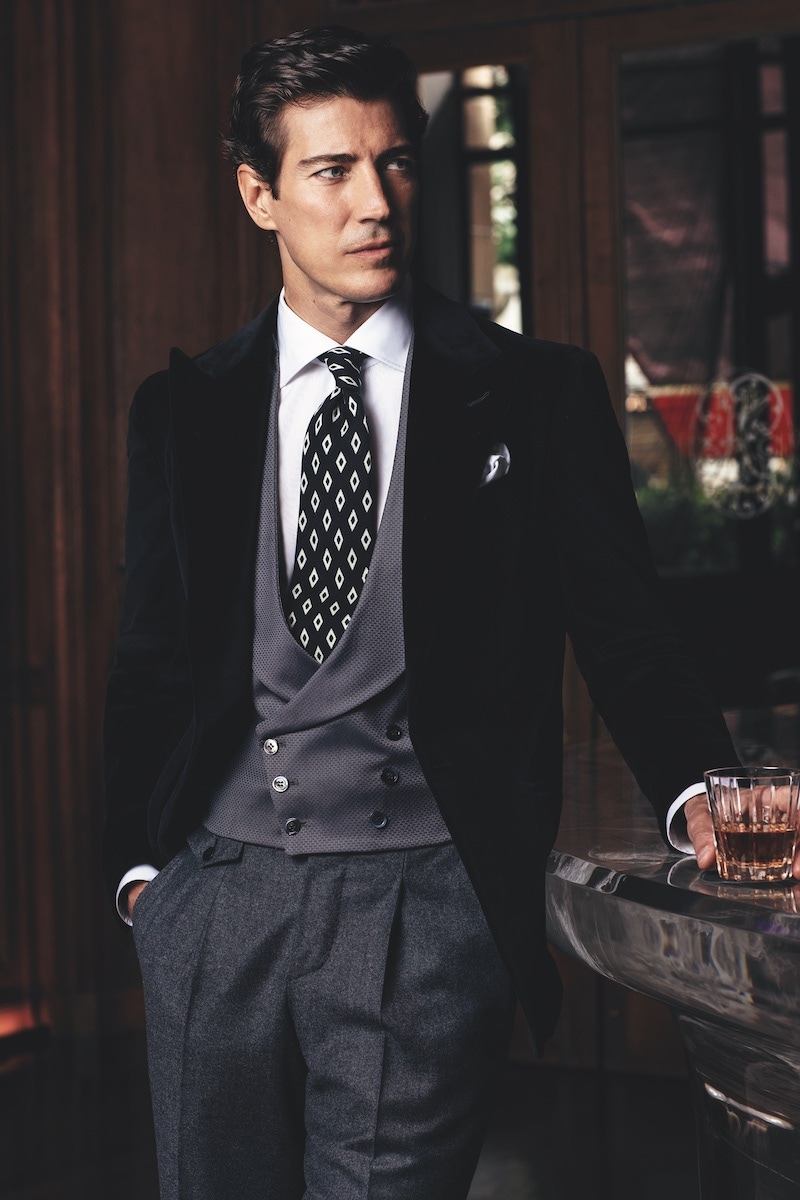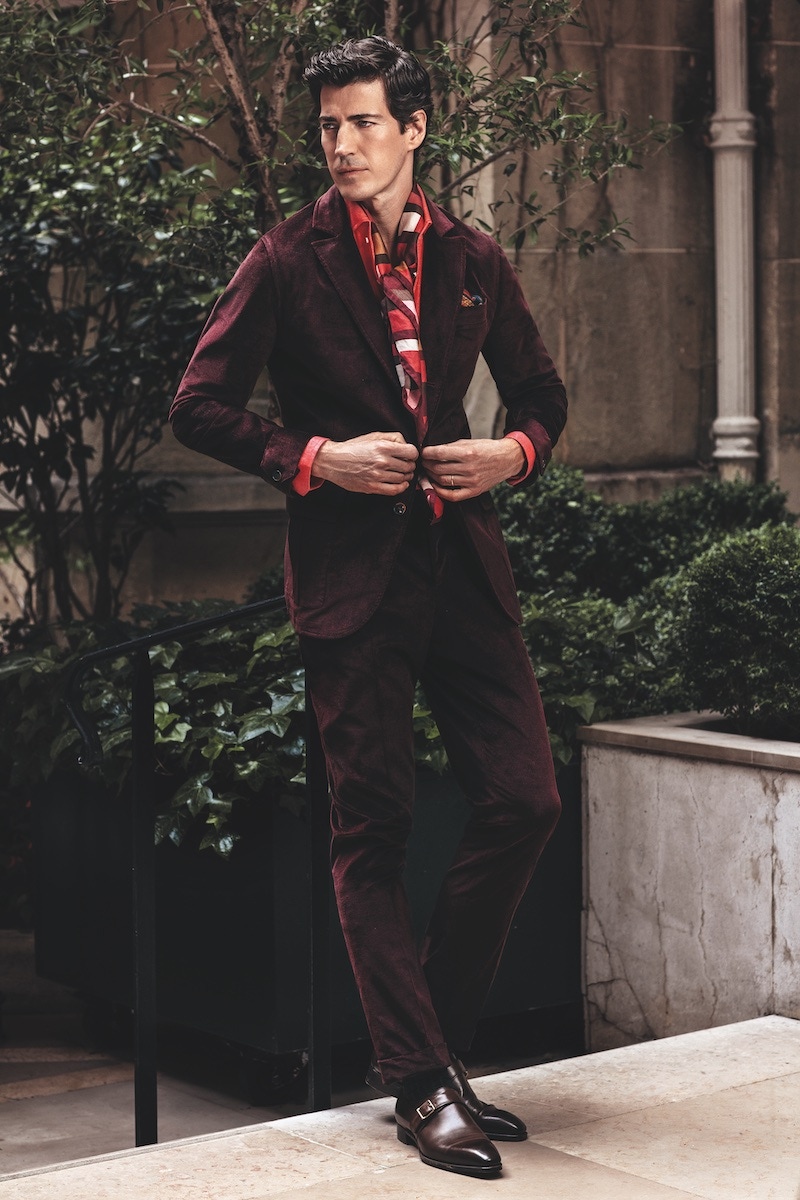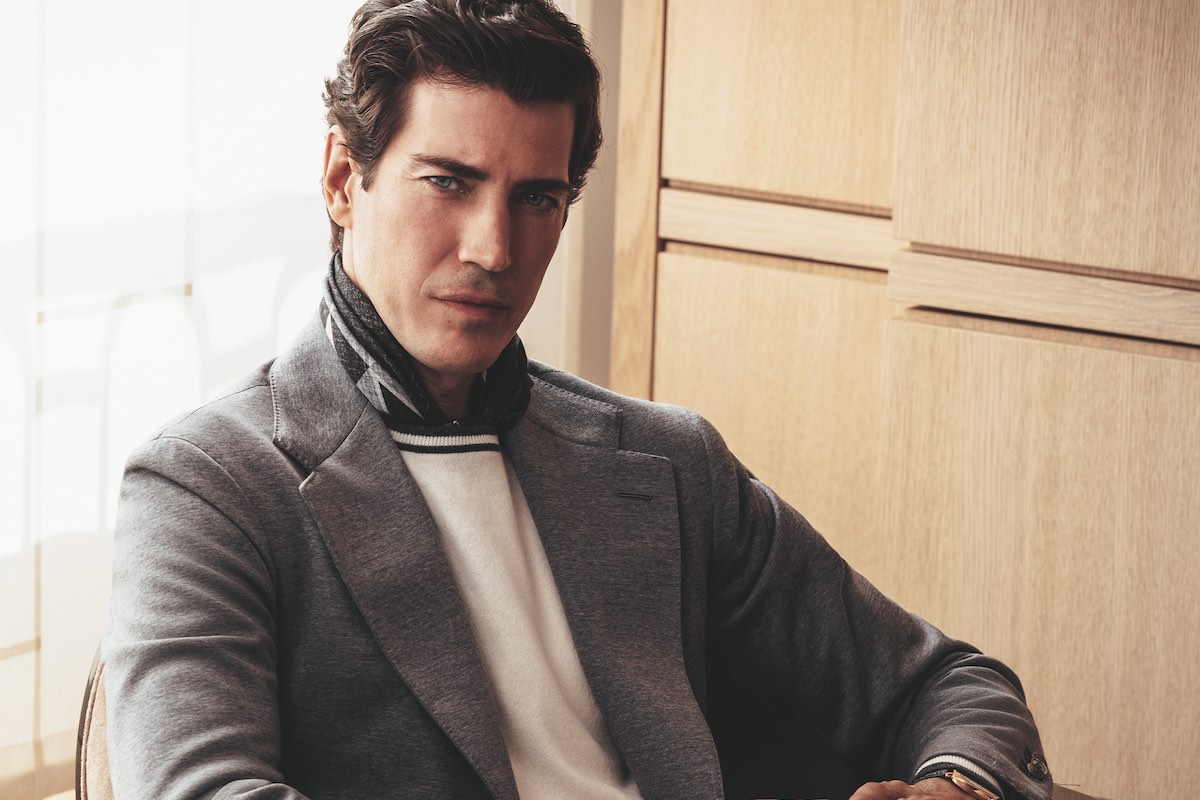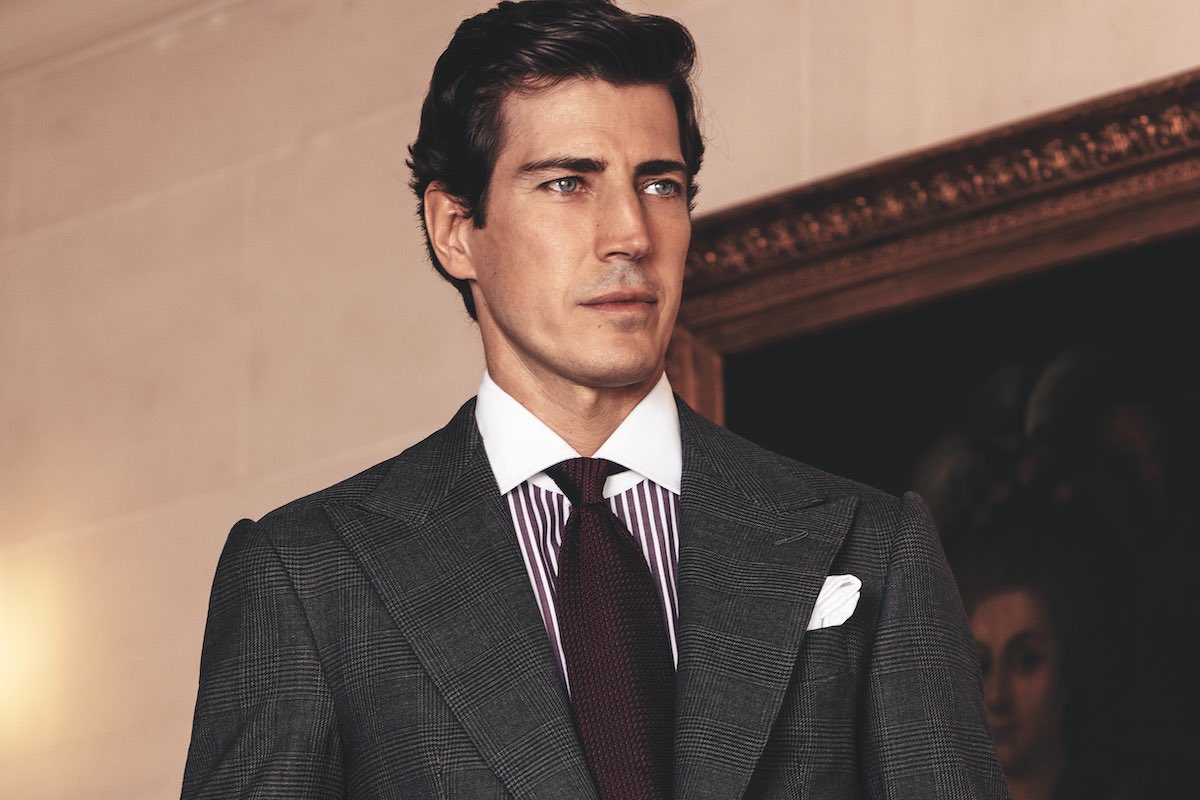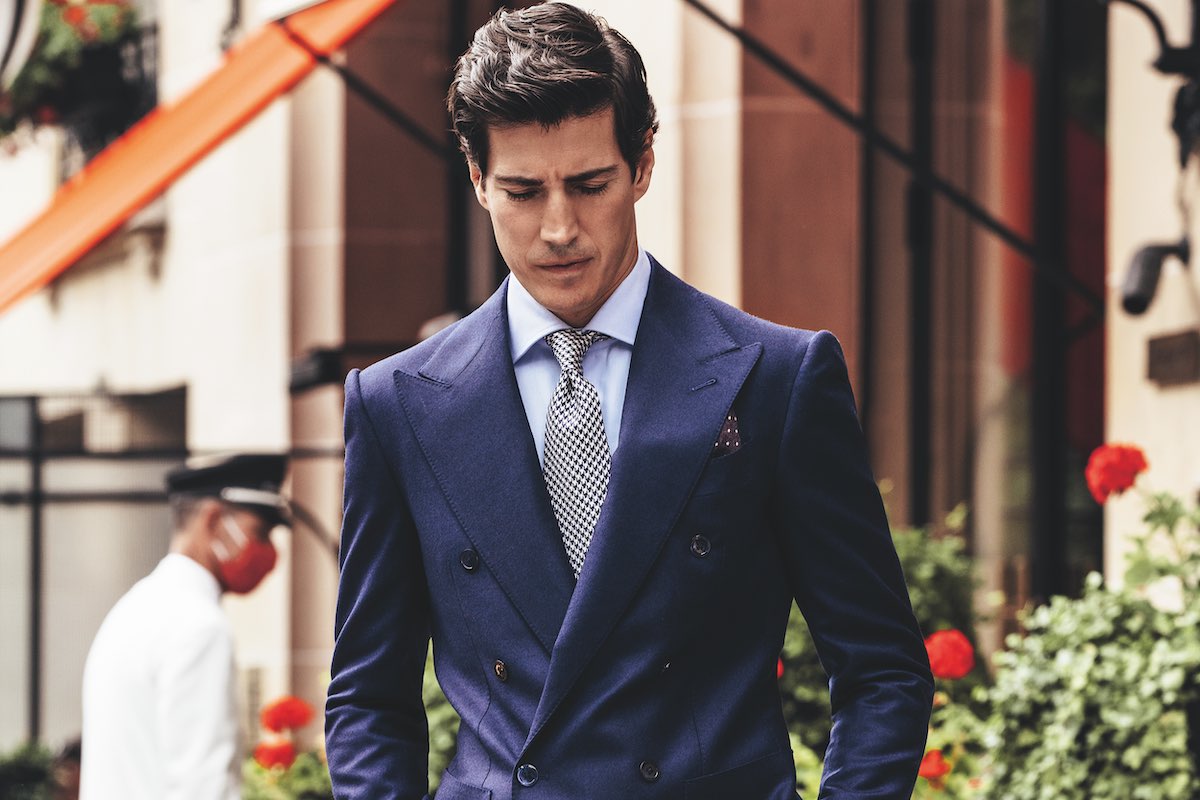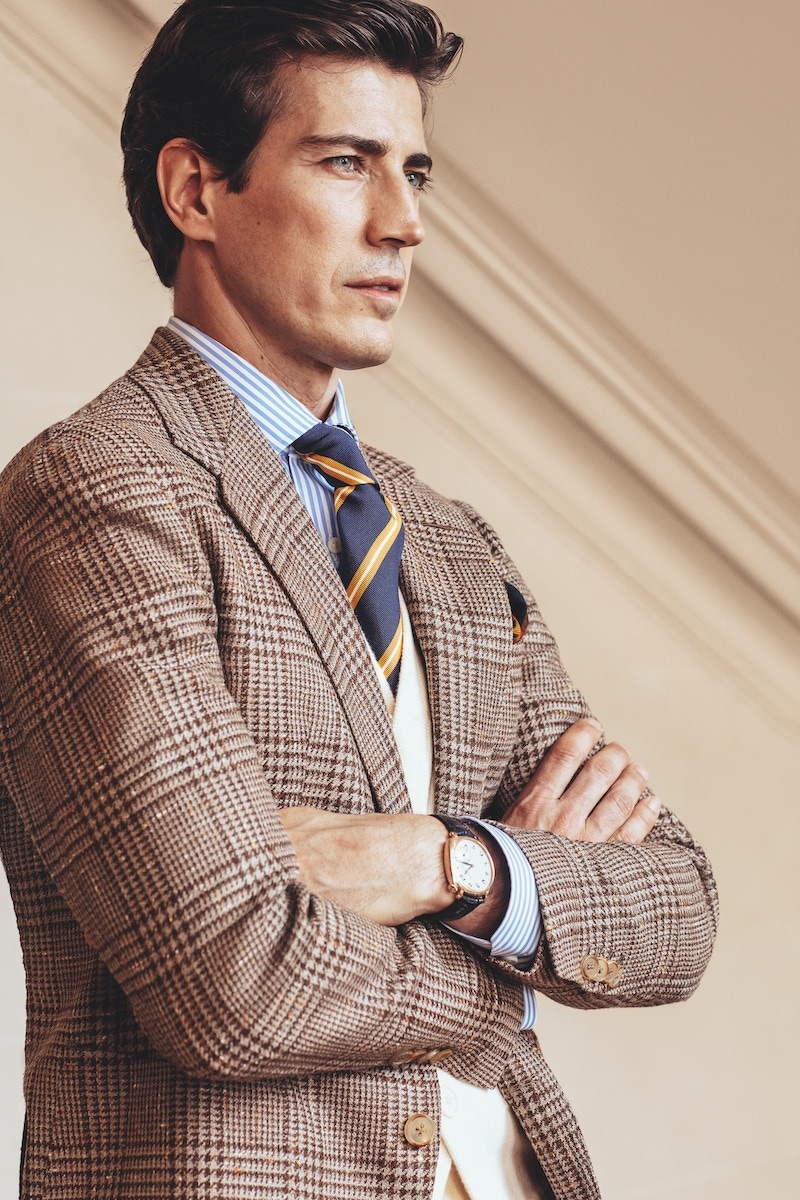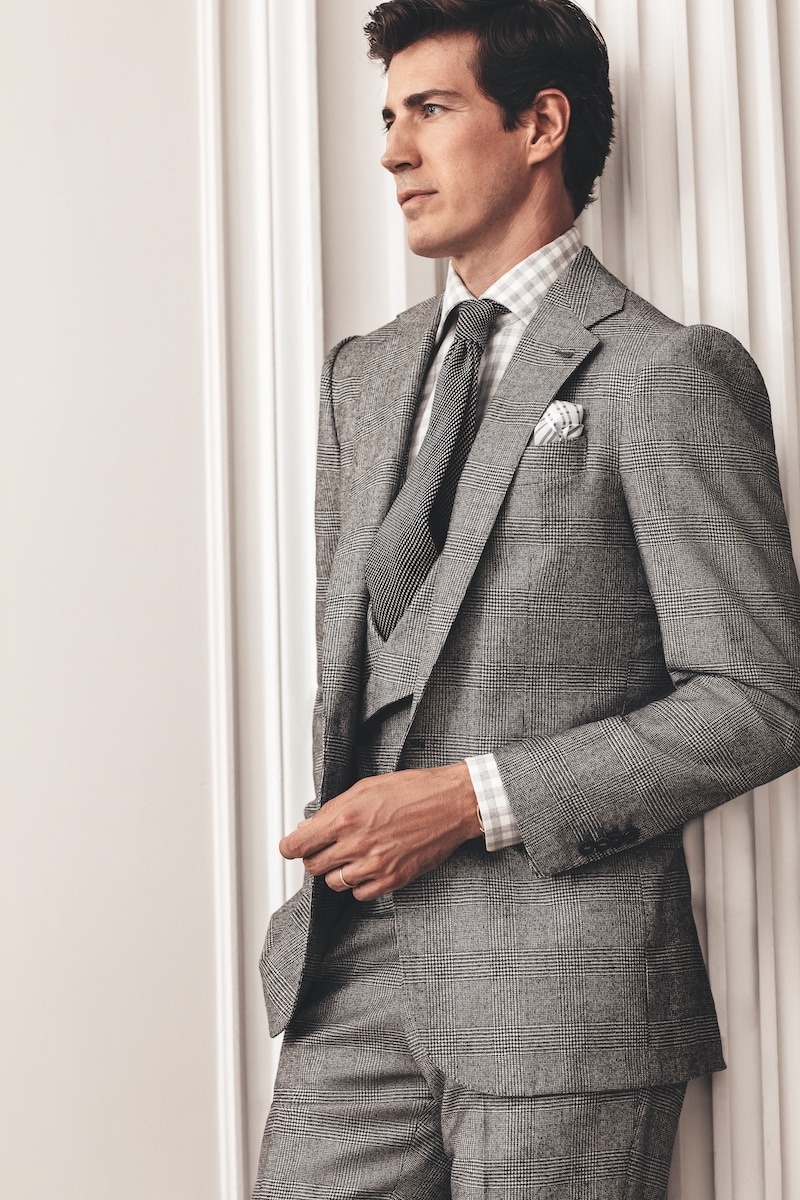 Flourishing from the bottom row of buttons are the most beautifully shaped double-breasted lapels on the planet, evincing just the perfect amount of long, curved belly before flaring out into ultra-wide, archetypically heroic, high-gorge points. For the first time, I didn't have to struggle to explain my preference for a high breast pocket, because Cifonelli already places it at exactly the right point. But look closely and you'll see that the opening of the Cifonelli double-breasted coat seems to elegantly embrace the curvature of the male chest, rather than fall across it in the style of a kimono or bathrobe, as lesser double-breasted coats do. Flip up the lapel on Lorenzo Cifonelli's coat and you'll see why. The lapel is actually not part of the coat front but a second piece of fabric that is joined perfectly along a seam that follows the curvature of the male chest. "If you want to create a double-breasted coat with an opening that perfectly follows the contours of the chest, you have to do this," says Lorenzo. "But very few tailors would be willing, or have the ability, to do so."
"I must always start from scratch and build the canvas with the person I've fitted."
Amazingly, a few days after the initial fitting, Lorenzo had already created a fitting canvas from scratch for me. "Some other tailors will use a premade block on you to help them visualise," he explains, "but for me, I must always start from scratch and build the canvas with the person I've fitted [while it's] fresh in my mind." Despite having one of the biggest teams of in-house tailors on earth, Lorenzo supervises every stage of the unique Cifonelli process, which includes hand-worked chests, handmade seams and finishing throughout, along with exquisite Milanese buttonholes. The Lorenzo Cifonelli double-breasted coat is shorter than most others, and is high-waisted and fitted before flaring into a beautiful skirt. The two blazers that result from my visit — one in bird's-eye-blue wool and the second in a blue silk-linen blend — are among the most consistently complimented clothes I've ever worn. And each time I receive a positive remark, I'm reminded of that evening, in the elevator of the Plaza Athénée, when I ran into that particularly elegant elderly gentleman. After he divulged the name of his tailor, I paused for a while before continuing, "Sir, I hope I haven't offended you, as there is a school of thought that you should only notice the man and never the clothes." He chuckled before replying, "That is a school of thought perpetuated by people with mediocre clothing… Cifonelli, young man — go to Cifonelli."
.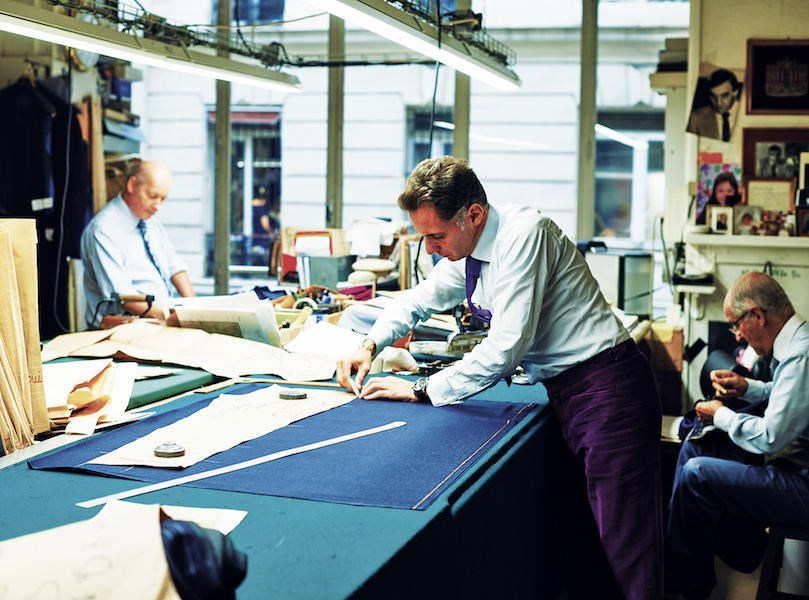 The buying window for this pre-order collection is now open and ends Wednesday 1st September. Garments will be delivered 7-8 weeks after window closes. Please email shop@therakemagazine.com for more information.