How Barbanera Is Breaking the Rules
Italian brand Barbanera have taken their highly cultivated approach to shoemaking and expanded it into a seditious exploration of contemporary workwear.
Barbanera means 'Blackbeard', and like that famously lawless buccaneer, this up-and-coming Italian shoemaking brand is breaking all the rules. Or at the very least, defying all the stereotypes. Founded in 2011, Barbanera certainly can't claim to be Italy's oldest, most tradition-rich men's shoemaker. The trio behind the company — brothers Sergio and Sebastiano Guardi and Alessandro Pagliacci — are not the heirs to a line of cordwaining maestros stretching back to the days of the Medicis. They're also not your quintessential wizened artisans: gnarled, wrinkled, smoky, croaky-voiced grandpapa types, hands calloused by decades of leatherwork. Quite the opposite — they're handsome, charming, young men, with professional backgrounds in luxury marketing, entrepreneurialism, and in Sergio's case, a rock band. They're modern, youthful, raffishly groomed, annoyingly good-looking. A bit rebellious. The Rake finds all that a plus. Sergio concurs. "Being younger helps us in recognising, maybe, that times are changing," he says. "The stylish man today is different from the one of 20 years ago. Style is changing, the silhouette has changed," and that affects the sort of shoes that will complement a man's look. "When we started we didn't have real experience in shoemaking and the fashion business — we were passionate connoisseurs, without a 100-year family tradition in shoemaking," Sergio explains. "So we decided to turn a point of weakness into a point of strength. How? With creative freedom. Since I'm a 'new' shoemaker, I'm free to design and make the most classic Goodyear-welted tassel loafer and, at the same time, make a badass rock'n'roll boot, with the same high quality but with a different vibe, and not being afraid that 'historic' customers will complain."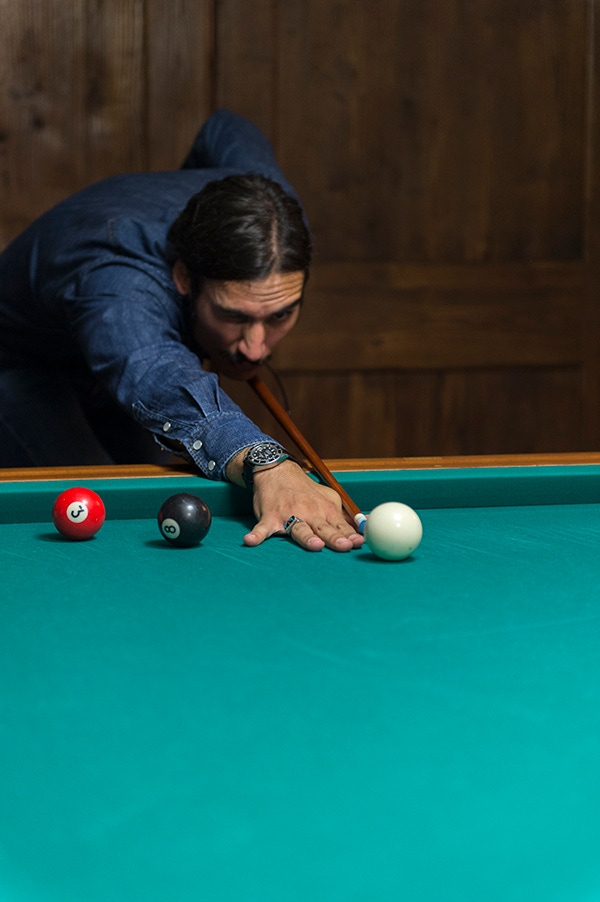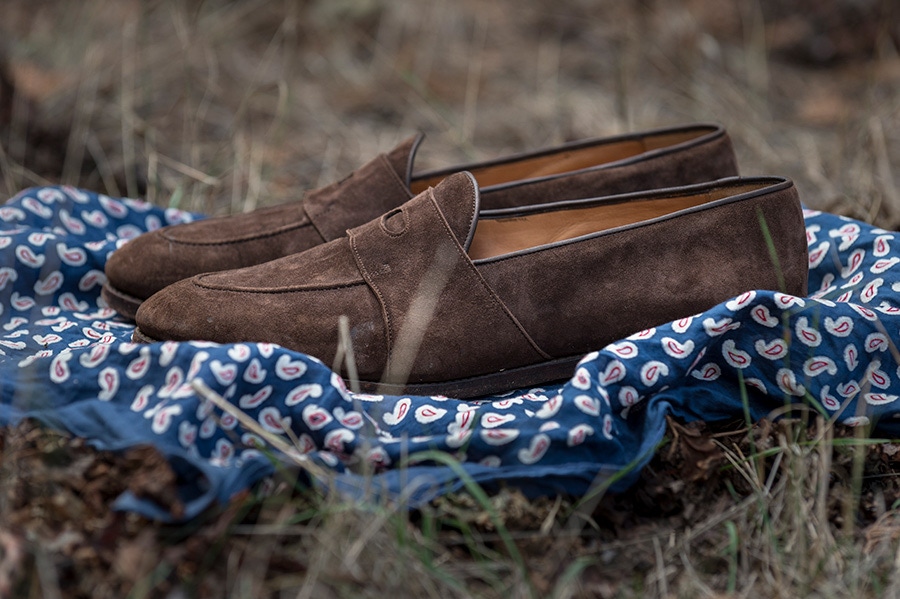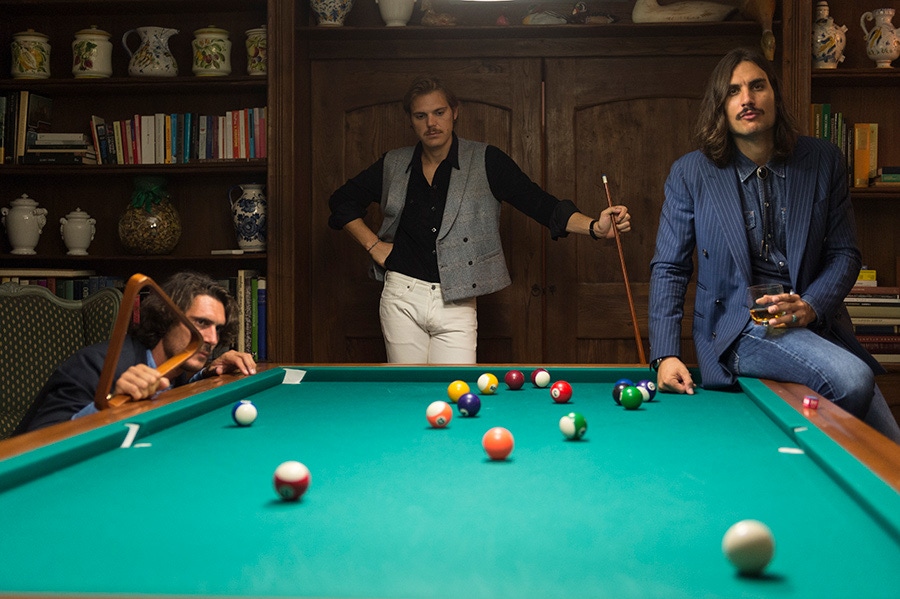 Don't misunderstand, now. The Barbanera boys hold old-school craftsmanship in high regard and purvey a fantastically well-made product, crafted at their workshop in the leathergoods mecca of Tuscany. "We have a great respect for the old-school brands, they've been inspirations for us and in the future, we wish to accomplish great results as they have," Sergio says. "When you make high quality products, where the craftsmanship is very important, 'tradition' is a vital word — it's one of the key concepts and parts of your job." But this six-year-old company hasn't tried the usual ruse of attempting to appear 'traditional', nor of making fashionably shaped shoes that fall flat in the quality stakes. Rather, Barbanera aims to provide both excellent design and top quality construction. "Usually there is a big distinction between classic shoes — very well made, but, more or less, always the same styles and models — and the more captivating, cooler shoes sold by big fashion brands are, unfortunately, often terribly crafted. One of the main points of our philosophy is breaking with this dichotomy," Sergio says. "Every model in our range, whether it's classic, dandy, rock'n'roll, or country inspired, is made with the same dedication to high quality. Great design and great quality, this epitomises the philosophy of the brand. This is 'The Barnanera Way.'" Getting past the idea that beautifully-made Italian shoes are the sole province of greying corporate titans, says Sergio, is "maybe the most important part of our way of working and style. Who said that high-end shoes are just for wealthy businessmen? For sure, businessmen have to wear great shoes and we have lots of successful men as customers. But our shoes can be worn by anyone, no matter who you are or what kind of style you adopt: rockers, dandies, bikers, very normal people, old lawyers or young guns. Anyone. We are not play acting. Nobody should. A real stylish man has to be free to be himself. There are people hiding their boring taste behind the word 'classic'.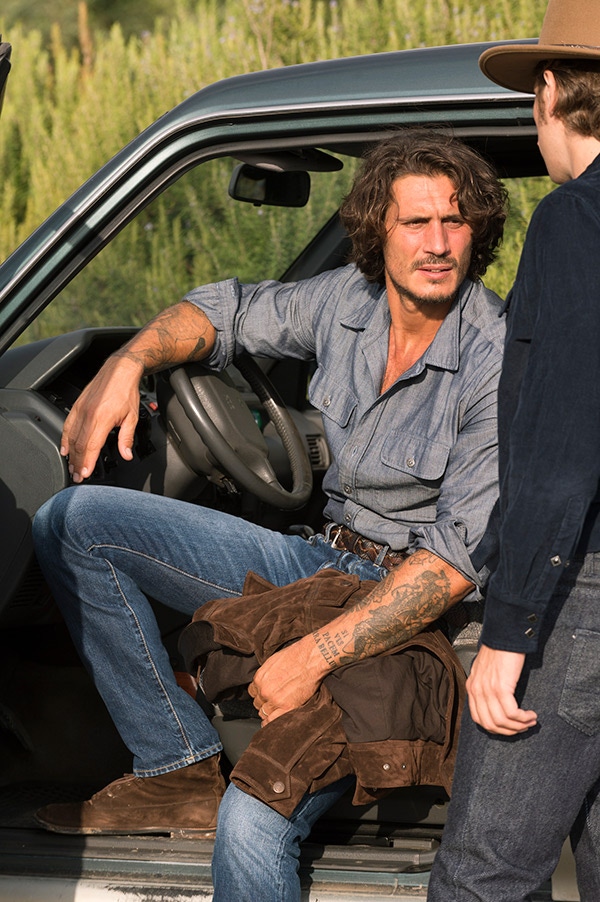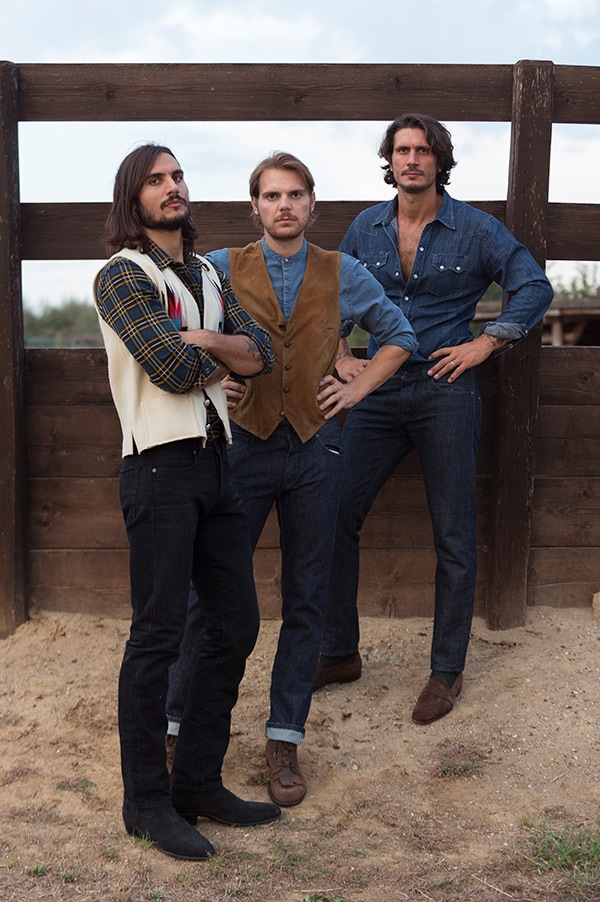 But what is 'classic'? There is a big distinction between 'classic' and 'boring', between 'style' and 'fashion', between 'elegant' and 'old'." As you may have gathered from his spirited pronouncements, Sergio (who handles the majority of the design duties) and his brother Sebastiano are hot-blooded Sicilian born and bred, the sons of an artist. Their partner Alessandro, meanwhile, hails from that more rational, reserved metropolis, Milan. The Barbanera boys were first introduced by chance – Sebastiano met Filippo Pagliacci, Alessandro's brother who used to work with the company, on a train and got chatting, discovering that they'd both been married on the same day, and in a further coincidence, met again many months later while holidaying in Greece, where they found they'd been placed in adjacent rooms at the same hotel. The idea for Barbanera was born. Like the shoes they make, and now the workwear collection they have just released, the guys behind the brand are effortlessly cool. (Don't take our word for it. When designer Michael Bastian was asked recently who he thought the most stylish men alive today were, he replied that the Barbanera boys "are just next-level. Perfectly not perfect".) More importantly, they're authentically cool, too. Check Barbanera's wonderfully irreverent Facebook page and you'll see the hashtag #truthandculture recurring. It's a core corporate philosophy. According to Sergio, 'keeping it real' is key, which is why their new Americana-inspired workwear collection is so refreshing. It doesn't follow a trend or pretend to be something it isn't - rather it's Barbanera's genuine reinterpretation of a classic menswear genre, using the same eye for details and fabrics that made them such a lauded shoemaking business in the first place. "We live in the social media era, where people with — or without — money in their pockets can buy and wear something, showing off what they have and pretend to be someone or something," Sergio says. "I see dandies that don't know anything about arts, people with great libraries that can barely read, bikers without bikes, vintage lovers that don't know about history. It's a paradox, isn't it? The problem is that lots of people don't understand that. But there are also people that go deeper, that appreciate the detail, the story and the people behind products because the fact is that style is not about what you own but about what you know — it's about knowledge, culture, experience." The knowledgeable, cultured, experienced man would do well to explore the range of buccaneering-cool Barbanera shoes and workwear available on
TheRake.com
. Because it's good to know things — but it's nice to own 'em too.