Carry On Cruising: A History of the Trunk
"For my part, I travel not to go anywhere, but to go. I travel for travel's sake. The great affair is to move." – Robert Louis Stevenson
As Robert Louis Stevenson so tastefully observed, the true fulfilment of travel can only be achieved by savouring the journey and not just the destination. Alas, this romantic notion has been somewhat lost along with the belief that the world is flat - thanks in the most part to travel becoming synonymous with limited legroom, baggage restrictions, delays come cancellations, invasive security checks and (shudder) chemical toilets. Nonetheless, ever since our early ancestors descended from the treetops it has been our natural impulse to forage beyond our native realms. As civilisations developed and grew, so too did the concept of travel as a means to explore. Technology has advanced the way in which we travel and transport our belongings along the way, ever evolving as we seek to satisfy our irrepressible curiosity and wanderlust.
Evolution and revolution
The wheel, having evolved from the fundamental realization that logs could be used as rollers to transport heavy objects, is one of the most divinely simple innovations ever devised by the human mind. It revolutionised the way we travel and transport goods. However, roads in the early 19th century were often rudimentary and rutted, making passage by horse and carriage slow and difficult and as such, travel was for necessity rather than pleasure. Gradual improvements in road construction and maintenance reduced journey times - but the real revolution came with the introduction of railways. Their speed and efficiency was unprecedented, so much so that early passengers feared they wouldn't be able to breathe travelling at such velocities. Within decades, with fears allayed, thousands of miles of steel lines linked cities to suburbs and seaside resorts. A new era of travel for travel's sake had begun. The structure and dimensions of luggage has always evolved in synchronicity with changing modes of transport. Bavarian luggage maker, Hartmann, was founded in 1877, not long after the completion of the first transcontinental railroad in the United States. Luggage at this time was handled roughly so their trunks were made of heavy wood, leather and reinforced with iron bases to ensure their durability. During construction, luxury leather purveyor, Globe-Trotter, reinforce each stress point with stitching, riveting and gluing. Vulcanised Fibreboard, the material used to make their cases, is incredibly light and strong - stronger than steel in fact – and to demonstrate this, Globe-Trotter performed a strength test at the Zoological Gardens in Hamburg by using one of their cabin cases to bare the full weight of a one ton elephant – reassurance indeed that one's belongings wouldn't get squashed in luggage holds by sliding trunks. The tops of trunks were initially dome-shaped to allow water run off when exposed to the outside elements during transportation. Heritage luggage brand, Moynat, patented the first waterproof trunk in 1854 using a canvas coated in gutta percha gum (a tropical sap). This provided much needed protection from water, humidity and temperature.
The dawn of a new era
In the early 1900's, changes to immigration laws halted the flow of immigrants across the Atlantic. This caused a shift in the business model of shipping companies towards tourism instead of passenger transport. Fleets of grand cruise liners began to welcome society's haute monde onboard – this was the dawn of the luxury cruise liner. The sumptuous elegance on offer was a testament to this new era - with champagne bars and ballrooms for lavish parties; fine dining to rival that of top restaurants and hotels; extensive public spaces to cater for every fancy from deck sports and sun loungers to smoking rooms and gymnasiums; as well as immaculately liveried attendants attending to your every (non-salacious) need. Passengers enjoyed the onboard luxury so much so that they embarked on 'nowhere voyages', which would sail on a round trip without stopping at any ports of call. Cruise liners afforded the added benefit of travel, unencumbered by baggage restrictions. As demand increased for moderate-sized and special-order bags, luggage moved towards the suitcase as we know it today. Passengers, from royalty and politicians to celebrities and Hollywood icons, demanded a wide range of travel accessories to facilitate the opulence of their journey. Trunks were made to match with hat boxes, vanity cases and garment bags, many of which were personliased, as became the style de rigueur – screen actors and Hollywood Rat Pack members, Humphrey Bogart and Lauren Bacall, both had monogrammed Hartmann steamer trunks to accompany them on their jet set lifestyle. Clara Agnelli, granddaughter of esteemed Rake, Gianni Agnelli, had her Goyard luggage painted with her initial 'C' in red or heat-stamped in black on soft leather items. Another devoted Goyard customer, Sir Arthur Conan Doyle, commissioned a writing trunk which he could use to continue his work during his own adventures overseas. A similar size to an ordinary trunk, the special-order case would transform into a writing desk - complete with bookcase, typewriter, and hidden storage space for his developing manuscripts.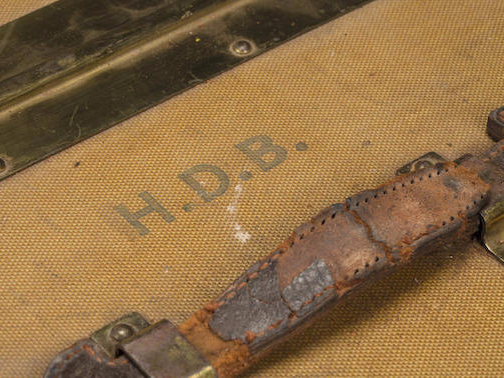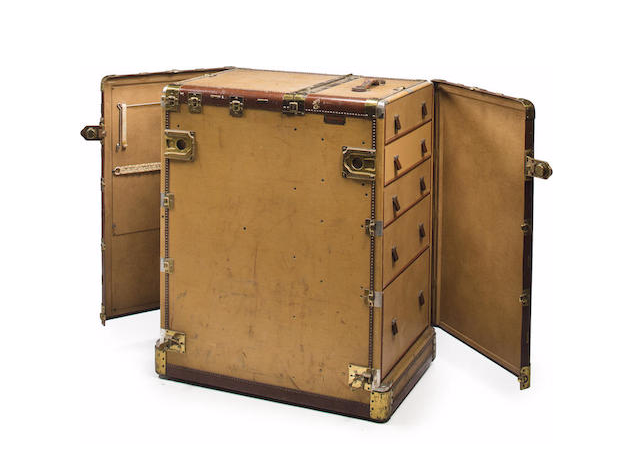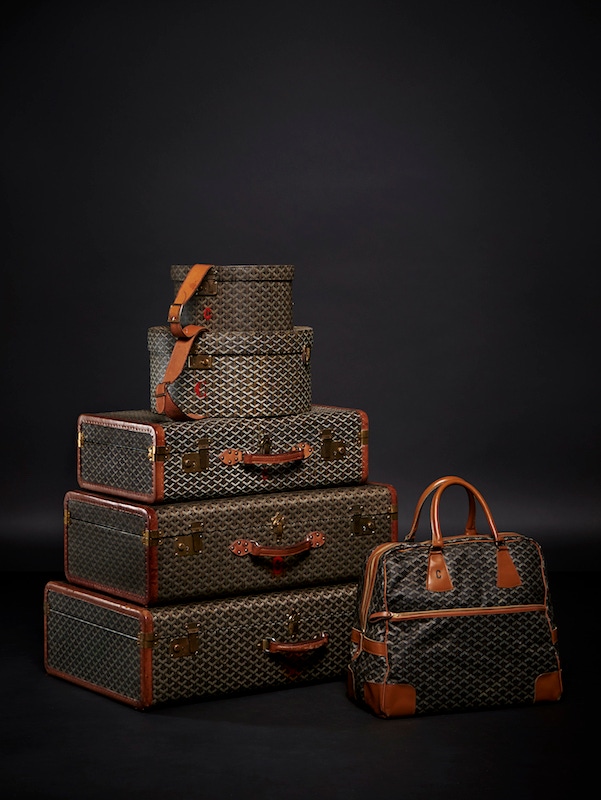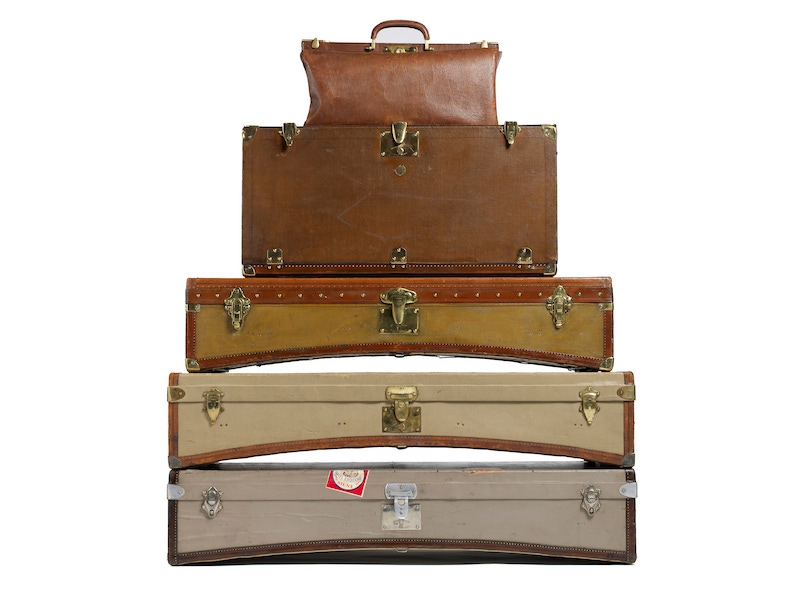 A cultural shift
The rapid expansion in automobile travel during in the 1920's caused a cultural shift in social attitudes. The increased opportunity for individual freedom allowed people to live out in the countryside and commute to work, take weekend trips and utilise their leisure time better than ever before. Luggage became lighter and functionality was increased, without compromising on aesthetics. Moynat made bespoke trunks with sleek curvature designs that fitted the contours of the cars and, for extra covetousness they matched the colour of the car body. Ettore Bugatti, whose ethos was "nothing is too beautiful, nothing is too expensive", had an innate understanding of automobiles, which made him instrumental in establishing the luxury car industry. Featured in their Heritage Collection, Goyard has two trunks custom made to fit into a Bugatti Type 46, with the chassis number displayed on each – their unique shape perfectly blended the shape of the trunk with the form of the car. Goyard later developed trunks with glides to prevent damage to the carriage of the car and also allowing air circulation to avoid the build up of moisture between the roof and the case.
The age of air travel
Before the rise of the jumbo jet there was the golden age of air travel, when Pan Am ruled the skies and Concorde claimed you could arrive in New York before you had left London. When in its infancy, passenger flights were subject to extreme turbulence because of lower flying altitudes, loud noise prior to sound proof cabins, zero cabin pressure and intermittent refuelling stops which could double long haul journey times. Nonetheless, in the 1950's tickets cost, on average, 5% of passengers' yearly salary, so given this exclusivity, flying was considered an extremely glamorous way to travel. Cocktail lounges, staterooms, beds and sofas were commonplace, fine china and crystal glassware was used as standard and the stewardess to passenger ratio was so high that you almost had your own personal flight attendant. They say that necessity is the mother of invention but it wasn't until the 1970's that the wheel was added to the base of suitcases to make them portable. Formerly, luggage was handled by servants and porters and loaded at street level into holds and baggage compartments. By this time, cumbersome wardrobe trunks had been phased out and replaced by rollaboard suitcases as short haul trips were favoured, requiring less luggage and air terminals meant passengers had to handle their own baggage more frequently and transport it further by hand.
Special orders
Moynat's special commissions include everything from Krug champagne and bicycle trunks to caviar and bow tie chests. Hartmann's suitcases have been carried by famous figures from history and fiction – including Winston Churchill and James Bond. Goyard have custom made a shoe trunk for Jeanne Lanvin and a culinary trunk for three Michelin star chef Alain Ducasse - which included a stove, cutlery, tablecloth and napkins. Globe-Trotter cases have been taken on Antarctic expeditions by Captain Robert Falcon Scott, up Everest by Sir Edmund Hilary during his ascent to base camp and even on honeymoon with HM Queen Elizabeth II. Wherever you travel, however you get there and whatever you take with you along the way, skilled craftsman can hand-make a case to suit every bespoke need.