De Petrillo's Philosophical Designs
Neapolitan tailoring house De Petrillo specialises in modern ready-to-wear tailoring that's attractively priced – especially considering the handwork and quality of fabrics.
Perched against one of many tall tables strewn with swatches of fine cloths, intricate scribbles and philosophical jottings, Benedetto De Petrillo – founder of the eponymous tailoring house – explains that he is not a master tailor; nor does he want to be viewed as one. Perhaps, it's a sign of respect towards Naples, his home and the cradle of bespoke tailoring, or perhaps it's that he's just different. Having spent an entire day with him in his natural habitat, one thing is clear: aside from his apparent talent of curating finely-made ready-to-wear, Benny is an emotional and philosophical creative who's deeply passionate about fabrics, family and his life's work; a seemingly common trait among all Neapolitans.
Amidst the organised chaos of his studio, a kind of mess that only an intense, diligent creative could navigate through, he says: "For me, the De Petrillo jacket is a representation of the journey an individual is chasing with all of his energy. He continues to chase it, so that eventually, he will be able to live it." With enthusiastically gesturing hands, accessorised with a Marlboro Touch between his fingers, Benny continues to explain his company's ethos while taking us on a tour of his studio and workshop, which is occupied by roughly 40 craftspeople producing some of the most exciting ready-to-wear tailoring in Naples.
The Rake was introduced to De Petrillo earlier this year at Pitti Uomo by our friend Alessandro Agazzi, and we were instantly taken aback by the wares on show. Despite the company's infancy (it was founded in 2009), Benny began his career in the industry following the birth of his first son in 1987 and honed in on acquiring an astute knowledge of fabrics. Over the course of less than 10 years, his company still upholds the same values, which he describes as being "more important than money". De Petrillo is decidedly modern in its take on traditional tailoring. The style is, unsurprisingly, true to the Neapolitan way, but the fabrics used across the collection are sophisticated and refined, working off and within various shades of browns, navies, and greys which meet traditional patterns and checks. What's not to love about that? I'm not quite sure, but there's absolutely nothing garish, bold or brash to it. Above all, it's positioned at extremely attractive price points.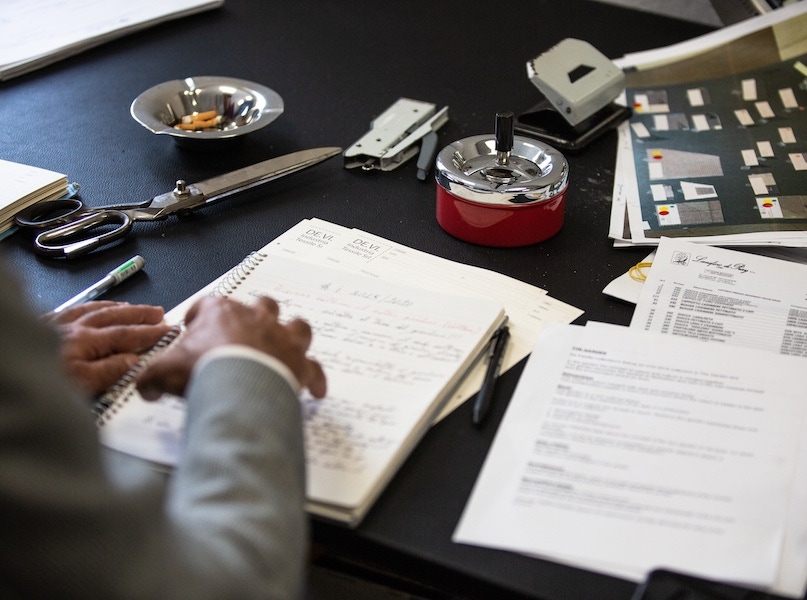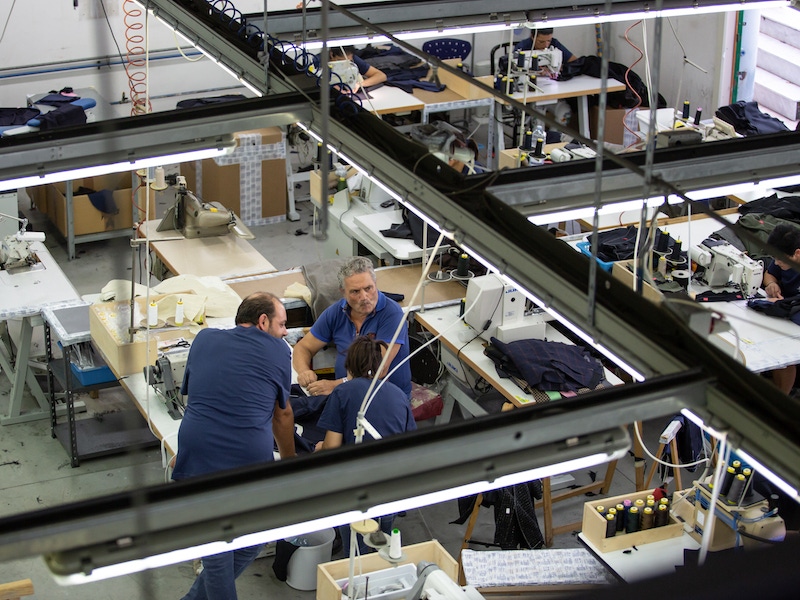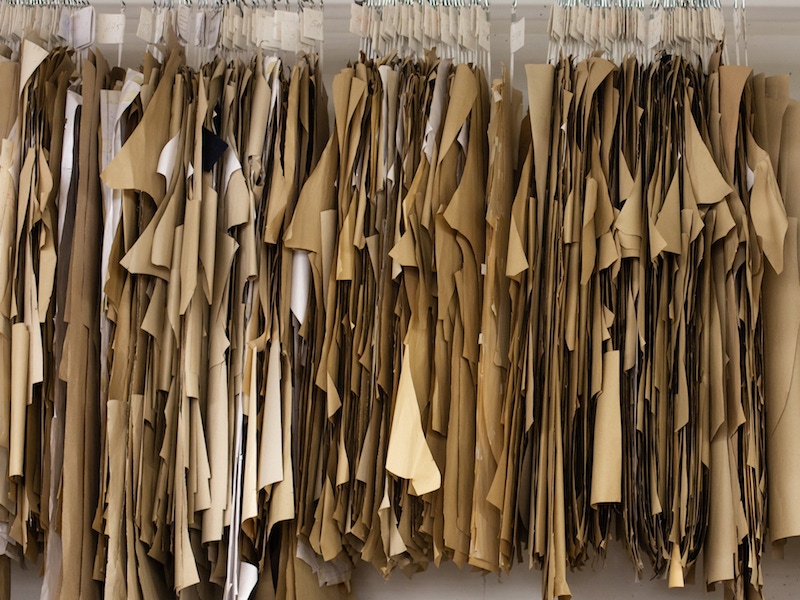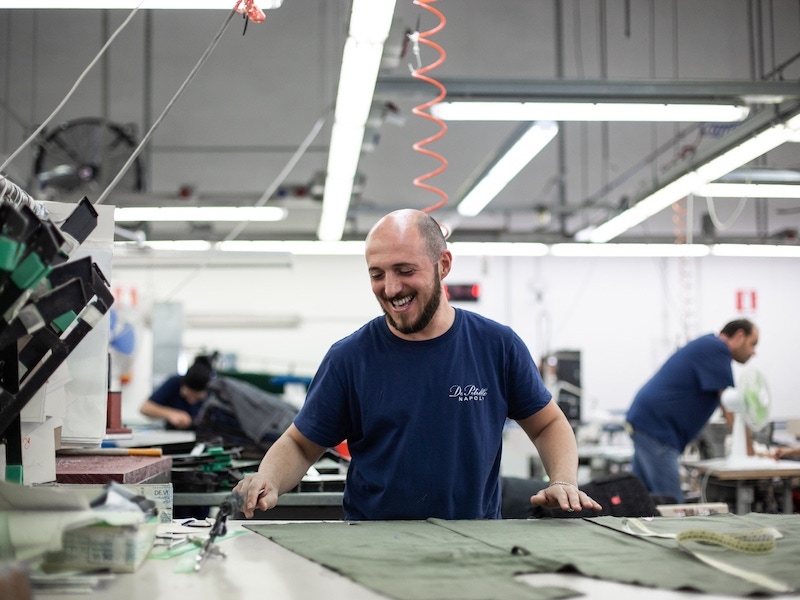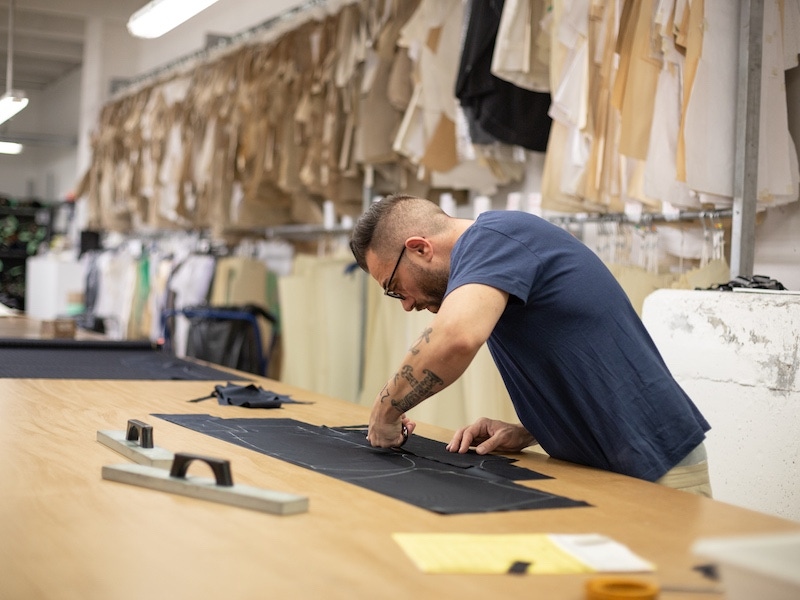 De Petrillo is highly regarded in Japan, which is mostly due to Benny's agent, who's helped infiltrate the Neapolitan brand into Japan's burgeoning sartorial retail scene, including the department stores BEAMS and Isetan. With Japan under control, Europe is to be conquered next and we're certain it's going to be a huge success here, too.
It's become common for tailoring houses that offer ready-to-wear to resort to trend forecasters — it should go without saying, but by that, I don't mean fashion trends, but cloth trends — yet Benny approaches it entirely differently. "It's something that I've always been interested in," he says about his admiration of philosophy. "Twice a year, I always approach the collection from a philosophical stance. I always start with pen and paper, almost in a poetic way, and start to think about an overall concept. I start to visualise the atmosphere of the concept and then the collection forms from that."
From this philosophical base, Benny turns his attention to fabrics and texture. He tells me that he doesn't care about the prestige of a particular mill; he doesn't let it bother or influence his work. He's insistent on offering garments that are affordable and, as such, he's happy to work with lesser-known mills to design exclusive cloths that would cost the consumer a great deal more if they were from a household name. He's forensic in the way he goes about this, and all over his workstation are yarn cards. He examines them, and computes whether they work harmoniously together and applies them to particular weaves such as houndstooths, Prince of Wales, gun clubs and so on. 
It's, perhaps, a direct result of this approach that the De Petrillo range is utterly consistent, with no single piece sticking out from the rest. This season, it's inspired by an internal and external experience of travelling, which shouldn't be taken literally. As such, "noble" cloths have been cast upon the classic Neapolitan style of jacket — spalla a camicia (shirt) shoulder, which gives comfort, softness and ease of wear, minimal to zero canvasing (depending on jacket), patch pockets and barchetta breast pocket. The production is a mixture of hand and machine work. Patterns are cut by hand and constructed by machine, with the exception of the armholes, underside of the collar and sleeve cuffs, which are finished by hand. It's certainly for the modern man, who can appreciate and recognise quality but can't necessarily afford tailoring of bespoke quality.
The Rake's selection of De Petrillo
 is concise, with the hero pieces being the grey herringbone overcoat in Loro Piana wool and the exaggerated houndstooth jacket that's completely unlined and un-canvassed, meaning it slumps over your shoulders and drapes beautifully. The chocolate corduroy trousers are cut high with single, reverse-facing pleats, while the belted safari jackets, cut from a heavy wool in a delicious biscuit and narrow wale corduroy in chocolate, are great weekend pieces. There's no denying that Benny has created a very special tailoring house, the products of which are emphatically wearable. It's destined to be a favourite amongst all, with his sons flanking him on each side, ready to take the reigns and carry the brand into the next decade.