What Went Down at Pitti Uomo 94
The Rake's roving photographer was placed on the front line of Pitti Uomo 94 in Florence. Here are some of the strongest looks.
Last week concluded with another notch to the Pitti bedpost and for us, it was easily the most successful and productive one so far. Throughout the week we whizzed around and reconnected with our partners, most of which exhibit each season, and also used the opportunity to discover new exciting artisans and known houses that fit the specific criteria of The Rake. One thing is for certain; there were many refreshing and interesting interpretations of men's style and a noticeable lack of the infamous Pitti Peacock, which is all I'm going to say about that bird. 
First things first, we'd like to award the fictional prize of 'Best Dressed Crew' to Beams Japan, as the way in which they easily marry their Ivy-league and preppy influenced style with an easy-going Japanese sensibility is fantastic. Each season they descend on the Fortezza da Basso in a Blitzkrieg-like effect with no obvious weak point in their flanks. Up top, double-breasted jackets worn open with contrast collar shirts and sharp repp ties are standard, while down below they sported cropped trousers with a healthy turn-up worn with comfortable footwear, such as penny and Belgian loafers. It's simple but mightily effective.
Now, onto the whole shebang. Earthy shades in linen and cotton were kicking about in full force throughout the week and nowhere were these tones more present than in tailoring. They work incredibly well when mixed together and present an incredibly versatile way to inject colour into what might be an otherwise charcoal grey suit palette. It was pleasing to see that despite fashion's infatuation with streetwear, a lot of men are shunning the 'Dad sneakers' and garish logo-infested T-shirts in favour of the indomitable suit.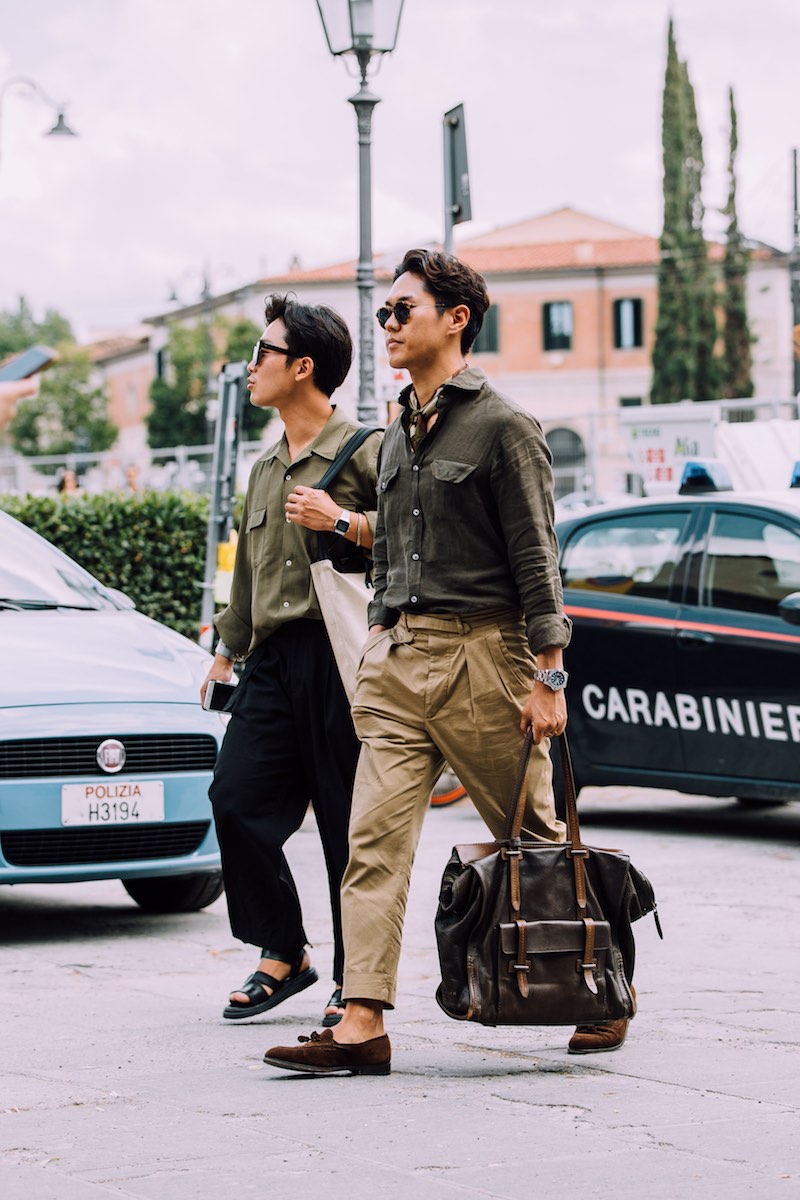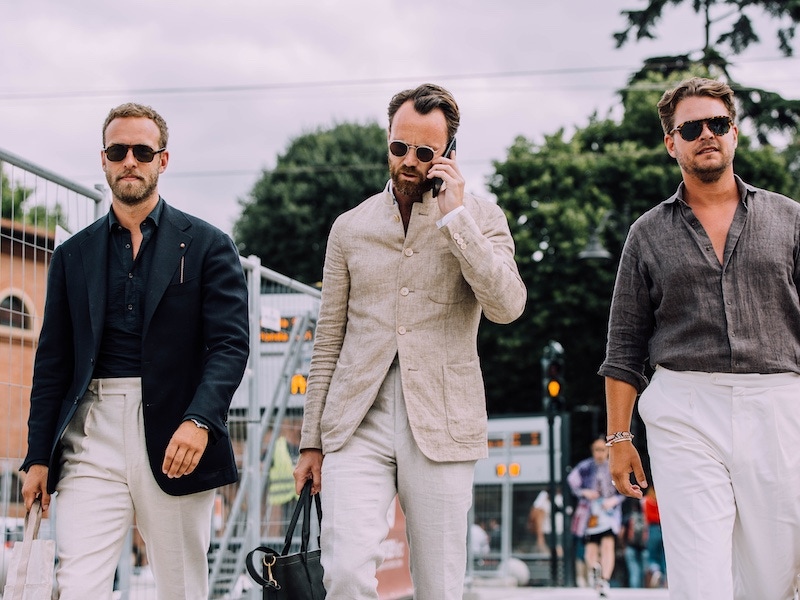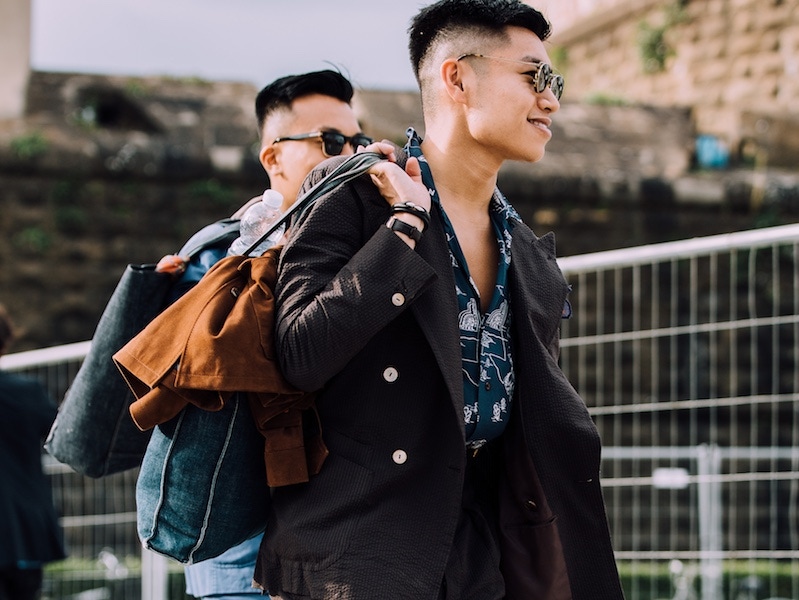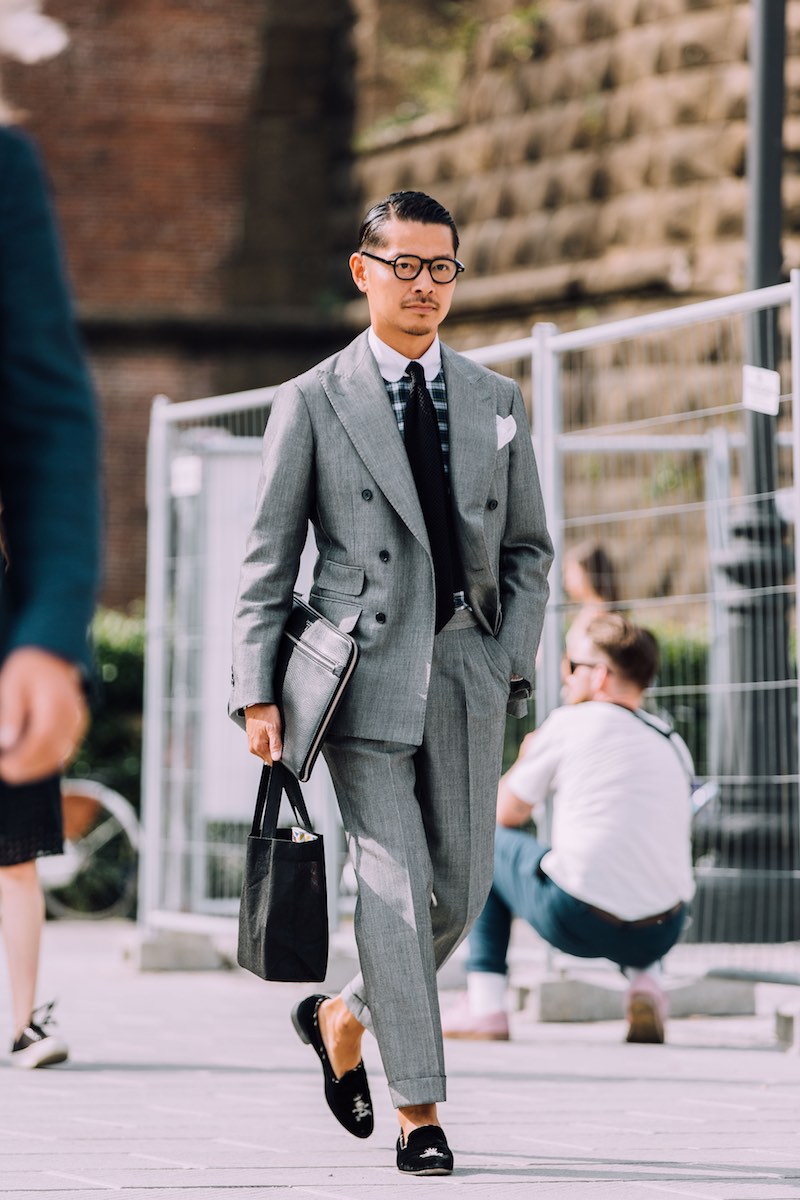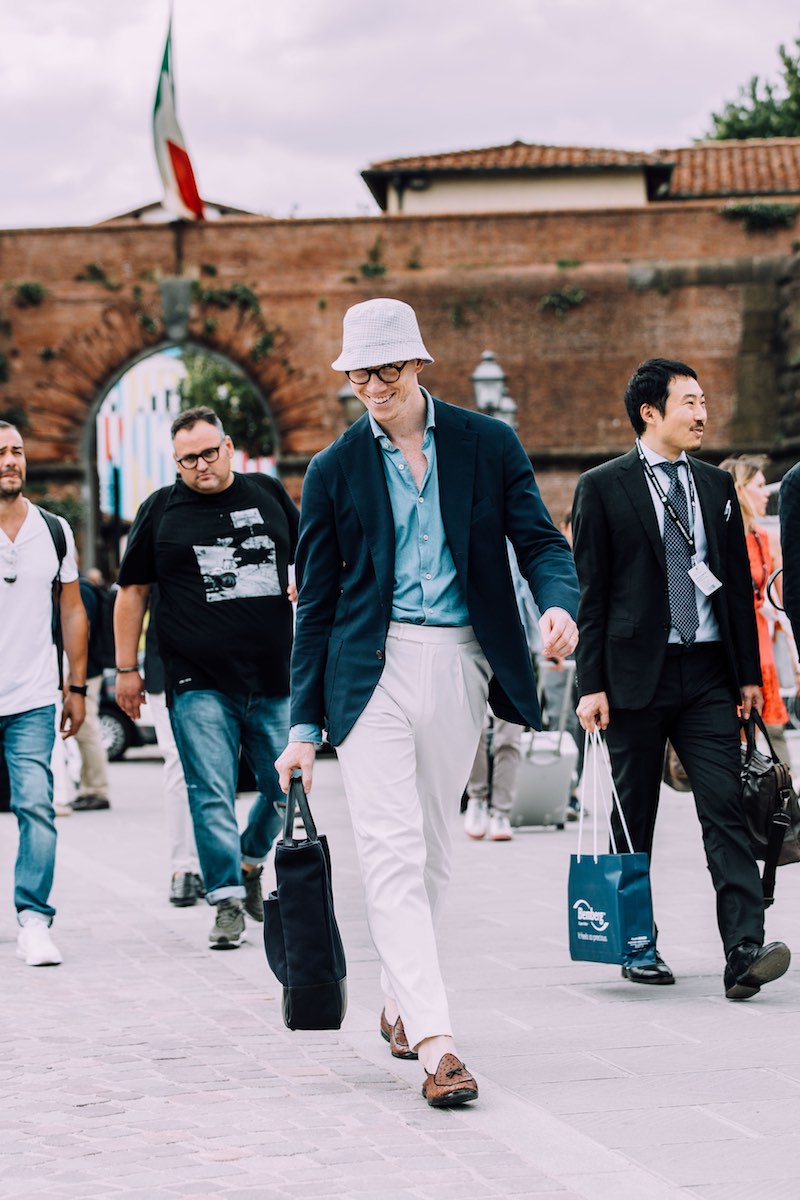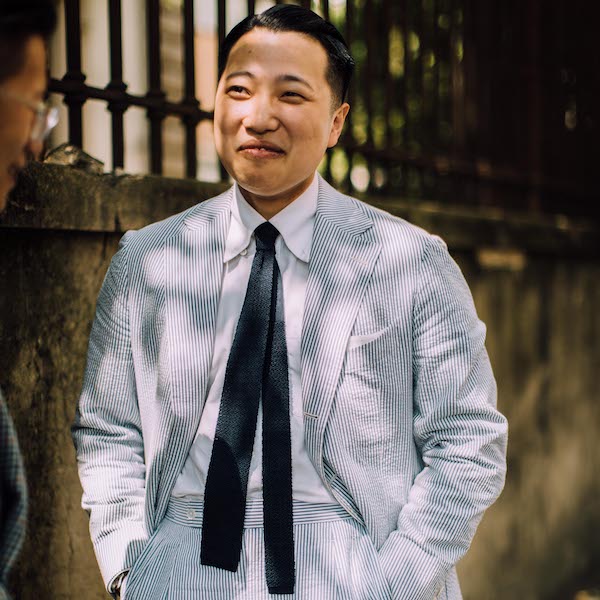 As it's been mentioned time and time again but is worth stressing one more time, dress codes are becoming increasingly relaxed. In the last 10 years, or so, many men have wavered at the notion of sporting a necktie, and instead straying towards open-collared shirts and T-shirts. This has now been taken one step further. They're sporting Hawaiian shirts, which, to some purists is an abomination, but to us, it's a breath of fresh Polynesian air. The beauty of a Hawaiian shirt is that not only are they comfortable and exude a sense of casual 'whatever-ness', there's one for everyone. Whether you're drawn towards an eclectic and vibrant pattern, or a subdued one (if that's technically a thing to describe a Hawaiian shirt as), the ubiquitous Hawaiian shirt has the natural ability to work with any kind jacket you happen to go for. The same goes for the camp-collar shirt, which has slowly but surely found its place in the modern man's wardrobe. It stems from American during the 1950s, which was a period when formality started to wane and experimentation started to flourish. Today, they brilliantly take down a tailored ensemble a notch due to the collar overlapping the lapels that it's a bit of a statement of not really giving a ****. A confidence booster, for sure.
Furthermore, wearing tailoring doesn't need to be stifling or restricting, so unleash the chest and let the air flow in. It's a way of dressing that should be promoted as it can only help encourage millennials to take to tailoring rather than lackluster and fickle streetwear. Both Hawaiian and camp-collar shirts were paired with tailored, loose fitting and full-cut trousers, many with comforting pleats, and there were also a pleasingly large amount of Gurkha-style trousers. If you are unaware of those, you can familiarise yourself here as they're awesome.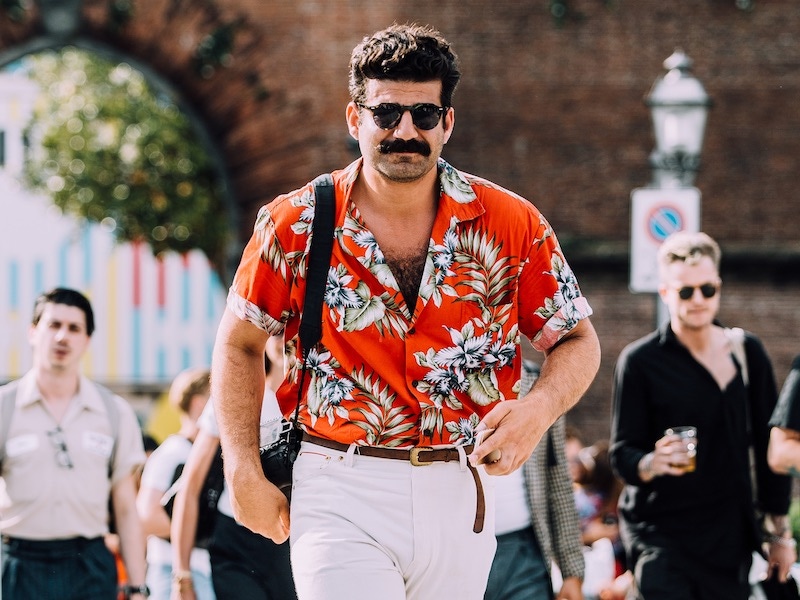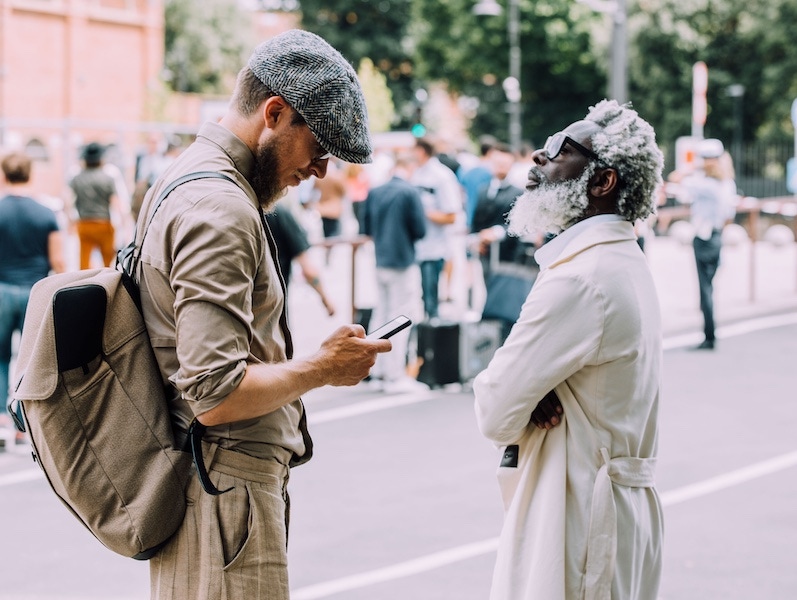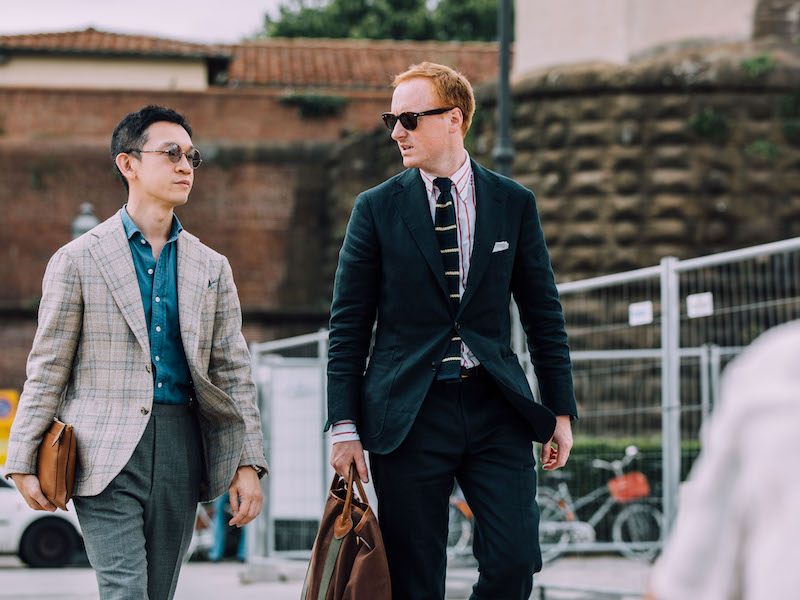 Now, on to Seersucker and don't worry I'm not proposing that it's a new trend as it's been a summer staple since the 1920s. But, the variety of colours and patterns at Pitti was astounding. There are some exceptionally cool cloths coming from Italy, mostly from an Italian mill that's owned by Loro Piana named Solbiati (it's worth exploring their swatch books when you next visit your tailor). Whether it was used for jacketing, trousers or shirts (button-downs, cutaways and camp-collars were omnipresent), Seersucker was literally everywhere. It is, of course, the obvious choice in summer due to its ventilating puckered weave, but think beyond the classic white and blue striped pattern. Olive green, tobacco, midnight navy and black, plus some mind-blowing Prince of Wales checks, were kicking about and I'm excited about its evolution.
Elsewhere, Safari jackets were rife, and we saw some exceptional ones care of De Petrillo (a Neapolitan outfit that will no doubt become a firm favourite of ours and yours), Johnstons of Elgin, Marol, Private White V.C. and Grenfell. The shortness of the jacket and a louche knot tied across the front makes it a fine choice in addition to the functionality of the four front pockets. Accessories-wise, the tote bag was the go-to receptacle, which is for the man who needs not a briefcase or doesn't feel comfortable with a backpack. A great medium between the two, some can be worn on the shoulder and contain enough space for everyday essentials.
In the coming weeks, we will be going into further detail on the micro-trends on display care of our two photographers who were as ever on the Florentine front line. Firstly, Jamie Ferguson, who is no stranger to the magazine and website and knows the grounds of the Fortezza in a similar fashion to the whereabouts of condiments in his kitchen. Secondly, a new addition to our armoury, Milad Abedi, a Stockholm-based super sharpshooter whose moustache trumps Ron Burgandy's with relative ease.