A Rakish Guide to Dressing for the Races
Dressing for the races can be a sartorial minefield that many fail to cross. To avoid embarrassment, allow The Rake to show you the ropes.
Despite dressing and advising numerous customers on what they should wear, as well as creating ranges of morning suits to be worn in my two decades on Savile Row, I had never attended Royal Ascot, the annual highlight of the sartorial sporting calendar. I was occasionally invited but it invariably clashed with the summer edition of Pitti Uomo in Florence. And it certainly wasn't part of my lifestyle growing up, as my family and friends were more interested in greyhound racing. A night at "the dogs" is a pleasure not to be missed but it does not demand quite the same level of dress etiquette (although shirts must be worn at all times, even in the warmer summer months). When the opportunity to finally visit the Royal Enclosure at Royal Ascot came I was warned that I had an overly romanticised vision. Morning dress is required for gentlemen in The Royal Enclosure and the rules are strictly enforced; black or grey coat, top hat, waistcoat and tie. No cravats, thank you very much. Morning dress is also worn at weddings and should be worn at investitures, royal garden parties and daytime state occasions, but you do not hear of anyone being turned away for wearing a dark lounge suit. My expectations were still quite high and I was not prepared for the spectacle that greeted me that sunny June afternoon. It was middle-class cosplay; a Comicon for the privately educated. So many ill-fitting and poorly chosen garments gave the event the feeling of a fancy dress party or the last home game of a Premiership football team. The hat perched on the back of the head with the plastic wraparound sunglasses, the pink satin tie and matching pocket square, the overly long trousers sat too low in the waist exposing shirt beneath the waistcoat, the short comedy socks. The bad shoes. The bad language. The horror.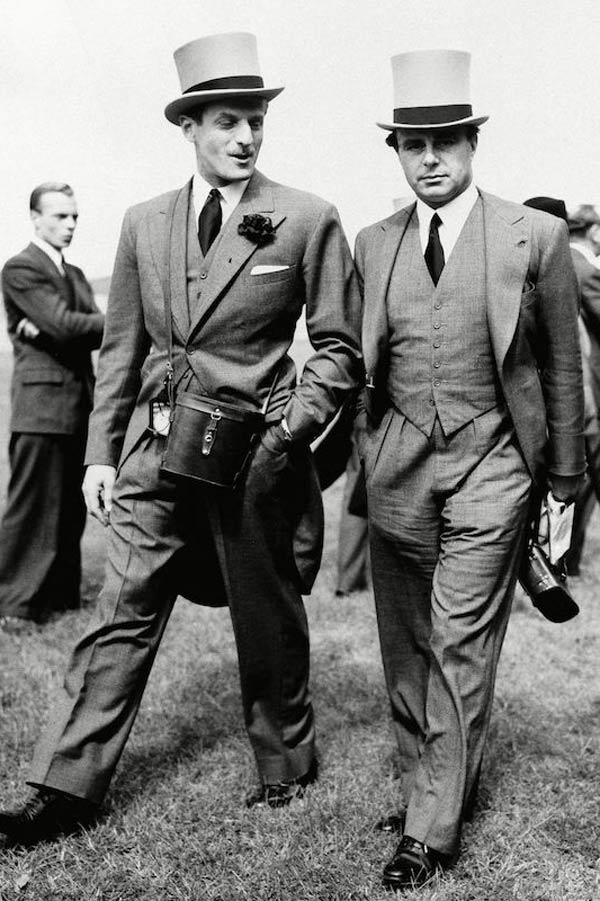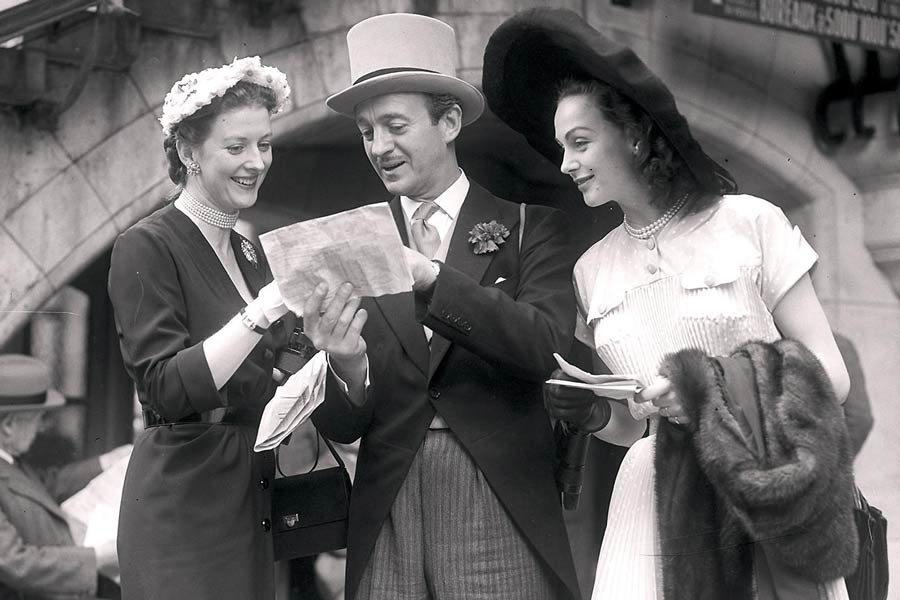 After some expensive Champagne and even more expensive bets, I began to take in my surroundings and became aware that access to the Royal Enclosure was merely an entry-ticket to a whole myriad of exclusive clubs, tents and private boxes. I also began to notice some better tailoring and style. Dressing for the races has a look and if you are attending Ascot or Epsom, here are my tips:
1. White starched collars look best but a collar-attached shirt in French blue or pink is quite acceptable. A pattern, such as a bold stripe, is not out of place but avoid plain white.
2. Collars should be cutaway and the tie should be knotted in a tight four-in-hand.
3. A pearl or jewelled stick-pin should sit just beneath the dimple. Do not wear a tie-slide.
4. A fine woven silk in shepherd's check or a Hermes printed silk tie is a better choice than a solid-coloured satin.
5. Double-breasted waistcoats, matching or contrasting, are better than single-breasted. Please fasten all the buttons.
6. Contrasting vests should be in wool (plain weave or flannel) or heavy linen. Buff captures the right degree of formality but consider ecru, cream, sky blue and lavender. Avoid grey. A matching black vest can be quite striking.
7. Wear braces.
8. Slips on your vest can be very elegant when worn with a starched collar shirt and a perfectly polished outfit. I prefer them on matching black vests or as part of a suit in grey.
9. Grey morning suits are ideal for days at the races. A good mid-grey birdseye or sharkskin weave. I really like a small outside ticket pocket on grey morning suits. Positioned on the horizontal waist seam they are a subtle, dandyish touch and were briefly fashionable in the 1950s. Turn-back cuffs are stylish but are trumped by formed-cuffs in the elegance stakes.
10. Wider lapels are more stylish and practical. They need to hold a flower and your paddock pass. A well-proportioned notch lapel is a correct alternative to the ubiquitous peak.
11. Wear a pocket handkerchief that complements your tie and buttonhole.
12. The single blue cornflower is the bloom of choice but something miniature is preferable to anything with excessive greenery.
13. The vintage black silk top hat is a beautiful thing. You can wear a black hat with a grey suit. And vice-versa.
14. Wearing Gucci loafers is a thing. My choice is for a highly polished Chelsea or jodhpur boot. Plain toe-cap oxfords are improved with a single row of brogueing. They are improved further with grey suede on the facing.
15. Patent leather shoes are not acceptable.
16. Socks are plain and long. Black is a missed opportunity.
17. Up your trouser game. The charcoal striped style is the norm but a shepherd's check or houndstooth pattern is spot on for the races. A bold glen check is particularly rakish, especially when finished with a deep turn-up.
18. Most sunglasses look incongruous with morning dress. A simple wayfarer or aviator style is a good place to start but choose wisely.
Of course, your antique top hat and bespoke
Cleverleys
are wasted if you choose to greet your friends across a crowded bar by shouting "Giles you tosser".