Birds of a Feather
Royal patronage, glorious countryside, tweed up to the gills… since the 16th century the sport of shooting has been the preserve of British aristocracy. Originally published in Issue 59 of The Rake, Sophia Money-Coutts writes that should you receive an invite to spend the weekend on a venerable estate, you can turn to The Rake to help blend in.
When you think of the aristocracy, what sports spring to mind? Hunting? Possibly, except that's changed in recent years, since the 2004 ban, and now those on horseback chase a trail laid by quad bikes, which is fairer on the foxes but red-faced sorts splutter that it's less romantic. Polo? Princes William and Harry play, but then so do dodgy oligarchs and gas tycoons. Croquet would have been a good answer, had the Beckhams not instructed the landscape gardener to map out a croquet lawn at their house in Oxfordshire last year. And I wouldn't exactly call charades a sport. So by my reckoning that leaves only one option as the toffs' main hobby: shooting. True, newbies and arrivistes have muscled in on the shooting scene in recent years (more on Richard Caring later.) But if you're a duke, you will almost certainly still own a large and ancient shoot, or even a few of them, sprinkled across the country — pheasants in Devon, partridges in Sussex, a grouse moor in Yorkshire. The oldest driven shoot in the county is at Holkham in north Norfolk, which is owned by an earl, admittedly, not a duke (the Earls of Leicester). But it remains one of Britain's top shoots, which sums up all that keen shots love about the sport: exceptional game birds, sensational countryside carefully tended by watchful gamekeepers, and a cleaving to tradition. Beaters at Holkham still wear bowler hats called the Coke hat, originally commissioned in 1849 and made by Lock's chief hatter, Thomas Bowler, to protect their heads from low-hanging branches and poachers. A quick word for those who aren't sure what things like 'driven shoots' or 'beaters' are, because 'shooting' is an umbrella word and our European friends might assume I'm talking about boars. They're very keen on shooting boars in Germany, for instance, whereas in Britain the main focus is generally on pheasants. And a typical day's pheasant shooting in Britain normally involves 10 or so 'guns' (the participants) standing in a long line outside various coverts as the beaters (those in the coverts) make weird noises and flap their hands to 'drive' the pheasants out. Bang bang. Pheasants fall from the sky. Everyone moves on to the next drive. These are punctuated by elevenses, lunch and tea, before the day ends. An exhausting business. Driven shooting in Britain originated as an aristocratic sport in the 16th century. The birds, which probably arrived here with Roman officers who liked eating them, were originally prized for their meat, and early records of them relate to gargantuan feasts. In 1465, the Archbishop of York outdid himself with an inauguration that featured 200 pheasants (along with 12 porpoises and seals, 104 peacocks, 400 swans, 500 stags, 2,000 geese, 4,000 mallard and teal, and six boars). Henry VIII, another chap who enjoyed a good feast, kept a 'feusant breeder' who, according to records, had begun his career as a French priest.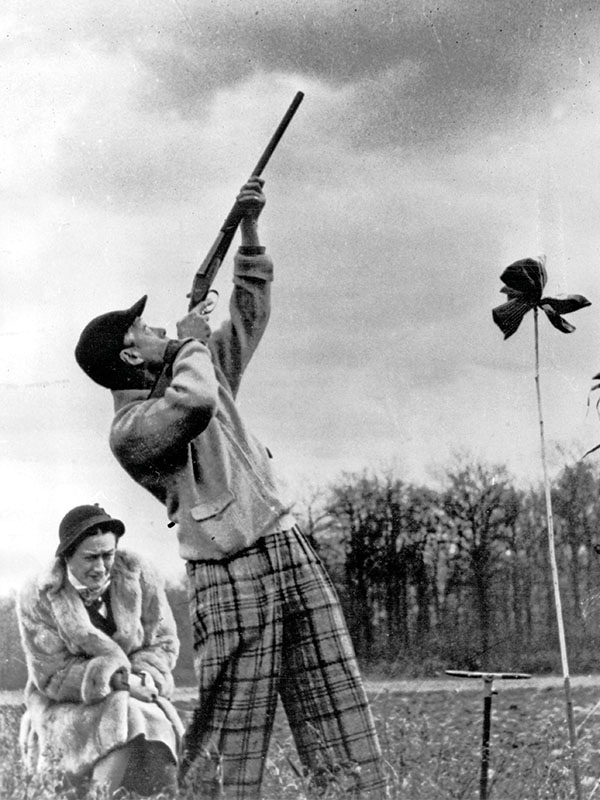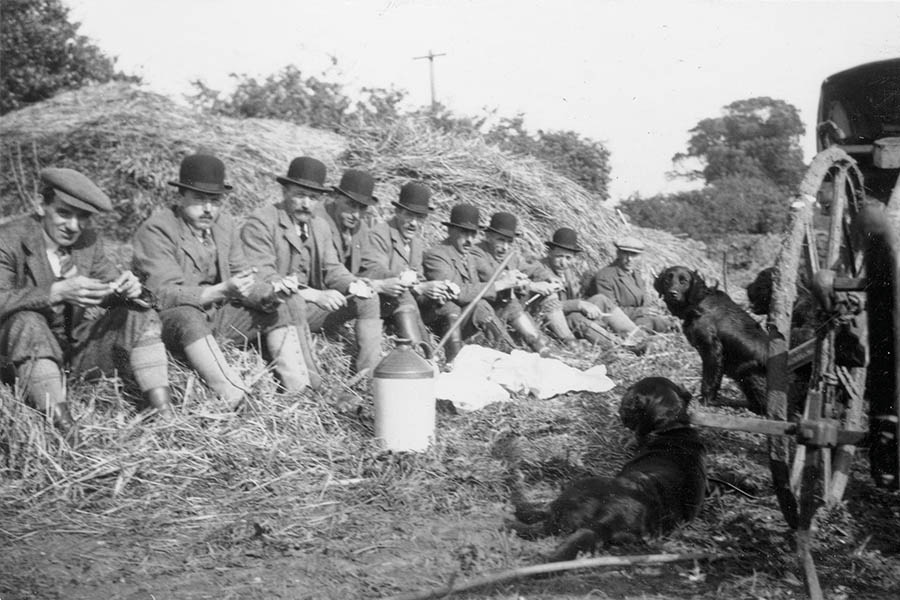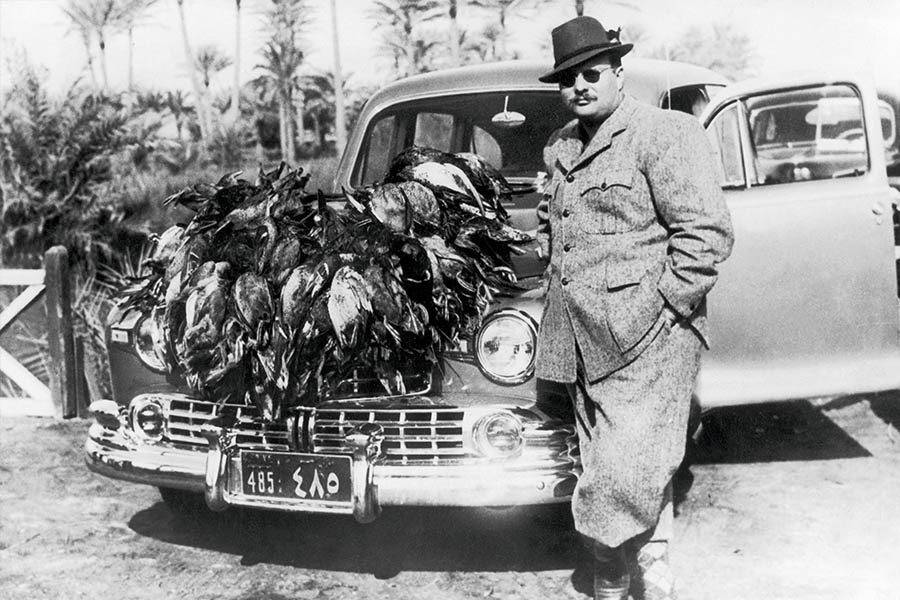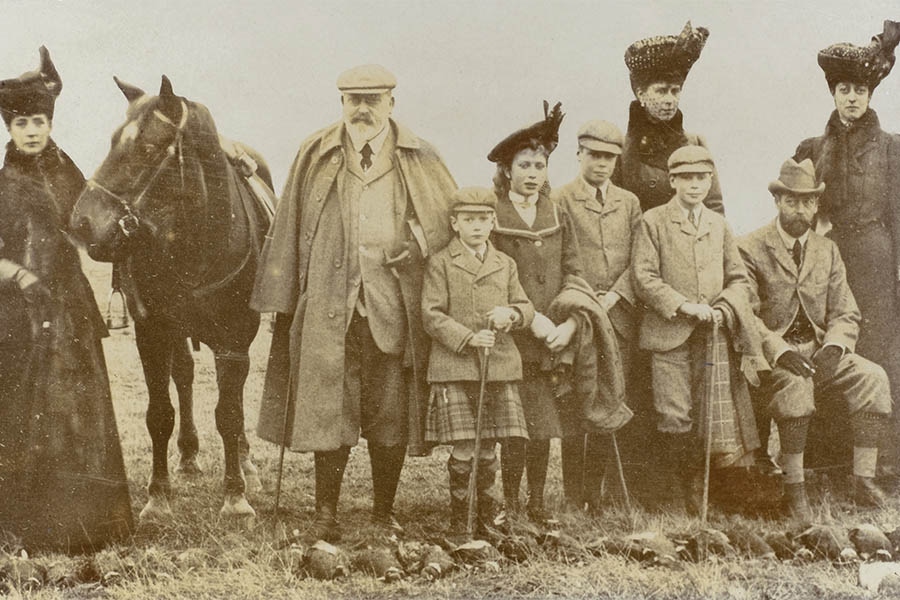 But shooting for the next couple of centuries wasn't en masse — handheld guns appeared in Britain around 1500 but were probably used only to shoot the odd bird down from a tree or from horseback. Driven shooting as we know it today didn't begin until the Victorians came along, when the double-barrelled gun and quick-loading cartridge were invented. Really, though, we pinched this sport from the French, who by this point were already practising battue, where guns hover at a fixed point and birds are coaxed over them. With royal patronage (Bertie, Prince of Wales, later Edward VII, was a big fan), shooting was taken up with enthusiasm by the aristocracy. Although one does wonder about his eyesight. At a shoot in 1891, distracted by two women chatting nearby, Bertie shot his shooting stick to splinters, having mistaken it for a hare. Maybe it was an off day. On another, in Suffolk in 1876, Bertie shot "close on 6,000 head, nearly 4,500 of which were pheasants" with his pal the Maharaja Duleep Singh, who had lost his Punjab throne as a baby and later made his home at a Suffolk estate called Elveden. There, with the blessing of Queen Victoria, the Maharaja retained the rank and precedence of a European prince. He was a keen and crack shot. Alongside his brother Freddy, at home in Suffolk, he once shot 846 partridges before lunch. He also leased Mulgrave Castle in Yorkshire, near Whitby, where he imported an elephant to transport him around when grouse shooting. Legend has it he also trained his elephants to trump in unison at any break in sport, so the staff at the castle knew to put the food on the table. (Later, in 1931, Winston Churchill had to be provided with a donkey to cart him from drive to drive while shooting at Eaton Hall with the Duke of Westminster because he'd been hit by a car in New York.) Little thought was given to animal husbandry in those days, and their idea of a joke seems fairly rum, too. Lord Randolph Churchill, Winston's father, while staying at the Marquess of Londonderry's estate, accidentally shot a fellow guest's pet dachshund at one drive. No matter, thought Randolph, who carted the dead dog to London's finest taxidermist and then presented it to the former owner as a present. But despite these larks, it was the Edwardians who turned the shooting weekend into an art form. When I joined Tatler in 2012, I was told The Shooting Party — the 1985 film starring James Mason, John Gielgud and Edward Fox, set during a shooting weekend on a grand British estate just before world war one — was required viewing, and immediately ordered the DVD. Its atmospheric, sepia-tinted take on the social customs of the time is exquisite — "You weren't shooting like a gentleman!" Sir Ralph Nettleby (Mason) barks at Lord Hartlip (Fox) after he accidentally shoots a beater. Shooting, during these halcyon days for the British aristocracy, was extraordinary. Seven-day shooting parties weren't unusual (partly for practical reason: it took much longer to get to a shoot in Scotland before the invention of the V8 Range Rover). They required multiple outfit changes, and the shoot lunches were an ordeal (for the staff), usually served al fresco on linen and china, with several courses that had to be transported and kept warm, rounded off with cheese. It was this era that also produced Britain's top shot: the 2nd Marquess of Ripon, who supposedly holds the record for the largest bag of birds ever shot — 556,000, including 241,000 pheasants. Who says the aristocracy were idle, eh? These days, while shoots on old, great estates like Holkham and Sandringham are still talked about in awed tones, and an invitation to shoot at an estate such as Alnwick (the Duke of Northumberland's gaff) is much prized, the shooting scene is perhaps fractionally less of a fusty old man's club. Toffs will happily rub up alongside trillionaires or celebrities. Guy Ritchie invites David Beckham to shoot partridge at his Wiltshire estate, Ashcombe House. Richard Caring blasts Ride of the Valkyries from speakers installed on each pontoon of his duck drive. Leon Max, the Russian-born clothing tycoon who bought the 18th century Hawksmoor house Easton Neston from Lord Hesketh in 2005, invites chic sorts — earls, models, actresses — for comfortable shooting weekends where the food is excellent and the house never cold or short of hot water.
Some shoot lunches remain impressively Edwardian. At Goodwood, the Duke of Richmond's estate in Sussex, lunch is served in a single-room pedimented folly called Carne's Seat, perched high on the South Downs with a view, on a good day, of the Isle of Wight. Caring has a teppanyaki grill that doles out jumbo prawns. Of course, some guns may sniff and say all you need is a flask of soup on the bonnet of an old Land Rover. Each to their own. Elevenses also remains a key tradition. You break around 11 and generally eat and drink any of the following from an old Defender: sausages, sloe gin, pork pies, bullshot, fruitcake, Bloody Marys, cheese straws, and perhaps a Sloegasm — sloe gin mixed with champagne. "Eating elevenses is the quickest way to put on a stone," sniffs a Sloaney friend of mine, a shooting WAG whose husband will be found in tweed on most Saturdays between October and the end of January. At a shoot in Norfolk I went to a couple of years ago, several top executives from American Express were present, having flown over for the weekend. They couldn't get the hang of elevenses at all, referring to it as 'elevenseeeees' and cackling with laughter every time. An Indian friend of mine who moved to London some years ago and took up shooting with great enthusiasm has a tip for anyone new to the scene and who wants to blend in. "Very early on in the day," Sam says, "loudly proclaim that you are hopeless and only here to learn and improve since you are serious about the sport long term but very concerned about your ability to make the grade." Sartorially, you need to be careful, too, as a newbie. You don't want to swagger into the field dressed like a gun-toting Sherlock Holmes, but you don't want to let the side down, either. A good jacket will go a long way. Edward Fox sported a Norfolk jacket in The Shooting Party, a curious design making an unexpected return thanks to the likes of Huntsman and the Countess of Lucan's clothing brand, Lucan. It is belted at the waist and detailed with bellows pockets (for cartridges, hand warmers and any variety of combustible tobacco products) and contrast shoulder pouches. Breeks, or plus fours — essentially tweed knickerbockers — are another key piece. Peter Sant, the man to see at Farlows, and a tweed obsessive, says punters have recently favoured Meindl ankle boots over wellingtons, as they're more comfortable for romping about in over shooting socks and garters. Sant has revived Farlows' 178-year-old tweed line since joining them from Purdey four years ago, and he has a tip for newcomers: never wear more than two matching tweeds in one outfit. "Never breeks, vest and hat, or breeks, coat and hat; only two," he says sternly. Meanwhile, Lady Missy Percy, the daughter of the Duke of Northumberland and a keen and terrifying shot herself, has recently launched her own shooting clothing line for women, Mistamina. A shooting faux-pas for women on the field? "Tweed miniskirts," says Missy. And for the boys? "Wearing baseball hats."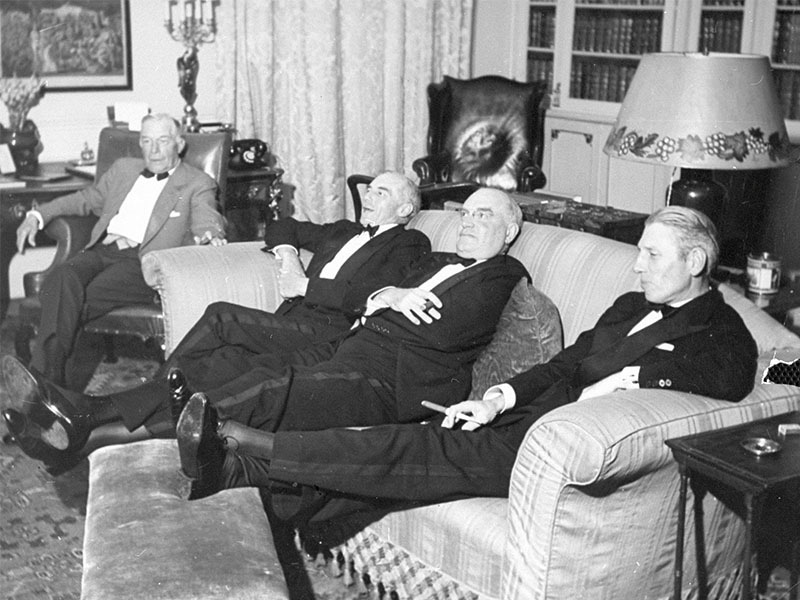 On top of all that, you may have to pack black tie if you're staying for the Saturday night. At a shooting weekend in Scotland some years ago, the women had to wear dresses 'of knee length or more' (where are those suffragettes when you need them?). Alternatively, the Saturday night may involve fancy dress. Join in. Don't be dull. Not joining in is still considered a serious crime in certain parts of the country. At another shooting weekend I went to a couple of years ago, in Wiltshire, the theme was 'game', so at 7pm sharp various guests dressed as a grouse, Luigi from Super Mario, and a giant Rubik's cube gathered in the sitting room for drinks and pheasant goujons. That wasn't a particularly grand shoot, as it happens. Just a friend's low-key day at the end of the season. Because it's slightly unfair to concentrate solely on the biggest and grandest shoots. Although the shooting field is unquestionably still peppered with an alarmingly high number of dukes and marquesses, these days shooting is a fraction more egalitarian than the Edwardians would have had it. There are big, expensive days that cost each gun thousands of pounds in terms of peg, kit, birds and tips, but also an increasing number of less flashy syndicates for those who don't have the cash to splash on, say, a new Purdey. And the popularity of shooting shows no sign of waning, even though hunting has been banned and some worry that animal rights activists have their eye on shooting, and especially grouse shooting, next. Defenders of the sport point out that it's vital to the British economy, with nearly five million acres of the U.K. managed for shooting in an industry estimated to be worth £2bn and provide more than 70,000 full-time jobs . I tried to ask several people in the industry whether the appalling practice of shoots burying dead birds at the end of the day still goes on, but was met with silence. Though it has to be said that efforts to make the sport more sustainable are happening: this spring, the British Game Alliance was set up with the purpose of creating a more efficient channel to funnel shot birds into supermarkets as ready meals. Pheasant masala, anyone? It's safe to say shooting will remain with us for a while, especially because it enjoys the patronage of so many powerful poshos and the royal family. Some years ago, while walking around Sandringham (as a paying punter, not as a guest, alas), I spotted an embroidered cushion on a sofa in the drawing room. It read, "Good shots never grow old, they just pick up less birds". I sniggered to myself, and a watchful attendant heard. "Prince Harry gave that to the Duke of Edinburgh for Christmas one year," he told me. Plus ça change. This article was originally published in Issue 59 of The Rake.