Sciamat: Shouldering The Weight of Creativity
Translated from the original Persian, Sciamát means 'the king is dead', which gives you an idea of how brothers Valentino and Nicola Ricci have revolutionised men's sartorialism with their original creative expression and uniqueness of vision.
Kris Van Assche
, the creative director of Dior Homme, was recently quoted as saying: "The suit has become [such] a place of intense creativity now that it's divested itself of its heaviness and conformity." Similarly, it was the intense search for new creative expression, combined with a pared-back simplicity in execution and a divestment from heaviness and conformity, that motivated brothers Valentino and Nicola Ricci in 2002 to create Sciamat, what may well be the most original new voice in the men's sartorial lexicon since Attolini and
Scholte
ripped the padding out of suits. To begin with, the name of their brand is a provocation. Translated from the Persian word 'sha-mat', it means 'the king is dead', which, Valentino says with a broad and charismatically devious grin, "alludes to our revolutionary vein". In a conversation I had with Samuel L. Jackson, he explained that, "When Quentin [Tarantino] and I were filming
Pulp Fiction
, we thought we were making it for ourselves and the people we knew. We didn't realise it would be a global phenomenon." Similarly, rap billionaire Dr. Dre has said that during the formation of the seminal gangsta-rap group N.W.A, "We were making the music for ourselves. We had no idea it would cross over like that." What the world rewards — as evinced by the reaction to iconoclastic voices like those of e.e. cummings or Joey Ramone — is originality and uniqueness of vision. And while you could make the argument that the fundamental blueprint of men's classic style has remained unchanged beyond the cyclical pattern of growing and shrinking proportions, Sciamat manages to be completely different while adhering to the perennial craft-based roots of tailoring.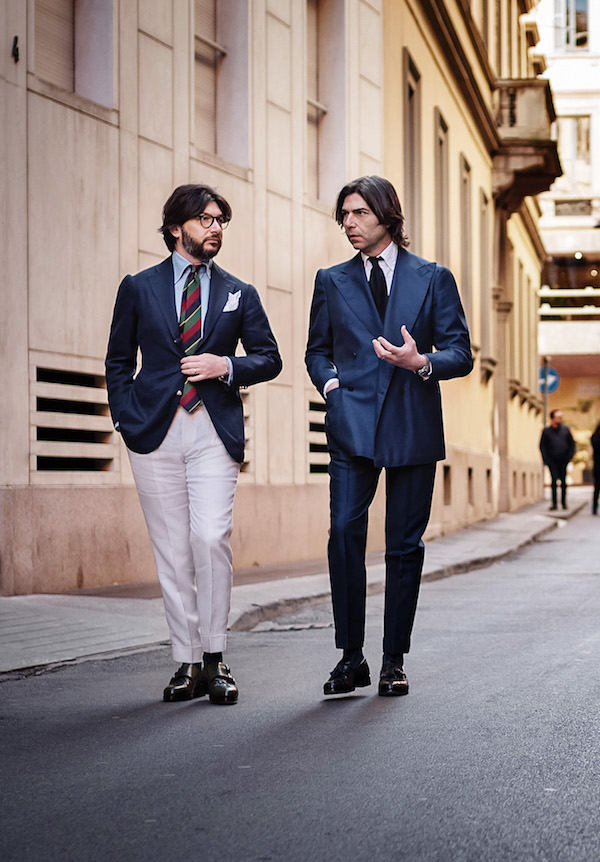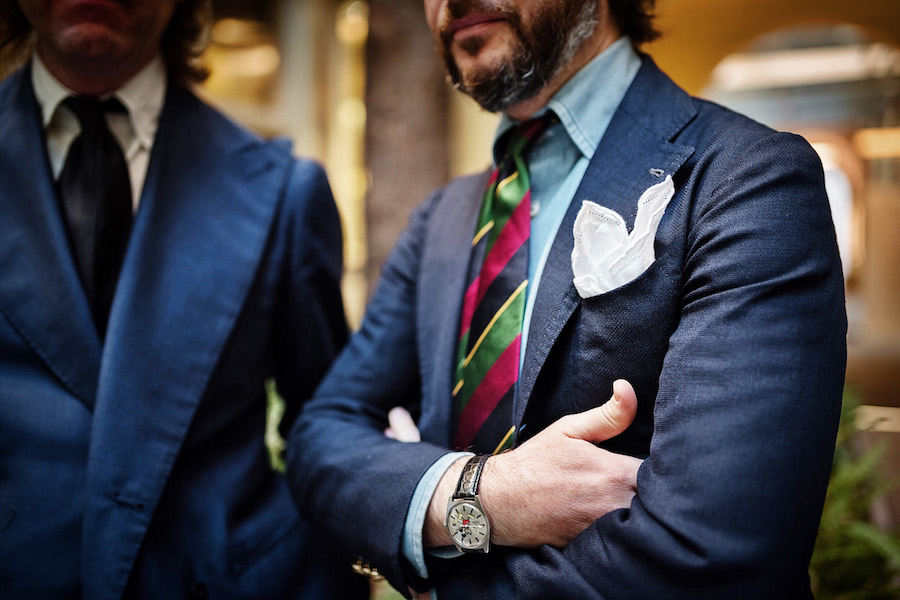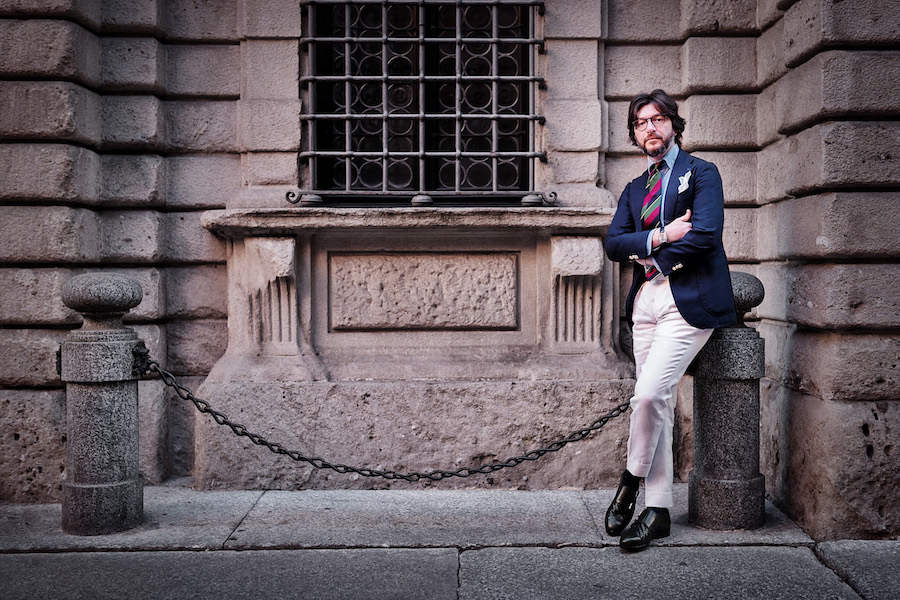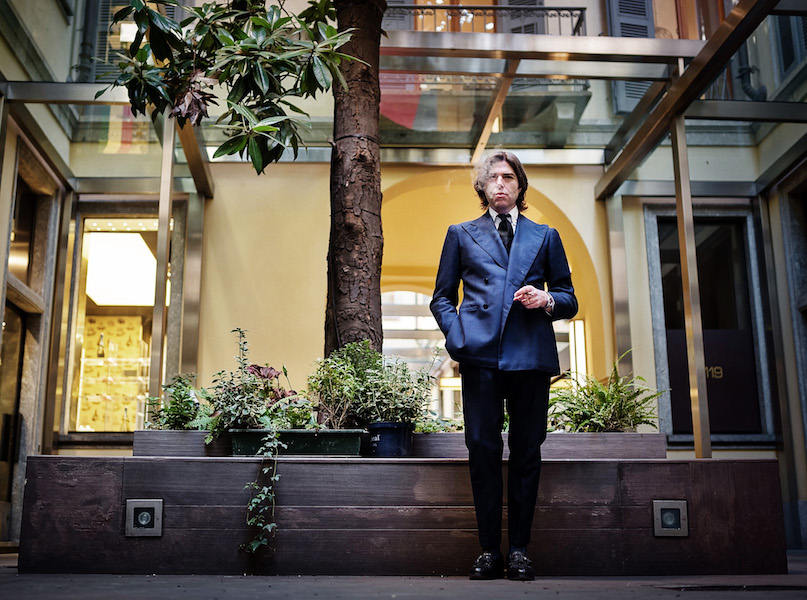 Karl E. Guerre, the street-style star, in-demand lensman, and some-time face of Sciamát says: "The first time you set eyes on a Sciamát jacket is like the first time you hear
jazz
: you recognise the classic notes, but the arrangement is born out of pure original thought, and it is this originality that is so powerfully seductive." If what Karl Lagerfeld said about the legendary
Cifonelli
shoulder is true, that he could recognise it at a hundred yards, then you can recognise a Sciamat shoulder from a thousand. It is unique in tailoring, and while some have described it as a version of the Neapolitan spalla insellata, or saddle-shaped shoulder, it is not. It does not have the same concave lines as the saddle or pagoda shoulder. Instead, it features a natural sloping shoulder that suddenly and spectacularly explodes into a glorious priapic sleevehead, which derives its shape from the filling-in then hand-shaping of fabric into a small armhole to create an effect that rivals both Hagia Sophia's cupola and a 19-year-old Elle Macpherson's décolletage for its concupiscent, aroused appearance. If you can call a roped shoulder heroic, these are super-heroic, though unlike the former the Sciamat shoulder has absolutely no rope or much padding, for that matter. It is formed by heating, stretching and shaping the fabric alone. A second shoulder Sciamat has also become known for is a sort of spalla camicia, or shirt-sleeve shoulder on steroids, which is to say that it integrates an even greater multitude of subtle folds and pleats into the sleevehead. Valentino Ricci says: "Both styles mean that we are hand-fitting the largest sleevehead possible into the smallest armholes to create the maximum freedom of movement. But the important thing is to understand that these are functional innovations that are simultaneously aesthetic signatures for us." Nicola adds: "Tailoring today needs to transform and recognise that men want liberation. They want freedom of movement and clothes that are light on the body. They want beauty without restriction. That's why there is almost no canvas and padding in any of our clothing, from jackets to even overcoats."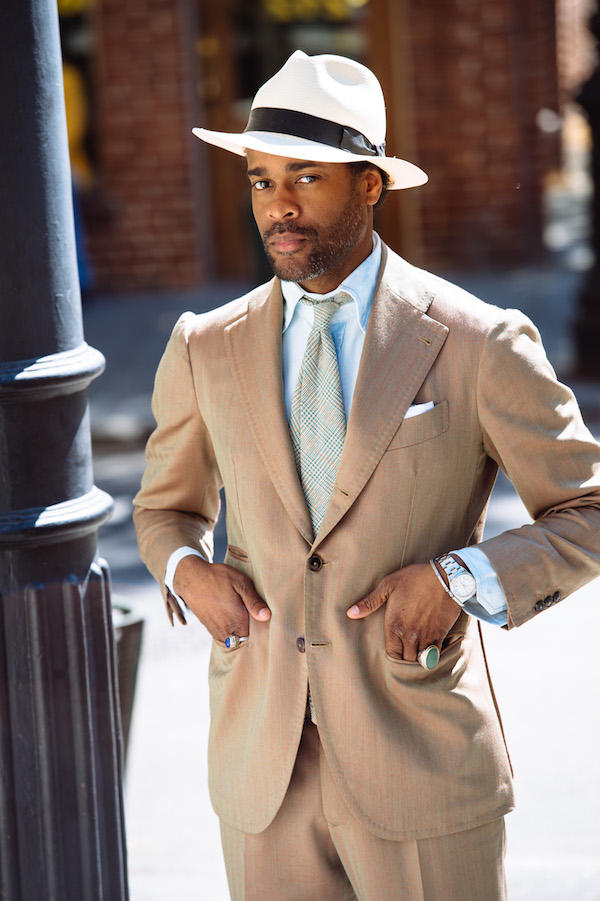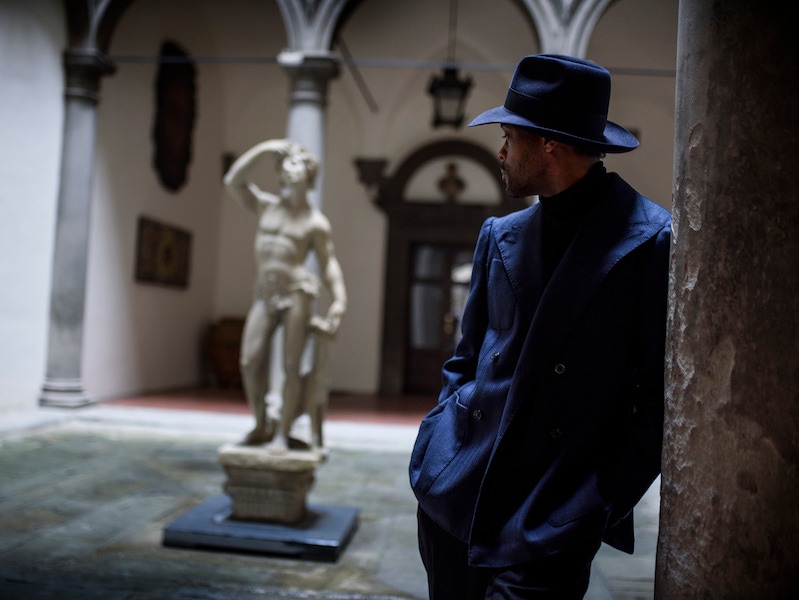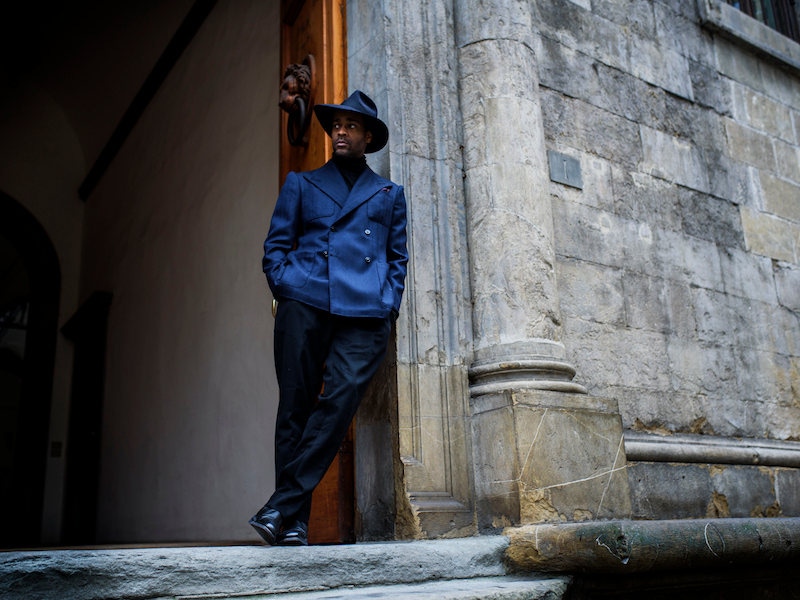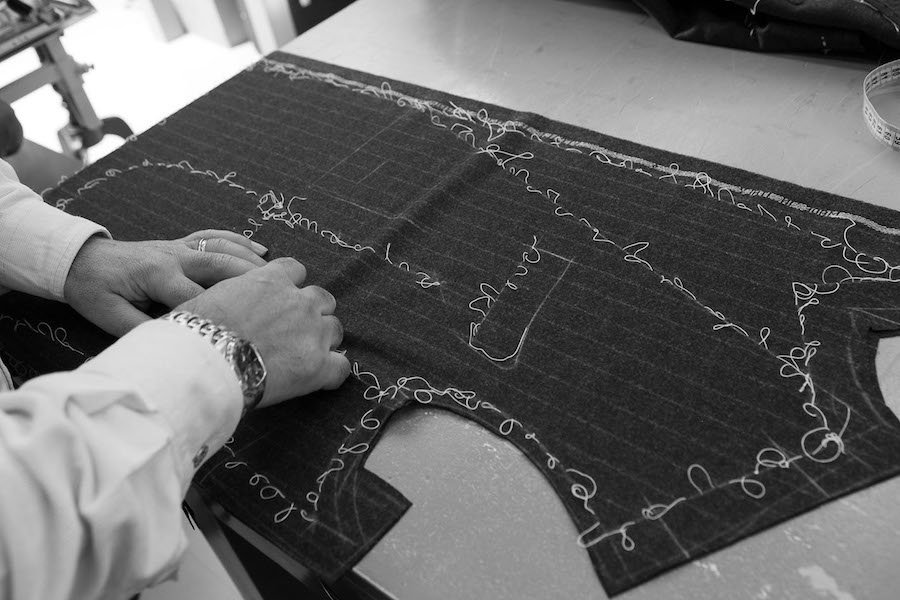 This particular construction technique, which uses elements of Neapolitan tailoring and the
British drape
, and then takes them a great evolutionary leap forward to remove all structural elements, makes Sciamát one of the most relevant tailoring brands of today. If we recognise that the urban reality, the need to transition between destinations at speed, has made lightness, comfort and adaptability as important as style, then Sciamat's soft flowing jackets are possibly the most perfectly attuned garments to this new mindset. Putting on a Sciamat jacket is like wrapping yourself in a cashmere security blanket. It is both ethereal in its lightness and nurturing in its comfort. Pair this unrivalled comfort with the Sciamat aesthetic code — which concerns itself with large forties-style lapels (Valentino is a big fan of
Gianni Agnelli
's Caraceni suits and unique details such as their signature double breast pocket, another highly pragmatic twist) — and you start to see the creativity underpinning the brand. These codes all grew out of Valentino's and Nicola's fascination with clothing. "I love style," Valentino says. "It is the perfect expression of who you are, of your intellect, of your passion, and of your originality." Amusingly, Valentino was a lawyer in his home town of Bitonto, in the Apulia region of Italy, before becoming a tailor. Nicola explains: "We were always crazy about clothes. And we always had our own style. So we would go to tailors and ask, 'Can you do this with the lapel or this with the shoulder?' They would say, 'No, that's not how it's done. We can't do that.' So finally we found one tailor named Filippo Tatulli, who studied under the great master Trovato, who would do what we asked. Valentino would work with him on all the details, on the removing of all the structure, and I think it was through this process he became fascinated with tailoring." Valentino says: "It was amazing to see how a piece of two-dimensional fabric is transformed into a three-dimensional sculpture. Sadly, our tailor passed away. And because there was really no one else who could do what we wanted, I decided to become a tailor, to fulfil the demands of our friends who wanted to wear what we were creating." Says Nicola: "What is considered our signature style is the collective intellectual and emotional momentum of our thoughts since we were young men." Valentino adds: "It was never our intention to create a new fashion but to make clothes as a natural reflection of our creativity. Every man needs to follow his own star in life, in love and in clothing." Wise words indeed.