In A Spin Over Z Zegna
Machine-washable suiting is no longer an oxymoron or a sacrilegious offence to luxury craftsmanship. In fact, Z Zegna's Techmerino Wash & Go range is so innovative, it could revolutionise tailoring.
It is galling, most readers will agree, to take a much cherished suit to a high-street dry cleaning outlet and hand over hard currency to have its fabric's natural oils ravaged by perchloroethylene: equivalent, no less, to paying a DNA-cloned, pre-opposable-thumbs Homo erectus equipped with sharpened stick to service a mechanical timepiece inherited from a beloved relative. It's also a nuisance that a common ritual, on arriving at a hotel, has become hanging whatever suits you've bought with you close to a steaming hot shower to remove all the suitcase-inflicted wrinkles. So the world of menswear emitted a collective cheer of relief and joy when Z Zegna announced the imminent release of its Techmerino Wash & Go collection, a selection of garments that are available at therake.com. For those late to the party, we're talking here about machine washable — yes,
machine washable
— suits that won't require ironing once they've dried. The destructiveness of dry cleaning and the laboriousness of pressing made redundant in one stroke of ingenuity. And not only are these garments impervious to wool fibre's usual molecular mischief and the detrimental effects of machine washing, they come with the elegant drape, eye-catching silhouette and material tactility, and unparalleled stylishness, functionality, practicality, versatility and elegance we've come to expect from the Trivero-based house.
The story of how this game-changing innovation came about begins before Zegna's Artistic Director, Alessandro Sartori, returned to the family-run luxury giant in early 2016, following his spell at Berluti. "When I re-joined the company there was this beautiful project underway called Techmerino," he tells
The Rake
. "It's activewear but with a tailoring influence. Talking to the technicians, the people working around the product, we immediately felt there was such a big possibility to apply it to a much broader lifestyle. That's why we decided to expand the concept. We noticed that these qualities could be so disruptive in the whole pure-wool world — a place in which you must take so much care over how you wash garments, how you sew them." To say Sartori was excited by this prospect is an understatement: he sensed, in a manner that very few would, that he was not just on the cusp of an impressive sartorial innovation but looking at the chance to take tailoring itself along a different tangent. "I've always had a huge love of tailoring that takes on new, modern and fresh directions," he explains. "One example of this is taking tailoring fabrics into the sportswear, or sports-inspired, model; another is the opposite of that — taking ideas that have come in from the worlds of sportswear and casualwear into the realm of tailoring. It's about creating new combinations, new styling compositions, and a lot of new possibilities."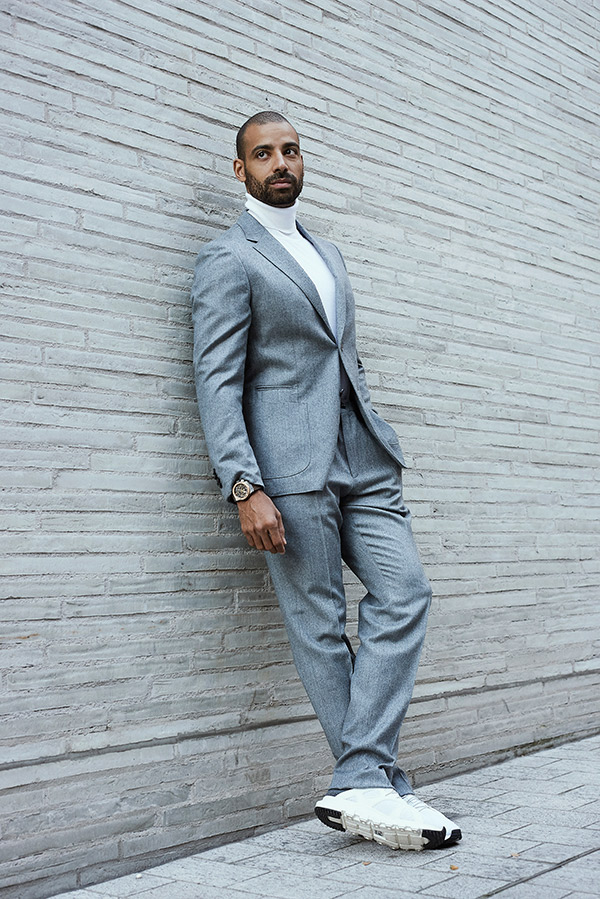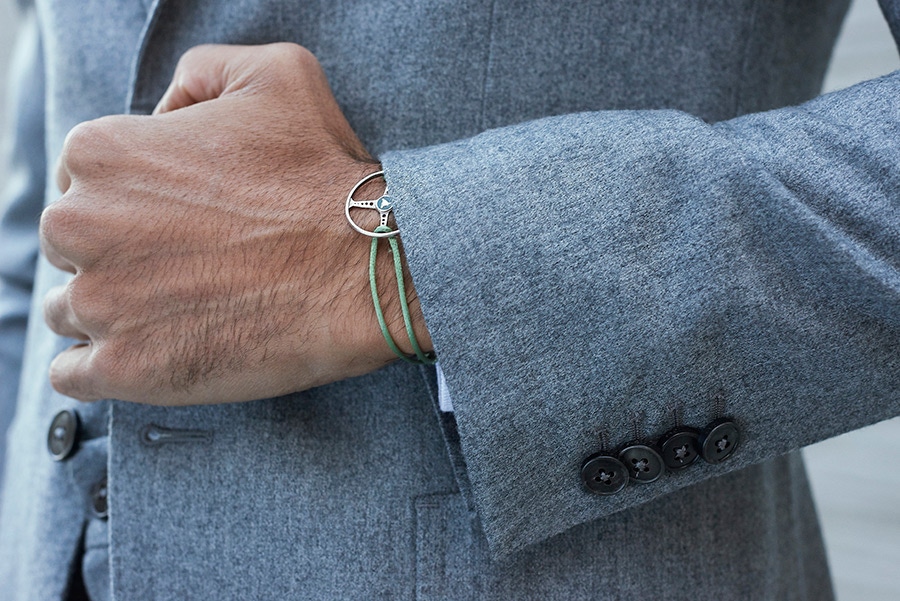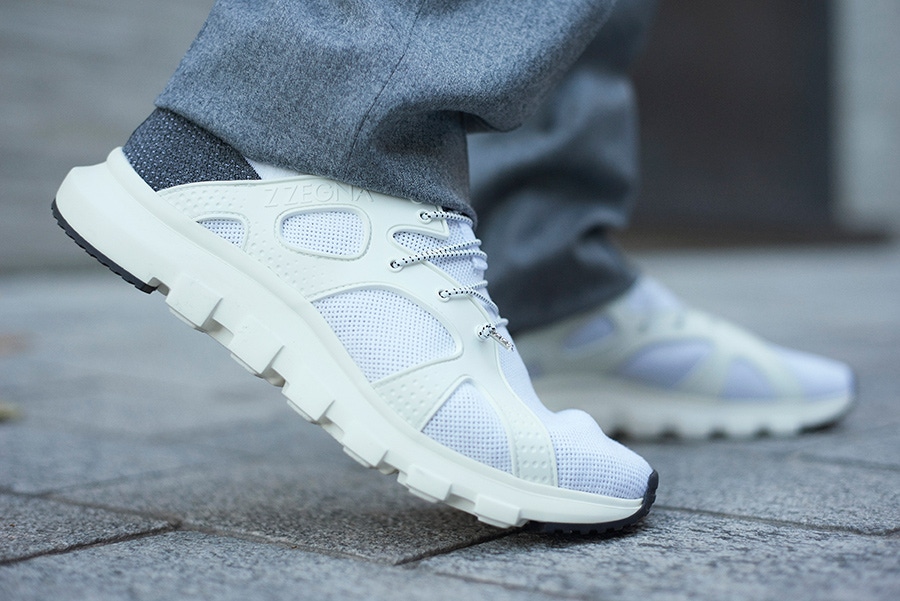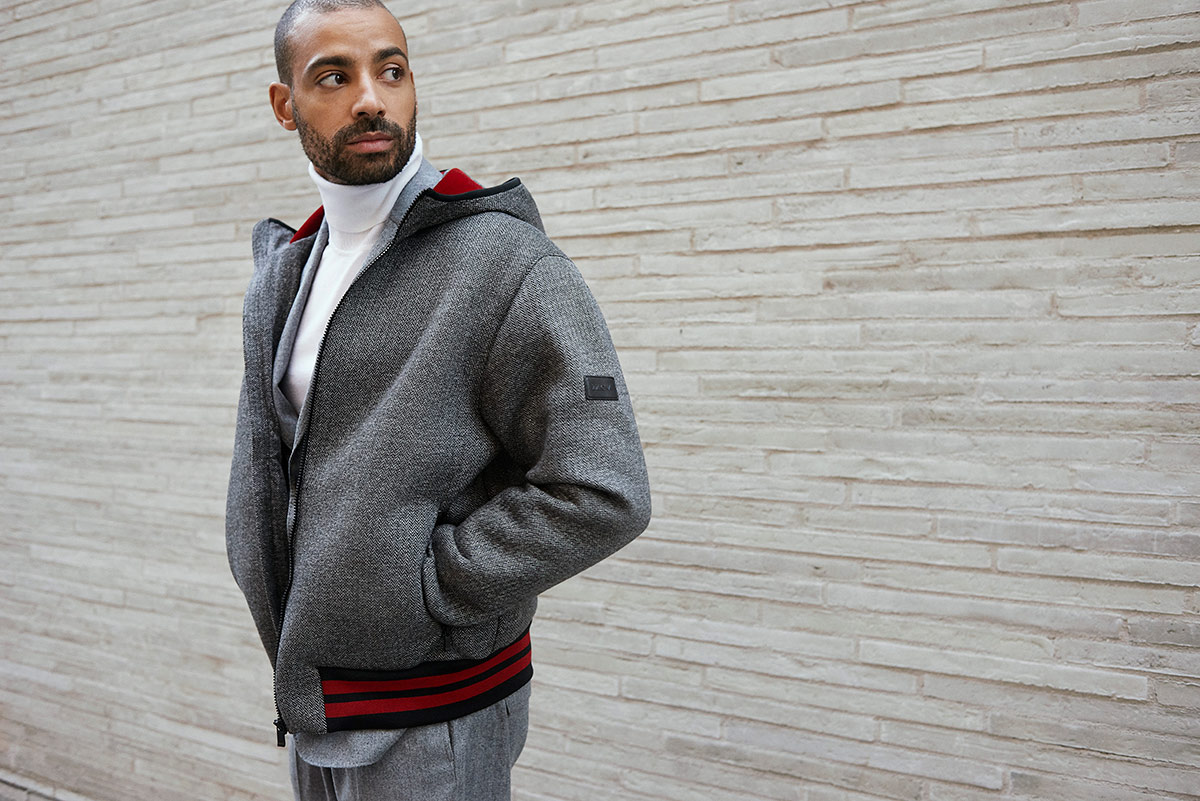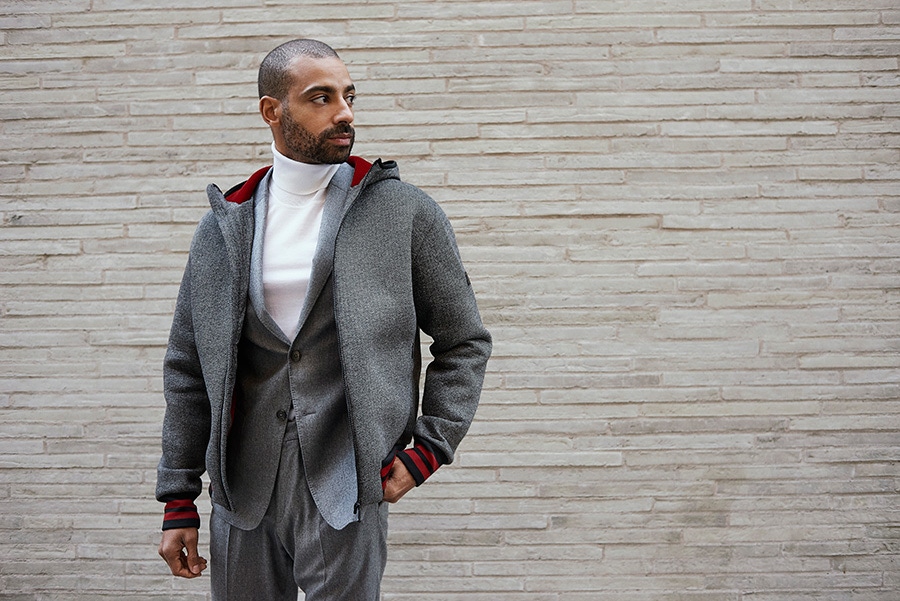 The appeal of Z Zegna's Techmerino fabrics, according to Sartori, is of a cake-and-eat-it nature. "The fibres have all the qualities of wool — perfect for various climates, very good to touch, super-interesting even in outerwear because they're breathable, very, very reactive because the shape comes back, and when you're touching it or folding it or fitting it, the fibre, the material, reacts very well, because it's a natural one. At the same time, it has all the positive properties of a treated technical fabric such as a beautiful nylon, because it can be repellent to water, and so on. So we decided to merge all these interesting properties of Techmerino fibres with those of natural fabrics, and did so with products from outerwear to jerseys to knitwear to tailoring to accessories, and even shoes." Of course, a very salient question here — and the answer is largely under-reported — is how the technology actually works. The answer, says Sartori, is three-fold. "Look at wool fibre through a microscope and you see that it is totally irregular," he says, "and that's the reason why it felts when you wash it. So we worked on the fibres mechanically and made them regular. But this is not the only stage. For Wash & Go, we changed the twisting process for the yarn — there are more twists per metre, making the fabric more crisp and resilient — and we worked a lot on the garments' other ingredients, such as linings, inter-linings, shoulder structures, even the buttons! All of which means you can wash it and don't even need to iron it — it just keeps its original shape. I personally own four garments from the line, and two of them I've washed 10 or 12 times and they're still the same. I've never ironed them." The fact that Zegna came up with this method — and in such a way that warranted certification by the Woolmark Company — is testimony to the fact that this brand's R&D department is as sharp as its suit lines. The next question on the mind of any committed sartorialist is whether suits made from the fabric have the same aesthetic and tactile appeal of traditional fabrics. "Absolutely," says Sartori. "The flannel suits merge the beautiful quality of traditional wool with the 'technicity' of our research. So we now have a full wardrobe of Techmerino Wash & Go products — from shirts to suits, from pants to jackets, from outerwear to jerseys that you can wash, and once they're dry you just need to hang them somewhere without sunlight. This is a perfect example of where modern tailoring might be going — get an idea from sportswear into a new generation of fresher, younger-feeling, more modern tailored products."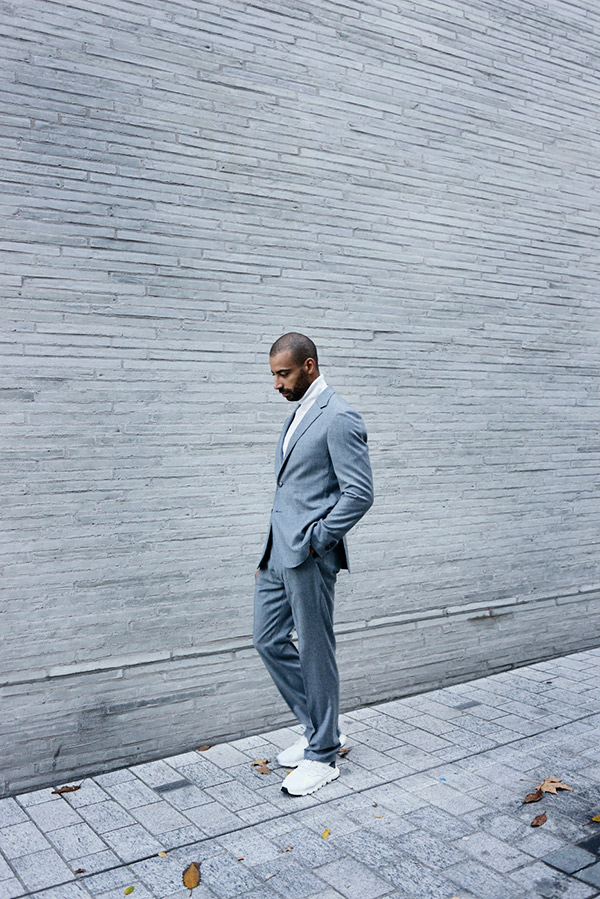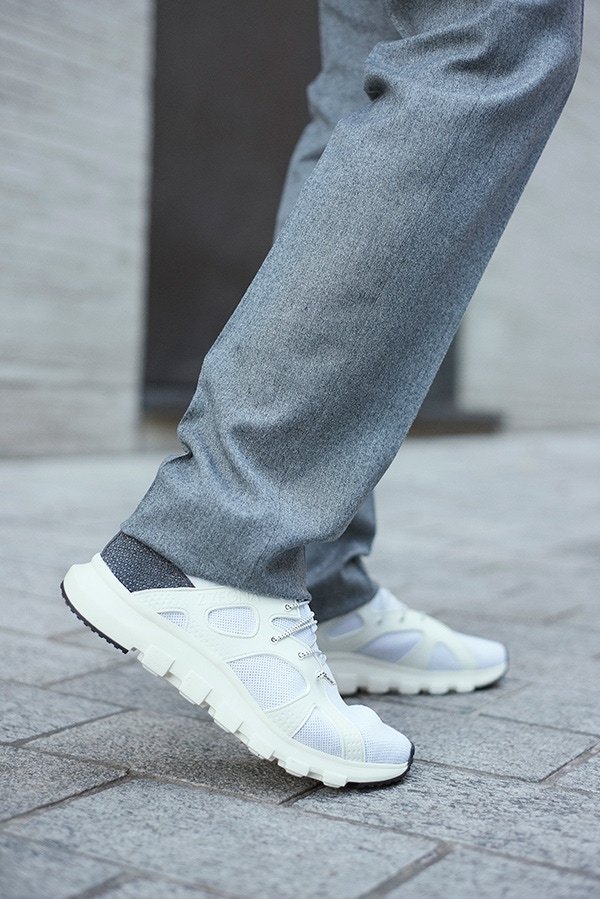 For Sartori, the range is an exceptional fit for The Rake. "We have such a long association with it, and our values are so similar, so much so we decided it would be best to feature our products via the title," he says. Readers of different ilks will find invaluable wardrobe additions in the Techmerino Wash & Go line. In many ways, the flannel suit is 'Square Mile-friendly' — a slim-fitting, soft-shouldered, single-breasted, two-button two-piece, it has an invisible lining to give off an ultra-light feel, and comes with slim-cut flat-front trousers in navy and light blue, yet it has a naturally casual fit and also works beautifully with other accruements, also available at the Rake's online atelier, including a half gilet, trainers and a polo shirt. There's also huge practical appeal: as well as those properties already alluded to, the suit packs superb hygroscopic properties, which makes extreme temperatures less taxing on the body's internal thermostat, and means your skin stays drier on the most muggy of days. The implications of these purchases for the habitual itinerant — whether motivated by business or pleasure — are off-the-charts. Pay strict adherence to the instructions (use the dedicated wash case provided; apply a washing machine setting with 400 turns or fewer, at a temperature of 30°C; drip-dry overnight to ensure adherence to Sartori's 'no sunlight' advice) and this is a life-changing acquisition for a man who's literally going places. Indeed, the suit in question could well have been inspired by North By Northwest, the 1959 Hitchcock thriller in which Cary Grant's character, despite a desperately punishing travel itinerary, always looks tungsten-needle sharp, even when he's being chased down by a crop-duster. But the garments in question here are not just appealing to chronic itinerants. In fact, Sartori and his Zegna colleagues have discovered that the suits and other items described above are appealing to a far broader demographic than the house initially anticipated. "We originally thought the products were more for specific tailoring geeks, for younger people, for people that are travelling a lot — and, of course, it is for these three classes. But we've discovered it's for much more of our customer base," he says. "It just makes for a beautifully tailored suit – in flannel in winter, in poplin in summer."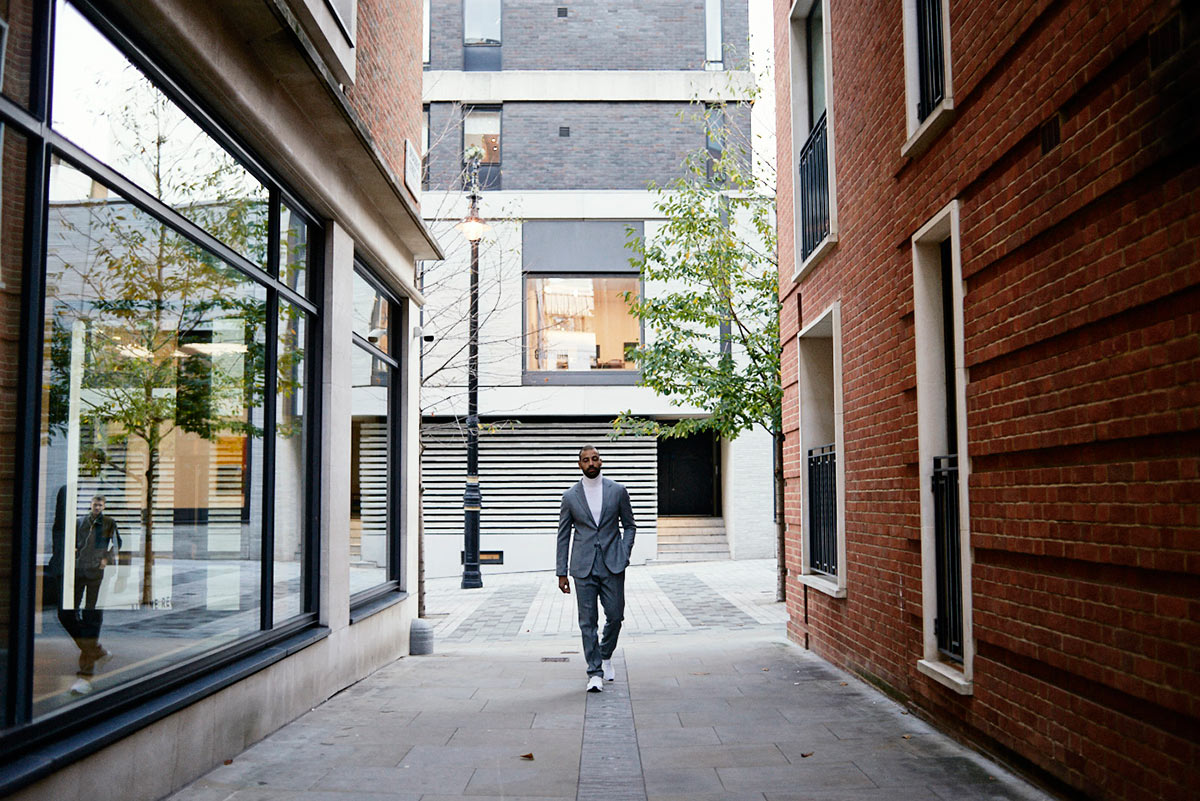 In many ways, these tech-fabric advances are a fitting latest chapter to Zegna's narrative, which is driven by the house's healthy obsession with staying ahead of the game (we're talking, lest we forget, about a fashion brand that expanded into China as early as 1991), and they speak volumes about how the house's full vertical integration helps it to nudge menswear into more exciting pastures. "We often talk about the full chain we deal with at Zegna: from raw material down to the final product in stores," Sartori says. "We're very open about our operations and about supply. I want to extend that concept with the idea of a creative chain that goes from the raw material to the final customer. Zegna is the only company that designs the fibres we're using to make clothes, to have created our own processes with raw materials — including leather in the case of Pelle Tessuta." Gildo Zegna, the company's C.E.O., has remarked upon how much the brand's loyal followers relish being able to open their wardrobes and know exactly from which farm the wool making up their suit was sourced; from what source the energy behind the weaving process was gleaned; from which green valley (close to Zegna's Trivero home) the water came from. (Incidentally, in-the-know customers who value all this pleasing provenance will smile at the thought that Sartori himself grew up in Biella, close to Zegna's mill.) And it's this vertical integration, too, that facilitates the environmental consciousness so high on the brand's agenda. Zegna's sustainability is multifaceted: solar panels and two major hydroelectric power plants provide much of the power used in day-to-day operations; the acquisition of a new 6,300-acre farm in Australia and a 60 per cent share in an Italian textile factory recently added even more resonance to a phrase used in the corridors and crannies of Trivero, as well as Zegna flagships all over the globe: 'Sheep to Shop'. While many brands will resort to environmentally disastrous methods in their desperation to innovate, including the use of synthetic linings, Zegna's owning of their production facility means that their wish to operate sustainably can be a reality rather than a marketing gimmick. "Our Oasi cashmere is deep-dyed with natural organic processes coming from flowers, seeds and leaves, which come from in and around the Oasi Zegna nature park in Piedmont," says Sartori. "Our products are chemical free, which is a fantastic idea. Everyone should have a green mentality. It's the same with our wool farm in New South Wales, where huge attention is paid to the land, to the environment, to the conditions the sheep live in, and so on." Indeed, with Techmerino Wash & Go, Zegna have pulled off another environmental coup: less gentlemen's apparel needing to be dunked into a soup of chemical solvent. Which should really turn up the wattage of your wry smile each time you walk past a dry cleaner's wearing your new machine-washable, crease-free ensemble.
Shop the entire collection now at The Rake.