Style Heroes: James Dean
A figurehead for the disaffected youth of 1950s America, James Dean's style was incredibly simple, yet remains a perpetual benchmark for the art of dressing casually.
Wheeler Ridge, Southern California. It was 3.30pm on September 30th, 1955 and James Dean had just been issued with a speeding ticket. He was carving up the flat, dusty roads just south of Bakersfield and got clocked at 65mph in a 55mph zone. Just over two hours later, he was dead.
Dean was a proficient racing driver, and had taken delivery of his new Porsche 'Little Bastard' 550 Spyder only nine days prior to his fatal crash, but he would never make the Salinas road race he was entered into later that week. Only three films into his career, the premature death of a 24-year-old James Dean would shock the world, and yet ensure his legacy would never fade. As Humphrey Bogart put it, "Dean died at just the right time. He left behind a legend. If he had lived, he'd never have been able to live up to his publicity."
Dean was a prodigious acting talent, yet it's the way he carried himself off screen which set him apart and marked him out as a figurehead for rebellious youth. He didn't abide by Hollywood standards of the time and would live by his own rules. Whilst under contract to Warner Brothers, studio boss Jack L. Warner forbade Dean to pilot his Triumph TR5 Trophy or his Porsche 550 on the road, permitting him only to race within a closed circuit environment. That didn't last long. It was his appearance that rubbed some up the wrong way though. Many of the biggest male movie stars of the '50s - Bogart, Stewart, Cooper, Grant, Gable - came from a generation or two before, and represented 'old Hollywood' in their slick side partings and tailored suits. Yet Dean didn't care for clothes or outward appearance and would reportedly show up to his early castings barefoot with safety pins holding together his torn trousers. Actress Julie Harris recalls another time when she attended a lunch with Dean: "He came without a shirt, dirty from the set, in his old dungarees." His dishevelled appearance combined with his emotionally vulnerable screen performances - such as his portrayal of Jim Stark in Rebel Without a Cause - ushered in a new era of masculinity; one that was less polished and far from overtly macho.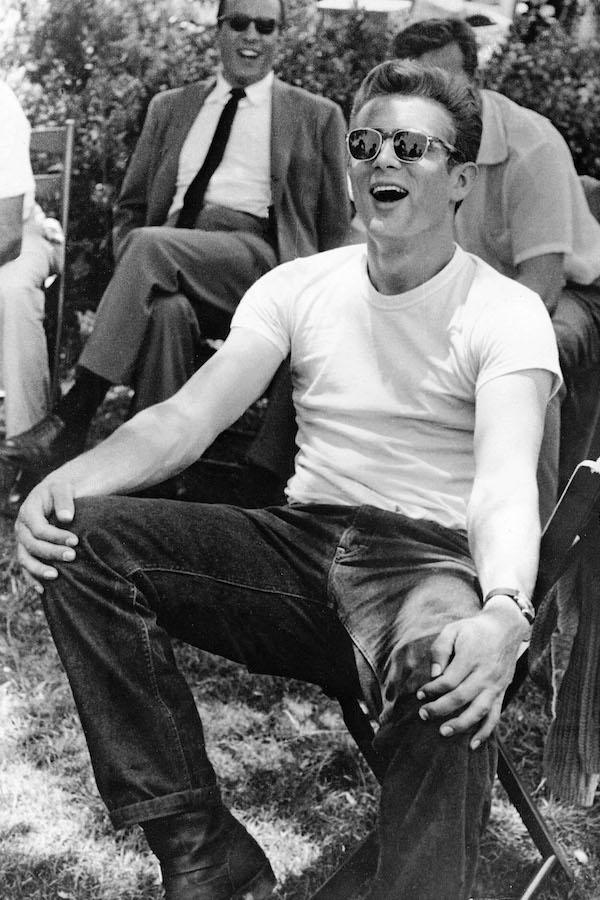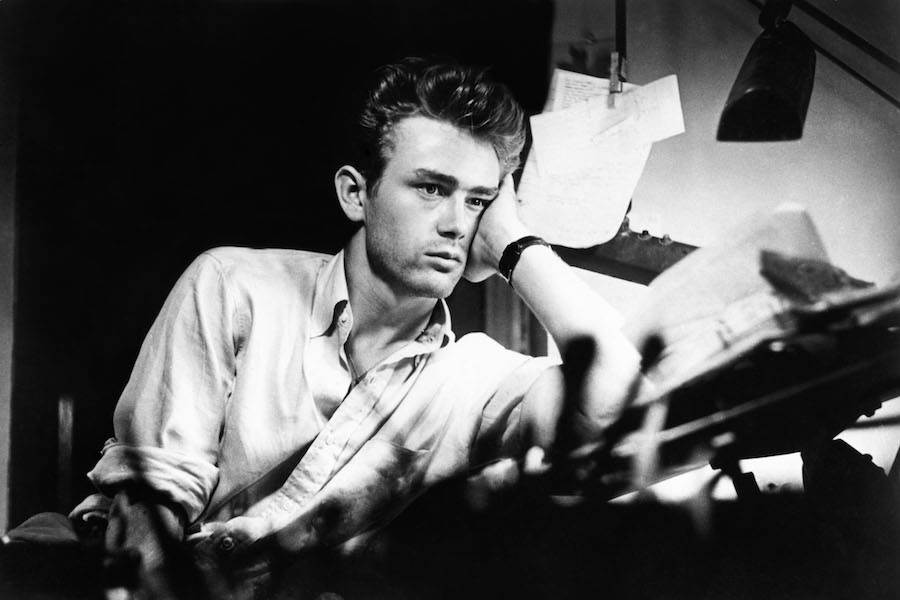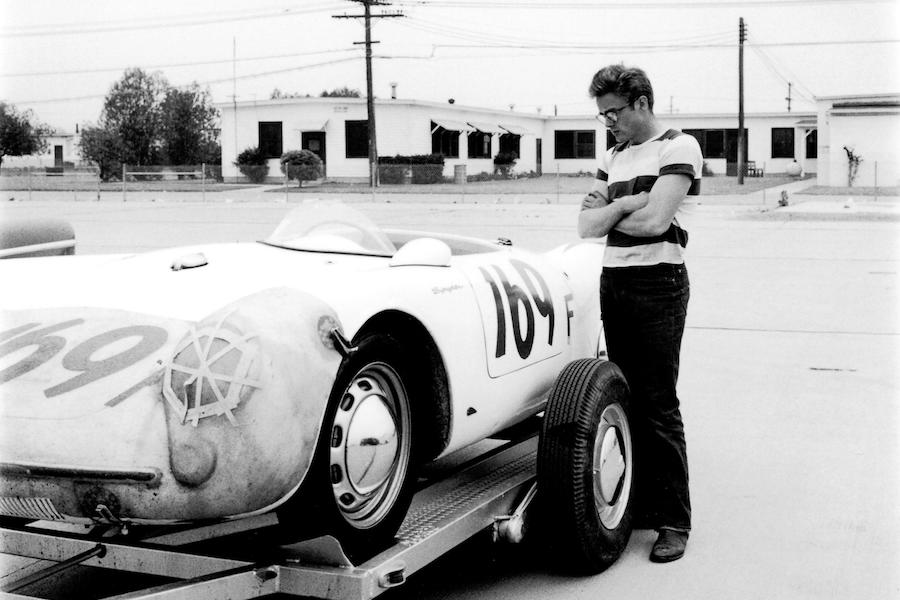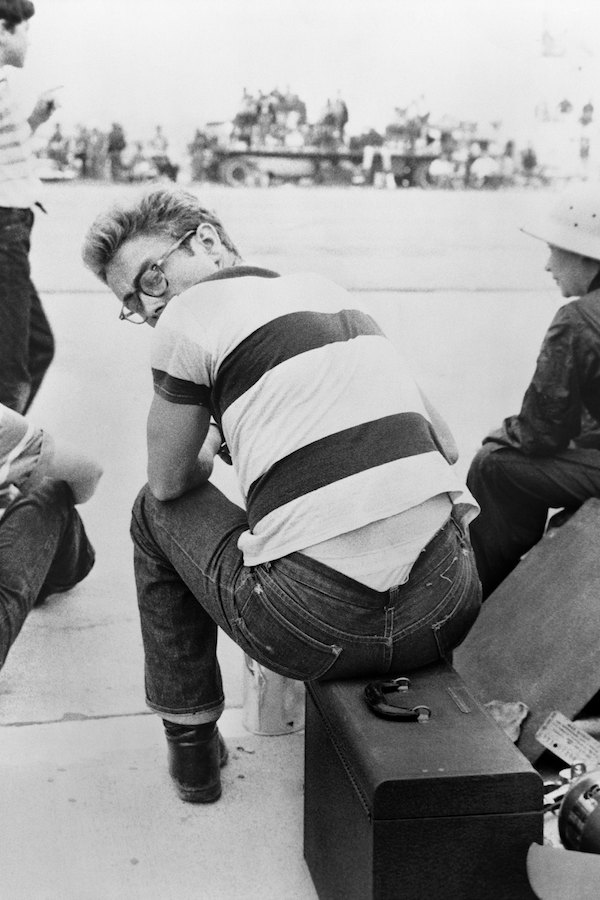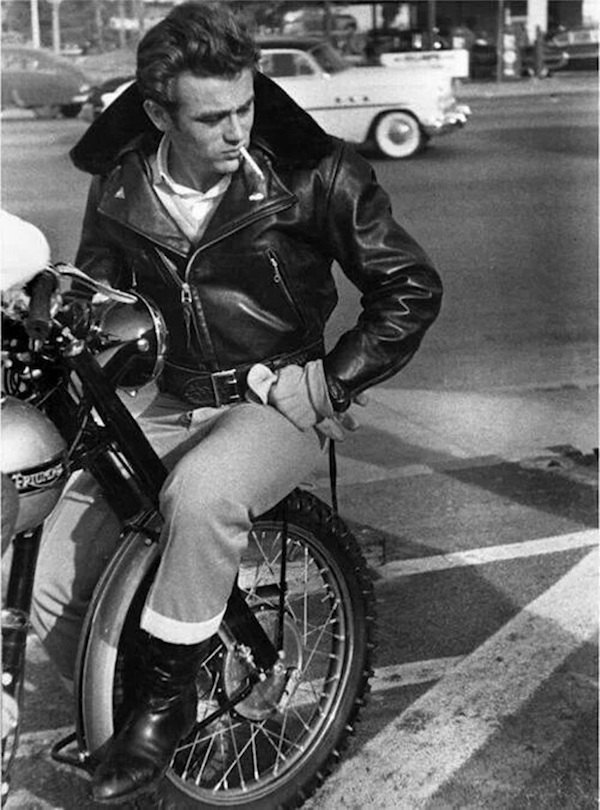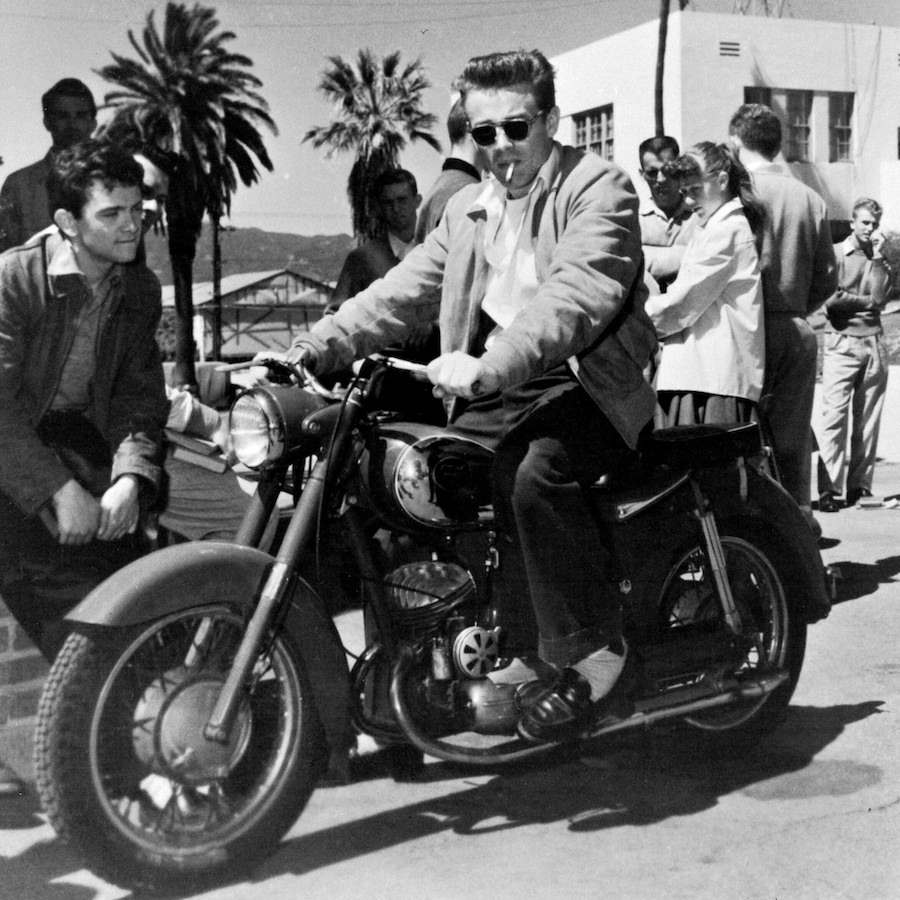 Dean's personal style was inherently casual. He spent much of his youth growing up on his aunt's farm in Indiana, so a penchant for functional clothing - as opposed to the suits of his contemporaries - was perhaps a given. The bright red blouson in Rebel will always be associated with him, but Dean wore a number of other lightweight jackets that were equally cool yet infinitely more wearable. There was the tan suede college jacket he wore in the same film, and his leather biker jacket replete with fur collar, that was clearly inspired by his hero, Marlon Brando. Often worn with Lee 101Z Rider jeans and engineer boots astride his Triumph, this was one of his finest looks and one that helped to popularise the leather jacket as a wardrobe staple in the years to come.
Few have worn the humble T-shirt quite as well as James Dean. Prior to the '50s, the T-shirt was considered an undergarment, only to be worn beneath shirting for comfort and never as outerwear. Brando changed that in 1951's A Streetcar Named Desire, and Dean continued it on and off screen throughout his short career. Often plain white and sometimes striped, Dean likely favoured T-shirts for their ease and simplicity, pairing them with denim, boots or penny loafers, and a cigarette. Always a cigarette. It's hard to quantify today just how radical an outfit like this was for a movie star in the '50s, and the emphasis placed on someone in Dean's position to act and dress in a certain way was significant. Today, an outfit consisting of jeans and a T-shirt is the norm but back then it was considered an act of defiance, especially in high society circles. Dean was briefly engaged to well-to-do Italian actress Pier Angeli, before her mother reportedly called off the wedding because - among other reasons - she didn't approve of Dean's casual attire, which she said wouldn't be acceptable in Italy.
James Dean didn't conform. He didn't wear suits because everyone else did. He didn't bow down to studio bosses. When questioned on his ambiguous sexuality, he refused to be categorised, simply stating that he's "not going to go through life with one hand tied behind (his) back". He was an individual. And there are few things more admirable than that.