The Cutting Edge: Dominic Sebag-Montefiore, Edward Sexton
In this second part of 'The Cutting Edge', The Rake meets Dominic Sebag-Montefiore, Creative Director & Cutter at esteemed Knightsbridge-based bespoke tailors Edward Sexton, a tailor who is as progressive and passionate as he is talented.
When Dominic Sebag-Montefiore began his career as a bespoke tailor, he was, by his own admission, 'a young grumpy man, who found it problematic that everything was mass-produced to the lowest common denominator.' In said grumpy state, moving into the world of bespoke tailoring was more or less a mission statement - a refusal to live life by mass-produced rules. Some 12 years later Dominic's work, informed quite simply by a 'genuine human passion' for what he does, has come to represent the pinnacle of contemporary British bespoke tailoring, placing him at the forefront of that young, talented generation of British bespoke tailors who are coming to the fore. Sensitive and artistic, he combines his talent as a cutter with a shrewd head for business as Creative Director at legendary Knightsbridge tailors Edward Sexton. Dominic has done much to further the position of the house, both creatively and commercially; working alongside Sexton himself to introduce what is arguably the finest made-to-measure tailoring service in the world, allowing greater access to the house's iconic tailoring for those who aren't in a position to pay bespoke prices. He has also worked to create a ready-to-wear accessories collection composed of Sexton staples made to the same exacting standards as the house's bespoke tailoring, and he oversees the firm's website, online store and social media concurrently. No small list of accomplishments. The one thing that might strike you about all these initiatives is how exceptionally forward-thinking they are for a thoroughbred bespoke tailor, although really this should come as no surprise, given that one of Edward Sexton's most compelling idiosyncrasies is the house's dogged progressiveness. From day one, Edward scandalized the thoroughly conservative Savile Row of the '70s with the distinctly avant-garde approach he pioneered at Nutter's of Savile Row (the outré checked tailoring and purple penis shaped candles in the shop window more or less set the tone) and Edward Sexton as a house has taken an ever-so-slightly rebellious stance ever since. This is perhaps more apparent today than it ever has been, as Dominic works to ensure that the house remains one of the most influential bespoke tailors in Britain. As he explains, 'Edward's always had clients who've talked about him, so we don't mind referencing them either - where appropriate. Plus, we're proud of what we do and how we're developing the house.' His tone seems to say 'what's so wrong with marketing anyway?' It's a refreshingly candid approach from a bespoke tailor.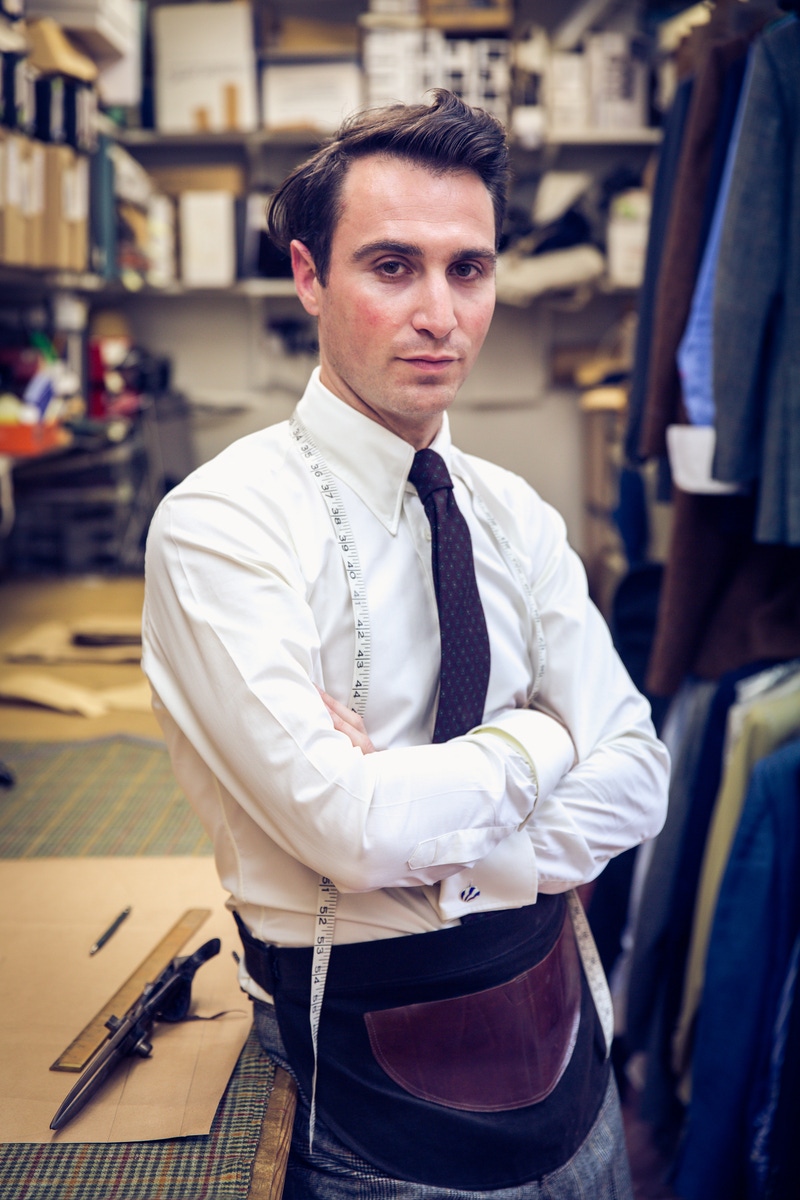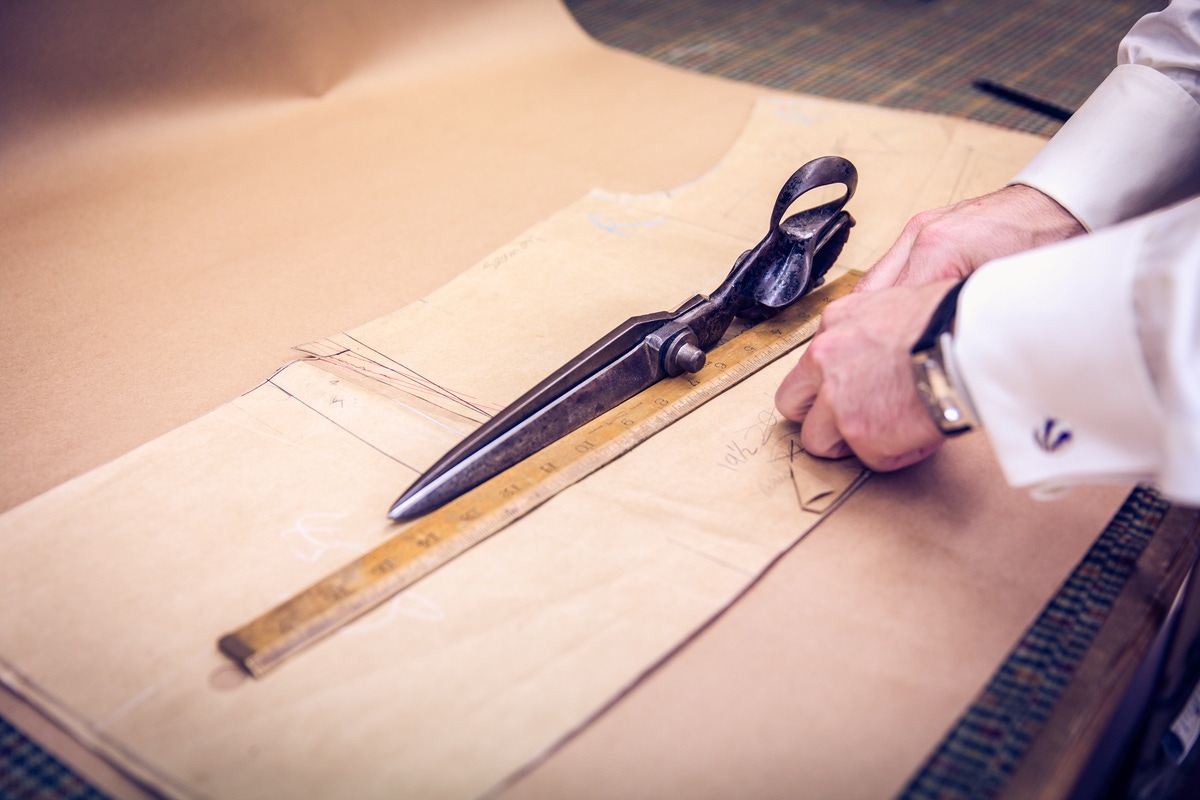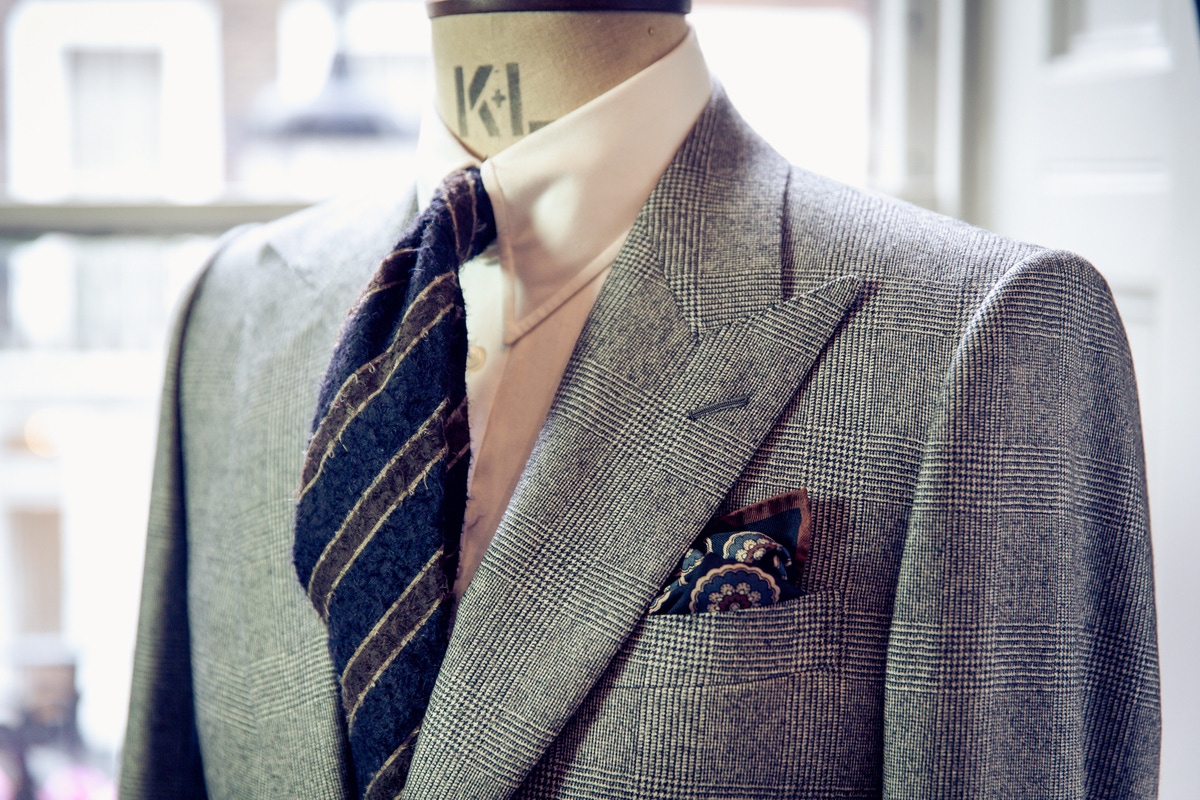 Indeed, one of Dominic's most endearing characteristics is his honesty and transparency. One very swiftly gets the impression that his judgment as a tailor can be trusted, primarily because he keeps his finger on the pulse of luxury menswear - and displays a deft understanding of what sophisticated men require from their clothes. For example, when asked how a bespoke tailor can remain relevant in today's increasingly informal society, Dom's answer is fantastically brutal: 'The first thing to do is to stop making business suits'. I'd like to find another tailor brave enough to put his foot down like that. He elaborates: 'you know, your bold pinstriped, classic business suit? These suits do have their place - but for the younger customer, that's not primarily what they want from their clothes.' What do they want then? 'Nowadays, men are wearing suits much more for pleasure than for work, either because the suit is perceived as a uniform, or because they don't get the opportunity. As a result, a lot of our younger clients are having suits made for important meetings where they need to impress: job interviews, networking dinners or drinks. Gentleman's clubs are having a revival and people are enjoying dressing for the evening again. We even have a couple of younger clients who have come in for suits to wear to the pub at the weekend because they're stuck in front of a computer in jeans all week.'
Fortunately, this plays to the house's strengths: the suit as an instrument of personal expression, or as a vehicle for glamorous living is, quite frankly, the Sexton forte. Moreover, one of Dominic's many talents is a deft touch for sniffing out clients' requirements, perhaps because he talks not just in terms of bespoke tailoring, but of 'design consultancy' too. Step through the door into Sexton's Knightsbridge studio and the first thing you'll do is sit with Dom for as long as it takes for him to divine what you want and need from your clothing.
It's a uniquely sensitive approach to the tailor's task, and one that many clients find invaluable. As Dominic puts it: 'The problem with bespoke is that it's a gamble - you can't see the suit when you order it, so having a tailor that you can trust is paramount. With all our clients, I try to establish where and how they're going to wear the garment, what kind of image they want to project and perhaps most importantly what their personality is like as they deal with me, their tailor. To a greater or lesser extent, it's my job to help them represent themselves at their best, as they're moving through the world. It's about finessing a human being to help him make the right choices, and we do this by taking time to understand the context in which each client lives.' If Dominic perfectly understands the requirements of his customers, then he also understands the direction that menswear is taking at large: 'The way we can stay true to our heritage in terms of cut, construction and craftsmanship whilst keeping things contemporary at the moment is to play with texture. Men have played with colour - the whole colour thing is established now. The next step is texture, working out what creates interest. For example, which shirt or tie will best complement a soft flannel suit? You can go either very sharp with a satin tie and shirt, or you can soften your look right down with a flannel or chambray shirt - then you might choose to wear a woollen tie or pocket hanky as well. Menswear is now about tying things together to create a cohesive story, and about playing with and enjoying clothes - that's the way to dress.'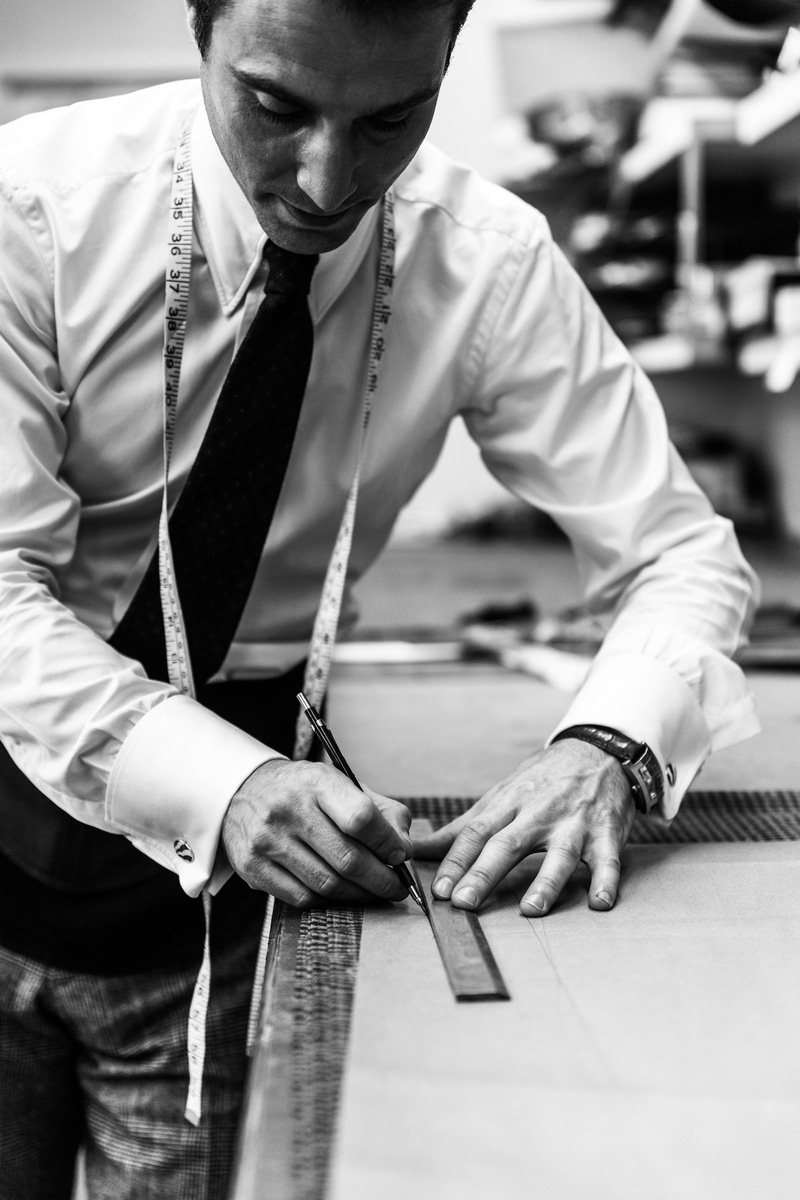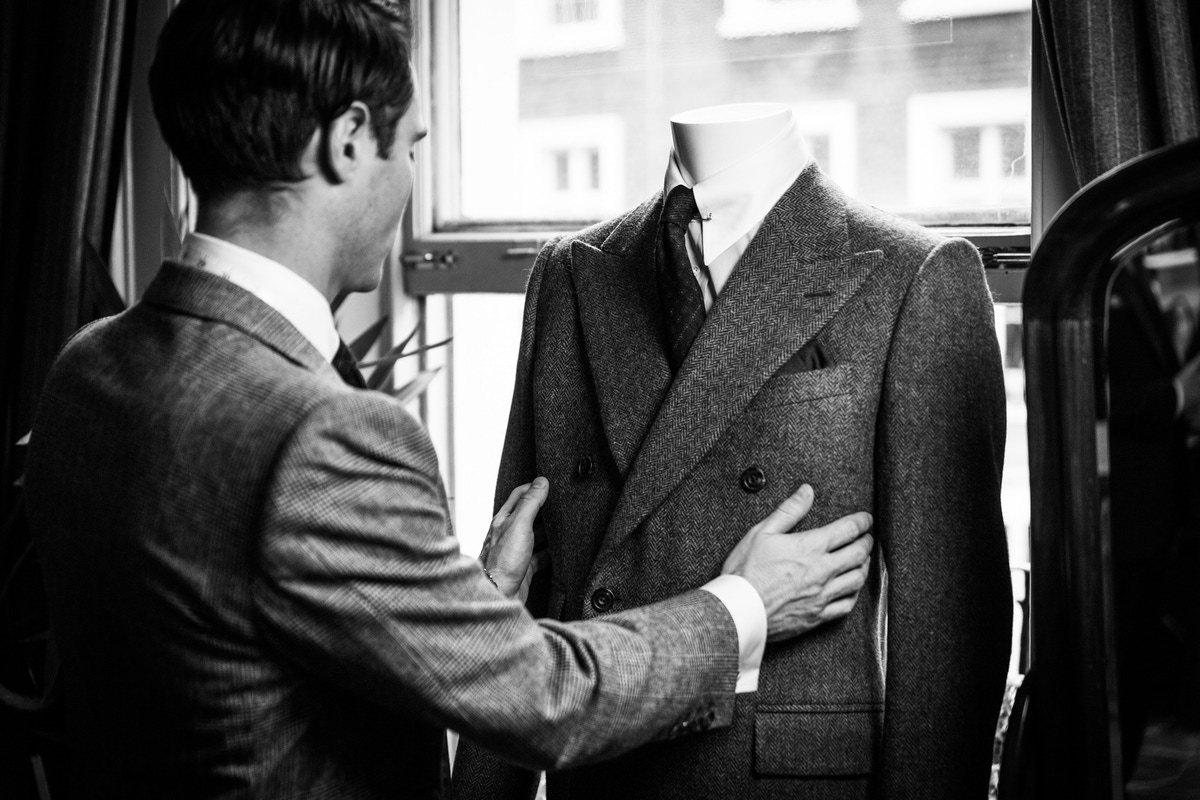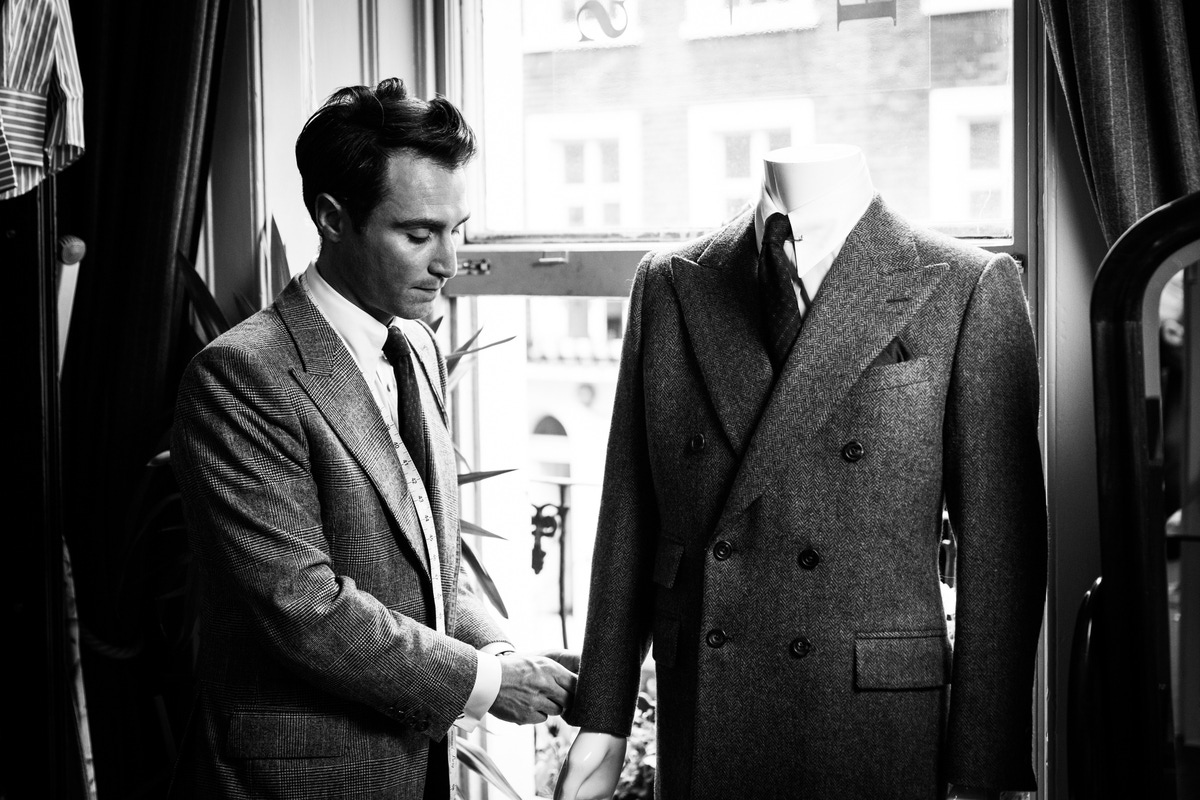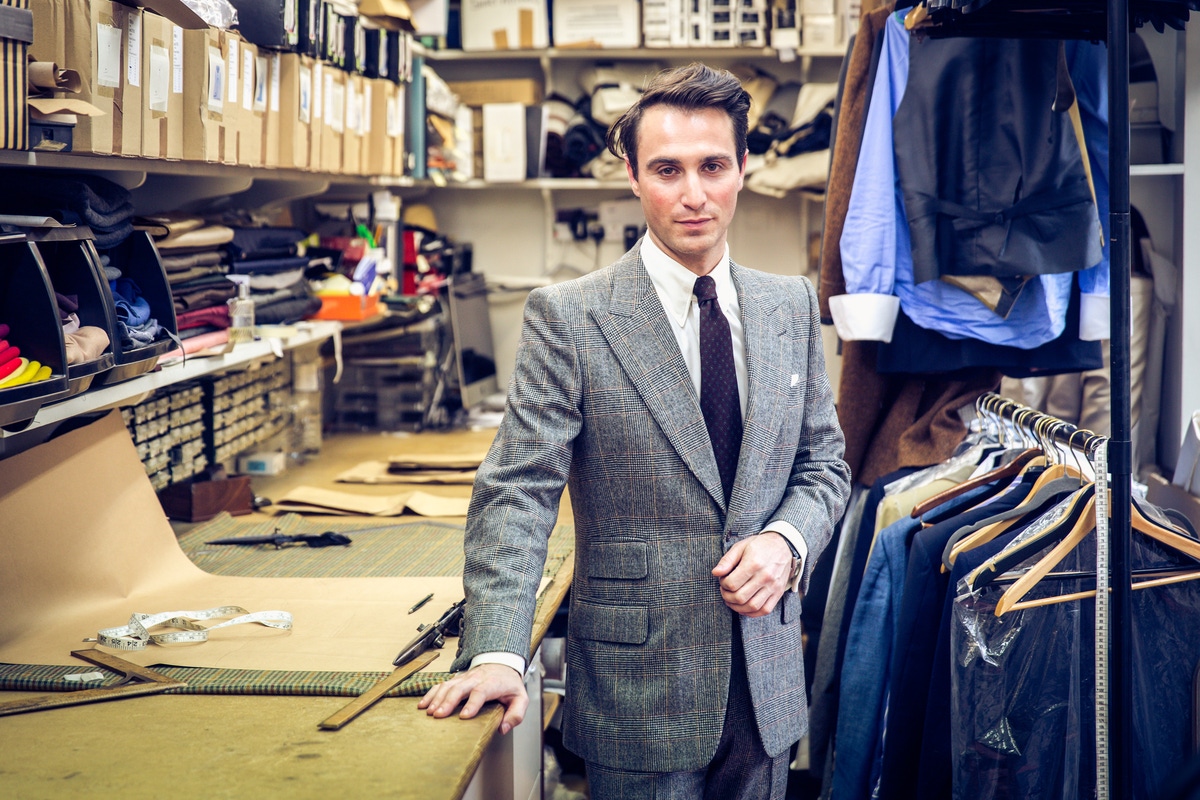 Hence why Dominic, like all the best tailors out there, is more than happy to tailor clothes with a progressive edge. 'Tailoring and casualwear are made to go together. The other day I was wearing a black suit with a white linen striped T-shirt - and the suit has a lot of jewellery on; I have a big brooch on the lapel, and brooches on the cuffs and things like that - its intended to have a rock-and-roll vibe. It's a black suit, but it's anything but conventional.' Does the suit have to be unconventional to survive? Not quite, but it does need to retain a degree of fluidity: 'a suit like that, it's neither smart nor casual - it occupies that special 'neither'.
'Our best clients now, they come back to us because they love clothes, and they want to experiment and express individuality. Tailoring can be a sort of post-modern way of projecting something beautiful and taking it with you. It's like having tattoos even - it's about putting something you value on yourself and carrying it with you.' I can't say I've ever heard a bespoke tailor talk in terms of tattoos before, but the comparison perfectly encapsulates the openness of Dominic's approach to personal style - and his progressive attitude towards bespoke.
Take for example his latest project, the 'anti-Pitti suit', whereby Sexton's rich and elegant house style meets design-driven, modern minimalism and a touch of experimentation. 'At Pitti, everyone is peacocking to the max; with their pocket watches and pocket hankies and ties done inside out and back-to-front and it just goes on and on. I came back from Florence last time and felt like I'd overdosed - you know after Christmas when you feel like you've eaten too much rich food? I just craved something simple, so the point of the suit is to strip out everything extraneous. 'I'm using plain wool and cashmere flannel and I'm going to keep the suit as understated as possible, so its almost subverting some of the suit's traditional features without losing the essence of what it should be: no pocket jets, no vents, no cuffs. I'm even going to lose the breast pocket and instead run the front dart right up into the shoulder, with just a slit in it at chest height to have a pocket hanky come through if I want. Then I'm going to cut a peak-shawl lapel; a peak lapel with no seam at the gorge.' A design such as this amply testifies to Dom's inspired approach to the tailor's art, and moreover it pushes the boundaries of what the suit can be in the modern world without compromising either its beauty or its practicality. It is perhaps telling that with this project, Dom is once again experimenting with a suit which represents 'that special 'neither'' in menswear terms. In an environment where the line between formal and casualwear is growing increasingly blurred, the tailor's ability to adapt to and even embrace this new prevailing aesthetic is paramount, and what's special about Dominic's work, and about Edward Sexton, is the way that the house has embraced this paradigm shift. As Dominic rather humbly puts it, 'nowadays, you should dress in such a way that people don't know how to place you'. Where does one place Dom's work? Mark my words; it's the tailoring of the future.
The first part of The Cutting Edge is available to read here, featuring Michael Browne of Chittleborough & Morgan. The third instalment will be available to read on TheRake.com soon. 
Photography by Piers Cunliffe.