Tie-Breaker: Inside the Drake's Factory
Drake's is an English haberdasher of the highest tradition, yet its creations are anything but traditional. Rather, their legendary London-made neckties represent contemporary British manufacturing at its most artisanal, and at its most appealing.
You might be forgiven for thinking that Drake's is about as aristocratic as a British brand gets; a monocle-clad English haberdasher par excellence, bedecked of hundreds of years of heritage with centuries worth of archives to match. Not Quite. In fact, in the British heritage brand stakes, Drake's is something of an upstart, founded as it was in 1977. Not that this has stopped the house from establishing an extraordinary reputation for its exquisite designs and a seemingly never-ending archive of curious prints and patterns in the process. Now helmed by Michael Hill, who's father worked as a tie-maker at Drake's and who also happened to be lead designer under the eponymous Michael Drake, the brand seems to have perfectly captured an authentic sense of old-school Englishness, whilst also retaining an attractive continental quirkiness into the bargain. At no place is this clearer than the Drake's factory, tucked away around the corner from Old Street tube station in the East End. On the aptly named Haberdasher Street, an elegant art deco office with floor-to-ceiling windows and white painted walls is not the redbrick Victorian warehouse that one might expect. Step onto the airy, open plan factory floor and the first thing that comes to mind is the energy of the place, a sense of freshness - of contemporary design and free flowing ideas. As Hill puts it, 'we make ties in a way that we believe in, so that they feel right for today - its not a question of making something old fashioned and we try not to overthink what we do.'
'Step onto the factory floor and the first thing that comes to mind is the energy of the place - of contemporary design and free flowing ideas.'
Nevertheless, a great deal of thought and care goes into the making of a Drake's tie, a procedure that 'balances time honoured skills and processes, whilst making something that's relevant for the modern man'. Generally speaking, a tie begins life in either Macclesfield, Suffolk or on the shores of Lake Como, where at least one particular fabric from the extraordinary array of textures, weaves and fibres that the firm calls upon in their collections is woven. When these cloths arrive in the factory, whether it be the finest Italian grenadine or Suffolk-woven silk jacquard, the first of many quality checks takes place, as each individual length of cloth is rolled end-to-end on a huge bench and checked through its entirety for imperfections.
Inspection complete, the cloth is passed to two of Drakes's old hands, tie cutters Mario and Stephen. Both have been cutting for Drake's for years, and much like tailors or shoemakers they exhibit a flawless instinct for their job, embodying everything that is precious about a Drake's tie. Both are passionate and precise, combining the typical modesty of talented artisans with a quiet pride in their work. They use a hi-tech super-thin Japanese tailor's chalk to draft their patterns, which Michael brings back with him whenever he returns from business trips, because English chalk doesn't give a fine enough line.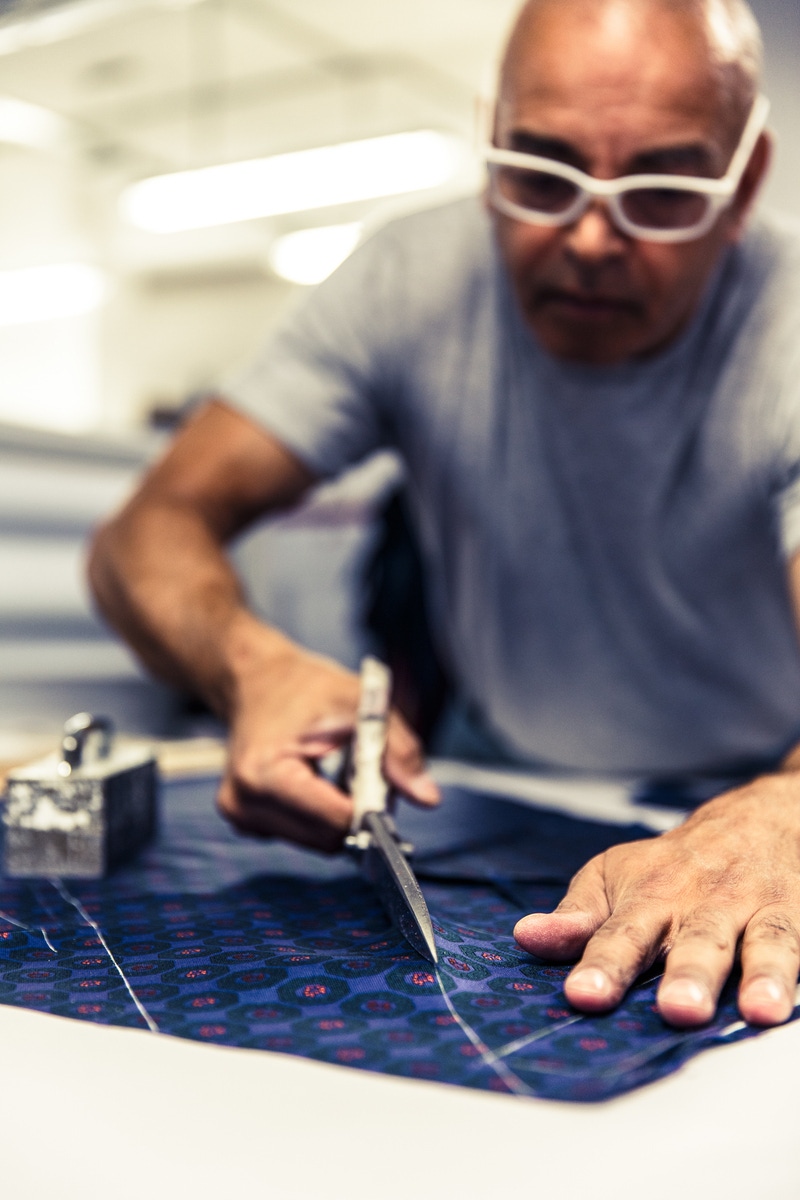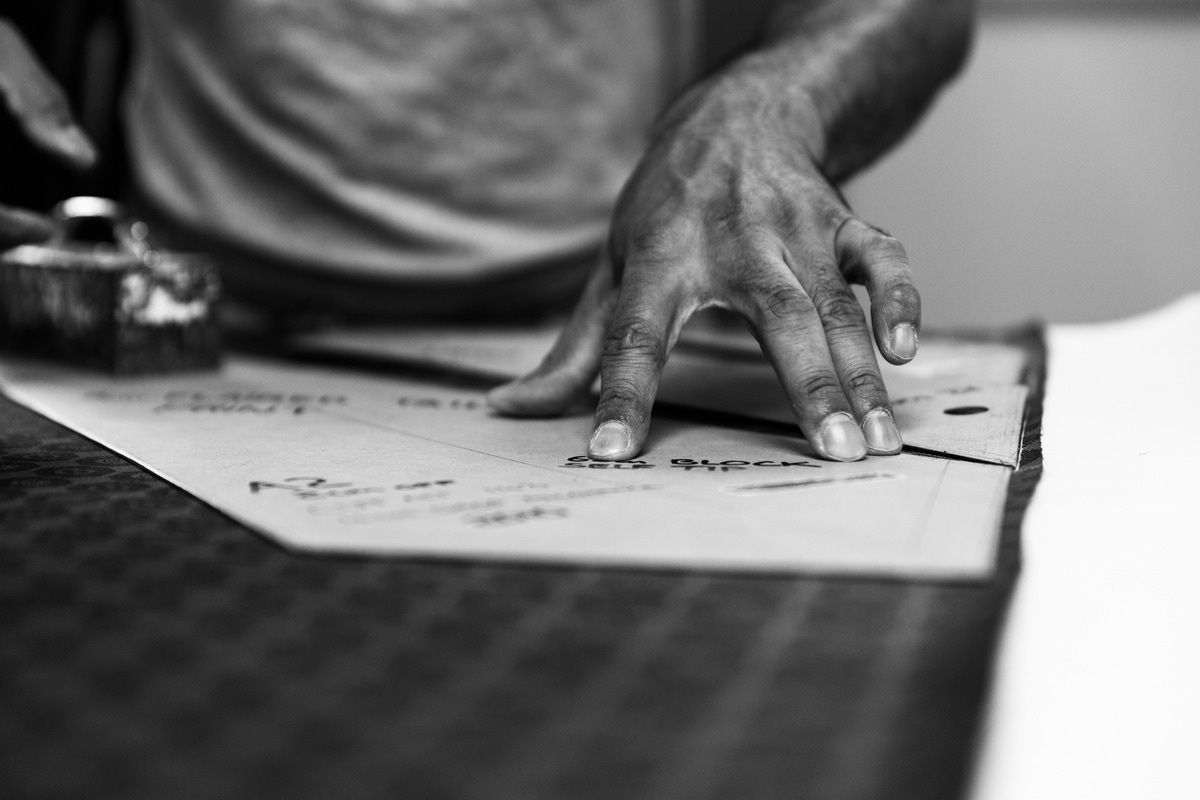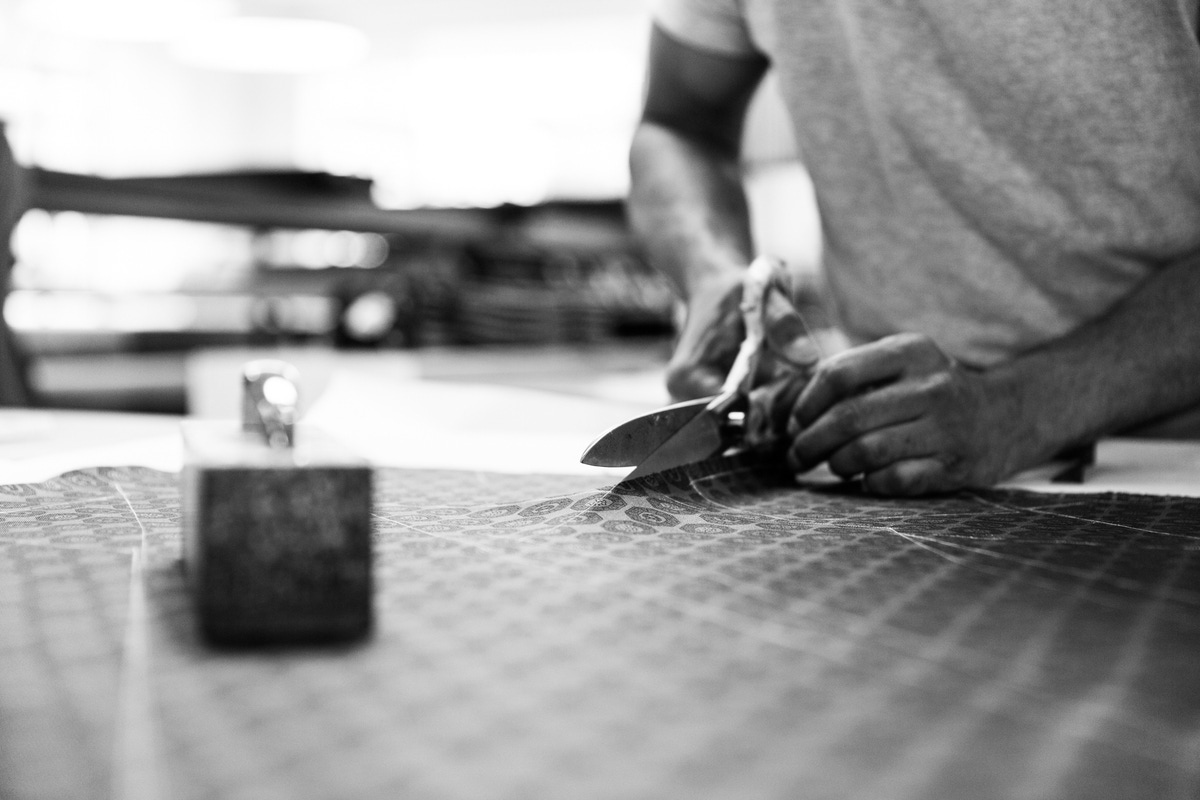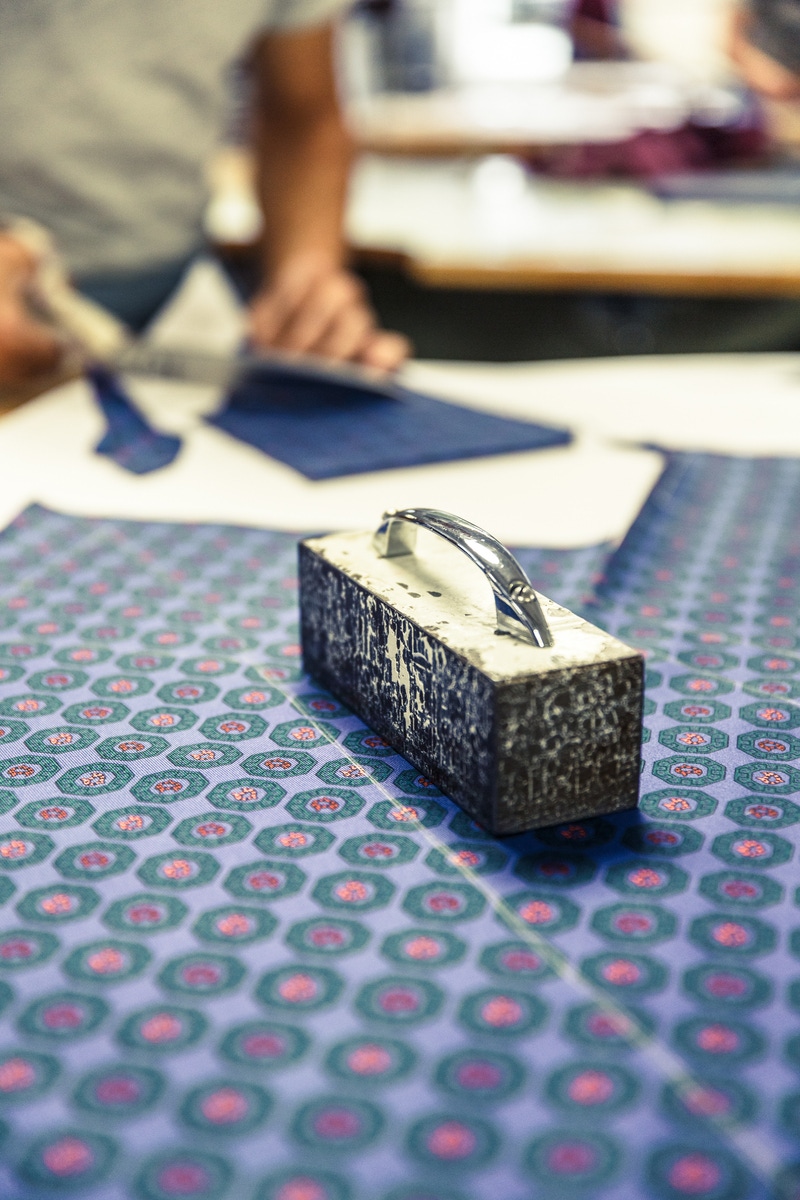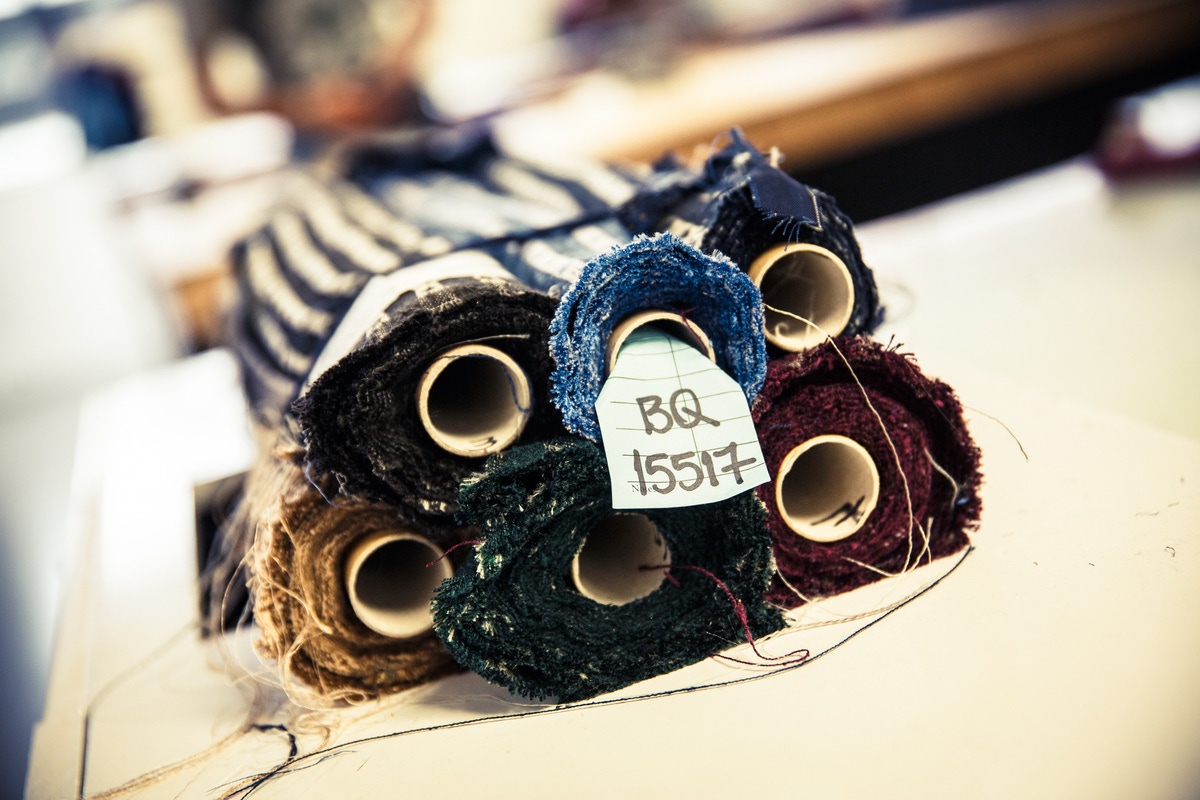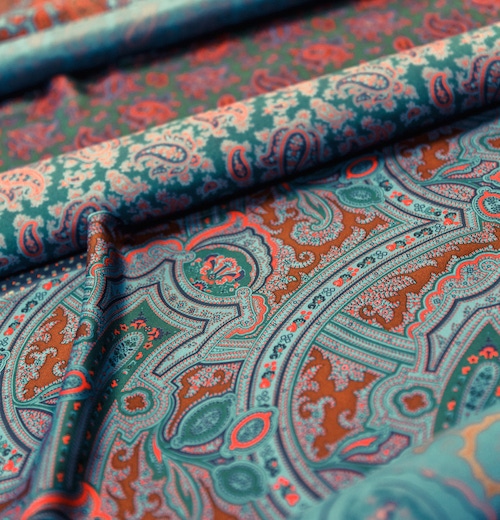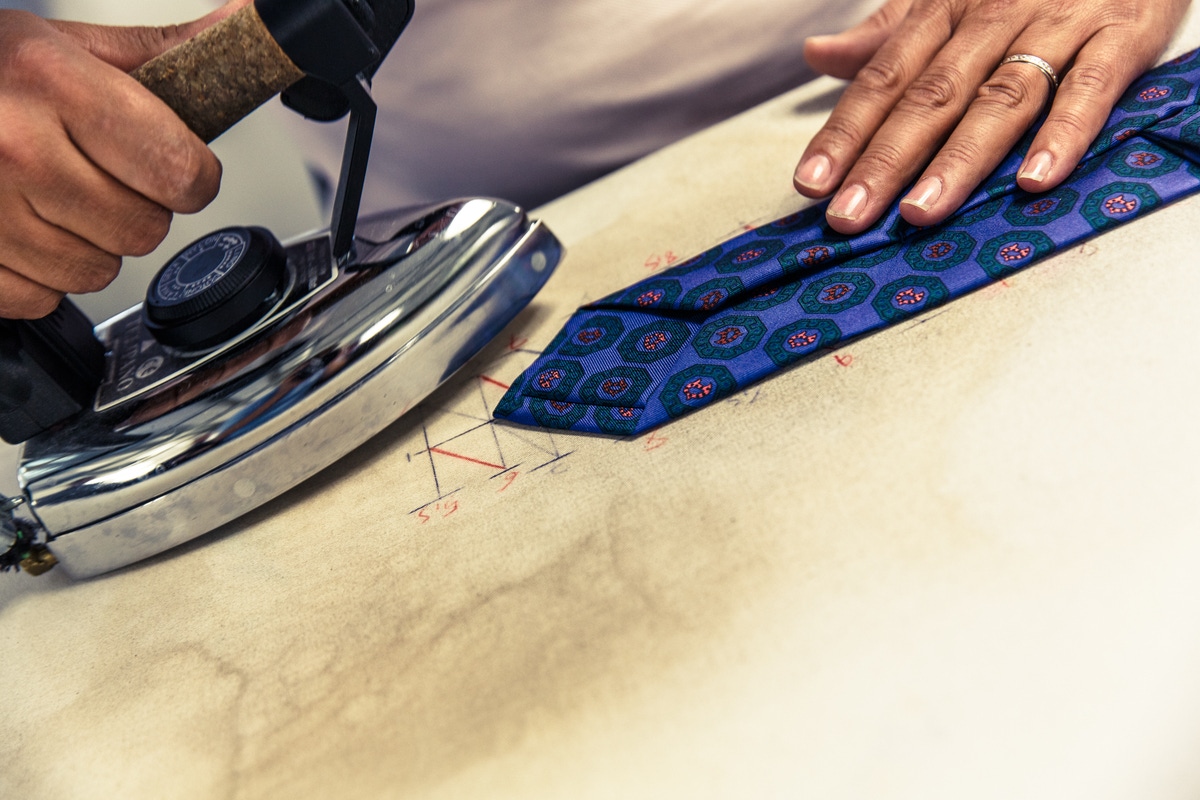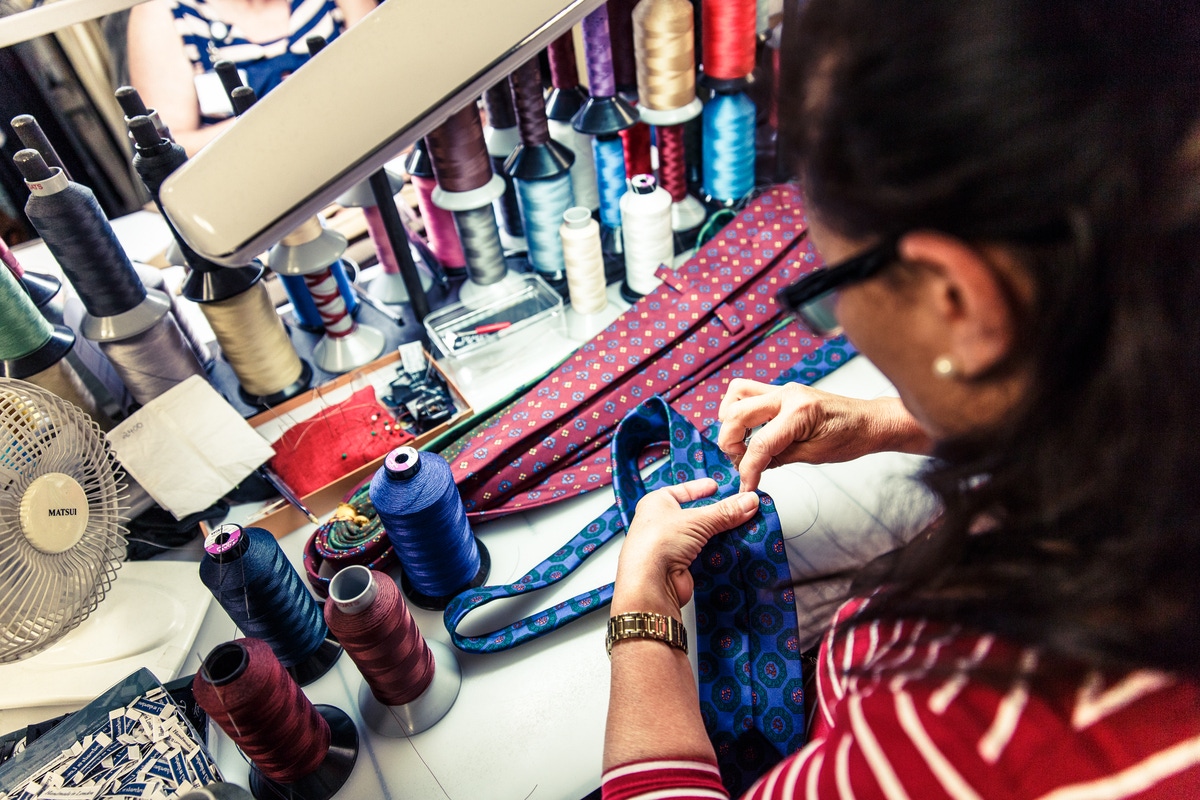 With the pattern struck, individual pieces of the tie are passed on for tipping, whereby the tie is firstly sewn into a single length, before the tips are sewn in place - creating the tie's skin as it were. Tips in, the tie goes (via a quality check) for a first press. This stage requires only the lightest of touches with the iron, and needless to say the presser handles each tie like an illuminator inscribing an arcane folio with a quill, despite the fact that the iron is seriously weighty. The process breathes life into the silk for the first time, lending the tie its characteristic softness.
Indeed, this conception of the tie as a living thing seems to be the prevailing philosophy at Drake's, as Hill puts it: 'there is a gentle roll in our ties that can only be achieved by delicate hand making. We think of our ties 'in the round' - not as flat pieces of silk'. Nowhere is this clearer than on the slipping floor, where the lining is inserted into the tie (generally for a three-fold tie Drake's use a springy woollen interlining) and a long-serving expert seamstress stitches the tie blade and interlining together. The process is called 'slipping' because a slipstitch is required for the job - whereby the tie is sewn together using a precisely paced single thread with a little give worked into it. Hill explains its importance: 'the tie lives along its slipstitch; it gives, stretches and shrinks as it needs to in order to ensure it's long-lasting and malleable. There's actually 4 cm of excess thread worked into our particularly slippery silks, to allow them to give as they settle on the neck.'
It's an intuitive process, each individual seamstress will interpret the tie as its slipped; sensing the requisite amount of tension required depending upon its proportions, lining and the fabric itself. A heavier cloth will require a slightly firmer stitch for example, but a cloth with a little more stretch may need to be kept looser to accommodate its changing form. With the tie slipped, it's off for another press - equally gentle to the first - before the finisher sews the keeper loop and iconic 'handmade in London' label in. Then on to a final rigorous quality check, which the tie needs to pass in order to leave the building and find its way onto a new owner's neck. The result is a tie that is impressively delicate, yet durable. Indeed, the unique appeal of a Drake's tie is in the finesse of its handle, in the way it flows and drapes. This unique handmade softness, Michael believes, is the key to the house's enduring success; 'we recognise that guys want to wear something that's softer, so we create a tie that's a little more casual - a lot of our customers now like to wear their clothes in a formal framework, but with a casual edge and our ties suit this approach to dress.' This philosophy reflects the same shift in menswear that
The Rake
has identified; dress codes are relaxing and producers like Drake's are responding to this change in the menswear sphere. Drakes's woven wool and cashmere ties, earthy art-deco geometric prints and signature shantung and tussah semi-plains all transect the line between formality and casual dress with ease, taking the tie into more cosmopolitan territory than it has hitherto traversed. This synthesis perhaps best reflects the true value of a Drake's tie - it's a deeply traditional product that somehow feels thoroughly contemporary at the same time - informed as it is by a sensitivity to what men of today require from something as conservative as the necktie. As Michael puts it 'there's a certain rusticity in our ties that keeps them relaxed.' Rusticity strikes me as a rather modest description - quirkiness might be a fairer suggestion - and certainly, the ability to produce a quirky, characterful and yet versatile necktie is one of Drake's' most long-standing achievements.
www.drakes.com
Photography by Piers Cunliffe.