The Ultimate Beachwear Edit 2019
Being on a sunny beach is a great excuse to bare your skin and soak up the rays, but never an excuse to be lazy when it comes to your attire. Our edit features everything you need to stay stylish on the sands.
Whether you're
beach-bod
ready or you're rocking the much-touted dad-bod look this summer: when the sun is shining and the sea beckons, you'll appreciate clothing that makes you feel cool, comfortable and confident on the beach. That might mean investing in more loose-fitting clothing than usual, or it might mean strapping a pair of speedos onto your Herculean frame in the manner of Michael Phelps. More likely, however, it will mean something in between, something that strikes the perfect balance between masculinity and modesty. The sartorial equivalent of factor 30, which won't leave you looking like a well-cooked lobster or a pallid, SPF 50-wearing ghost, but will result in a healthy golden shine. A happy middle ground, in other words, between sweltering swathes of cloth and
Baywatch
body-baring. This means thinking about fabrics, and paying careful attention to the silhouette that your choice of clothing results in. Then there are practical matters to be dealt with; namely protecting yourself against both sun and sand, without compromising on aesthetic. It's a good thing, then, that
The Rake
's Beachwear Edit includes everything you need to stay stylish at the seaside. Featuring some of the world's leading
swimwear
brands, choose wisely from this list according to what best befits your regular, everyday style. That way you're more likely to put together a beach ensemble structured around tried and tested style principles, and this will result in a look that conveys an aura of natural self-assurance, which as we all know is the most stylish thing a man can wear.
Plain Swimshorts
A pair of plain, beautifully made swimshorts will be your best friend on the beach. As proven by Daniel Craig in his role as
James Bond
for the 2006 film
Casino Royale
, the way to master the plain short is to opt for a flattering cut that finishes just above the midway point of the thigh. This is much more elegant than a longer style, and much more discreet than a pair of short shorts. Italian brand
Coast Society brings the precision of fine tailoring to swimwear
, and is our go-to for timelessly masculine swimming gear. While the beach is the perfect place to trial brighter, more vibrant hues, a dark navy pair gives you the opportunity to experiment with floral Hawaiian shirting.
Graphic Swimshorts
On the other hand, if you're all about having fun on the beach, and you want your clothes to show it, then a tasteful pair of graphic printed swimshorts can go... swimmingly (sorry) with the seaside surrounds. If you want a stylish pair that will stand out for the crowd without being over-the-top, we suggest foregoing florals in favour of playful prints, such as those found on shorts by French brand
Vilebrequin
, that are redolent of the pop-art patterns produced by interior designers in the 1950s. Beach motifs such as sardines and turtles are incorporated into the colourful, eye-catching designs for a touch of comic cool. Perfect for demonstrating that you can be stylish without taking yourself too seriously. Pair with a neutral, slim-fitting shirt for best results. Speaking of which…
Linen Shirt
A linen shirt is a versatile summer staple that will transfer nicely from your casual or even your work wardrobe straight into your beachwear arsenal. As such, it's definitely worth investing in a few good pairs. To match the mood of the leisurely seaside scenes, pick something in a lighter shade – pastel pinks and blues are fail-safe options. Besides being lightweight and highly breathable (therefore cooling), the texture of the linen has a thatched, straw-like quality which was just made for the beach. A slim fit is essential when putting together a contemporary masculine silhouette. For a more relaxed take, consider a linen shirt with breton collar by
Ripa Ripa 
for a maritime feel.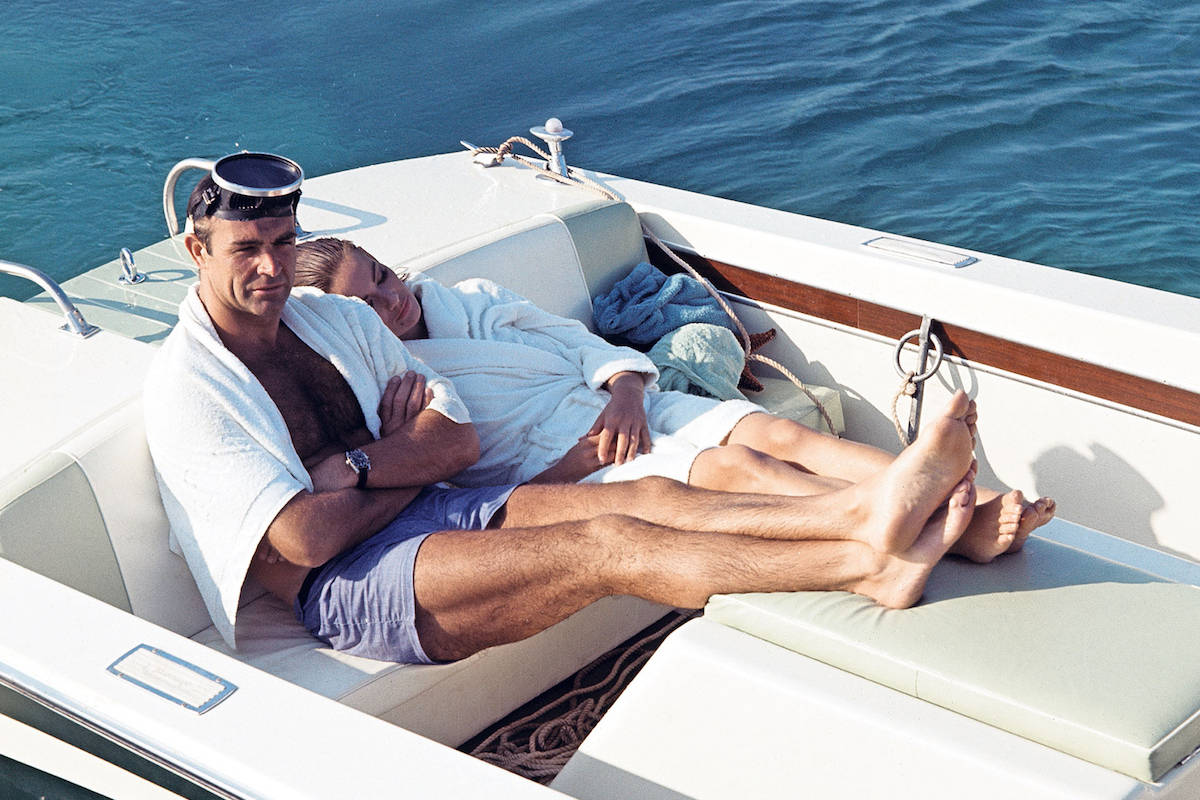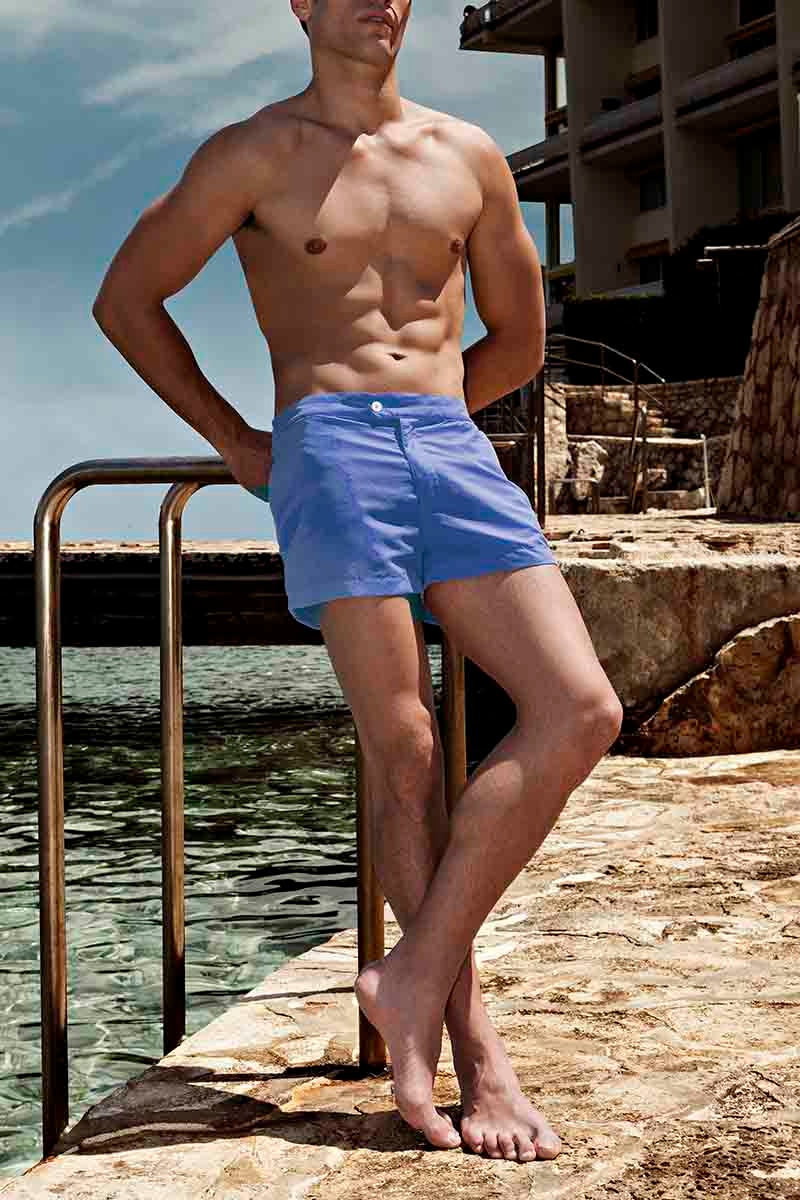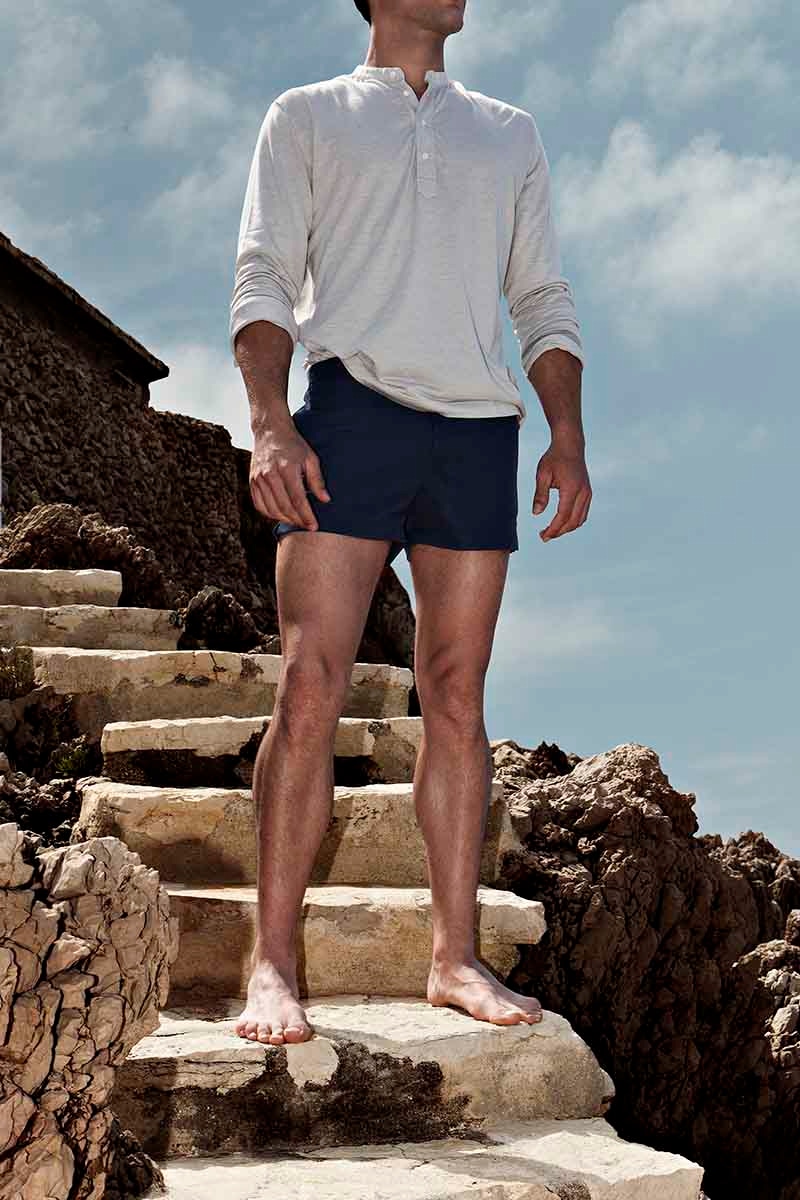 Sunglasses
Now that we have the basic structure of your beach outfit covered, onto the smaller - but no less essential - extras that will inject personality and flair into your look. Firstly, sunglasses. Along with the designer watch (and for use near water, it has to be a
Rolex Submariner
), sunglasses are perhaps the most iconic item of men's luxury, yet - because they are worn on your face and will not be subjected to the abrasive effects of sand - you can wear your best pair to the beach without having to worry about damage or wear and tear. As you'll (hopefully) be exposed to plenty of sun, choose wide lenses for better coverage. Thick tortoiseshell frames will look great on the beach, such as the seabed glasses by
Oliver Goldsmith
which are a nod to that fact. But glistening gold rims will look just as good, as these
Ray-Bans
with polarized lenses for guaranteed protection aptly demonstrate.
Espadrilles
Sandals are stylistically so-so, and we'd rather see the soles of our feet fuse to the sun-baked sands than be seen in a pair of flip-flops; beachwear's inexplicably popular faux-pas. Espadrilles, on the other hand, are
something we can really get on-board with
. Or get on-board in, if we're boarding a yacht for an offshore cocktail party. And nobody does espadrilles quite as well as Italian brand,
Manebi
. A pair made from hard-wearing, quick-drying canvas is ideal for traversing even the most arduous sand dunes. Their durable yet comfortable jute soles are protected by a thin rubber layer covering the base. The texture will also complement linen shirting nicely. Alternatively, a pair made from black suede is strikingly elegant and ideal for lazy days on the beach that don't involve much walking.
Beach Towel
As an item whose primary purpose in life is either to be rubbed against your wet body or sat upon, the beach towel might seem like an unlikely contender for our beachwear edit. But you should think of your towel the same way you might think of your luxury luggage when travelling, or your business card holder when going to a business meeting. As a physical manifestation of your good taste and discernment for passersby to marvel at - and one with an extremely useful function, at that. Unsurprisingly,
Coast Society
- perhaps the most accomplished of all Italy's beachwear specialists - has a range of exceedingly stylish towels for you to chose from, rendered in fine jacquard cotton and featuring three bold and distinctive stripes. Better yet,
Rubinacci
has a highly functional beach towel that doubles up as a waterproof drawstring bag.