Dapper Dan: Harlem's Hip Hop Tailor
The originator of luxury streetwear, Dapper Dan created clothing for those marginalised by high fashion, helping to cement his iconic status in New York City and beyond.
At Gucci's resort show earlier this year, a model was sent down the runway sporting a leather jacket with the house's monogram logo emblazoned across its heavily exaggerated, balloon-like sleeves. To some, it was one look of many, yet to others it was a look that represented a monumental moment that shook the intersection of the hip-hop and luxury fashion worlds.
The significance of this moment is that the design was an homage to a jacket the legendary designer Dapper Dan made for Diane Dixon, a retired Olympic sprinter, in the late 1980s. Ironically, Dixon's jacket was clad in Louis Vuitton's monogram, not Gucci's. So what we have here is a European luxury house retrospectively
paying homage to a 30-year-old bootleg jacket, that in itself was ripping off a competing luxury house.
Intense debate then flooded the Internet and social media. Was it a rip-off or a sign of respect? The general consensus was that it was the latter, and that Alessandro Michele, Creative Director of Gucci, has recognised the work of the once-upon-a-time industry outlaw. Furthermore, as of earlier this week, Michele put Dapper Dan in front of the camera to star in Gucci's resort 2018 campaign, with a collaboration between the two also in the pipeline.
Born Daniel Day in Harlem, New York, in the 1950s, he opened his haberdasher-come-boutique in 1982 on East 125th Street. At times, it was open 24-hours a day, seven days a week and 365 days a year - street hustlers and rappers kept to no man's watch. Dapper Dan's precipitous rise came at a perfect moment in New York's chronology; it was during the 1980s when hip-hop began to prove itself as a commercially successful and viable genre and his success rose in conjunction with it. At the same time, it sadly became plagued by the crack cocaine epidemic which was rife in predominantly working-class and African American neighbourhoods, including Harlem. However, both of these factors created money and a local economy that ensured Dap's business would thrive.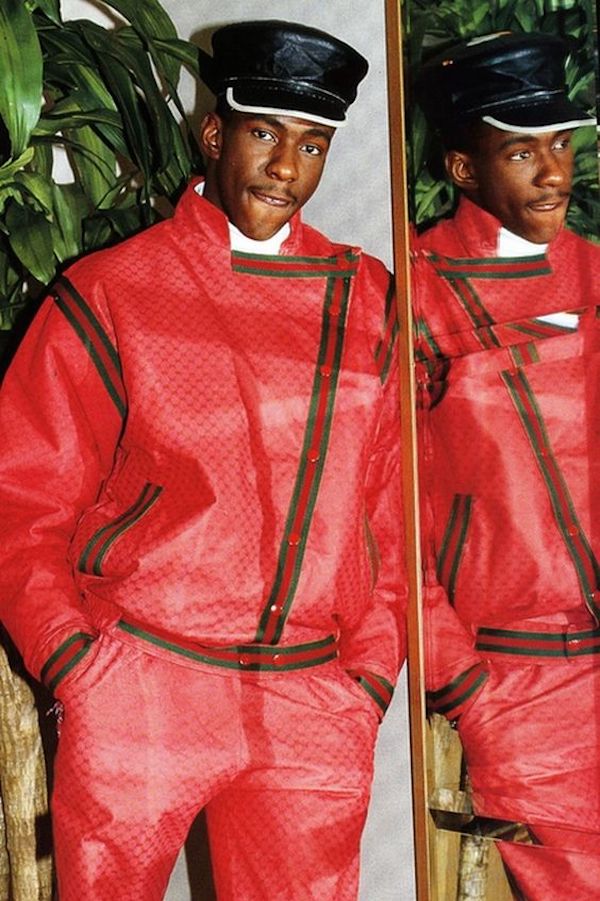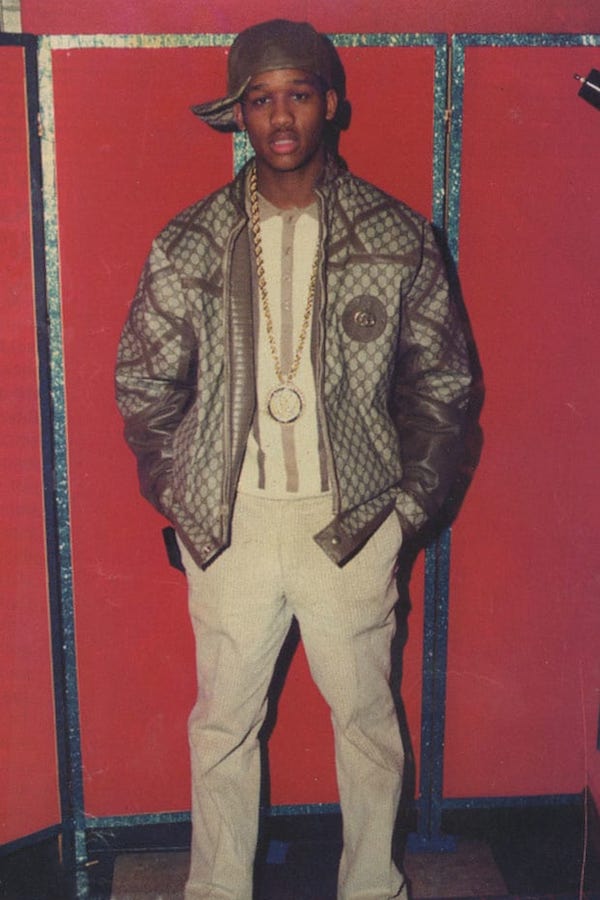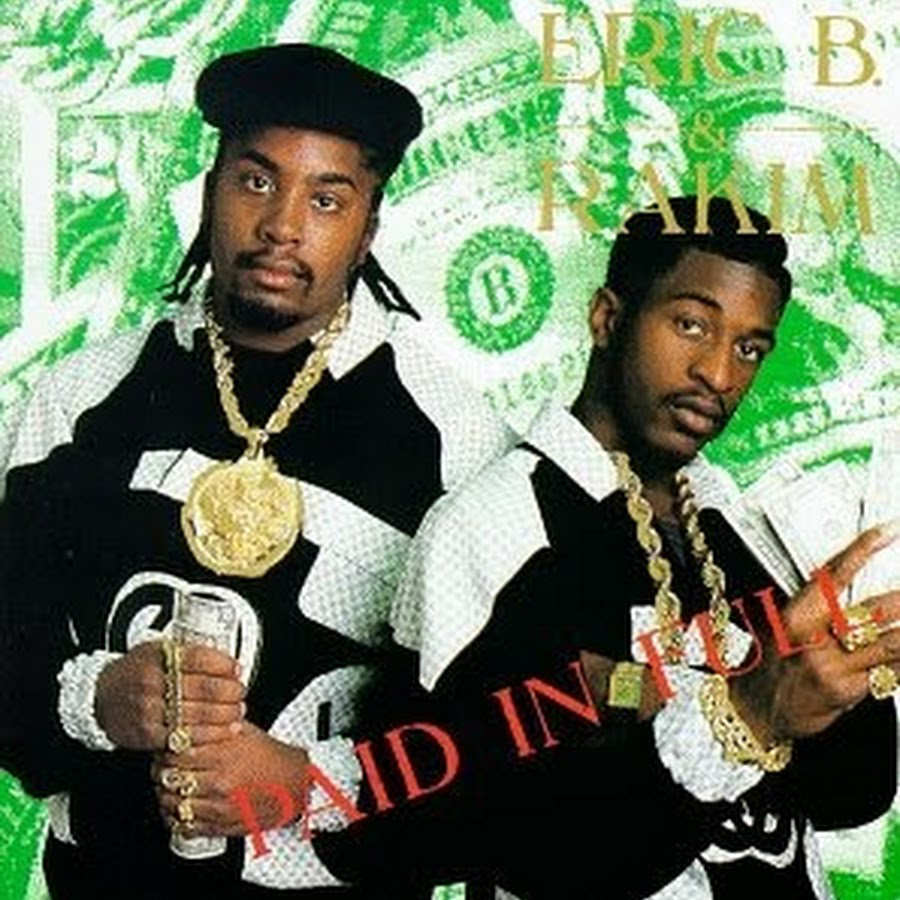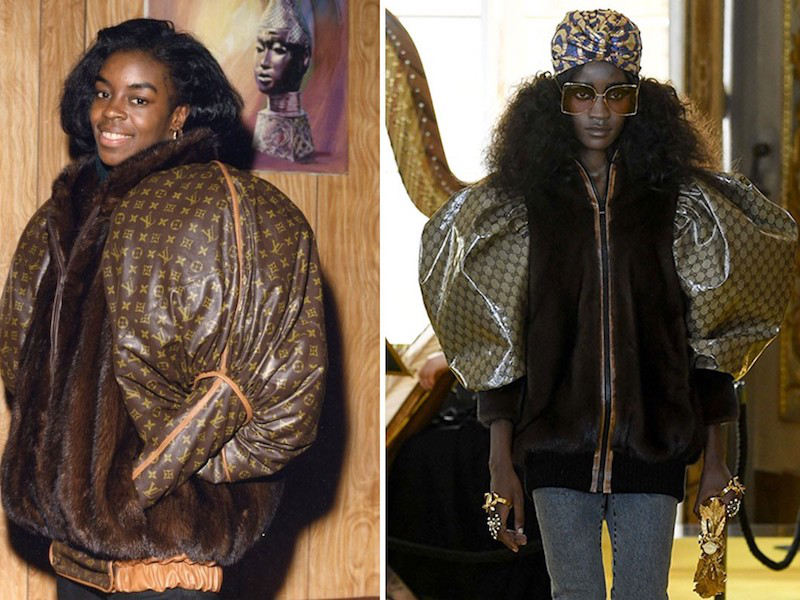 Dap was ahead of his time and understood the power of the logo. He applied street smarts and a bodacious mentality to couture by screen printing the monograms of Louis Vuitton, Gucci, Fendi and MCM on to premium leathers and married them with luxurious and unusual materials from ostrich to mink, and python to kevlar. The trailblazer created garments aimed at young African Americans, as luxury brands did not cater to their demographic and would often stigmatised them if they were to venture down Fifth Avenue and into their stateside flagships.
Similar to hip hop's forbears, Dap exercised the same process used in developing the genre: sampling, mixing and cutting. From Louis Vuitton bomber jackets to fully-clad MCM car interiors, Gucci bulletproof parkas to Fendi baseball caps, Dap could create anything, including silhouettes that luxury brands would never dream of. The hip hop and crack generation's mindset was very much focused on breaking free from the social restraints set upon by previous generations and political rule. So, outlandishly showcasing luxury goods via the forms of clothing, jewellery and cars was evidence of having 'made it'. Owning a piece by Dapper Dan was widely considered to be the pinnacle of the period's success. It made you 'someone'.
Gangsters, street hustlers and Harlem kingpins were his initial customers. They took his creations to the streets and were soon followed by rappers and sport stars who took it to the entertainment industry. Before hip hop's explosion, the visual narrative of genres such as jazz, rock, blues and disco formed the inspirational basis for his commissions. Dap took cues from the aforementioned genre's icons on their sartorial elegance and swagger and injected a dose of street culture, with wider and looser silhouettes, sharp collars and shorter jackets marred with bold, contrasting patterns and logos. The renowned Harlem kingpin Alpo Martinez — whose tale of rags-to-riches-to-snitches was the inspiration for the popular 2002 crime film
Paid In Full
, which is filled with Dapper Dan references — once commissioned Dap to create 11 suits in one go, each nearing $10,000. Some jackets were fitted with extra deep pockets to conceal weapons. Martinez is now in the witness protection system following incarceration for multiple murders and violent crimes,
but in his heyday sporting Dapper Dan eluded power and a sense of vigilante and untouchable outlaw.
Recognition by the golden age's leading artists cemented Dap's reputation within the New York community and beyond with commissions coming in from Washington DC and the West coast.
The formidable rap duo Eric B. & Rakim wore matching Gucci jackets - created by Dap - on the covers of their hit records
Paid In Full
(1987) and
Follow The Leader
(1988).
Paid In Full
is widely considered to be the greatest rap album ever, and as a result Dap's creations will always be associated with that legend. LL Cool J rocked a Gucci red bomber jacket to match his Kangol bucket hat and performed in a two-piece MCM tracksuit, both of which bought from Dapper Dan
. One of the most iconic looks was sported by the late DJ E-Z Rock, who commissioned Dap to create him a brown velour two-piece tracksuit with Louis Vuitton monogram side seams. He went as far as having the Nike 'tick' on his Air Force 1 in matching Louis Vuitton leather. Other notable artists include Salt-N-Pepper, Big Daddy Kane, The Fat Boys, KRS-One and Jam Master Jay.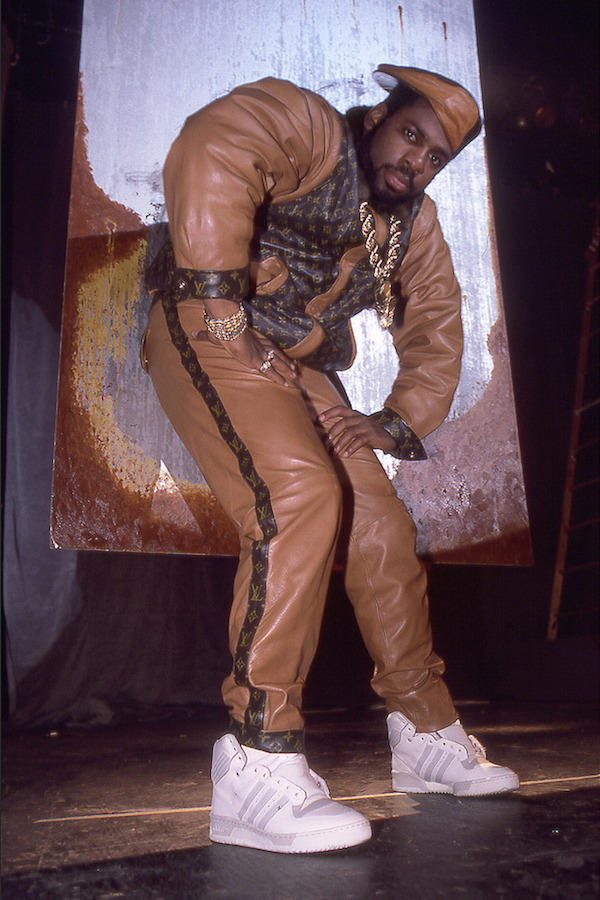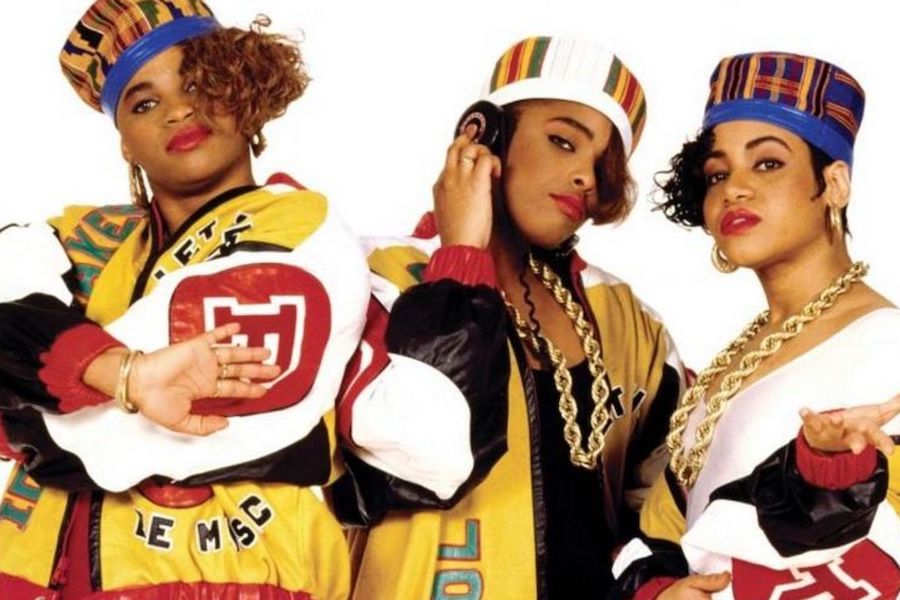 Dap's boutique was no stranger to extraordinary events and run-ins with the law. In the build up to his heavyweight title defence against Frank Bruno in 1988, the New Yorker and king of controversy Mike Tyson commissioned Dap to create him a jacket with 'Don't Believe The Hype' — the track title to one of Public Enemy's hit records — on the back. Whilst collecting his jacket, he got into an altercation with fellow heavyweight Mitch Green, who wanted a rematch to a fight he lost in 1986. Not seeing eye to eye, the two had a fight that sprawled onto the street outside Dap's store. Tyson threw one of his infamous right hands, suffering a hairline fracture in the process, but firmly and savagely closed Green's left eye. Tyson's endorsement of Dapper Dan and his knack for gaining headlines packed a punch and made the designer highly newsworthy. Dap has also designed boxing shorts for the now retired and 'TBE' Floyd Mayweather, who, of course, is well-known for bragging about his wealth.
Since Dap's boutique opened its doors in 1982, there have been countless references of it in popular culture and mentions in rapper's rhymes. He had a profound influence not just in a visual sense, but also lyrically. Such is his street legend, it wasn't long until the luxury brands he was mimicking caught wind of his success and had the authorities raid his store on a number of occasions. They shut him down in 1992 and forced him underground. In the grand scheme of things, within a short span of ten years Dapper Dan curated hip-hop culture and demonstrated a totally alternative way of thinking and approach to design, paving the way for future high-end streetwear designers. When looking at the luxury world today you can't ignore the most minute references — from bold silhouettes to overt use of branding — that wouldn't occur if it wasn't for Dapper Dan. Earlier this year Louis Vuitton, headed by Kim Jones (who has cited Dap as an inspiration) collaborated with Supreme on a huge, in-your-face heavily branded collection. Ten years earlier, though, Louis Vuitton sued Supreme for copyright infringement. This is all further evidence that the chasm between streetwear and luxury isn't what it used to be. The fact that Dap has, finally, been accepted by the luxury world is a good and well deserved recognition, and it's rumoured that he will be re-opening his store after a 25-year hiatus and creating a capsule collection for Gucci.