The Cutting Edge: Davide Taub, Gieves & Hawkes
Few tailors are more inspirational than Davide Taub, Head Cutter at Gieves & Hawkes. In his hands, the bespoke department at No.1 Savile Row has never been busier and the house's bespoke creations have never been more progressive.
Davide Taub is quite possibly the most unassuming and humble man you could ever wish to meet - slight of build, softly spoken and pensive as he is. And yet, when he walks into the room, one finds himself irresistibly drawn to him; he exudes a natural poise and one can somehow sense his thoroughly intellectual approach to his craft from twenty feet away. Look a little closer and it doesn't take long to figure out why. Subtle angular shoulders, exquisite roped sleeveheads, a lean chest and slim, clean-cut trousers tend to do the talking. His look is architectural, experimental and ever-so-slightly neo-Edwardian - and his approach to bespoke tailoring is extraordinary. Long standing Head Cutter at Savile Row's ever-sophisticated bastion of contemporary menswear, Gieves & Hawkes, he is arguably one of the most influential figures in British bespoke tailoring today. Not that he makes a big thing of this. One of the lovely things about Davide is his genuine modesty, and the fact that his uncanny ability to create some of the most conceptual bespoke clothing in Britain seems to be quite literally all in a day's work. Even so, he couples this unaffected humility with a genuine drive to produce something that he feels best represents the craft of contemporary bespoke tailoring at its finest, he sees his role at Gieves both as an extraordinary privilege and opportunity; 'Gieves is unique - to have this whole big workshop, where everything is made and finished in house, to be able to mould something right the way through the process is very special. The team in the work rooms enable us to go beyond people's vision of what Savile Row should be.' How exactly does Davide try to go beyond? 'We try not to be timid, and to really think about functionality as well as style, to be really self-critical about our work - whether it be finishing, tailoring or cutting. We try to excite the customer, and surprise him - to take his clothing further and exceed his expectations.' This of course, is precisely what Gieves has developed a reputation for.
'We try not to be timid, and to really think about functionality as well as style, to be really self-critical about our work.'
Furthermore, this elevated attitude towards his work is really what's made Davide's name. That and his willingness to find a balance between an individual's style and functionality for each and every client that's walked through his door - with spectacular results. Whether it be his signature greatcoat, a leather bomber jacket or a sharp flannel three-piece, one can find a deft blend of artistic integrity and functionality in his work. Take for example the extraordinary suits that Davide designed and cut to display during the formidable Savile Row LC:M presentation at the Cabinet War Rooms in 2014. For the event, Davide pitted a rather sharp, strong shouldered grey flannel double-breasted creation against an earthy, unlined, soft shouldered Donegal tweed three-piece. The effect was dramatic to say the least, but it also testified to the versatility of the Gieves workshop, and to Davide's vision. 'When we did the war-rooms, we produced two garments which were theoretically at different ends of the spectrum - and I wasn't trying to prove a point, but to try and show how we approach what we do. Somehow, you could tell that these two garments were brothers. One was very sculptural, hard, angular and formal. The other was more soft and rugged - but it was what was underneath that allowed you to tell that they were related. That was a nice moment for me.'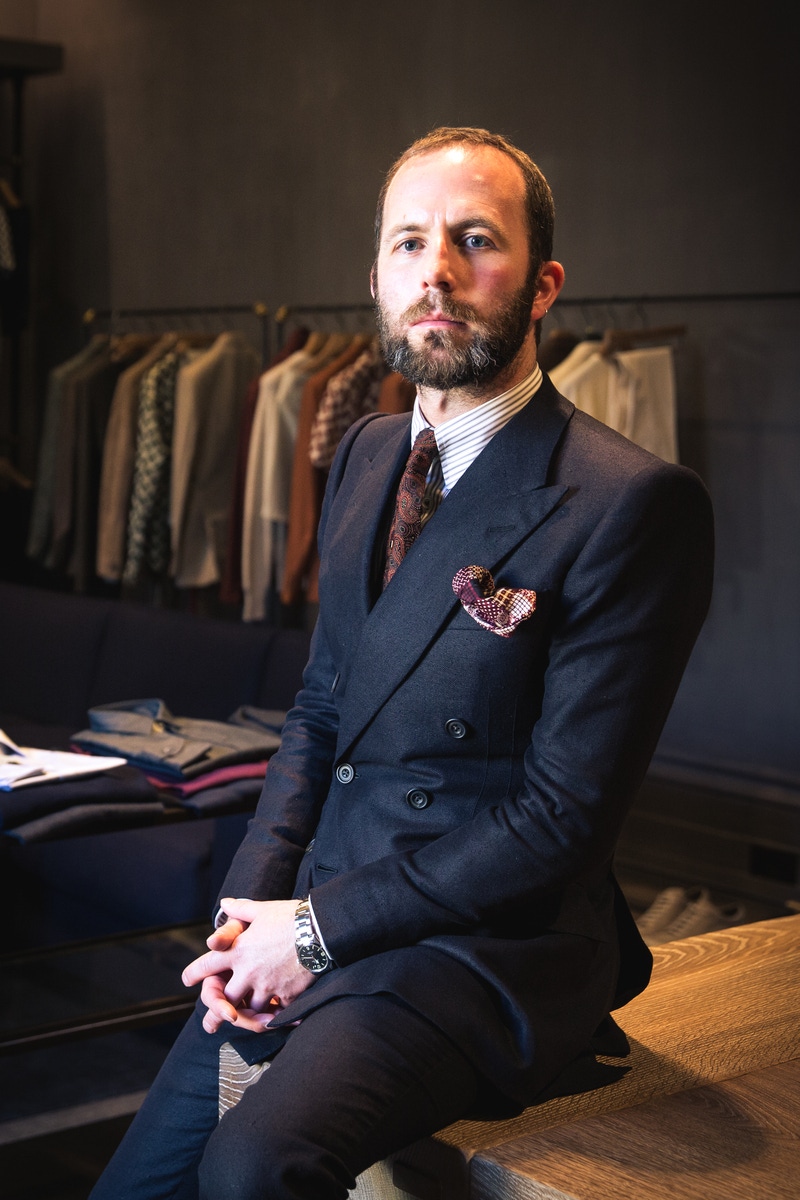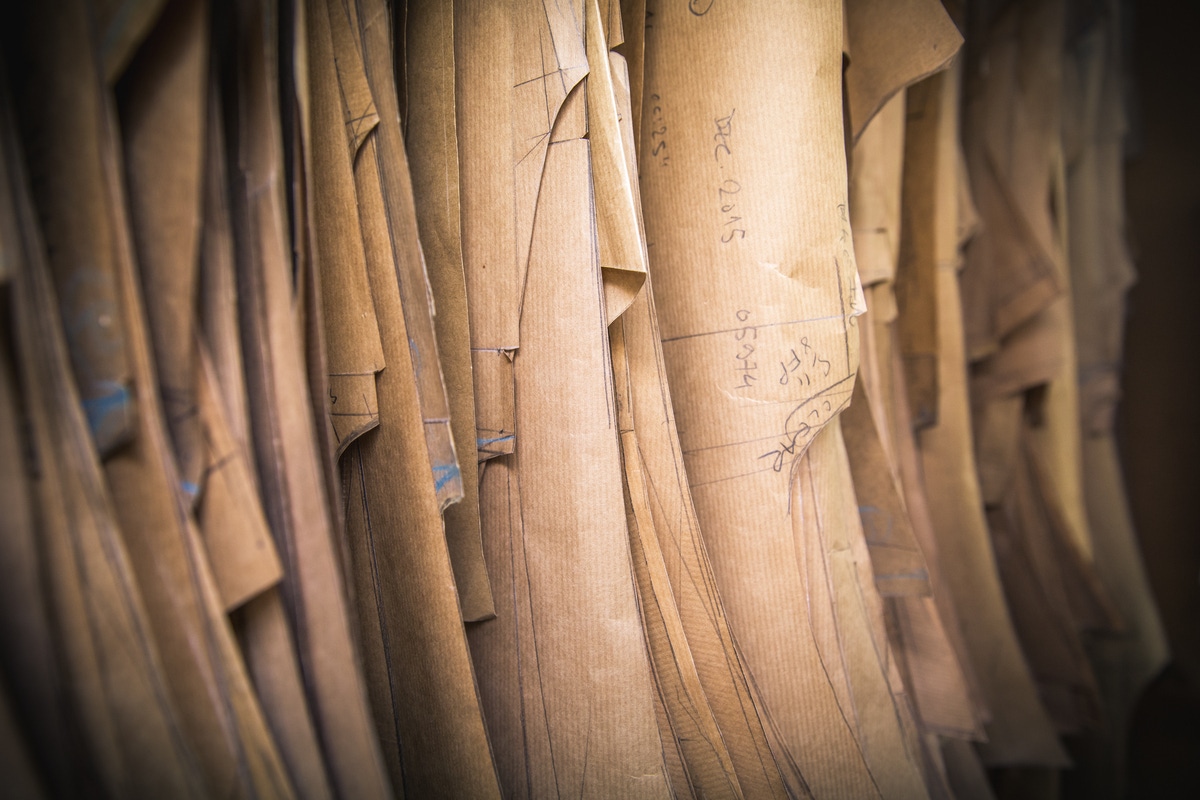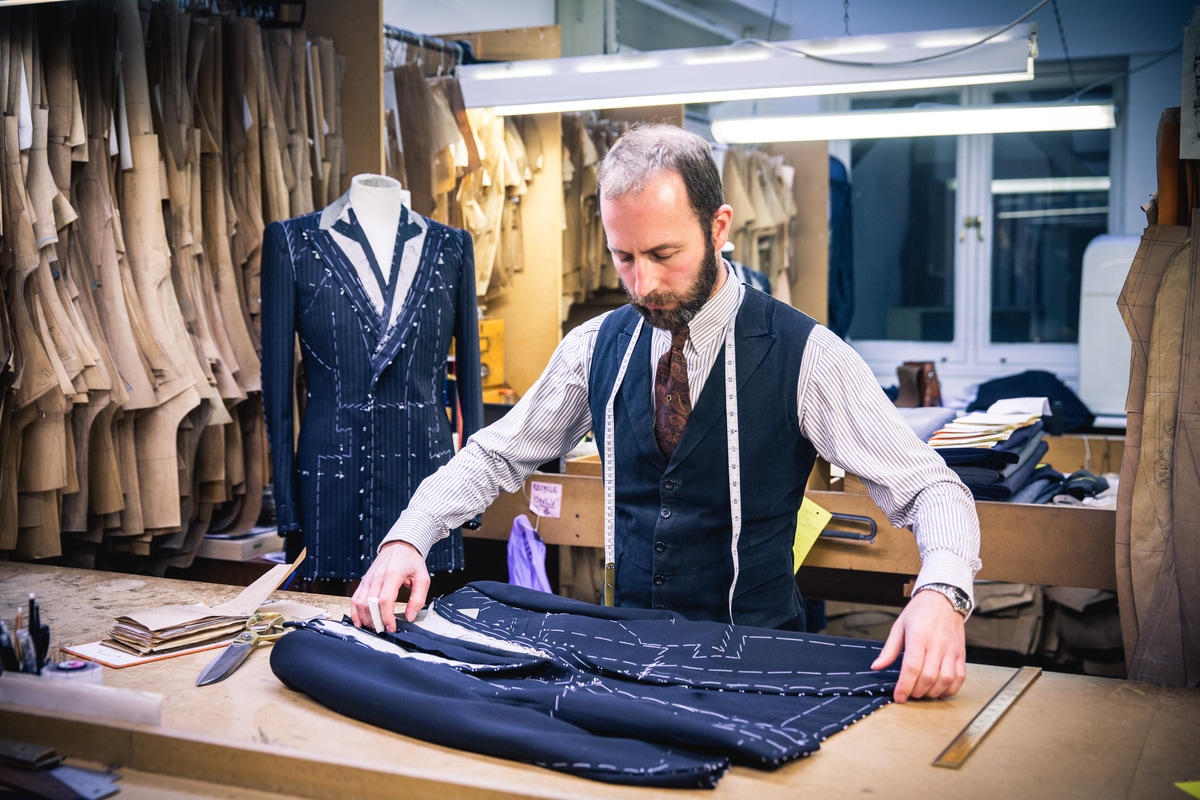 Another of Davide's design-driven creations is his bespoke driving jacket, a project that originally came about through a rather rakish collaboration with Bentley, when Savile Row travelled to the States to showcase its long-standing 'sartorial special relationship' with America earlier this year. Briefed to create the ultimate bespoke driving jacket, Davide's creative wizardry came to the fore. He produced an elegant and surprisingly lean forest green tweed coat with quilted shoulders, an immaculate action-back and half-belt, as well as a suitably functional post-box breast pocket and tab collar. What is more, the driving coat is paired with a detachable quilted bib, not unlike a backless waistcoat, which can be slipped on and off depending upon the temperature and the need to wrap-up warm. Unsurprisingly, it has proved to be rather popular; 'we've made four or five of these for customers now - and I always try to encourage them not to see it as something to be replicated; its such a clever, modern garment - you can do much more with it than just sitting in the car - you can go walking, hiking, shooting, or just wear it round town. We'll change it up to make it yours, because the entire design is inspired by the notion that if you let the functionality of the garment lead, you can still end up with something that's really beautiful.'
'The suit's purpose is ultimately just to clothe somebody, but to do that in a way that they're going to feel totally comfortable, both physically and psychologically. I want our clothes to feel natural.'
Indeed, despite the unconventional designs that underpin many of his creations, functionality is hugely important to Davide - it informs everything that he does. 'For me, the idea of functionality is about stripping back what we do as tailors to fulfill our core purpose first and foremost. The suit's purpose is ultimately just to clothe somebody, but to do that in a way that they're going to feel totally comfortable, so they're not going to feel any pressure in their clothes, either physically or psychologically. I don't like customers to feel very aware that they're wearing a Gieves coat, if you know what I mean? I want our clothes to feel natural - anything else becomes a distraction.'
What is particularly impressive about the natural quality of Davide's work is that it feels so easy in-spite of his remarkably architectural, sculptural style. What is more, he can take credit as being perhaps the only tailor of his generation to have developed an entirely new aesthetic for a bespoke house, something he was briefed to do when he first joined Gieves in 2012. Davide has always been very clear that he wants the house style at Gieves to be a start-point for a conversation, something that each customer can request to adapt and make his own, 'I would never want to alienate a customer, we're not a conveyor belt - I don't get any more joy from my work than when I'm able to make the customer the designer'. Nevertheless, there is something about his relatively natural shoulder with its subtle hint of a pagoda silhouette, lean chest with fullness thrown-forward, high-armhole and slim sleeves that somehow sings on the body.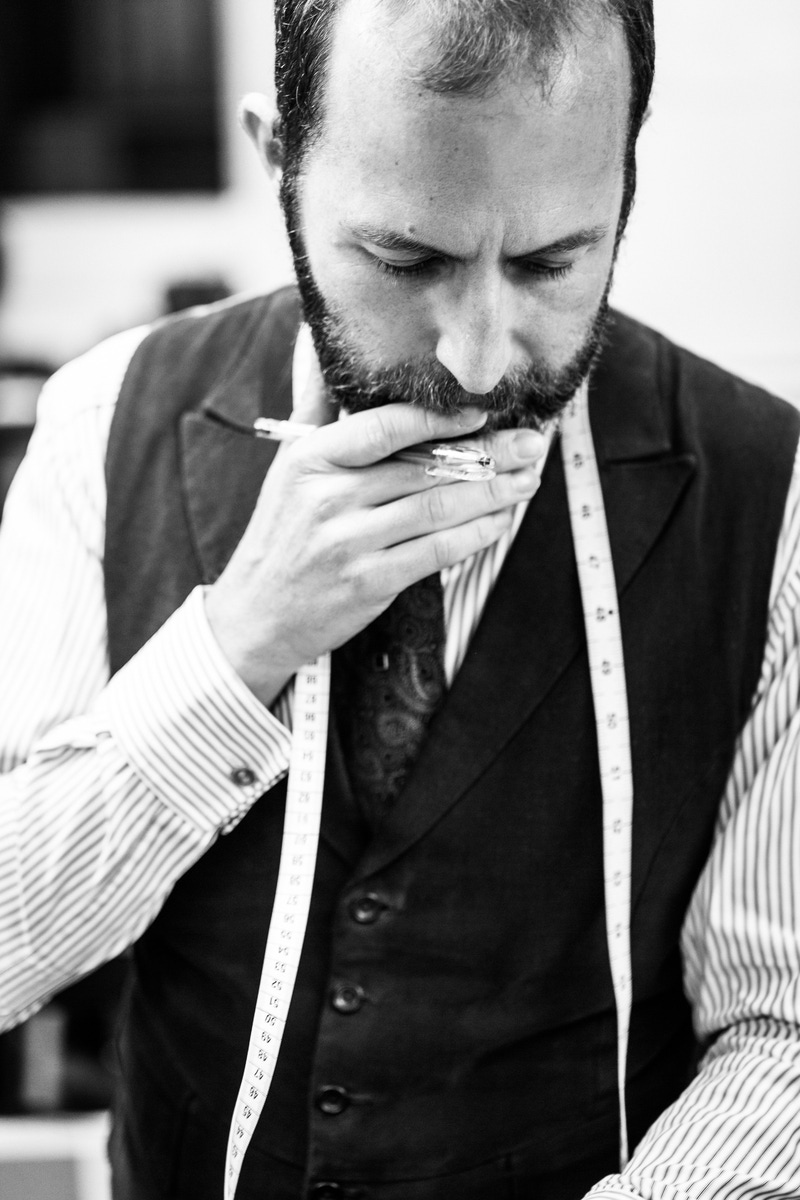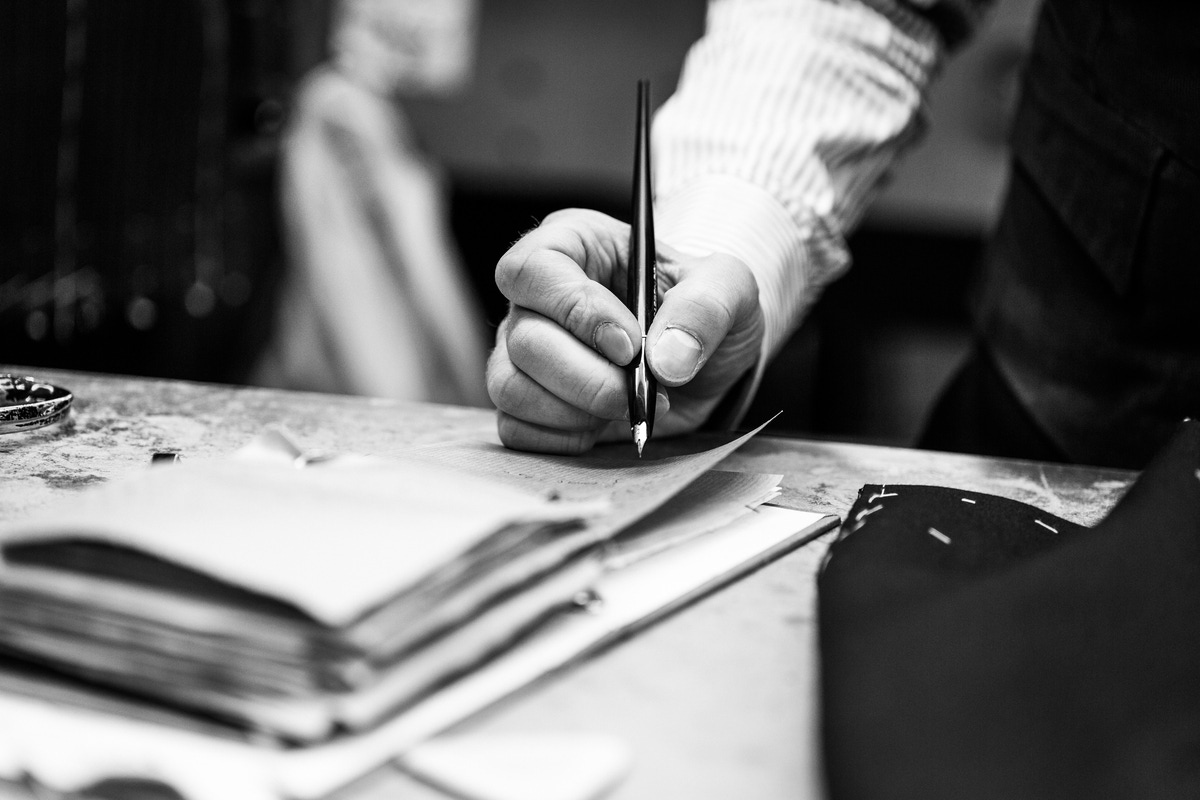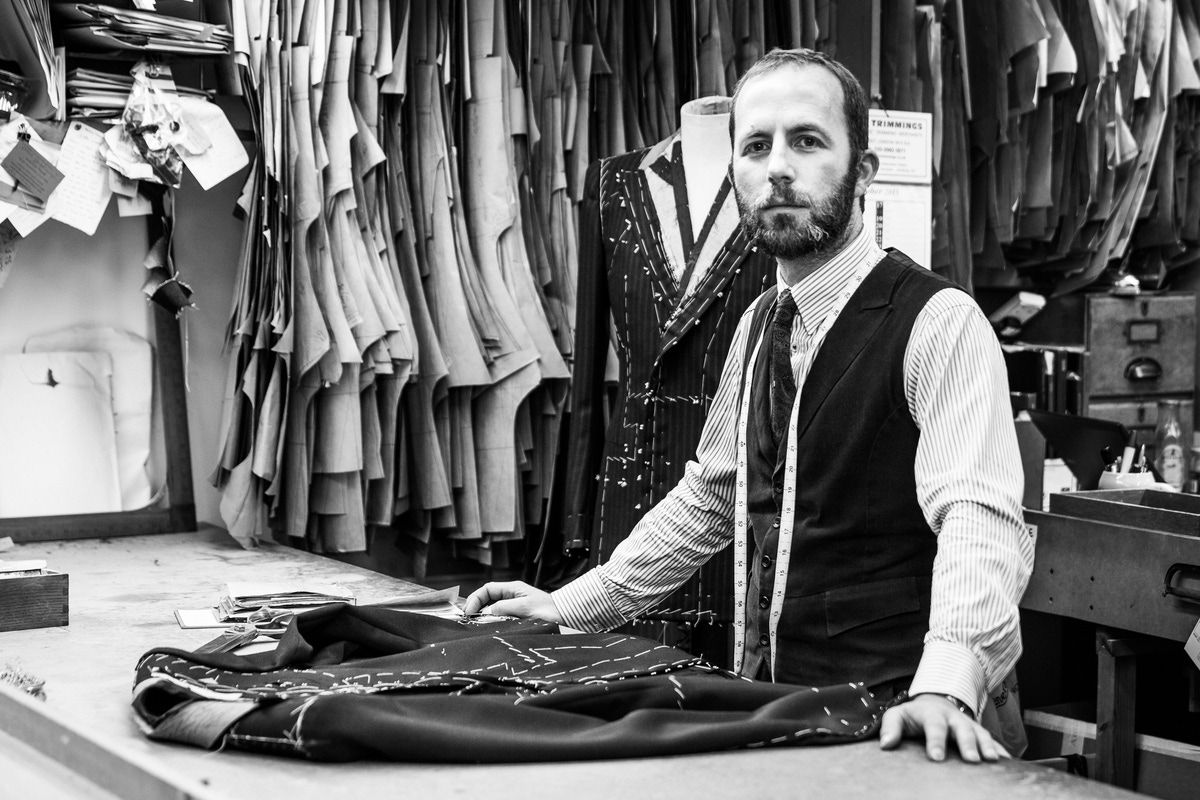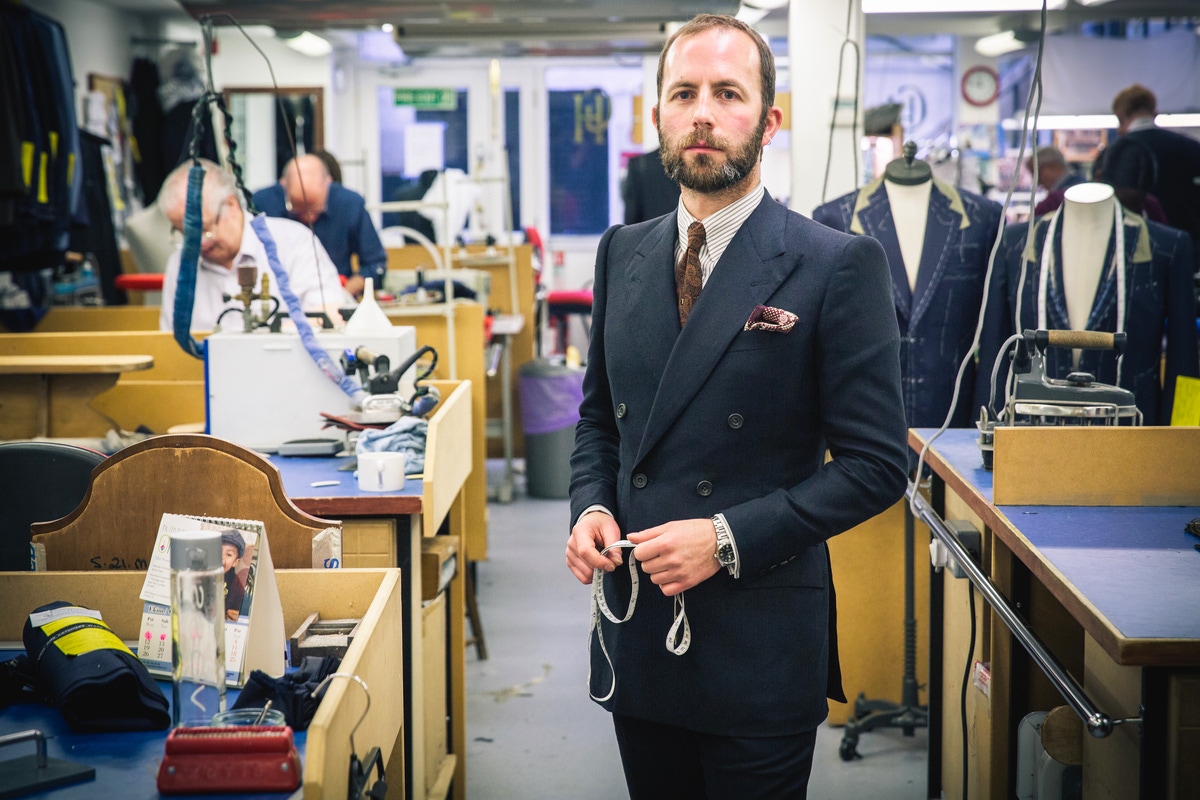 All too often, heavily structured British tailoring can feel rather restrictive, but Davide has made a concerted effort to retain a wonderfully smooth shape in his clothes without compromising on comfort. 'I've always liked the idea that a suit doesn't have to stand up on its own, so we use very light and soft interlinings and we don't pad the canvass to the point that it becomes an inflexible shell. Ask any cutter that's known for producing very sculptural clothes and he'll say that it still needs to be a comfortable suit, but personally I think we take that element a little further. We've developed a few things that ensure that our coats have a clear three-dimensionality, but they're not like armour.' There's something particularly relevant about Davide's philosophy here - as he puts it 'I've always been frustrated by the idea that Savile Row is a place where men only go to get double-breasted blazers or tweed suits. Customers need to be able to see Savile Row in a different way.'
Davide's practical approach to his work is perhaps the strongest statement a Savile Row house could make to this effect - his clothes are ideally suited to the demands of modern, stylish living; 'good tailoring nowadays has to go between different environments seamlessly, the very strict rules and expectations of the past have changed. I try to create clothes that allow
 the customer to do all the different things we might do nowadays - I like the idea that I can wear a suit to go to a cocktail bar in Mayfair and then go to see a gig in Camden - without having to get out of my clothes.'
'When a customer comes in and I don't notice the suit he's wearing - that's a good sign.'
This willingness to creative flexible clothing is clearly something that Davide shares with his customers, as he explains. 'I had a customer recently, who came in a few times and ordered a couple of straight-down-the-line, conventional business suits. Then he came in one Saturday and said, 'could you make something in a brushed cotton for me, something a bit more rugged?' It took me by surprise, but he chose this really nice khaki-green brushed cotton and we made a totally unlined, soft jacket for him. He put it on for the first time, and I swear it was liked he'd just put on his old-faithful jacket and I'd just done the fitting on something else. It made me think, 'wow, this is really powerful, I wish I could do this more often', and it's a funny thing actually because when a customer comes in and I don't notice the suit he's wearing, that's a really good sign.' I can think of few tailors who are capable of creating something so natural and unaffected in their work, and statements like this attest to Davide's attitude and skill as a bespoke artisan. His clothes are comfortable, practical and beautifully constructed, but above all, they are more relevant today than they ever have been. With this in mind, there is one further word that ought to be said on the subject. Davide, Michael and Dominic, were all chosen for this series because they equally represent the pinnacle of modern British bespoke tailoring and each embodies a new, progressive attitude to his craft which we at
The Rake
prophecy will come to define the British bespoke scene over the next decade or so. It is also worth considering that these three men are arguably the last British craftsmen who can trace their work back to the transformative 'Nutter school' of tailoring, pioneered by Edward Sexton at Nutter's of Savile Row in the 1970s. Both Davide and Dominic have worked with Sexton, whilst Michael has worked with another Nutter's man, Joe Morgan. One wonders whether history is soon to repeat itself, and whether this final school of 'nutters' might be the next three to truly revolutionise what Savile Row is capable of in the present day. I for one, certainly hope so.
Parts I and II of The Cutting Edge can be found here and here
.