Why your choice of winter boot is more significant than ever
We've highlighted some of our favourite boots for the winter months, with designs that help you walk a little longer, feel a little stronger and stand a little taller
In a year that has changed everything – how we work, how we dress, how we communicate, connect, collaborate – many are finding consistency and comfort by turning to their most relied-upon brands, supporting businesses that offer familiarity and dependability, seeking out long-lasting products that they know they can trust when times are tough. 
When it comes to footwear, it's at once uplifting and grounding to wear strong, sturdy shoes that literally anchor you, especially when the nature of the time we're spending on our feet is adapting, too. From marching in support of Black Lives Matter, protesting for environmental policies or campaigning to end SARS, where and what we walk for has
 never been more meaningful. 
Lockdown also drove many to embrace walking as an activity whilst gyms were closed and daily outings were limited to essential shopping and exercise; plus reconnecting with nature meant long strolls through cities, exploring new neighbourhoods and having adventures locally. Now, we take our freedom for granted less, and find more opportunity than ever to explore our own locales. Inevitably, our feet are carrying the weight of all this change – so it's crucial to invest in solid footwear that protects them. 
For the ultimate in protective footwear, many shoemakers look to the military, where uniforms are a matter of life and death. At artisanal Majorcan brand Carmina, their Jumper boots imitate those made for paratroopers and airborne forces but are cut on a slim, elegant Soller last whilst Ludwig Reiter, which was originally founded to cater for the footwear needs of the Austro-Hungarian army, has developed a serious combat boot. Lined with lambskin and snowtop fur, the hefty Dachstein fastens with hooks and eyelets and is named after one of Austrian alps. 
Elevating the combat is Norman Vilalta, whose Derby-combat hybrid is cut in black pebblegrain calfskin with hard-wearing Goodyear-welted Vibram Gumlite Commando soles destined for stomping and stamping. They're not just weatherproof, they're life-proof, and are built for improved traction and grip. In fact, Vibram was founded when Vitale Bramani lost six friends to a climbing accident and decided to create soles that he believed would have helped save their lives, and the ridged tread has since been used by mountaineers all over the world.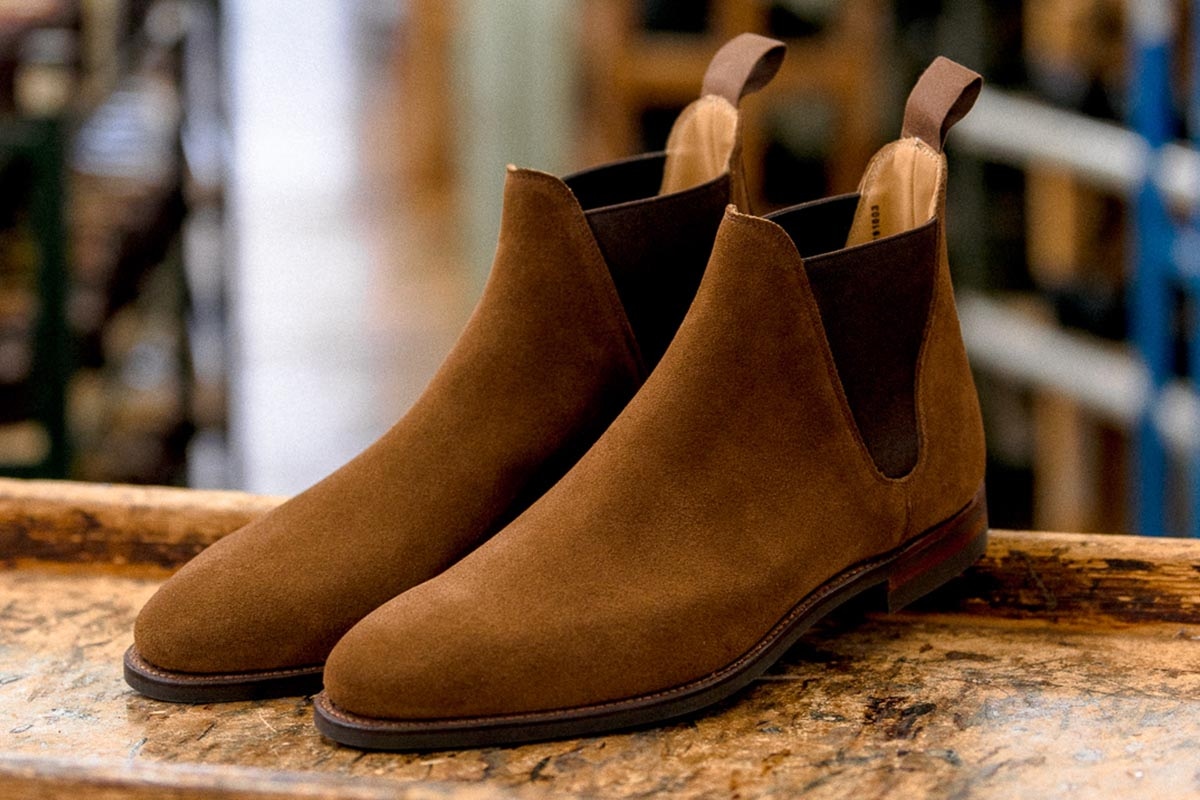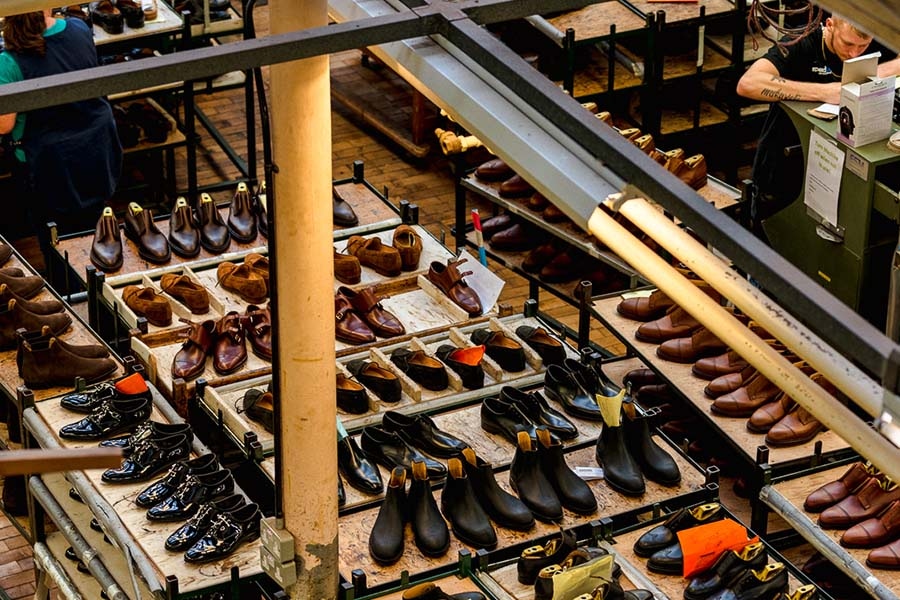 No wonder, then, that Scarosso also incorporates the well-marked Vibram lug sole into a ramped-up Chelsea boot design with hand-crafted brogue detailing and plenty of attitude. The chunkiest part of the sole is the 3.2cm heel, and Scarosso isn't the only one providing a few extra inches.
The Wall Street Journal
  coined 2020 'year of the man heel', and Barbanera has long been championing the style with a design inspired by musician and icon Johnny Cash. Despite being six foot two, Cash was still partial to a cuban heel, a Cowboy (he once appeared in an advert endorsing Acme) and even over-the-knee thigh-highs. Barbanera has taken the best bits – elongated ankle, Western-style curved vamp, 3cm cuban heel – and created wearable boots that men have been adopting again for the first time since the Sixties.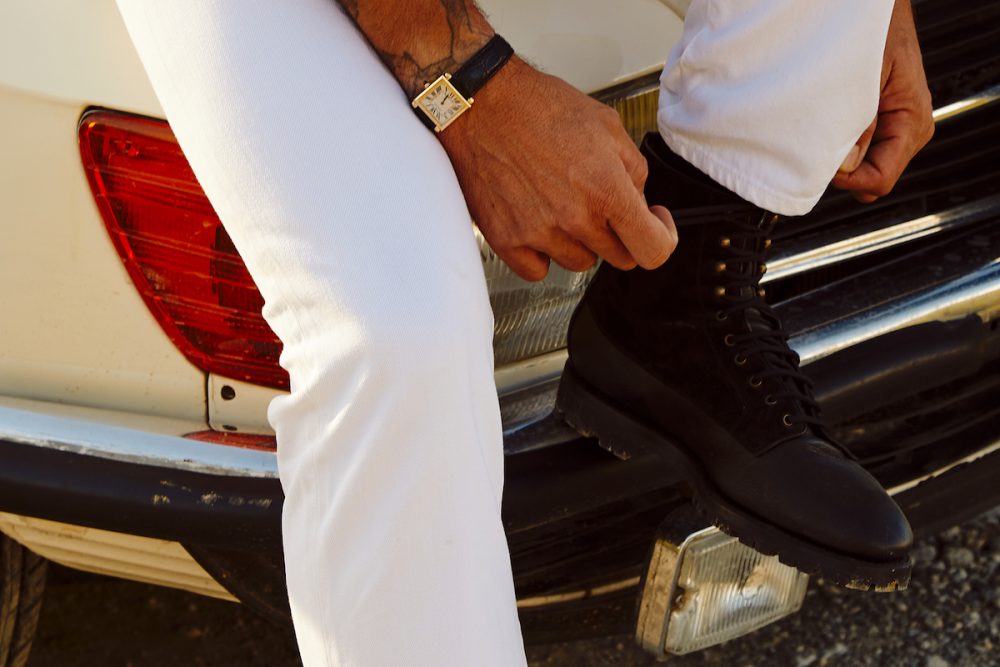 As well as rock 'n' roll, the silver screen has always been hugely influential in the way that we dress, and you just have to look to recent releases like Once Upon A Time in Hollywood and the Kingsman movie franchise to see why. In the latter, Samuel L Jackson and Colin Firth don London's finest George Cleverley shoes – get in on the action with Cleverley's handsome brogued Derby boot, exclusive to The Rake – and in the former, Brad Pitt's fringed moccasins provide an alternative colour palette to the standard brown or black. Tan suede is often relegated to sunnier months, but we rather like that it complements an autumnal scheme, too. Dip your toe in the trend with Barbanera's Del Dongo, or dive in with Crockett & Jones' snuff-brown Chelsea boot, another Rake exclusive.
Cinema, sport, the military and music may have shaped the styles we wear, but 2020 has shaped why and how we wear them. Despite their moniker, winter boots are in fact not a passing seasonal style, rather a hard-earned investment that carries weight, provides strength and endures in the face of adversity.