How to Dress Well in Summer
When the sun comes out, so do Britain's eccentric style habits. The Rake's Sartorial Guru, shows us how to dress up as the mercury rises.
The British do not have a good reputation for dressing well in warmer weather. The unpredictability of the English summer has always been our stock excuse, and we never seem to get it right. Either too stuffy and dressed-up or overly casual but without being comfortable. And we seem to be going backwards: in the days of the Empire, we successfully adapted our strict Victorian dress codes to create new conventions that were supremely elegant and are still relevant today. We added cummerbunds and khaki, madras checks and chukka boots. But not much since. The key to elegant summer dressing is picking the right cloths. Linen is the most comfortable warm-weather shirting and is the perfect vehicle to introduce a little colour to your wardrobe. The Jermyn Street shirtmaker Turnbull & Asser has introduced a
collection
of linen shirts with neat button-down collars in a sophisticated palette that includes turquoise, lilac, orange and green. The open-weave texture and melange weave makes these usually tricky colours easier to wear than if they were executed in a flat cotton — and the sun should make us all a little braver in our choices. I generally prefer long-sleeved shirts for summer, as they can underpin a smart blazer or be worn with the sleeves rolled up for a sportier look when combined with bathing trunks. An ideal piece for throwing on for lunch or cocktails around the pool. David Niven in 1958's
Bonjour Tristesse
, the Anglo-American movie set on the
French Riviera
, illustrates how to wear the summer shirt with style: he rolls, scrunches and unbuttons it to perfection. For a modern take on his look, the summer linen shirt could be layered as a jacket over a simple plain-coloured T-shirt and pleated fuller-cut trousers finished with a generous turn-up. And following Niven's lead, no socks are required with your loafers.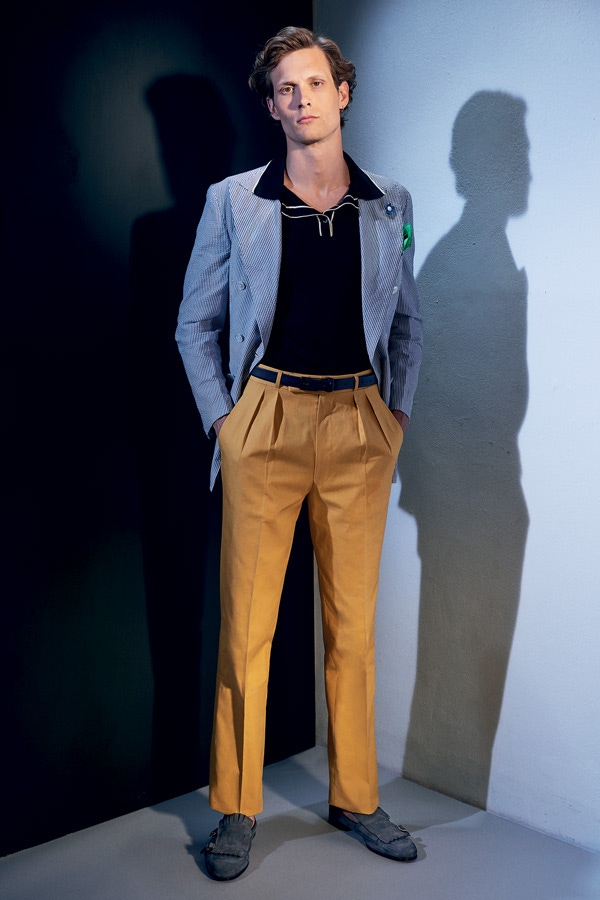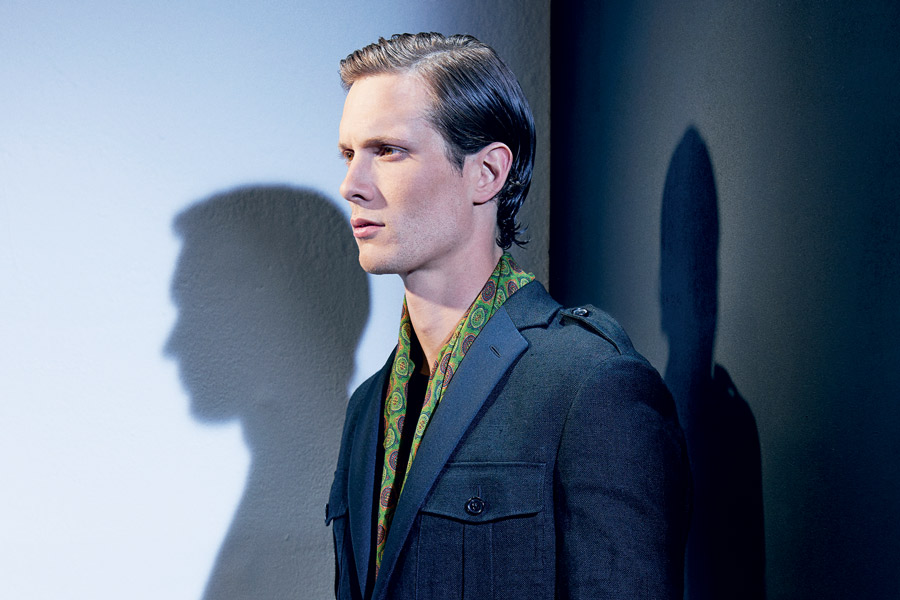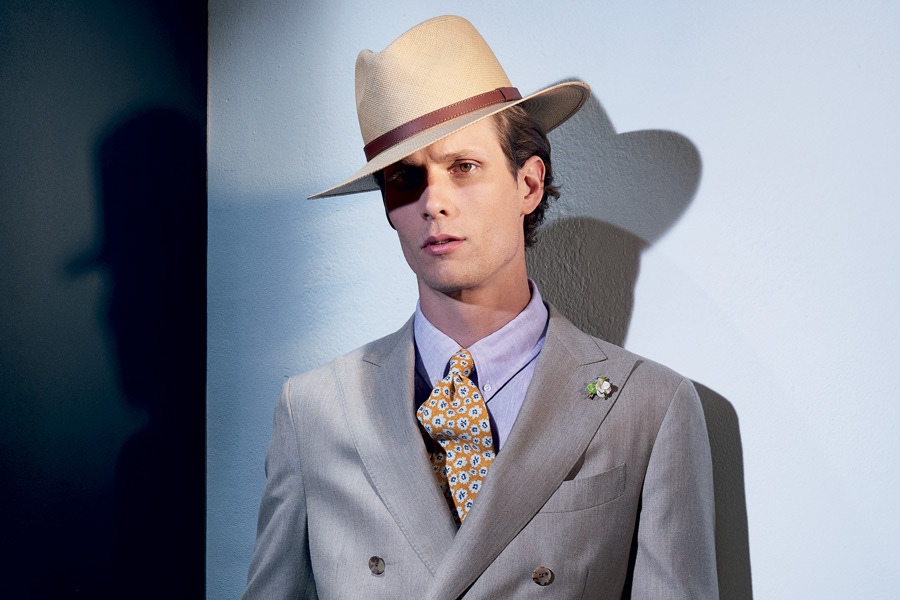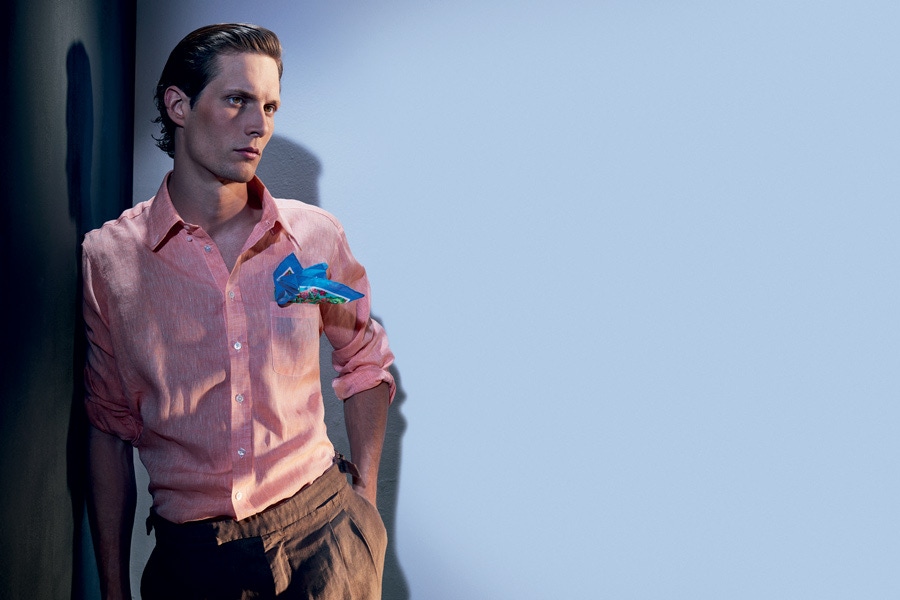 I know, from experience, that some gentlemen are a little uncomfortable with how creased linen becomes while wearing, but that should be considered part of its charm. That said, I prefer not to wear linen head-to-toe but to mix it with items in other summer fabrics, such as wool fresco, silk, solaro, madras or seersucker. I enjoy the juxtaposition of a crumpled linen shirt with the sharp crease in a pair of mohair trousers. When selecting a summer jacket, you will probably consider something unstructured. There is a widely held belief that this style of tailoring should somehow be cheaper, as there is less lining and canvasing. Of course, cheaper unstructured items are available, but the best pieces (often from southern Italy) require expert cutting and tailoring techniques to achieve the desired silhouette. Take
Sartoria Inglese
from Apulia, for example: their signature cut requires only minimal padding, but through the selection of cloths with character and a distinctive cut they create garments that have the presence and authority normally associated with more traditional constructions. For a Savile Row take on this idea, look to
Richard James
, who offers a softer, updated version of their house model realised in linens and blends. For more formal events, add a tie in unlined linen or bright printed silk from
Drake's
,
Edward Sexton
or
Calabrese 1924
. Your pocket-square can be in plain linen or printed silk in bright colours. But don't wear a tie and pocket-square because you feel you have to, wear one because you want to when the occasion doesn't strictly require one. Dressing up a T-shirt with a neckerchief is a sophisticated yet simple approach to summer dressing and also protects the collar of your jacket from perspiration. Neckerchiefs look equally good with a polo shirt, especially when they have a proper two-piece collar and long sleeves and button-cuffs like the ones made by
Naked Clothing
and
Rubinacci
. Such a simple accessory can add a little glamour to the most simple of summer outfits — very 'Duke of Windsor in exile'. Unlike the former Edward VIII, I prefer trousers without belt loops; the Gurkha-top style from
Anderson & Sheppard
and Rubinacci are practical and add visual interest without the additional bulk of a belt. Socks are best discarded, and Belgian loafers strike the right chord. Also consider penny loafers or even white or tan sneakers.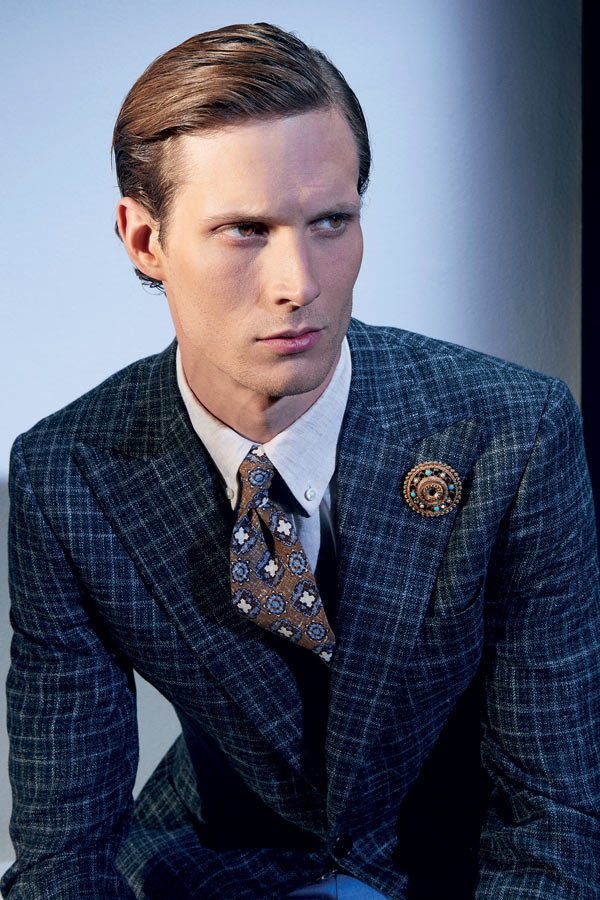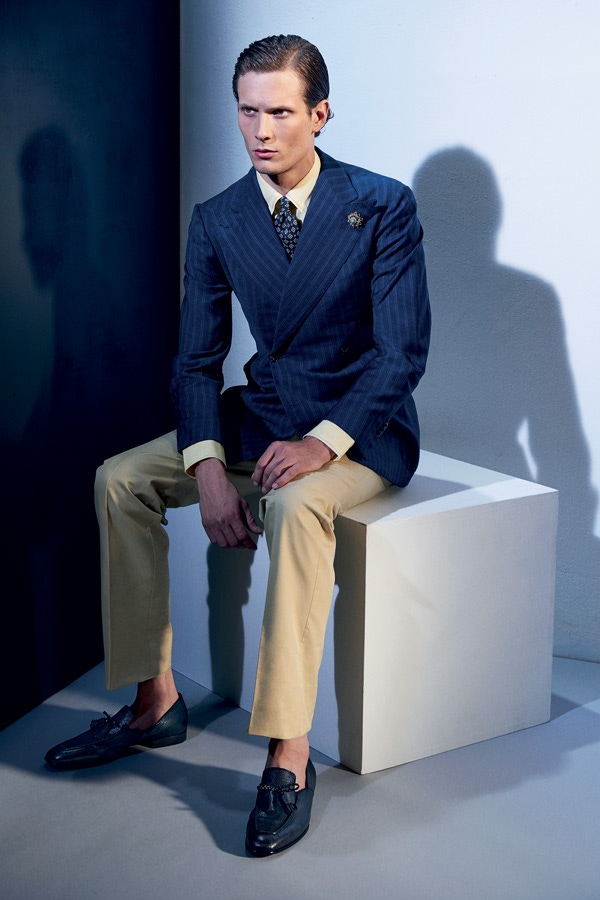 For summer occasions, you will probably be invited to something with a cocktail dress code. This 'Johnny-come-lately' to the dress-code dictionary is unique in the sense that it is the only one that is based on what women will be wearing rather than focusing on gentlemen's attire. It first appeared in the 1960s as an alternative to 'lounge suit' and with an emphasis on dressing for the evening. A midnight-blue suit would have sufficed, worn with a white shirt, but it soon grew into something more glamorous. A blue or black dinner jacket worn with cream or ecru trousers is a reverse of the traditional white dinner jacket and dark trousers, and is spot-on for cocktail dress, especially when worn with velvet Albert slippers. In fact, wearing velvet slippers will add a cocktail twist to most ensembles (sans socks). Ralph Lauren is the master of gentlemen's cocktail dress, and they will occasionally subvert dress codes, but always with taste and a respect for tradition. This season they are offering a khaki linen field coat with satin-faced lapels. This is absolute genius. The original dinner jacket was a lounge coat (an informal garment at the time) with satin facings applied, and as the modern military-inspired field coat is becoming accepted business dress, this is merely following tradition. I haven't been this excited about a new development in men's eveningwear since I saw a Hacking jacket-styled dinner jacket replete with ticket pocket and throat latch, again from Ralph Lauren, in the early 2000s. A cocktail jacket is simple to dress down, and my preferred method is to layer a simple piece of fine gauge knitwear underneath. But we should also take inspiration and learn to dress up our sports jackets. A Regatta-striped blazer worn with evening trousers and traditional furnishings is an imaginative take on cocktail dress. But you could try the same with a denim blazer. Historically, it was acceptable to substitute your dinner jacket with a blazer while at sea, so the look is not completely without precedent. And while it takes a brave soul to wear black tie just for the hell of it, cocktail dress succinctly adds a little elegance to the most understated summer soirée. Perhaps with a little more effort, the British will lose their reputation for dressing poorly in the summer months. I won't hold my breath.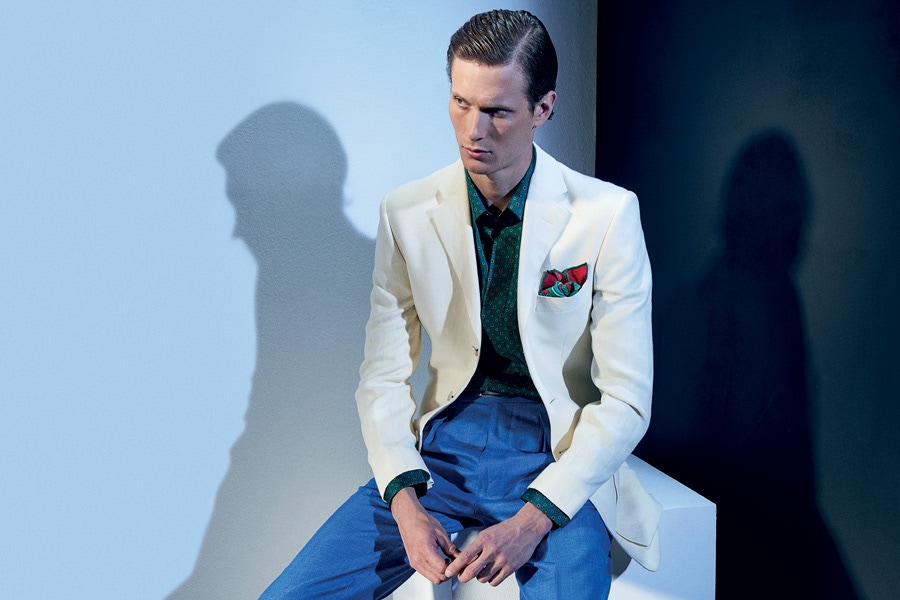 Cream herringbone single-breasted jacket, New & Lingwood; green silk shirt with multicolour print, Marol; mid-blue cotton and wool trouser, Anderson & Sheppard Haberdashery at The Rake; green and red wool pocket handkerchief, Calabrese 1924 for The Rake. Photographer Assistant: Christy John White Fashion Assistant: Veronica Perez Grooming: Hair by Joe Mills, founder of Joe & Co Soho, using Kevin Murphy Make-up: Daisy Holubowicz using Laura Mercier