Sneakers At Pitti Uomo 94
Far from being an abominable casualisation of traditional menswear, sneakers are a versatile way of freshening up your wardrobe, as proven by the street style at Pitti Uomo 94.
Let us make one thing clear from the offset: you'll find no mindless touting of the latest sneaker trend here, this is no panegyric on sock sneakers, and we're not going to encourage you to jump blindly onto the ugly 'dad trainers' bandwagon. While the recent vogue for athleisure (for the mingling of smart and sporty) has undoubtedly brought with it many positives, as the rakish style supremos at
Pitti Uomo
showed us, sneakers look better when they're approached with an eye for elegance and with longevity in mind. If you insist that your quadruple-soled, neon green sneakers and sweatpants combo will still look good in five years' time – we salute your courage! But if you want to compound the practical benefits of trainers with the timeless suavity of classic menswear, we would advise you to approach your ensemble with forethought and modesty. By forethought, we mean making a few measured adjustments to the way your outfit is put together: thinking about material, colour and mood when styling a look. By modesty, we mean picking a pair of sneakers that won't trigger an epileptic fit: keep it simple, keep it subtle, and you're sure to pull off sneakers in a way that is both masculine and masterful.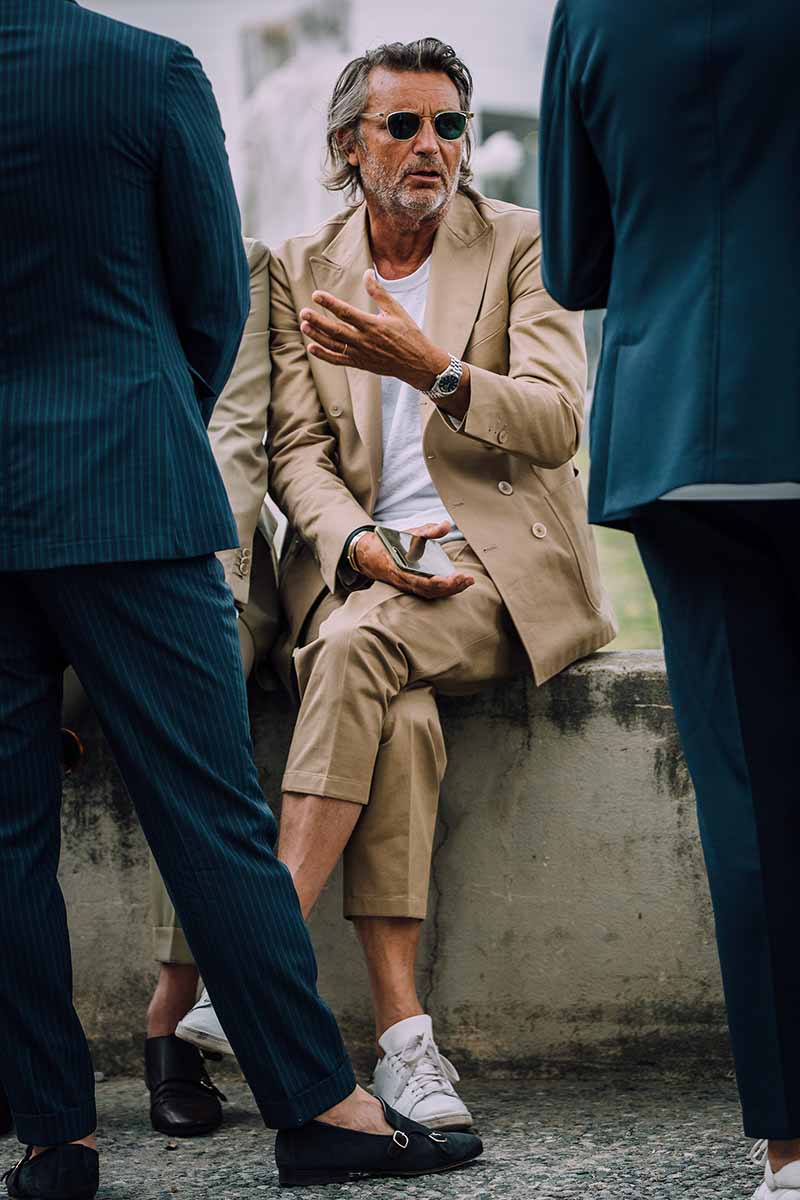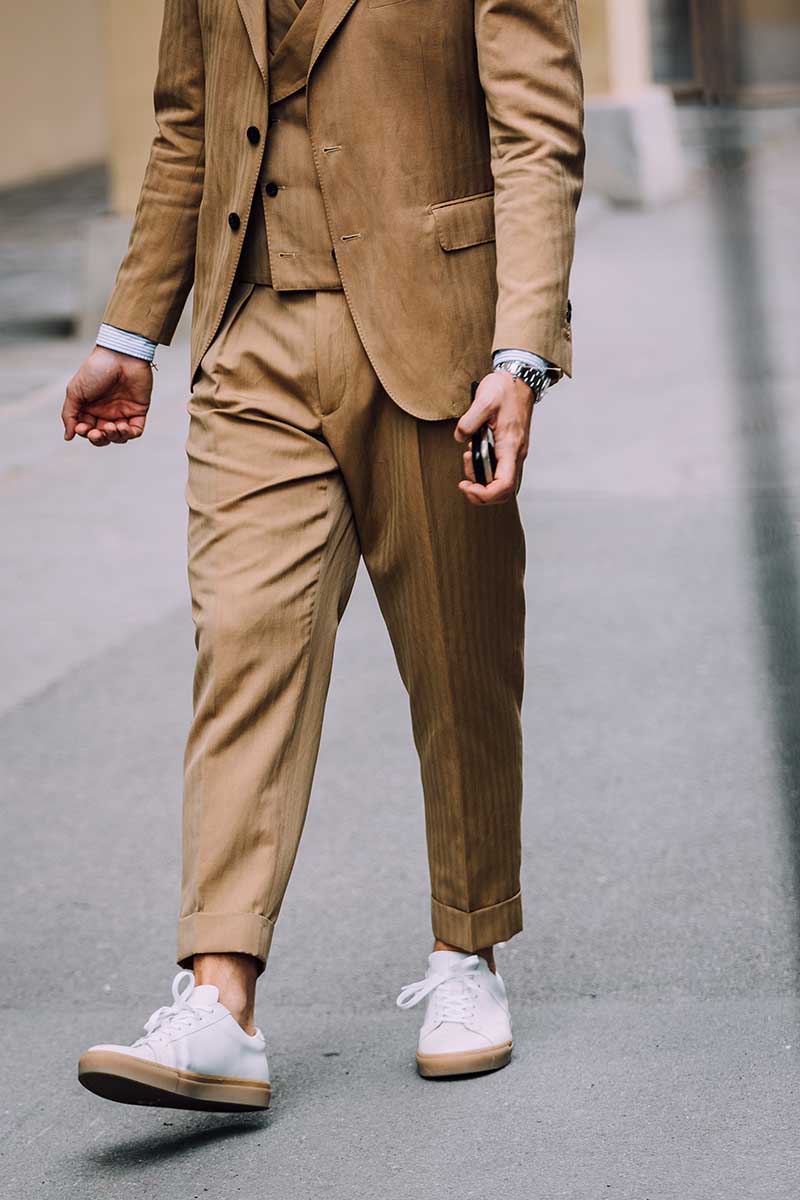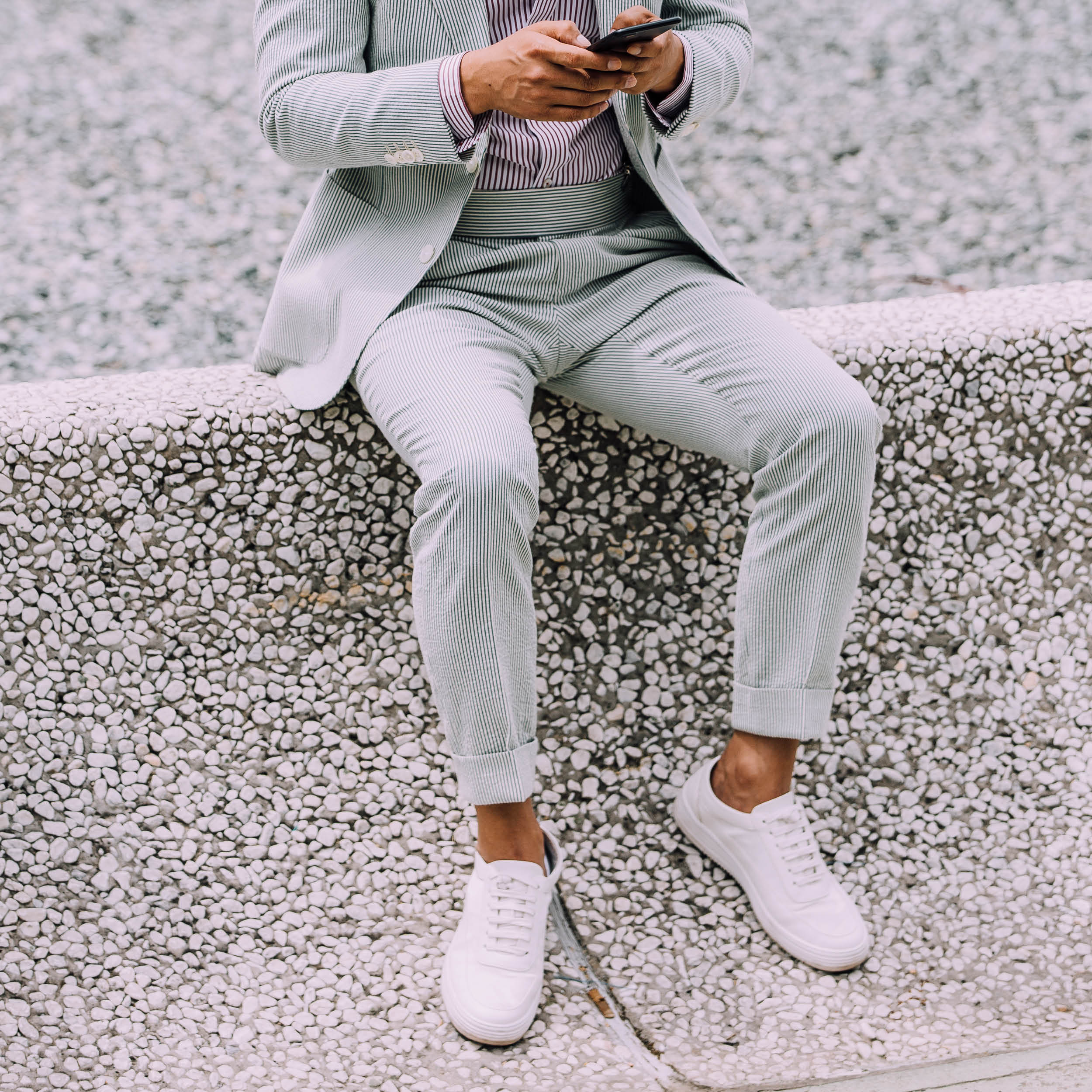 White Trainers, White T-Shirt
We begin with an almost failproof way of styling sneakers – a tried and tested method that feels familiar yet manages to look unbeatably fresh when worn with the quiet confidence of the cool-headed cavalier. We mean, of course, the sublime pairing of a white T-shirt with white trainers. The key word here – helpfully repeated twice for emphasis – is white. Anything short of alpine snow tops on a clear-skied summer's afternoon just won't cut it and will result in your outfit seeming scruffy, or ill-thought-out. Crispness and cleanness are both paramount. The beauty of this approach is its versatility: the T-shirt and trainers combination will serve as a blank canvas over which you can layer all manner of cuts, prints, and patterns. Yet it can also serve as a dazzling foreground when paired with more subdued hues, such as pastel colours or camel. We suggest focusing on timeless wardrobe essentials, by investing in this pair of leather sneakers from
North-89
, and pairing with a white crew-neck from
Sunspel
, a British brand famed for its mastery of the humble tee. While this will lend an unmistakably youthful air to suiting, we suggest matching the durability of the sneakers with some hard-wearing, slim-fitting denim from
Cifonelli
.
Roll Up, Roll Up
When you're wearing sneakers without any intention of doing sporting activity, it's standard procedure to go sans socks. The reasons for this are especially clear when sneakers are worn with suiting. A smart sock would look hideously out of place encased in a sporty trainer, while a sports sock would look like an awkward juxtaposition with a tailored trouser leg. Instead, a becomingly bare ankle will ease the transition superbly, channelling the louche look of a loafer with the freshness of a pair of sneakers. This entails plenty of opportunity for playful experimentation with your hemlines. A rolled-up trouser leg will not only keep you cooler in summer, it will also put a debonair twist on your trainers, accentuating the hybridity of smart and casual. We suggest imitating the rake in the picture by offsetting the formality of a full three-piece suit with the soft minimalism of these nubuck leather sneakers by
Ka/Noa
. Rolling up your trousers is a simple but striking way of blurring the boundaries between smart and casual.
Co-ordinating Details
In the same way that matching your brogues to your belt can elevate an outfit from boring to brilliant, sneakers present ample opportunity for playing around with details. More so than traditional footwear, in fact, given that sneakers can come in a wider variety of colours and textures. Think co-ordinating pocket squares, monochrome mash-ups, or even sandwiching a suit between a matching shirt collar and sneaker soles. For a perfect summertime sneakers outfit, these retro style suede sneakers from
Belsire
will coordinate nicely with this tobacco brown belt from
Carmina
. A pair of navy shorts by
Ka/Noa
will complement the vintage-inspired colour palette.
Contrasting Colours
On the other hand, a colourful pair of sneakers can also serve as a medium for introducing contrast. Again, subtlety is key; take your cue from the burgundy Vans pictured above (centre), and use your sneakers to introduce a colour that would be difficult to incorporate via a larger item of clothing. A shade that will liven things up without clashing too heavily; that will turn heads but not stomachs. We suggesting keeping the rest of the outfit neutral in order to emphasise the contrast. If you're wearing suiting, consider ditching a collar and tie so as not to distract attention from the sneakers. The understated grey pattern on this collarless puppytooth shirt by
Anderson & Sheppard
is perfect for pairing with these green calfskin leather sneakers from
Stefano Bemer
.
Rubinacci's
black pleated trousers add a touch of sable sophistication to the look. If there was one lesson to take away from Pitti Uomo 94, it's that sneakers are no mere passing trend; a good pair has as much classiness and longevity as do a pair of trusty Oxford brogues. This is, after all, the 21st century, and you'll find that wearing a pair of well-made, luxury sneakers is a much more comfortable way of keeping up with the march of history.