Hotel Byblos: St Tropez's Grande Dame
The lively Hotel Byblos is both a tribute to and an authentic representation of St Tropez's heyday, when social codes were broken down and an anything-goes attitude prevailed.
Of all the destinations on the French Riviera, there are none quite as socially symbolic as St Tropez. Cannes has its film festival,
Monaco
has its casinos and Antibes has
Hotel du Cap
. But the bragging rights of St Trop', as it's colloquially known, are a little harder to package – and that's because there are no particular physical manifestations with which to illustrate it. The story of how this city rose to fame is one well told, and involves a young
Brigitte Bardot
, her husband director Roger Vadim and a scandalous one hour and 35 minutes in a sleepy fishing port. This film,
And God Created Woman
(1956), was not only instrumental in raising the profile of the actress and putting St Tropez on the map, but it's credited with being one of the first to portray a woman who was sexually liberated – and who acted and dressed how she pleased. That set the tone for what St Tropez would become renowned for – a city of deconstructed social codes and anything-goes behaviour – and soon the masses flocked to the area to channel that attitude. Although it might not be a physical manifestation of the city itself, Hotel Byblos is a tribute to and an authentic representation of this era – and indeed, it was certainly built with that intention. Like many alive in the 60s, Jean-Prosper Gay-Para, a Lebanese businessman, became infatuated with Bardot and the carefree attitude the city represented, and set about building a palace in honour of the gap-toothed actress. This was designed to bridge the
French Riviera
and the Middle East – hence the name Byblos, after the ancient port town in Beirut. "Just like ancient Byblos," Gay-Para said in 1965, "St-Tropez is a place where the arts and fertile creative talents converge. I have dedicated this hotel to these Mediterranean people, past and present, to help perpetuate a wonderful story born of the worship of beauty, love, adventure, human relationships and the renewal of life."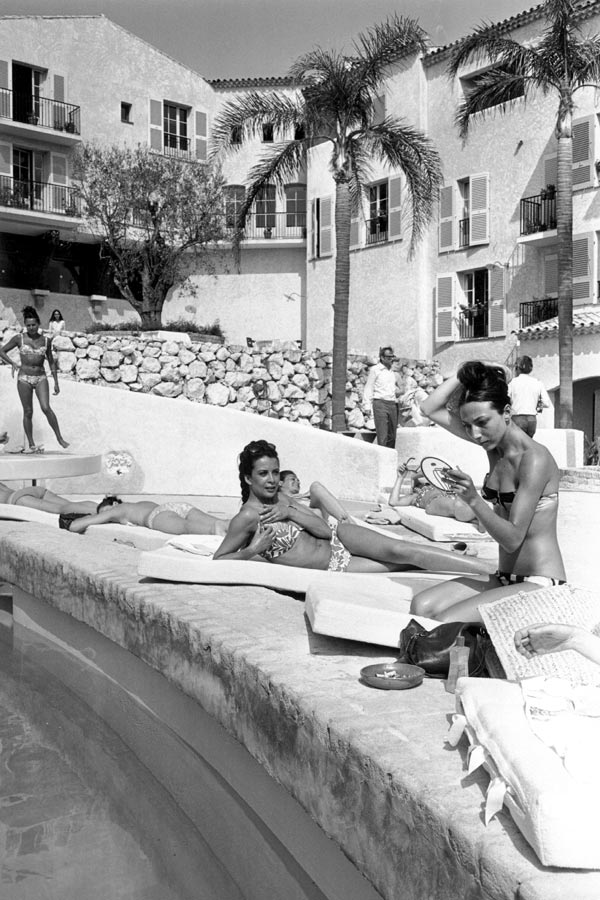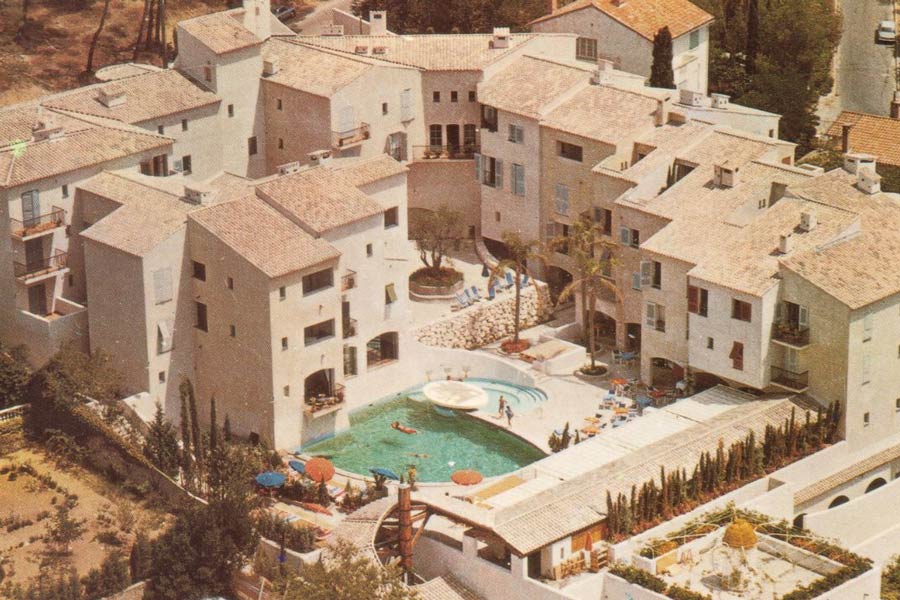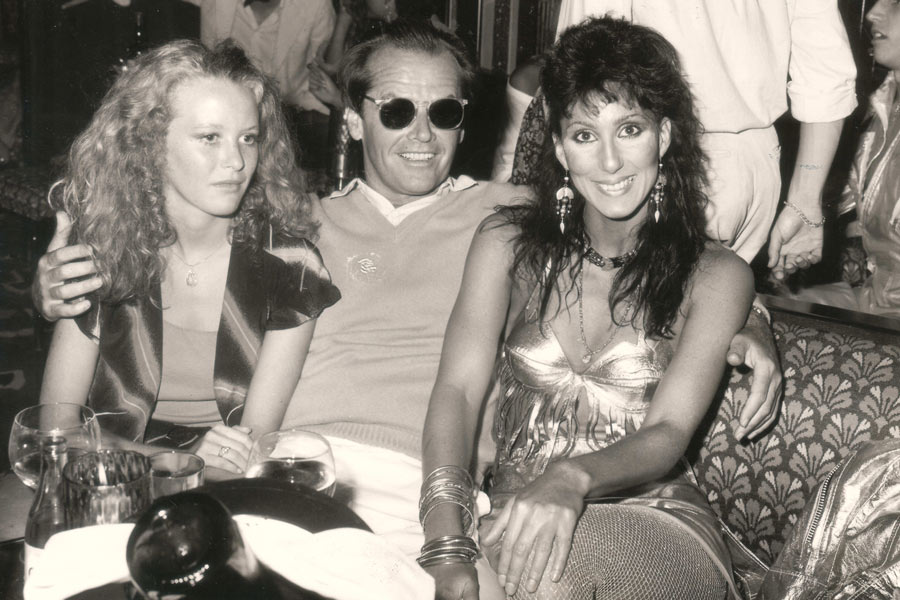 Perched between the city's bustling port and the grand citadel, Byblos was designed as a mini village, comprised of a series of narrow houses surrounding a cobbled square, swimming pool, café and boutiques. To reflect St Tropez's original township, the buildings were washed with pastel colours, tiled with terracotta and adorned with petite metal balconies and wooden shutters. As a tie to the owner's origins, an ancient Lebanese olive tree was planted in the middle, and patios were decorated with creeping bougainvillaea. In 1967 and after two years of construction, Hotel Byblos officially opened with a three-day long celebration, attended by the likes of playboy
Gunter Sachs
and, of course, Bardot. Liz Taylor, Richard Burton and Romy Schneider were also early guests, and over the decades many more well-known names visited the premises, mainly drawn by the hotel's famous nightclub Les Caves du Roy. Perhaps the most notable event, however, was when Mick and Bianca Jagger married in the city, and found refuge from the hordes of paparazzi in one of the hotel's suites after the fact.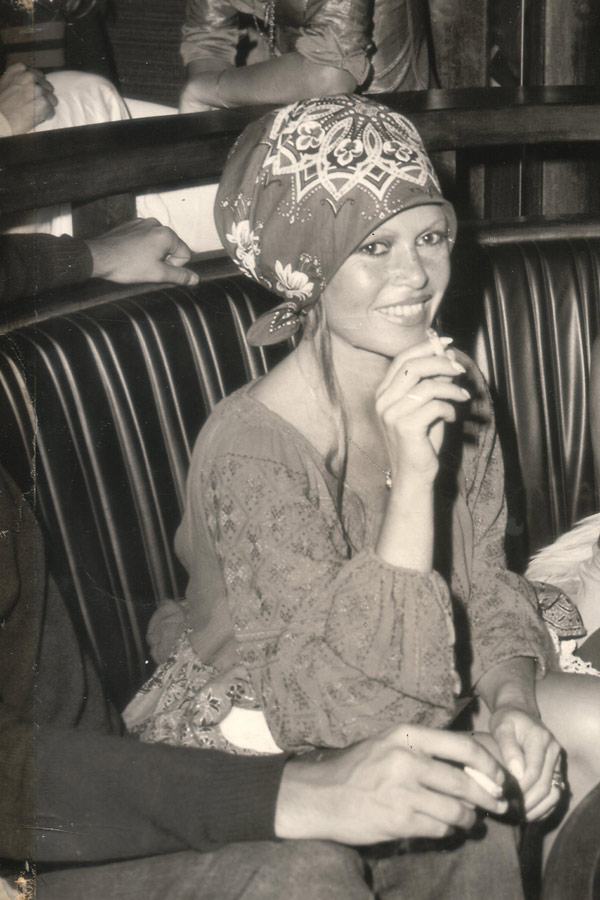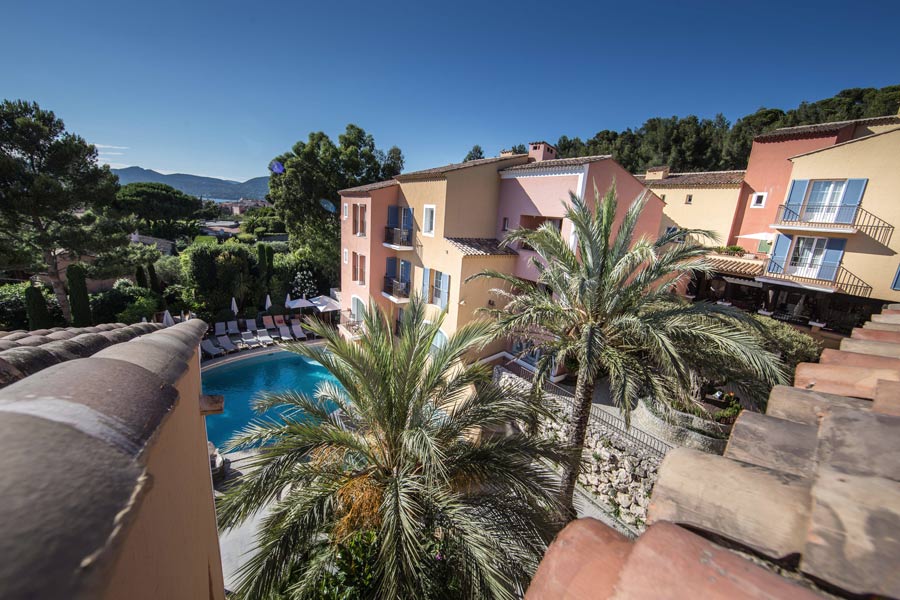 Fifty years after it first opened, and having passed through different owners, Hotel Byblos is as vibrant as ever, attracting guests old and new from around the world. What sets Byblos apart is its laid-back setting, compared with the ostentatious and more formal framework prevalent in the area. This, again, is a reflection of that laissez-faire heyday, and permeates from the discreet décor, to the effortless food and charming staff. One can roll out of bed, devour breakfast overlooking the rooftops of St Tropez, stroll to the port and take a short
boat
journey to Pampelonne Beach, relaxing under one of the strip's white umbrellas. When an appetite rears its head once again, Club 55 is there to satiate it, with platters of fresh vegetables dipped in anchoiade, delicately fried whitebait and grilled fish, washed down with the region's speciality: rosé. Or, if leaving Byblos seems too laborious, there's Alain Ducasse's Rivea, which is situated in the hotel grounds and specialises in food with a Mediterranean flair. Dining al fresco under a canopy of plane trees in the restaurant's courtyard seems as authentic a
Riviera
experience as one can imagine. In Hotel Byblos' 50th anniversary book,
The Book of Style
, current owner Antoine Chevanne writes: "There are no restrictions, and nothing is banned, but we want all our guests to get along with each other. I would like to pride myself that this is one of the secrets of our success over the last 50 years." This is a mantra that holds true to Gay-Para's original intention, and of St Tropez's wider sentiment. And although the atmosphere in this once-sleepy port city might have
changed drastically
 since the 1960s, that original feeling is still alive at Byblos.